Feeling lucky? Here's JT$'s odds for the title
Feeling lucky? Here's JT$'s odds for the title
Hammerhead Designs was launched with the intent to provide new and better parts and innovative accessories for motocross bikes. One of our goals has been to design entirely new and unique products with improved ergonomics and the shift lever was the first part that we felt could be dramatically improved by providing a feature that would allow for the shifter to be repositioned to perfectly suit the riders size, shape, and preference.
It has only been two races but we have definitely gotten some good ideas of who is fast and who's getting passed. With all of the football bettors out there, I thought it would be fun to handicap the field for the 2015 Monster Energy Supercross title. These are my own thoughts and opinions and are most likely idiotic and flat out wrong. Or maybe, they're right- you decide.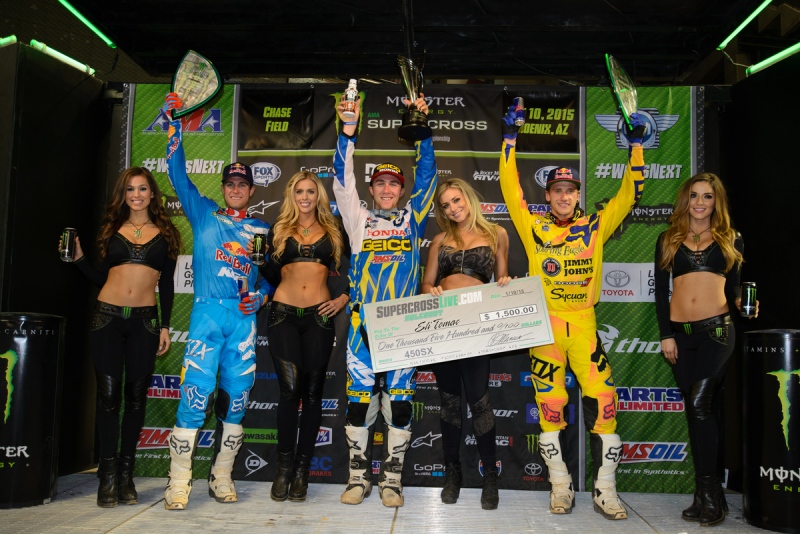 Thomas thinks one of these riders has the best chance to win the 450SX title. Lissimore photo
Ken Roczen- 2:1 Kenny won his first 450 championship last summer and has looked incredibly poised and ready to back that up. After two rounds he looks to have the whole package.
Eli Tomac: 3:1 Eli was very fast at the opening round but also hit the deck twice, relegating him to the back, losing valuable points in the process. He rebounded at Phoenix with a dominating victory and showed that he may just be the fastest guy in the class. He is a rookie in the class after sitting out last year's supercross campaign due to injury. If not for his inevitable learning curve (A1 for example), I would have him tied with Roczen.
Ryan Dungey: 3:1 The Dunge is always lurking in every season. Some criticize Ryan for not having the aggression to force the issue when needed. I don't really buy that. I think Ryan is always thinking big picture and doesn't want to toss away valuable points in an overly aggressive move. Finding the balance between waiting too long and pushing the envelope will be key to winning a championship in 2015.
Trey Canard: 6:1 TC41 hasn't really ever challenged for a championship in this supercross class but injuries and crashes have made sure of that. Trey is riding better than ever and is fully capable of putting himself squarely in this fight. To do it, though, he needs to win races and stay off the ground.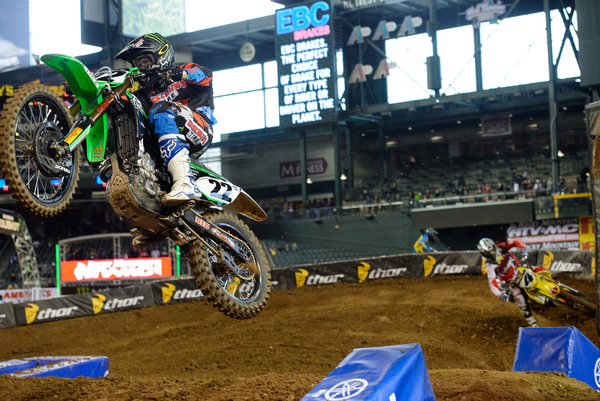 Reed's odds have dropped since before the opener. Lissimore photo
Chad Reed: 8:1 Had this been two weeks ago, Reed would have been right around 3:1 in my view. After two tenth place finishes, his chances have dropped significantly. He is already a full race behind the points lead and hasn't looked to be on the same pace as the front pair. If he wants in this title fight, he needs to make a statement and make it now.
Jason Anderson: 8:1 Anderson has been a revelation so far. While his sixth place at Phoenix may not wow anyone, the way he arrived there should. He passed the likes of Canard and Reed en route. His solid second place at the opener proved that if he gets up front, he has the pace to stay there. I put him down a bit because he has never raced a 17 round series before and I see some struggles there at some point.
Davi Millsaps: 8:1 I wanted to move Davi higher but his Phoenix ride puzzled me a bit. His Anaheim ride was marred by crashes but in Phoenix he was fifth on the first lap and was unable to do anything other than maintain. Peick and Dungey seemed to ride away from him and I just wouldn't have expected that coming into the season. I think Millsaps will win a race this season but to win the title, he will need more than one.
Andrew Short: 20:1 Andrew has been in the top three of championship points more than once and knows how to put a series together. I don't see him winning races this year although he will be right around the fifth spot quite a bit. He may not win a title in this 450 class but he has certainly been right in the mix for a long time now.
Justin Barcia: 20:1 I would have had Barcia further up than this before the season but it just hasn't gone to plan. He has struggled with starts and then crashed on the first lap at Phoenix to make things worse. I see him on the podium at times as we move forward but to win the title, things have to click and I haven't seen that yet.
These are the nine guys who I feel have any chance at this title from what I have witnessed thus far. There are other guys who will podium and show brilliant speed. Dean Wilson, Cole Seely, Justin Brayton, and Blake Baggett are just a few of the riders I see leaving their mark at times. Unfortunately, they just won't do it consistently enough to make a dent in the title race. There's always a chance, though, and that's why they run the races.