Three guys who had good races speak
Three guys who had good races speak
Photos by Simon Cudby
Tyler Bowers
Let me take you through it. Your head shake was probably like, shit, now I've started something. Maybe not on purpose, but…
I didn't start anything. I knew it was going to be a shit storm. The bottom line is we went into that turn, I went in hot right behind Cooper and he stopped in the berm because – I watched it on TV when he was talking trash on me on the podium – he was setting somebody up and I was coming in hot and I couldn't stop. Everybody was clipping that off. I was laid on the brake. You can watch my ass end skid into him. I wasn't like I tried to kill the kid. Made contact. I gave him a good elbow. He went down, I almost went out. Shook my head on the way out like, damn, that's not going to be good.
I thought you didn't expect him to turn down like that and you came in underneath him and kind of a racing deal. But I guess with your reputation, with what happened last week, with what happened at A1, you knew that this is going to come down on you. Some people on my Twitter feed are very angry.
What happened last week? What'd I do last week?
People are going to think you got him back for last week, which is fine. He didn't do anything last week. He passed you great, it's racing.
It's racing. Like I said tonight, I didn't mean to kill him. I did kill him. But I was so close on him and I was basically looking at my front tire. That was my downfall all night, I was looking right at my front tire and not riding ahead of me. When he stopped in that corner I drilled him. I was on the brakes, I just couldn't stop. That sucks but I'm not going to sit here and just let somebody talk trash on me on the podium or end it like that. It's a racing incident and he's pissed about it, and I understand why he's pissed, but it's not like I meant to do it. It's easy for a little guy like that to be able to push. He cleaned out Mookie in the heat race. He was trying to clean out Nelson in practice and Nelson shoved him off the track. He ain't making no friends out there either.
He's aggressive too.
The thing is, I look like a bully so I fit. If people want to dub me the bully because I came from Arenacross… If I've got to play that role, I'll play that role. But if he's going to talk trash, I can definitely do it on purpose a lot harder. He got that elbow right then on accident, wait until he gets an elbow on purpose.
Well, now we live in the world of black flags where retaliation is no-no.
You think I've never been docked positions before? You never think I've been black flagged? How many times has Coop been to jail? He's racing a grown-ass man now.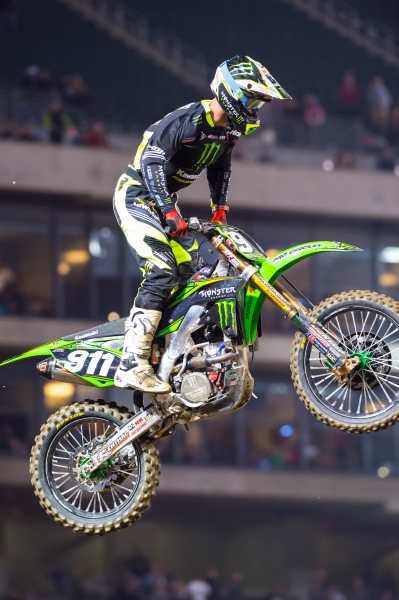 Bowers finished fourth in Oakland.
The race itself besides that, you were pretty steady. It was probably consistent laps if you looked at your lap times, but you weren't that pumped on it?
All day I was riding this track like I was lost. I had no line that was mine out there. I didn't know most of the rhythms. Every lap I would do something different. It was all the same speed whatever you did but there was nothing I stuck to. I was basically lost out there on the main event. Like I said, I was staring at my front tire which is why I collided with Coop and didn't make any progress after that. I was just not riding good, bottom line. I'm going to go home, pull my head out of my ass, and try to win in A3.
Track looked sketchy. Looked like it broke down pretty good.
It did. I don't know who got that great idea like let's just soak it in practice lately. Last three rounds have just been muddy in practice. It broke down in practice a lot, they didn't fix it much. The lips of the triples were getting real nasty, like real big ruts in them and kickers. I think that's part of why Roczen cased the finish line, Tickle too. It was hard to get a drive for those big triples with all the ruts in the lip. It was kind of sketchy. The track broke down. The moisture came out at night and it brought the track to break down more and also be slick where it wasn't breaking down. It was a rough weekend for me but I'll take a 4th on a rough weekend.
Four rounds down, how's your return to Supercross coming for you as a whole?
I guess it's all right. I haven't got that win yet which I know I'm capable of. But I guess it's all right. Staying pretty much on the podium. 3, 4, 2, 4 is not too bad I guess. Those wins will come and I'm going to go get them.
***
Cole Seely
Good job, but I guess tonight you got to be okay. Probably not exactly what you wanted but still a good ride.
No, I'm really happy with it, way better than the first two rounds. Just kind of built off Anaheim 2 and working out all the nerves. Kind of getting adjusted to this 450 class which is really stacked this year as always. But I'm happy with it. Made my way into 2nd and then Trey passed me.
I didn't see it but you lost some spots right away.
Yeah, I OJ'd one of the triples, the first triple, and I mean like OJ, ribs to the bar. And then almost crashed in the turn and then saved that and then went for the next triple and cased… It was bad, like C practice bad. I jarred my wrist pretty bad. I thought I broke one of them. Kind of shook that off and got going again. I think Anderson ended up going down and moved me into 5th and just tried to click away my laps there. At the end me, Reed, and Tomac were all getting pretty tight. I'm happy with the way I rode. I feel like I have my aggression back. I feel like I'm hitting all my marks really well when I'm out there and adjusting to the track as it goes on through the night, so I'm happy.
Track looked sketchy because your back ends were kicking out everywhere, ruttier, bumpier, softer dirt. Did it break down pretty good from the start to the finish?
It did, it broke down a lot. The whoops were a perfect example. They just broke down to pretty much nothing, one long rut through the whole thing. Pretty much was how the whole track went. The heat races were really good, the semi was good, and then by the time the main event came around it got so torn up. This dirt is really good because it's really tacky but by the end of the night it just gets really rutted.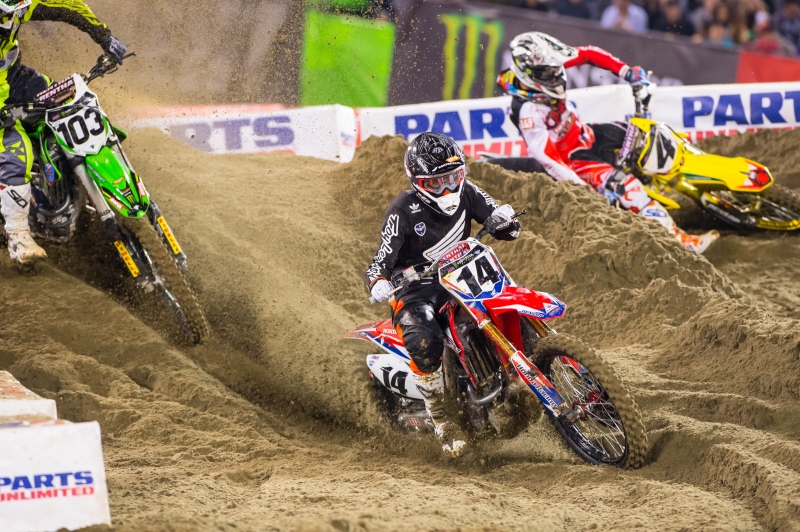 Seely had his best result of the season in Oakland.
I used you as an example of this year in the 450 class how gnarly it is. You won Phoenix, you had some troubles, you got 14th in the main event, but you won a heat, you got a lot of confidence, you've got speed, but if you don't get that start and with this field, that's what happens, right?
Yeah, it's deep. It's crazy. It reminds me a lot of cycling. You can try and make a pass, it doesn't work, you get out of the draft and then somebody passes you. So that's a good example. I remember at Phoenix trying to pass a couple guys and it didn't work and then two guys got around me in the next turn. It's super stacked and everyones' going so fast and everyone's being pretty aggressive. That's something I had to kind of learn the first two rounds and then figure it out third round and now here I felt like I rode really well.
Talk about the decision to stay with Showa. You tested KYB, you tested Showa. What'd you like about it?
I felt like the Showa just suited me better. Obviously me, Trey, Eli all have three very different riding styles. Eli's a very strong kid so he can attack everything really hard. Trey's pretty precise. He's between me and Eli and I'm known to be pretty smooth and all that, so I felt like the Showa just fitted me pretty well. We did spend a lot of time with the KYB and tried to get it tuned, but I've had so many days and so many years really working with RYO and all the guys at Showa that I feel like it's going to be hard to simulate that. He knows me so well as a rider and I know what I want in the Showa stuff so that was my decision.
***
Chad Reed
If you were a TV producer you couldn't write a better script than last week deal, Trey… Obviously you came up on the losing end. But it was a good ride by you. You've got to be happy. But what a drama going on, Trey and you going for the lead.
Obviously like you said you couldn't really write it like that. I was pumped. I was out front, just made a few little mistakes, rode a little bit tight out front. Trey rode really good. I felt like the lines that he took in the main event were really different than we took all day. Some of the lines that I'd seen from when we walked the track were more like press day. I had to catch onto that real quick. He was beating up on me on a few lines that were just kind of like not really normal, not like what we did all day. They were good. So I just picked up on those right away.
Started gapping Dungey and trying to eat away at his lead and try to hope that maybe he was going to try to ride it in and then I could catch him off guard. Track was sketchy. I had a few moments early on and then I just had to regroup and get onto Trey's lines. So I think at worst I was a 2nd-place guy. It was a bummer that I jumped off the track like a retard, but pumped to be back on the podium, especially after the week's events.
What was the change from this week? More traction maybe? A little more technical track?
Track was definitely better. I think it was a little bit more racy. You had to be smart. It could take you down tonight I think. Honestly my changes, we made such a big difference in the bike this week. The first two races, truthfully I was confused. I wasn't having issues at the house and then the race bike wasn't really cooperating and feeling and handling the way that I was kind of used to it handling. Watching film from Phoenix, we watched some slow-mo stuff and it kind of led us in an area to look at. Unfortunately we actually had some wrong parts in the forks that we had to modify and make right. Going into last weekend I was a little bit better off. In the main event I was battling for a podium there and then kind of battling with Trey for a top five. I think last week I was probably a 4-6 place guy. So it was a bummer that that happened last week but we just continued the progress basically. We kind of went a different direction with setup. I didn't hear or read anything but somebody tweeted me that DV basically told me that I didn't need to not test, but DV's crazy.
You don't want to know the things that DV was talking about on the show…
This one's for DV. So we completely changed my bike this week and it was better than ever. The tracks are developing differently. They're putting a lot of water down in practice. I don't want to give away what I think, just because I feel like why I've been relevant for so long is being able to see and diagnose where and why people are good. I feel like we made big adjustments to our bike this week to be competitive and I think that it showed all weekend. Looking forward to Anaheim. I really want to get a damn win at Anaheim. I don't want to be tied with those guys; I want to be all-time Anaheim winner. And then just try to get this thing back on track. Tonight Kenny made a big mistake. I'm going to need more of those from a few people. All I can do is do my job, show up, do my best and put myself in a position to win.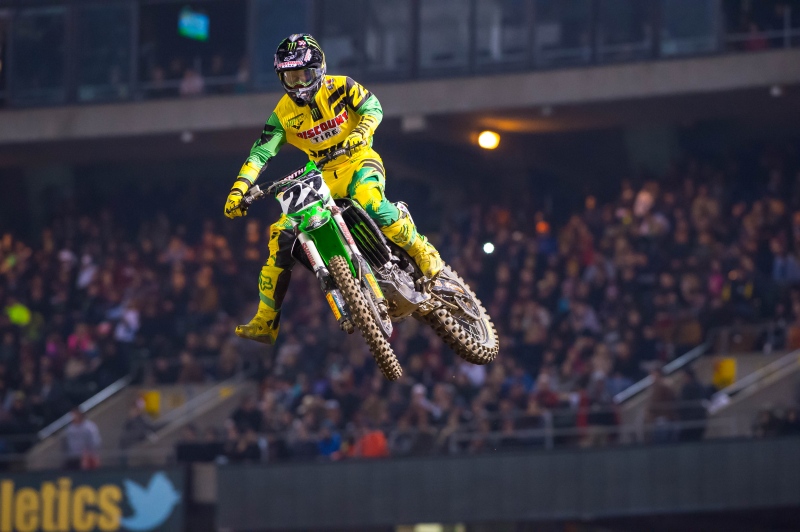 Reed scored his podium on the year in a great ride.
I like what you did in practice. You usually take a while to get going, you're looking around, whatever. Last practice you got out front early. It looked like a more aggressive Chad Reed than we've seen right from the first lap, and then you were 6th, you were on the board forever. I think you ended up 6th which for you is like a win. Maybe that's a little bit of a strategy change and we'll see that?
Actually I got 5th. It's always nice on the board. This weekend had the potential to go both ways. You come in here mad as hell and you carry that into the weekend and you can let last weekend bother you, but pretty much halfway through the week I was okay with it. I feel like at some point you've got to own it. What I did last weekend, I would do it again, honestly. For the people that hate on me and the people that think that that was gnarly, dude, they got to find a different sport. I would do that in a second.
The internet wanted you to apologize. I'm like, you don't know Chad Reed.
No apology and to be honest with you I talked on the podium with Trey for the first time. Trey's like, hey man, I'm sorry for what I did. And I said, hey, we both did things that wasn't right. And it felt good honestly because he said that was a bad move, that was a bad call. Even the black flag thing, he totally was in disagreement with that. Trey and I are fine. There's nothing between me and Trey. This is a me and Gallagher thing, so we'll see how that pans out.
People are looking for you to write an open letter to apologize for your actions. That's not how you got to be where you are, that's not what you do.
For sure what I did wasn't right, but I don't feel like I need to write an apology. I didn't put anybody in harm. Love me or hate me I'm pretty damn good with these dirt bikes. I'm like surgeon in the fact that if I want to hurt somebody with it I promise you I can hurt somebody with it. And my "malicious attempt" as Mr. Gallagher called it, if I'm "malicious intent," trust me I'm not going to just bump a guy into a tough block. So last week's done for now. Now it's up to the lawyers. That should be fun.