Thomas says let's not hand that plate over to Ryan just yet
Thomas says let's not hand that plate over to Ryan just yet
Hammerhead Designs was launched with the intent to provide new and better parts and innovative accessories for motocross bikes. One of our goals has been to design entirely new and unique products with improved ergonomics and the shift lever was the first part that we felt could be dramatically improved by providing a feature that would allow for the shifter to be repositioned to perfectly suit the riders size, shape, and preference.
Banking on Misfortune?
Seventeen races is a long, long series. Even now, with so many races already finished and so many assumptions being made, we are only just past halfway home. If you polled the majority of fans out there, most would be ready to hand this championship over to Ryan Dungey as of today. With a 30 point lead and the way he's looked lately, who could blame them? The big point I keep trying to remember is just how much racing there is left to go.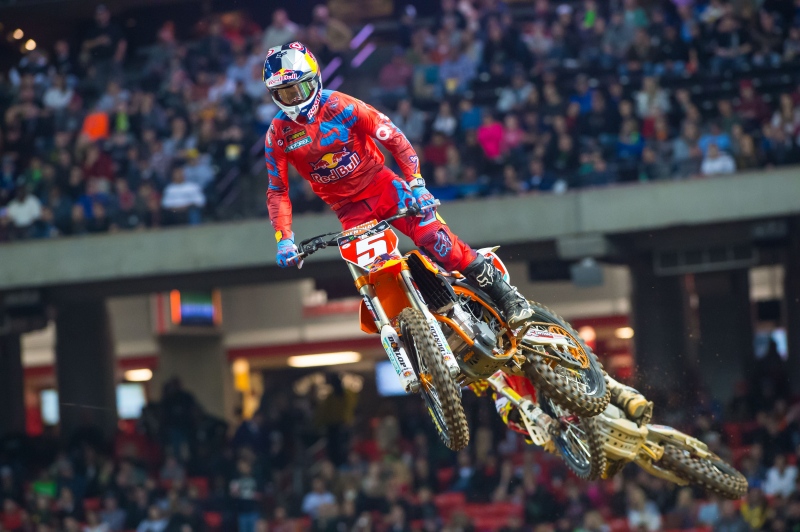 It looks good for Dungey to win his second 450SX title but still lots of races left says Thomas. Cudby photo
Looking at the points, it is very easy to just concede to Dungey. He has looked incredible thus far and seems to be increasing his lead each and every weekend. Keep this in mind, though. In 2011, 2012, and 2014, he has had some sort of issue that caused him to DNF a race. Whether a crash or mechanical failure, it has been fairly consistent. In 2011, it was a derailed chain at Anaheim 2, relegating him to a huge loss of points. The following season, he suffered a crash resulting in a broken collar bone and missed races. And last season, he broke a clutch perch at Anaheim 3, ending his race. In 2015, however, he hasn't had any sort of issue whatsoever. It has been smooth sailing from the get go. Can he continue this picture perfect execution? That's the million dollar question.
To me, this is what the championship depends on. Dungey has been too fast and too consistent to just slowly bleed off points. He will be in the mix for every race win so just slowly losing 30 points over the duration of the season is unlikely. That one big mistake is what Trey Canard needs. If Trey could close 20-25 points in one weekend, it could completely change the face of this whole series. Momentum would swing wildly in the other direction and all of the calm and easy feelings enjoyed now would be replaced by stress and an all out war down the stretch. Knowing Trey, the last thing he would ever wish is for a competitor to face unfortunate circumstances. To be the 2015 Supercross champion, however, that is exactly what he needs.