From a factory-backed amateur ride to a privateer professional life, Owen is figuring things out one step at a time.
From a factory-backed amateur ride to a privateer professional life, Owen is figuring things out one step at a time.
Photos: Simon Cudby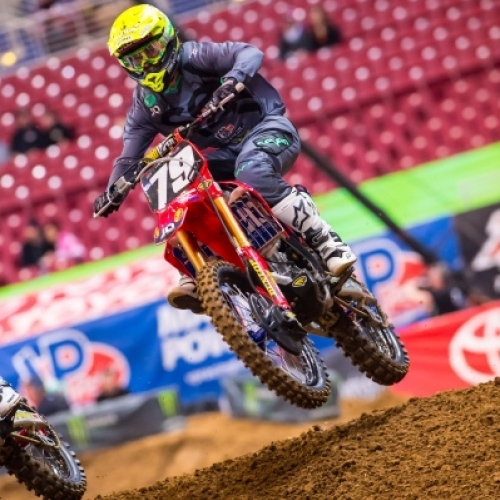 Owen has three straight top ten finishes.
The story is the same for most promising riders in the amateur ranks. The cycle is that if you win you will get supported rides and this will make going to all of the races easier. Eventually when you win enough you will finish out your amateur career on a professional team to make the transition to the professionals easy as well. However in the case of Jace Owen, things were going great, but then the support went away and he was left to rebuild his program on his own for his final vital amateur years.
At the end of the 2012 season Owen and Suzuki would part ways after capturing many championships together. The most notable wins were Owen's back-to-back championships at Loretta Lynn's in the SuperMini class (2010) and in Schoolboy (2011). The 2012 season didn't bring home any titles at Loretta's Ranch, although he was in contention for both of the B class titles. For the 2013 season Owen relocated to South Carolina and the ClubMX training facility. He would ride a Honda, on his own program, with help from some loyal sponsors. He was a privateer in an A class of heavy hitters.
When it was time for Loretta Lynn's, Jace had the speed, but he also had mistakes that would cost him any championships. He would finish runner-up in the 450 A class to now Cycle Trader Rock River Yamaha rider Luke Renzland. Owen would make one final amateur race at the Monster Energy Cup that season and pressured RJ Hampshire for the win. He was unsuccessful, but it was obvious that Jace was hungry and still had plenty of speed to give. Going into his rookie season of supercross in 2013, Owen signed a deal with the Factory Metal Works Honda team with Vince Friese and AJ Catanzaro.
"Everything was late for me. In 2014 they changed the Honda 250 and I had been practicing on the 2013 model leading into supercross," Owen said. "We had a bunch of suspension issues and I was never satisfied with what I had."
It wasn't just the lack of testing time that kept Jace from realizing his potential in his rookie season. The learning curve of supercross was tough on him and he only made it to four rounds.
"I just would show up to the race with new suspension and things I never rode with. It's like how am I supposed to go out and it's my first year, I am inexperienced, and have to ride when I don't know what the bike is going to do." Owen said.
The Factory Metal Works team still supported Owen as much as they could when the outdoor races started. Owen had to ride a limited schedule of east rounds, but he showed that he had the speed. His best finish was a sixteenth overall at Spring Creek where he finished fourteenth in the second moto. It was a tough rookie season, but now Owen feels that he has become a better rider because of it.
"Everything happens for a reason, to struggle for these first few years like I have, it may have been for the better. I'd rather struggle at the beginning than later on," Owen said.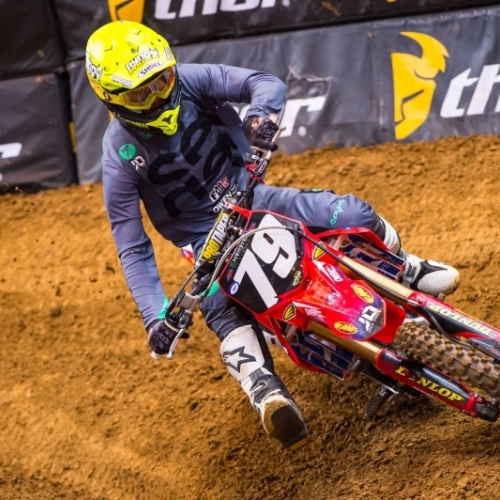 He had a career-best ninth in St. Louis.
This year started off a bit rough for the rider from Illinois. He wouldn't qualify at the opening round and then he had three straight nineteenth place finishes at both Atlanta rounds and Daytona. Then came Indianapolis, where Owen had the best race of his young professional career. He finished tenth.
"My goal was to be in the top ten at every race this season. I put a lot of hard work in and I was tired of sucking, so I put my head down in that main to break through that ice," Owen said.
In a way the sophomore privateer came into this season feeling like a rookie still. He turned his season around at his ninth supercross. Both regions of the 250 class each race eight rounds, so technically Indianapolis was the start of a normal sophomore season.
It's apparent that he has found his place inside the top ten. He backed up his Indy finish with another tenth in Detroit and then finished ninth in St. Louis. Owen said he knows that top tens will not get him a ride or show up on many team's radars. His goal is to finish up towards the top five before the supercross season is over. This gives him East Rutherford and the Dave Coombs Sr. East/West Shootout in Las Vegas to try and hammer out his goal.
As far as the outdoor season is concerned, Jace said that he doesn't have any offers from any teams. His recent surge of results should help the teams notice him, but as of now he is focusing on his own program. With the lack of funds Owen will only be able to make it to select outdoor races on the east that are close to his home. It's what he was forced to do last year, but he has more experience this time around.
One thing that is for certain in Jace's future is that the two-time Loretta Lynn's champion has found his stride again, this time in the pro ranks. Keep an eye on the #79 the final two races of the Supercross Series and this summer. He knows it's time to make something happen and he has nothing to lose.
Thank you very much for reading my stories. I really like your feedback, good or bad, so email me at Troy@pulpmx.com to let me know what you thought.