"I want to win. That's one of my goals for this summer; I want to win a national."
"I want to win. That's one of my goals for this summer; I want to win a national."
Photos: James Lissimore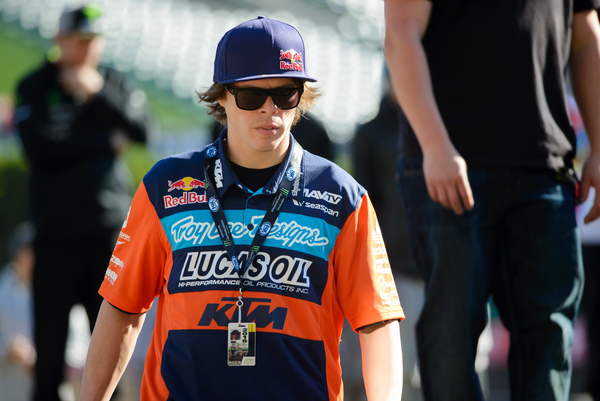 Durham bent a screw in his wrist in the LCQ at Anaheim 1.
Pulpmx: What's up double D?
Durham: Oh, not too much. I've been riding and getting ready for the outdoor season. That has been the plan since I got back on the bike. I'm really going to come out swinging this year.
You've been back on the bike for about seven weeks now?
Yeah, I'd say it's been six or seven weeks now. I've done a couple of races the past few weekends now to get the nerves out. Things are going well. I have been testing and getting the bike to be where I want it. I can't wait to come back at Hangtown because things are right where I want them.
You were out at Glen Helen this past weekend for the California Classic. How did you feel and how did the weekend go?
It was pretty fun. I haven't raced an outdoor race in a couple years, you know, I was sidelined last year with some injuries. I was a little nervous and those kids are racing really hard, but I was able to win some motos. I had some troubles in one moto but I was able to win my other motos. It was pretty good for me I think. It was good to get the nerves out. So now I'm excited to race again instead of being nervous. I'm ready for the next one.
That's good. Coming off of an injury, especially not racing outdoors, you can practice all you want, but at the end of the day racing is an entirely different animal.
Yeah totally, I have been practicing thirty-minute motos and stuff, but you get into that race situation and everything is so quick. I got tight those first couple of motos, but I was glad I got tight there opposed to Hangtown. It worked well for Jeremy Martin last year. He went to the California Classic and won some races. Then he came out in the outdoor season and really killed it. That's why the team wanted me to do it and why I wanted to do it also.
How's the wrist doing?
It's pretty good. I wouldn't say it's 100% yet, but I've been working to get it there. This was my second surgery on it. I bent a screw that was in there and they had to take that one out and put another one in. The first few weeks riding it was getting sore, but it's feeling better now. My strength is almost back to where it was. I'm thinking by the time we get to the outdoor season that it's going to be good.
It was kind of a weird deal when it happened at Anaheim 1. What exactly went down?
Well, my heat race didn't go as planned so I went to the LCQ and I just didn't have a good gate pick. I was in a bad spot all night. I got collected with two other riders and went down. It was a case of being in the wrong place at the wrong time. I knew something was up immediately. I could barely hit the electrical start on my bike to ride back to the mechanic's area. I went and got it checked out and I could see right away that the screw was bent in the x-ray. I tried riding once that week to see if it was going to be okay, but I had to get it fixed.
Well, we won't harp on the injuries too much here. You have to be just so stoked to rip up some outdoor tracks aren't you?
Yeah I am. Riding is what I love and being away from it is like you aren't the same person. When I get back from riding I'm just pumped all-around. I'm stoked riding and I'm also traveling back to the East Coast here in a few weeks. I'll be staying at Club MX and doing some training there. I'm just excited for this season. It's going to be better. I'm not going to be strapped down in one spot. I'm going to be able to do my thing and ride a lot and that's what I love.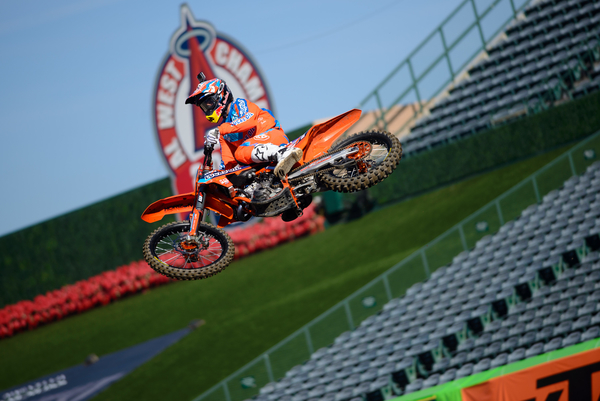 Durham will be based out of the Club MX training facility for the outdoor season.
Do you have high expectations, or are you just going to go out there and pin it and see where it takes you?
I want to come out and do really well. I want to be consistent this year. My goal is to be in the top five in almost every moto. That should put me a good spot in the championship. That's what I'm setting my goal to be. I want to win. That's one of my goals for this summer; I want to win a national.
It's no question that you've always had the speed to run up front and battle for the win. You've won a supercross, and you've had a lot of motos that you've shown you could have won. After so much time off from the outdoors, what is it going to take to be up at the front?
I think just getting out there and getting my confidence back is going to be the key. Just believe that and then do it. I do believe I can do it. I came back from some gnarly injuries in 2013 and I did well in the outdoors. I wasn't very healthy or strong. I almost won some races against Tomac and Roczen. So I feel like I still got it, and now I'm going to go out and do it.
Every time you've won or been up there it's been up against the heavy hitters who are killing it in the 450 class now, or winning in the 250 class.
That's why I'm out there racing the amateur nationals getting ready! (laughs)
It's 2008 all over again!
Yeah, pretty much. It was fun though. I had a good time hanging out with all of the mini kids and watching the races.
Who impressed you at the Cal Classic?
The kids in the B class are riding really well and the Supermini class is really fast right now. The kids in Supermini were really aggressive.
Going back to your confidence, you seem to always be the guy who will nut up and hit a gnarly jump first. What goes through your head that makes you want to attempt something first?
I get all excited and usually I have a good gauge. If I can picture it in my mind I know I can do it. If it's super gnarly I'm second-guessing it in my head. I don't have like a crazy daredevil brain or anything like that. I do like to hit huge stuff and it gets the adrenaline pumping. It keeps you young. It helps me train for the rough tracks too.
You have several two-stroke videos out there on YouTube and I know you enjoy ripping around on the 125. Now that you're on a KTM you have a state of the art 125 and many other two-strokes to choose from. Have you thought about breaking one out yet?
I haven't. Jessy (Nelson) has a really sweet 150 and I keep asking him what the day rental fee is. He won't let me. I'm going to update and get me an orange one.
So to sum this up, you have great confidence heading into the outdoor season, Jessy won't let you ride his two-stroke, and you are staying on the east for the rest of the season. What else is going on in your life?
That's really been it. I've been trying to ride as much as I can. I've been filming and working on a little side project called "The Viewing" with some of my buddies. That's really it, just getting ready for Hangtown. That's been my life. No chicks or anything like that. I'll just have to go win and chicks will come. If you do well they usually flock.
Yeah, you have a job to do. You don't have time for chicks!
Exactly.
It seems like you're in a great place right now. Your team has KTM support, Nelson has been winning and (Shane) McElrath has been on the podium and very close to winning. It seems like TLD Lucas Oil KTM is on the verge of a breakout season.
KTMs are just such good bikes and then you add in all of the support they are giving the team. It's just a really good package. Jessy came out swinging this year and Shane is riding really well. It's a bummer that I got hurt in the first round. In the preseason when we were all riding together we were all going really well. It was a bummer, but I'm looking to turn my season around outdoors. It's time to put my orange bike out front.
Thanks for reading. Email me at Troy@pulpmx.com to talk about the NBA playoffs, Durham, or anything at all. I appreciate any feedback at all.