JT answers your Twitter Questions
JT answers your Twitter Questions
Photos: Simon Cudby
This week, I took questions via Twitter and am going to try to answer a few. Here we go…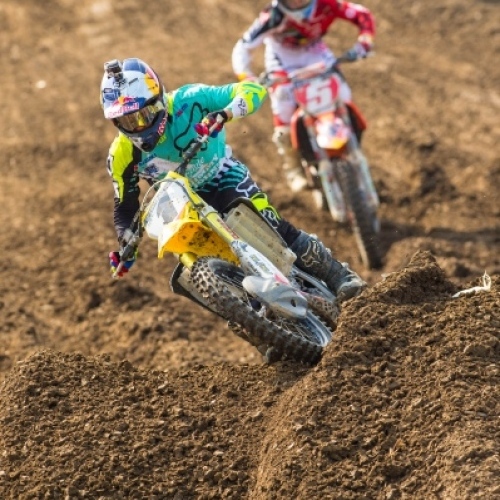 Suspension, bro.
@Im_not_nate: what makes factory suspension so good? How do they get it that good? Still have a big advantage with air forks?
Two things make factory suspension so good. First, the materials are better quality and usually bigger in diameter. The materials withstand temperatures better to maintain consistency late in a moto and reduce friction so there is a smoother feel. Second, factory suspension comes with a very intelligent technician that can fine tune it to the rider and situation. Regardless if it is production or full works suspension, the equipment will only work as well as the setup applied to it. Air forks are a preference. Some love it and some don't.
@david_shilling: how long until a majority of teams and riders are based in the southeast?
I don't expect that to happen. The OEM's are all based in California and the test tracks will remain there. 90% of the entire industry is based there.
@motofan254: why do teams spend so much money on Ti parts? Does it really make a difference for a 5th place guy?
It's not only Ti. It's magnesium and carbon fiber, too. The lighter the bike becomes, the faster and better handling it becomes. If you have ridden a 250F and a 450 back to back, you know how much better the 250 handles. Same situation with a 125 and 250 2 stroke. Ten pounds on a dirt bike makes a huge difference in what the bike is capable of. Will a 5th place guy start winning if his bike is lighter? No, but it may be the difference between fifth and seventh or something similar. The feeling and improved handling of a bike on the minimum weight limit versus a production bike is bigger than most would think.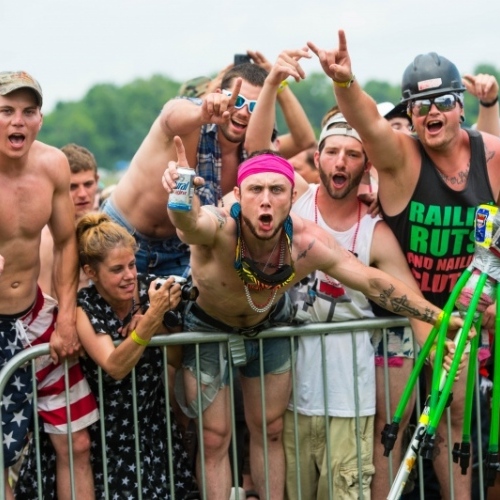 JT says we still have room for growth.
@PattersonJarred: how much room for growth does the sport have? Has it peaked and now is it on the decline?
I don't think it has peaked per se. I think the economy will always play a huge role in our sport's health. Leisure spending is the lifeblood for dirt bikes so as the economic recovery continues, hopefully motorcycle sales rebound. Unit sales determine are the biggest factory in how big our sport can grow.
@13timmyski: Are breaking bumps Man Made or created from the riders applying the brakes? Hear that term a lot in outdoors TV coverage.
Typically they are a natural result of the brakes being applied entering a turn. Some track builders do help this process along by simply dropping the blade into the dirt and creating holes but that's less common these days. It happens quite a bit at the Daytona SX but not so much outdoors. It gets plenty rough without the help of a dozer.
@ekharvey: @ekharvey: @Jason66Thomas @pulpmx Anyone in past had full rotator cuff tear/surgery like Tomac? Lots of AC separation and dislocation in MX history.
Yeah, it's not all that uncommon. Tortelli had it done in 2002 and Reed in 2005.
@TheBerg_247: @Jason66Thomas @pulpmx what are the odds that Rv2 even owns a dirtbike after this season? Any info on how Kawasaki is feeling about Rv2?
I would bet he rides for fun down the road but he will take a good long break. He wants nothing to do with it at the moment.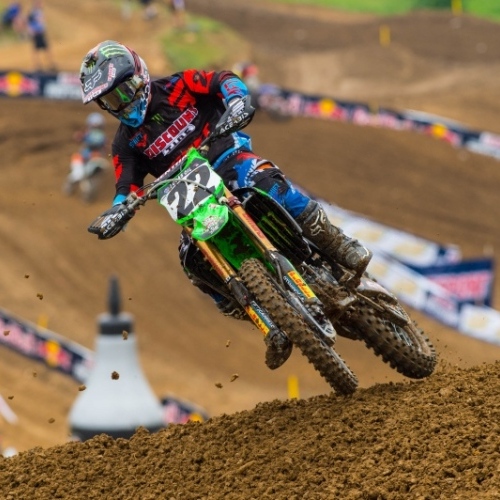 The last time we will ever see Chad Reed on team TwoTwo.
@AndyM_33: @Jason66Thomas @pulpmx @CRtwotwo Would CR22 fold the team if he didn't know that he has good bike for 2016SX? Is the deal already made?
I don't think the bike situation was the catalyst. I think the team wasn't financially rewarding enough for the burden it put on him and his family. He wants to be profitable in his remaining years in the sport and the team wasn't the best route for that.
Furthermore, he wants a legitimate shot at winning and to do that, he has to be one goal oriented. It is all or nothing if you want to win titles.
Do you have a question for JT? If so, hit him up on Twitter @Jason66Thomas and you may see your question right in this very column.