Bendgen highlights the new superstars of the 450 class.
Bendgen highlights the new superstars of the 450 class.
Photos: Simon Cudby
This summer the Lucas Oil Pro Motocross Championship has taken on a new look. No, I'm not talking about the new track changes that we have seen at all five of the rounds. I'm not even talking about the new semi hauler that MX Sports just debuted recently. I'm talking about the 450 class. The stars that we are used to seeing in action over the past decade are missing. They are either injured, racing another series, on suspension, or retired and over it. We've seen this happen before, but now we need new guys to step in and fill those missing spots. We need new superstars to shine and we have some that have risen to the occasion. Let's dive into the future of the 450 class.
First off, if it weren't for Ken Roczen, Red Bull KTM's Ryan Dungey would be coasting towards his fourth professional outdoor title with ease. We have all witnessed the heartbreaking story of Eli Tomac unfold early this season, and you almost have to wonder how long his win streak would have lasted.
Here's the truth, the following riders who usually contend for the podium, top five, and top ten are not racing the outdoors at the moment. It's a laundry list and it includes James Stewart, Chad Reed, Ryan Villopoto, Eli Tomac, Trey Canard, Davi Millsaps, Andrew Short, Mike Alessi, and now Josh Grant. Count them up and that is nine riders with some serious star power that we have been spoiled watching over the past decade. Who has been filling their spots for motocross supremacy? Let's take a look.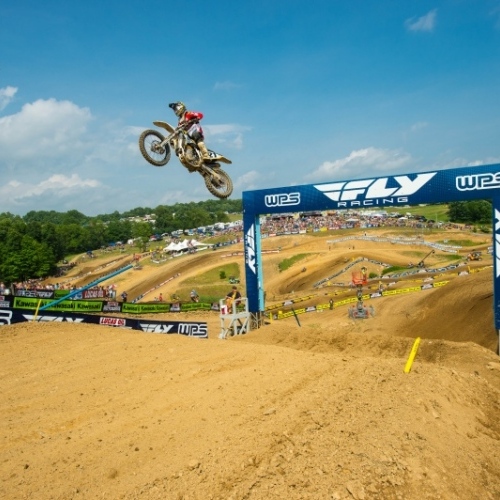 Anderson is on a hot streak.
The Rookies
Thankfully we had some heavy hitters move up a class for this season. Jason Anderson, Blake Baggett, and Cole Seely each earned factory rides for this season and they have each stood out at times. Right now it appears that Anderson and Baggett have the upper hand on Seely, where Seely was the standout in supercross. Currently Anderson is sitting in third place in the standings and has finished on the podium in three motos this season. Not only that, but he has three overall podium finishes as well, including two straight appearances in Tennessee and High Point. Baggett has seen the podium as well this season. He has two third place moto finishes and has one overall podium, which he accomplished at the Thunder Valley national. El Chupacabra has found his flow in the 450 class and he should only get better. Now if he could only grab a good start, and lead a moto for a bit, he could make things very interesting. In Seely's case, he was the only rookie to win a supercross this season. His finishes have been okay this summer, despite not making the podium yet. He has admitted to the media that he has hit a wall this summer, which most riders do when adjusting to the longer schedule of the 450 class. Cole does have a fourth and a fifth moto finish in the books.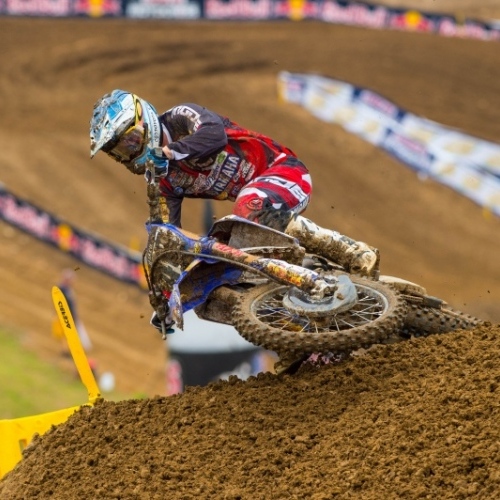 Filthy has been a big surprise this summer.
JGR
The AutoTrader/Toyota/Yamaha/JGR boys has all three of its riders inside the top ten in points. The team captain, Justin Barcia, is always going to be a threat for the podium, but has only found it one time so far. He isn't on the level that Ryan Dungey and Ken Roczen are on right now. However, he is one of the few guys who could match their pace, or beat them in a few motos before this thing is over. Barcia has taken his beard to fourth in the standings before Budd's Creek. He will always bring serious star power to any gate. Barcia's teammates have been solid as well. Weston Peick hasn't had the best past few rounds, but has one moto podium that occurred at Hangtown. Phil Nicoletti turned his fill-in ride last season into a full-time outdoor gig this year. Let's be honest here, Phil has been phenomenal this season. He's sitting tenth in the standings, but has a fourth and third moto finish in the first ten motos. Nicoletti has led motos this season and shown that he belongs racing this class full-time.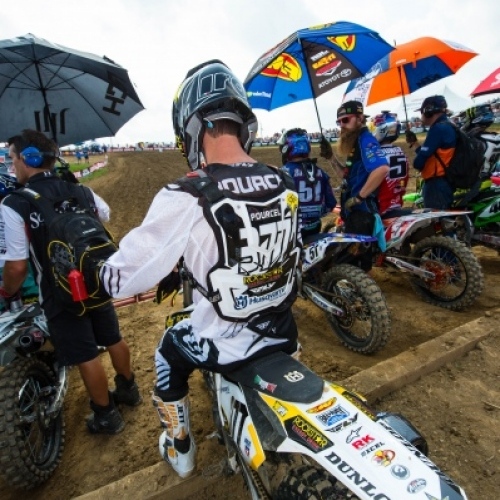 Pourcel is finding his groove and had his best results of the season at High Point.
Christophe Pourcel
The crafty Frenchman is at it again! Just when one thinks that he won't come back to race, he proves us wrong. Then gets on the podium at High Point and sows everyone that he was just easing into the series. With the off weekend behind everyone, Pourcel has had another week to get more acquainted with his Husqvarna, which could mean bad news for everyone else. Pourcel has always been a star in the sport and it's vital to the series that he is racing right now. Look for his strongest run of the summer at Unadilla later in the series. Until then, be on the lookout for more podiums from the Rockstar Husqvarna rider.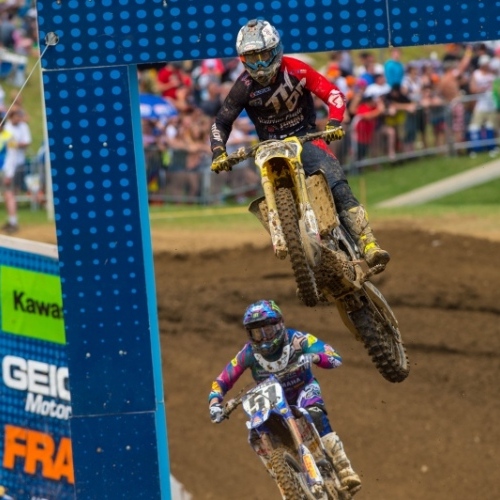 You'll always get consistency with Tickle.
Broc Tickle
Mostly overshadowed by Ken Roczen on the Soaring Eagle/Jimmy John's/RCH Suzuki ride is the "other" guy Broc Tickle. We're just busting his chops of course. Tickle is one of those guys who flies under the radar so hard that even the Navy wouldn't be able to find him. Tickle is the product of hard work and continuous plugging away. He is a sure bet for the top ten and is starting to make his way towards the podium. Broc has had a solid return to racing this season after a terrible injury that took him out towards the end of supercross last season. He's sitting sixth in points at he moment and his best result is a fourth overall, which he accomplished at Thunder Valley. Tickle has been a star of the Lucas Oil Pro Motocross series in the 450 class since he joined it in 2012.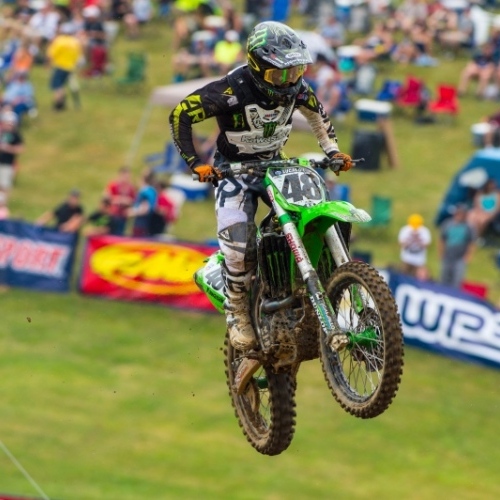 Like Pourcel, Wil had his best results at High Point as well.
Wilbur
Next up is one of the only other factory riders left on this list, Wil Hahn. Hahn is coming back from a laundry list of injuries and still isn't quite 100 percent yet. He is basically racing her into shape. The good news is that his best finish of the season occurred at High Point where he finished ninth. Expect more of the same type of with Hahn as the summer goes on. Actually expect a lot more from him because this is one guy who is determined to climb the standings as high as he can. Never doubt Wilbur. He is solely holding down the factory Monster Energy Kawasaki team right now and we caught up with him after the Hangtown national, which you can read right here.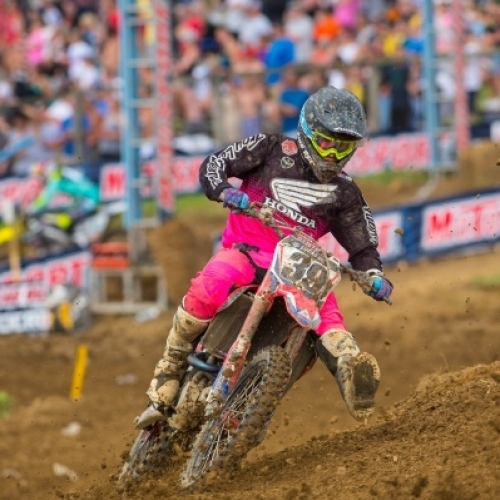 From a van to a factory ride last season, the Fredrik Noren story has been refreshing.
Privateers
Lastly we have the guys who don't make much money, but are still just as fast as the people that do, privateers. Fredrik Noren gave every one of these riders hope again last season when he parked his KTM and joined the factory Honda squad. At the time he was filling in for Trey Canard and Justin Barcia. This year he has ridden for the GPI/Motosport Honda guys, who also get Honda support, and just moved back to the factory bike again for a few rounds. He is making it inside of the top ten and his best result is ninth overall. This isn't too shabby for a guy who isn't exactly 100 percent either. He should only get better as the season wears on, but it is unknown how long he will stay on the factory bike.
Other privateers, like Noren and Peick were last season, have the chance of a lifetime right now. The 450 field is not as deep as it normally is, so it's their time to capitalize on this. The sport still has tremendous star power, but now it's the time to get on that team's radar for next season. Guys like Kyle Cunningham and Kyle Chisholm are right there for the top ten on any given weekend. Jesse Wentland is right behind them and a slew of other fast riders are right behind him. These guys are pushing themselves every weekend to be better. They are pushing themselves to get under that semi next season. Now we have to sit and watch it all unfold. The 450 class may be missing some of its riders this summer, but the new stars are now here and more are in the making.
Thank you for reading. I'd love to hear from you and bench race a bit. Drop me a line at Troy@pulpmx.com and let's chat about the best sport in the world.
Twitter/Instagram: @troybendgen