Peters reflects on his professional career so far.
Peters reflects on his professional career so far.
Photos: Simon Cudby
When you think of riding characteristics of the riders who race the Lucas Oil Pro Motocross Championship what do you think of? Surely you'd consider the rider to be a very hard worker with a never give up attitude. These guys will push past their limits to accomplish any goal that they have set for themselves to get to that next level. Motosport.com/GPI/Honda's Kyle Peters is one of those riders that would fit into that mold. We caught up with Kyle before the muddy Budd's Creek National to get an in-depth look at his past, present, and future.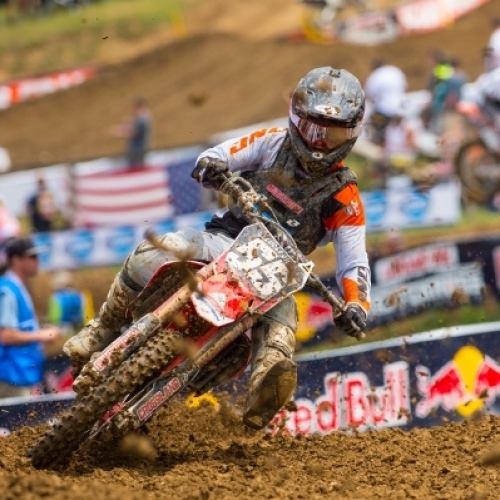 Peters found his way back to a team after two years on his own.
Long before he finished 19th overall at the Budd's Creek National, with trouble in both motos in the mud, Kyle Peters became a household name in the sport of amateur motocross. He first showed his card in the 65cc classes at Loretta Lynn's with overall podium finishes in 2005. Thus began years of consistency in the amateur ranks for the Greensboro, North Carolina rider. He would score moto wins, and get countless podiums, but that first title still eluded him. Finally in 2011, his final year at the ranch, he would best Justin Bogle for his first Loretta's title. Peters was on top of the world as he had graduated from the amateur ranks with a Star Racing Yamaha ride. A month later he found himself on the gate of his first Lucas Oil Pro Motocross National at Steel City.
Jumping into a professional series is no easy task, especially since only two rounds were left in the series. Also, Peters had crashed at Loretta's and he broke three vertebras in his back and was dealing with that. You know those shows on TV that are called, "I didn't Know I was Pregnant?" Well, Kyle should have been featured on a show called, "I didn't Know I was Injured." Kyle's first four motos were hit or miss. His best finish out of those four races was a 16th. The 2012 season was on the horizon and it was going to be a huge learning curve for the rookie.
Peters raced the East Coast series in 2012, a trend that he hasn't broken yet, and he said that he was starting to feel comfortable in supercross that season.
"Three days before the first round I crashed in the whoops and I had an AC separation in my shoulder, which wasn't too fun," Peters said.
It was a very quick transition from the separation in his shoulder to being back on the bike racing. Two week's later Peters found himself racing his first supercross in Daytona. It was a decision that Kyle said that he wishes he could take back. He was coming in way too early and he should have taken more time off.
"If I knew what I know now, I wouldn't of even raced supercross that year. Just because of that injury and how long it took to recover from it," Peters said.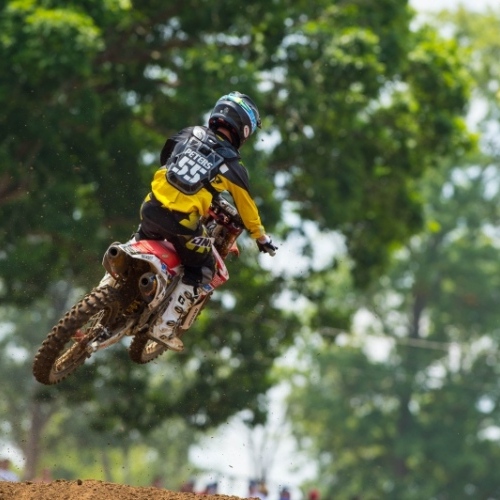 KP's best finish of the season was in the first moto at Glen Helen where he finished eighth.
Later that summer, Peters started to find his groove again in the outdoor nationals. He would find the top ten in some of the motos and was showing his true potential. That's when he crashed again and hurt his other shoulder. His rookie season had been up and down, but Peters had learned a lot and came back for the 2013 season an entirely different rider.
Over the winter of 2013, Peters was staying at Millsaps Training Facility and gearing up for another East Coast run. Gone was his Star Racing Yamaha ride and he had changed brands completely by returning to Honda. Kyle also returned to getting help from those who have stood by him throughout the years as an amateur. Headlined by his families Peters' Auto Mall, Kyle was a privateer and ready to do big things on the track.
"We knew after the season that nothing was going to come about, so as soon as outdoors ended we went and bought some bikes. We had a really good bike, as good as we could afford anyway. I wanted to show everybody that you don't need a factory bike, it definitely does help, but I wanted to show everyone that I could be up there," Peters said.
In the first round of the 2013 series Peters got a great jump on the gate and held a strong fourth at the finish. One spot off of the podium was a great redemption from his rookie season. Nothing that season would compare to the night he had at the Indianapolis supercross a few rounds later. That night was also known as the night that Blake Wharton threw the win away on the final lap. KP had a great start and held second place for the majority of the race. When Wharton crashed, KP was in the lead and a half lap away from winning the race.
"Marvin (Musquin) got me on the final lap and I was just in shock. I didn't know what was going on. It was a wild experience, but fun for sure," Peters said.
Later on in the season Kyle would find himself injured again. He would race through the majority of the season, and put in some consistent results, but he knew that he had more to give. Now the goal was to stay uninjured.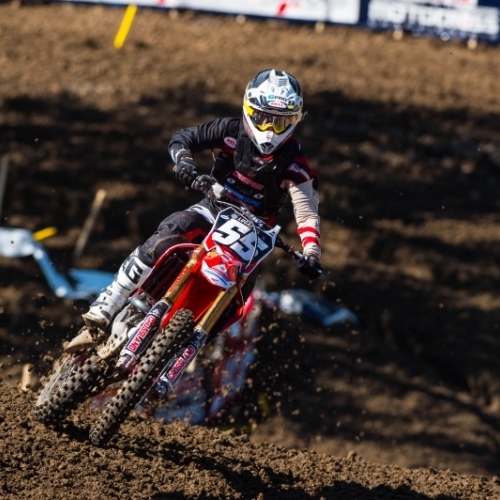 Peter's is enjoying himself on the Motosport.com/GPI Honda squad and he hopes to return next season.
The 2014 season brought more of the same results. Kyle was very consistent on his Honda and usually finished in the 10-20 range. He was one of those guys that put together their own ride and was on the verge of breaking through for those top ten finishes each week. His riding was good enough to catch the eye of the Motosport.com/GPI/Honda squad for the 2015 season. The deal came together two weeks before the season started and Kyle jumped at the chance.
This 2015 season has also been a highlight in Peters' career because he has had his most consistent results to date and he has stayed injury free with only six more rounds of the series let to race. Kyle said that as the team's results get better the team gets more and more support from Honda.
"I just try to put in 100 percent every time that I'm out there and I hope they see that. I couldn't ask for anything better, that's for sure," Peters said.
Peters said that it was also a dream come to work with his team manager Guy Cooper this season.
"I love the guy to death. He's helped me out so much this year with track conditions, lines, and how to set up my bike. He's always positive and motivated to get things done. I'm pumped to have him behind me," Peters said.
Before the season started the team stayed at Cooper's house and trained and tested.
"That was unbelievable, his place is out of control, and it's a playhouse that is for sure," Peters said
Peters had great news for all of you Airtime fans out there. Cooper is still getting out on the track and whipping it up like he used to.
"He's as crazy as ever. He has this track in the woods and it has big booter tabletops and he will just throw it flat on them. I'm like, "How do you do that?" He's awesome though." Peters said.
With Cooper and the rest of the Motosport.com/GPI/Honda crew in his corner, Peters is looking to finish the season strong. He puts in the work and continues to try and better his performances. His goal before the season ends is to show everyone that he can be a top five guy. This is a goal that can be reached in any given moto for him. He has the team and support behind him and he's showing what he was capable of since his injury riddled season in 2012. This is a solid building year for a rider who continues to get better every season.
Peters also said that while he likes to be known as a hard worker, he realizes that he flies under the radar when it comes to off of the track. He is there and consistent in the results every weekend, however he wants to make a statement. That statement could come this weekend at RedBud, where Peters might actually show his true colors. Those colors are of America red, white, and blue.
"I need to go full blown redneck at Redbud, I think that is what I'm missing. I need a mullet and those cutoff shorts that are pretty short, but not too short. I really just need some cutoff overalls," Peters said.
We'll be on the lookout for those at RedBud, Kyle.
Thanks for reading. I really appreciate both good and bad feedback. If you want to chat about anything email me at Troy@pulpmx.com.
Instagram/Twitter: @troybendgen