What really happened in Sweden.
What really happened in Sweden.
Article: Jonathan McCready
Pics: KTM Images, MXGP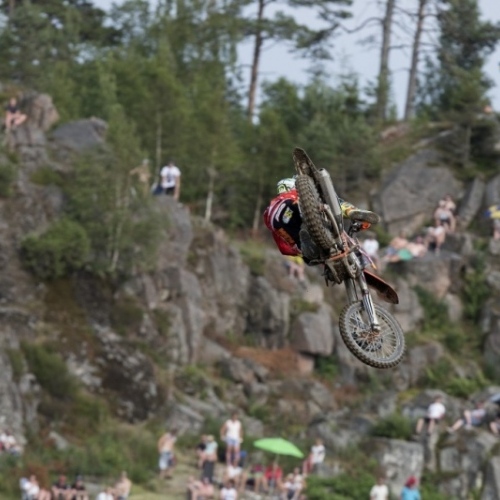 With Febvre's continued dominance, Csiroli needs to gain points back quickly.
Romain Febvre strengthened his grip of the MXGP title after going 1-1 at the slick Swedish circuit of Uddevalla.
With Antonio Cairoli getting "cleaned out by Philippaerts", in race one and finishing 13th. Febvre made some huge points on the defending world champion. Cairoli rebounded with a third in race one despite still suffering pain in his injured arm but the damage was done in race one and the Italian is now 39 points behind the flying Frenchman.
Febvre took his first ever double moto victory ( controlling race one and passing race leader Strijbos with two laps to go in race two)and looks to be immune to the pressures of leading the world championship. Of course the hard pack, slick tracks have suited the Frenchman's style perfectly. The former supermoto champ is without doubt the man to beat on such surfaces.
But next will be the sand of Latvia, although it's not like Lommel it will still be one of Cairoli's best chances to get some points back on the Frenchman. Febvre just has to be somewhere near the front to minimise the damage to show the world he is the man to bet for the 2015 MXGP World title.
But you can never count out Cairoli, who despite his race one result, is starting to look faster and more aggressive on the bike as his arm continues to heal.
Second overall was Yamaha's Jeremy Van Horebeek. It gave Yamaha a 1-2 overall and it was, surprisingly the Belgian's first podium of the season. This hasn't been Van Horebeek's year but he is finally showing the form everyone expected at the start of the season and he wants a win before the end of the season.
Third overall was Kevin Strijbos. He was the only rider on Febvre's pace all weekend but a mistake on lap one of race one plus crash relegated him to 8th. In race two he lead the entire moto only for Febvre to make a move with two laps to go. Strijbos form since he came back from injury has been nothing short of brilliant, both he and Suzuki have to be frustrated that injuries wrecked his championship chances.
It was a good day for the Aussies in Sweden. Dean Ferris finished fourth overall with Todd Waters in fifth. Both riders have upped their game in the last few weeks and are showing their potential. Ferris in particular is showing that the 350 is no disadvantage and since he has had Cairoli's engine his starts have been fantastic.
Gautier Paulin blew his outside chances of the world title by crashing in moto one and twice in moto two to finish ninth overall. Paulin wasn't happy with the track, but in truth, this is the sort of technical slippery track that he usually excels on. Paulin isn' t the same rider he was on the Kawasaki and right now his teammate Bobreyshev is showing more raw speed out of the HRC duo.
Poor Tommy Searle. After two injuries already this season, Searle made his comeback from a broken collarbone and promptly injured his elbow in race one. He had showing top six speed all weekend and was challenging Philippearts for sixth when he lost the front wheel going round the outside of the Italian and caught his elbow the Philippearts back wheel as he went down. Searle required stitches but tried to ride race two only for the pain to be too much. It appears Searle may have suffered a slight fracture on the elbow to continue what has been a nightmare season after promising so much.
In MX2 it was Tim Gajser who won his third GP in row to equal Herlings' four GP wins in the season. Gajser is on a role right now and if Herlings keeps hurting himself Gajser , 78 points back, could take this title.
But Herlings is a fighter. Just two weeks after breaking his collarbone, the Dutchman promptly went out and won race one ona circuit that couldn't be further from his ideal condition. He beat Gajser straight up and seemed to be ending the thoughts anyone else had of winning the MX2 title.
But in race two it all went wrong again. Herlings got too aggressive in the first turn going for the lead and high-sided with the handlebars landing on his fingers. Herlings got up and back ont he bike initially only for the pain of his dislocated and cut to the bone little finger to force Herlings back to pits and straight to ambulance yet again.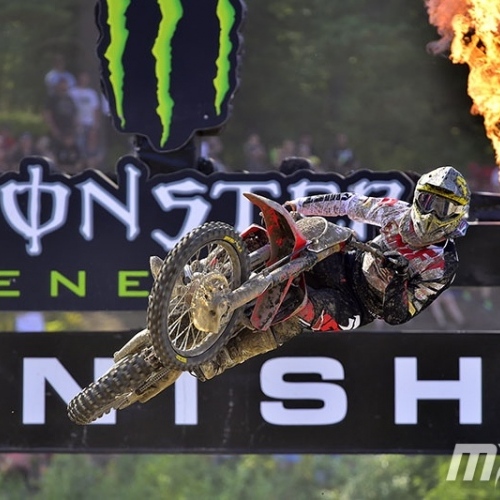 Three wins in a row for Gajser.
It is unclear if Herlings will compete in Latvia, which usually would have been a 1-1 due to sandy nature of the circuit, knocking one of Herlings guaranteed victories out of the window. If Gasjer can get a good points' haul there and Herlings can't ride, the HRC man might just have the momentum in the championship!
Valentin Guillod continued his good form with second overall on the Standing contruct Yamaha despite having to deal with a bent shifter in race two. And is third in the championship 88 points behind Herlings.
The second moto in Sweden was the best ride of Jeremy Seewer's career. The factory Suzuki man took second, holding off Jordi Tixier and got on the podium for third overall to make it two Swiss men on the podium alongside Slovenian Gajser.
It was also Vsevolod Brylyakov's best ride of the his career. Th young Russian has been impressive in the last 18 months on the J-tech Honda but broke through to the top five for the first time in his career – and looked comfortable doing it! If Alex Tonkov hadn't injured his shoulder and been ruled out for the year, Russia would have been serious podium contenders for the podium at the Nations!
Another new name in the top five was Brian Bogers, the talented Dutch teenager (where have we heard that phrase before) is making his presence known in his first MX2 season and is proving himself on every type of terrain. Bogers is the real deal and with HSF logistics team behind him former world champ John Van Den Berk coaching him, Bogers has a bright future ahead.
All the teams now head to Latvia and a welcome break from the hard pack tracks. The riders will certainly enjoy some big berms and sand to re-find their aggression in but with Herlings' status unknown and Cairoli having to stop the Febvre runaway train, it promises to be another frenetic and unpredictable GP!
MXGP Overall Top Ten: 1. Romain Febvre (FRA, YAM), 50 points; 2. Jeremy Van Horebeek (BEL, YAM), 38 p.; 3. Kevin Strijbos (BEL, SUZ), 35 p.; 4. Dean Ferris (AUS, HUS), 33 p.; 5. Todd Waters (AUS, HUS), 32 p.; 6. Shaun Simpson (GBR, KTM), 30 p.; 7. Antonio Cairoli (ITA, KTM), 28 p.; 8. Glenn Coldenhoff (NED, SUZ), 27 p.; 9. Gautier Paulin (FRA, HON), 27 p.; 10. David Philippaerts (ITA, YAM), 26 p
MXGP Championship Top Ten: 1. Romain Febvre (FRA, YAM), 419 points; 2. Antonio Cairoli (ITA, KTM), 380 p.; 3. Maximilian Nagl (GER, HUS), 360 p.; 4. Gautier Paulin (FRA, HON), 351 p.; 5. Evgeny Bobryshev (RUS, HON), 319 p.; 6. Clement Desalle (BEL, SUZ), 291 p.; 7. Shaun Simpson (GBR, KTM), 257 p.; 8. Jeremy Van Horebeek (BEL, YAM), 232 p.; 9. Todd Waters (AUS, HUS), 224 p.; 10. Glenn Coldenhoff (NED, SUZ), 196 p.
MX2 Overall Top Ten: 1. Tim Gajser (SLO, HON), 47 points; 2. Valentin Guillod (SUI, YAM), 38 p.; 3. Jeremy Seewer (SUI, SUZ), 36 p.; 4. Vsevolod Brylyakov (RUS, HON), 32 p.; 5. Brian Bogers (NED, KTM), 26 p.; 6. Brent Van doninck (BEL, YAM), 25 p.; 7. Jeffrey Herlings (NED, KTM), 25 p.; 8. Roberts Justs (LAT, KTM), 22 p.; 9. Jordi Tixier (FRA, KAW), 20 p.; 10. Benoit Paturel (FRA, YAM), 20 p.
MX2 Championship Top Ten: 1. Jeffrey Herlings (NED, KTM), 423 points; 2. Tim Gajser (SLO, HON), 345 p.; 3. Valentin Guillod (SUI, YAM), 335 p.; 4. Jeremy Seewer (SUI, SUZ), 311 p.; 5. Pauls Jonass (LAT, KTM), 307 p.; 6. Jordi Tixier (FRA, KAW), 306 p.; 7. Max Anstie (GBR, KAW), 262 p.; 8. Julien Lieber (BEL, YAM), 259 p.; 9. Aleksandr Tonkov (RUS, HUS), 256 p.; 10. Dylan Ferrandis (FRA, KAW), 205 p