One large vet rider +
One large vet rider +
Race Tech – A Pulp Nation Member Speaks
By Lawrence Hamm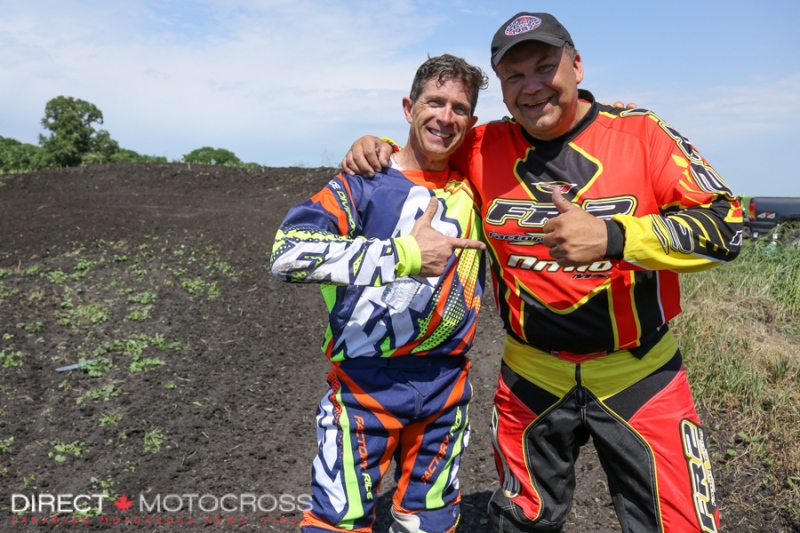 Hamm (on right) needed some suspension that would well for his weight and speed.
Earlier this year I purchased a 2015 CRF 450 and I absolutely love the bike. To give you some perspective, I'm a 47 year old Vet A rider who is a big guy (6'2" and 245lbs) and I still race almost every weekend. Most modern mx bikes are built for guys that look like the guy beside me in the picture below, so I knew immediately that I needed some suspension work done to support my linebacker type physique.
At this point in my life, I have the luxury of investing in the finer things in life, so I wanted to "do it once and do it right". After chatting with a few of my friends who are in the industry (including a certain 4 time Manitoba Champ) and doing my research, I came to the conclusion that I would have my stock suspension modified and create my own "A" kit.
I am a long-time listener of the Pulp MX show, so as a loyal member of the Pulp Nation I decided to give Race Tech a try. My plans were to get the best suspension I could possibly get for a price that was fair and reasonable. I also thought that an honest review from a fellow listener might help a person or two as they look to spend their hard earned money on their suspension.
After 30 plus years of racing, my experience has taught me that the key to great suspension is in the details and setup. Simply put, spring (or air up) the bike for your weight and be honest about your skill level and riding style.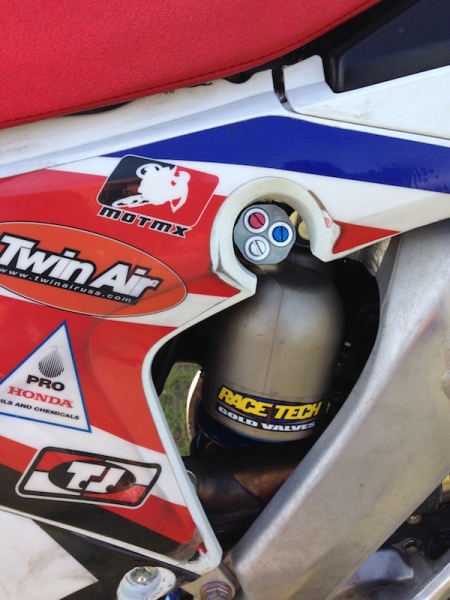 The shock was gone right through by RT and given the goods including moving the rebound adjuster.
I placed a call to the Race Tech offices in Corona, California and let them (Sydney) know what I was looking for. I also exchanged a few emails with them to provide other information that they were looking for. Right from the start, their attention to detail was impressive. I really walked away from the process feeling like what I wanted mattered. We covered my age, type of riding, skill level, weight and overall preferences before my package was put together. In the end, I went for the works. Here is a list of the goodies that I chose for my bike:
Front Forks
DLC Coating Lower tubes coated with DLC (Diamond Like Carbon Coating) to reduce stiction and produces smoother fork action.
Gold Valve Kit Compression/Mid Valve/ Rebound Gold Valves – valves used specifically tailored to my weight and riding level/style.
Rear Shock
DLC Coating Shock shaft coated with DLC (Diamond Like Coating) to reduce stiction and produce a smoother shock action.
Shock Spring Race Tech 6.3kg
Preload Collar Set Billet Aluminum
Gold Valve Kit G3-LD Shock Gold Valve Kit
Hi Volume Cap Shock Reservoir Hi Volume Billet Cap.
Rebound Valve Special separator valve to move rebound to shock clevis.
Shock Clevis Billet shock clevis to move rebound adjuster to bottom of shock.
I have been riding and racing my bike for 5 weeks with the new setup and I can safely say that I love it! The forks are smooth and the "harshness" that I felt in stock trim is now largely gone. The initial feel is quite plush and the biggest difference that I have noticed is that braking bumps are less noticeable to my arms. The forks are now properly set up for my weight and are no longer blowing through the stroke and tiring my arms out. My guess would be that this is due to the valving and proper set up for my weight, but the DLC coating looks cool and probably helps as well. As far as adjusting rebound and compression I am still figuring the new air forks out, but I am pleased with the performance and settings provided to me by Race Tech.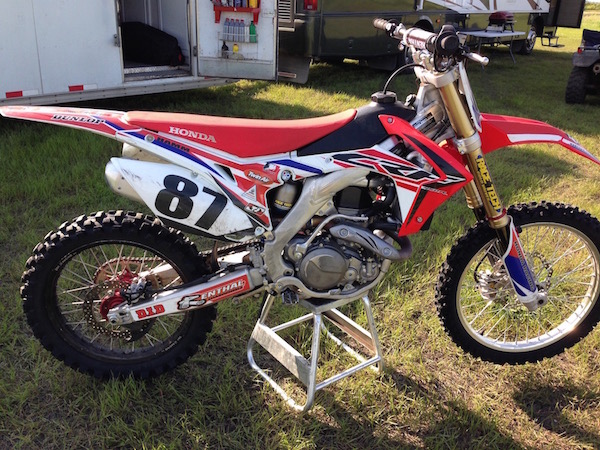 The Race Tech CRF 450 of one Mr Hamm…
The shock also feels really good. Once again, the feel is much smoother and it is now sprung properly for my style and weight. I can hit obstacles and jumps without fear of collapsing my spine (and breaking the bike). The adjustability is also quite nice. Moving the rebound down to the bottom of the shock has made it easier for me to adjust it properly for the conditions present on the track. The settings Race Tech provided to me were pretty close to what I am running right now, so kudos to them for being on the mark.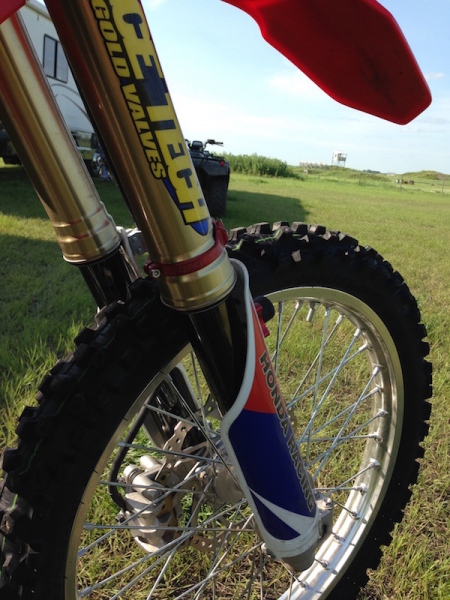 That DLC coating sure looks sweet.
Overall, I would say that the money I spent was well worth it and that I am very satisfied. My confidence on the track and in my bike has increased exponentially. Plainly put, my bike is stable and planted on the track. It does not do unexpected things and allows me to ride longer and harder without fearing massive hits and tiring jars to my old body. The guys and Gals at Race tech have also been fantastic; they have followed up with me and offered trackside assistance with setup from the first moment that I became a customer. Their service and interest in you does not end when you pay your bill. They stand behind their product and want to help you get the best out of your machine. If you are thinking of spending money on your suspension, give Race Tech a try. You will not be sorry.