British Domination
British Domination
Article: Jonathan McCready
Pic: MXGP and Nigel McKinstry
Simpson won his first GP of the season.
Shaun Simpson had the ride of his career at Lommel to take a double victory on the roughest track of the year.
The Scot, on a privateer KTM, took on and beat championship leader Febvre and second place in the series, Gautier Paulin, in both motos to win his second ever GP and his first since 2013.
Simpson dominated all weekend and made the least mistakes on a track that was incredibly brutal. Both Simpson and Paulin said it was the roughest Lommel they had ever ridden and Tyla Rattray said it was the roughest track he had ridden in his life!
The track even caught out Simpson in race two but the Scot, who crashed with two laps to go was able to remount and still take the win such was his lead. One of the keys was Simpson doing the big quad jump, he used it to jump over Febvre's head on lap one of race one and only Gautier Paulin was able to jump the quad all weekend, along with Simpson.
In race two Paulin went out front early but Simpson knew what was happening and stayed within striking distance and, when Paulin got tired, Simpson made his move and there was nothing Paulin or Febvre could do from then on.
A jubilant Simpson explained: "This has been a long time coming. I wanted to grab this opportunity with both hands and there is no way I was going to let it slip today. It went more or less to plan. In the second one I maybe wasn't the fastest guy but I definitely planned it and I knew I could last the distance. This is definitely the roughest I have seen Lommel, it was nice to see, I would call this real motocross."
Second overall was Gautier Paulin and it was maybe one of his best rides of the season. Struggling with knee injury sustained at the last GP at Loket, Paulin was limping badly but still challenged for the win and fought hard through the pain to secure second ahead of Febvre.
Paulin said: " The track was pretty tough, I hurt my right knee in Loket, I had to get rehab with my staff in France, but I like to push my body to the limit. I just pushed and I was feeling good. I want to thank HRC because we made a big step with the engine. I had to make the end with my mind and with how I am feeling (with his knee injury) it's great."
Romain Febvre can ride the sand! In a bitter blow to all his rivals, Romain Febvre continued to confound the critics by going for the win at Lommel and getting on the podium. The Frenchman tried to re-pass Simpson for the lead in race one only to crash, and then crashed again as he tried to catch Paulin for second.
In race two he battled Paulin again for second but a couple of mistakes gave Paulin the edge. Febvre admitted that the crashes in the first race took a lot out of him but he was also playing it safe and he never jumped the quad that Simpson and Paulin were doing, and he lost a lot of time in the process. But Febvre was very impressive this weekend, and he has shown everyone that he can ride any conditions now.
Fourth overall was Evgeny Bobreyshev and the HRC man moved up to third in the championship with Cairoli missing through injury. It means HRC are now 2-3 in the series and their investment is starting to pay dividends. They will only get stronger from here.
It was more pain for Tommy Searle. The Brit admitted at the start of the weekend he couldn't wait for the season to be over, then after riding with cracked ribs, Searle felt them break as he hit some bumps in the qualifying race. He didn't even crash, but the pain meant Searle had to pull out for the weekend, and it is unclear when he will be back on the back.
Kevin Strijbos confirmed at Lommel that he has re-signed with Suzuki for two more years. With Stefan Everts coming on as team manager, can Strijbos finally find the missing piece to win a world title? Who will be the second rider in the Suzuki camp remains to be seen, but they are running out of options fast.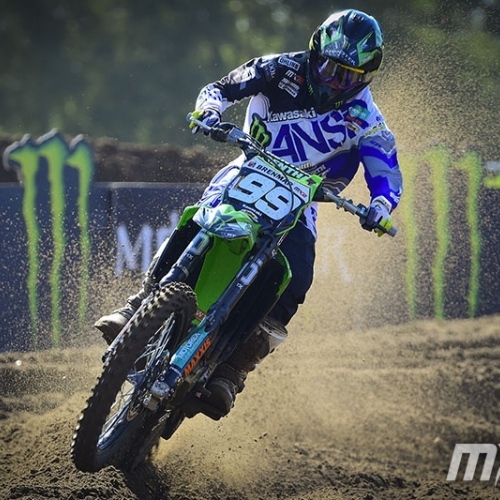 Anstie has been on fire lately in the MX2 class.
In MX2 it was more British domination, this time from Max Anstie! The Brit, who grew up racing the sand in Holland, put on a blistering display of sand riding skills as he hopped, skipped and jumped his way around the bump riddled Lommel circuit.
Anstie, who will be ruing his crash in Loket last weekend, is now 46 points behind the new championship leader Pauls Jonass.
Anstie said: "It's awesome, I can't remember a time when British guys won the overall in both classes in the sand. It was a physically demanding track but it was a good day and I enjoyed it. I am just focused on my performance, I wasn't happy with going down last weekend. But I am just going to keep going, keep the ball rolling in these last four rounds and see where we end up."
Despite having four of their six factory KTM riders out injured, KTM are incredibly still leading a world championship! MX2 rider Pauls Jonass has taken over the mantle from Jeffrey Herlings and put in two strong performances in Lommel to go 2-2 and take the championship lead by four points over Tim Gajser.
Jonass is being trained by Stefan Everts and admitted Everts has made the difference this year both mentally and physically. Now the test begins for Jonass to see if he can handle the pressure, but with Everts by his side it seems the Latvian has the belief he needs to go for this title.
Tim Gajser had two difficult rides from the back of the pack but is only four points behind Jonass after what was his least favourite track of the year. It is all about the two 18 year olds for the title and an interesting manufacturer rivalry between KTM and Honda.
HRC announced over the weekend that they have signed Gajser for the next five years, but even if he wins the MX2 title this year, Gajser won't be going to MXGP next season and will stay MX2. However HRC and Gajser will both be keen to get their soon, Honda want the premier class title badly, and Gajser is their best chance of getting it!
It was a disastrous day for title contender Valention Guillod. Outside the top ten in race one, Guillod was doing better in race two only to crash into a stricken Brent Van Doninck. It put a hole in the Swiss man's radiator and a costly DNF for the championship. Guillod was livid and had to be calmed down by his Standing Construct team.
Guillod is now 25 points back in third but the championship is still possible if he can rebound at the next round in Mantova, Italy.
It's still all to play for in MX2 when the championship resumes in the three weeks in Italy, but Romain Febvre is the man waiting to be crowned King in MXGP and it could happen before the final two rounds in North America. Febvre needs to gain 16 points on Paulin in the next two rounds to claim the crown before they head to Mexico and the USA.
MXGP Overall Top Ten: 1. Shaun Simpson (GBR, KTM), 50 points; 2. Gautier Paulin (FRA, HON), 44 p.; 3. Romain Febvre (FRA, YAM), 40 p.; 4. Evgeny Bobryshev (RUS, HON), 34 p.; 5. Kevin Strijbos (BEL, SUZ), 30 p.; 6. Jeremy Van Horebeek (BEL, YAM), 30 p.; 7. Todd Waters (AUS, HUS), 28 p.; 8. Glenn Coldenhoff (NED, SUZ), 24 p.; 9. Tyla Rattray (RSA, KAW), 23 p.; 10. Gert Krestinov (EST, HON), 23 p.
MXGP Championship Top Ten: 1. Romain Febvre (FRA, YAM), 547 points; 2. Gautier Paulin (FRA, HON), 463 p.; 3. Evgeny Bobryshev (RUS, HON), 423 p.; 4. Antonio Cairoli (ITA, KTM), 416 p.; 5. Maximilian Nagl (GER, HUS), 360 p.; 6. Shaun Simpson (GBR, KTM), 356 p.; 7. Clement Desalle (BEL, SUZ), 331 p.; 8. Jeremy Van Horebeek (BEL, YAM), 324 p.; 9. Glenn Coldenhoff (NED, SUZ), 290 p.; 10. Kevin Strijbos (BEL, SUZ), 287 p.
MX2 Overall Top Ten: 1. Max Anstie (GBR, KAW), 50 points; 2. Pauls Jonass (LAT, KTM), 44 p.; 3. Petar Petrov (BUL, KAW), 38 p.; 4. Julien Lieber (BEL, YAM), 35 p.; 5. Harri Kullas (FIN, HUS), 34 p.; 6. Tim Gajser (SLO, HON), 30 p.; 7. Jeremy Seewer (SUI, SUZ), 26 p.; 8. Benoit Paturel (FRA, YAM), 23 p.; 9. Jordi Tixier (FRA, KAW), 23 p.; 10. Brian Bogers (NED, KTM), 18 p.
MX2 Championship Top Ten: 1. Pauls Jonass (LAT, KTM), 433 points; 2. Tim Gajser (SLO, HON), 429 p.; 3. Jeffrey Herlings (NED, KTM), 423 p.; 4. Valentin Guillod (SUI, YAM), 408 p.; 5. Jeremy Seewer (SUI, SUZ), 395 p.; 6. Jordi Tixier (FRA, KAW), 393 p.; 7. Max Anstie (GBR, KAW), 387 p.; 8. Julien Lieber (BEL, YAM), 340 p.; 9. Petar Petrov (BUL, KAW), 262 p.; 10. Benoit Paturel (FRA, YAM), 259 p.