For MX Captured #46 I thought we would take a look back at a sweet Paul Buckley shot of Robbie Reynard from the 1995 Dayton Supercross.
For MX Captured #46 I thought we would take a look back at a sweet Paul Buckley shot of Robbie Reynard from the 1995 Dayton Supercross.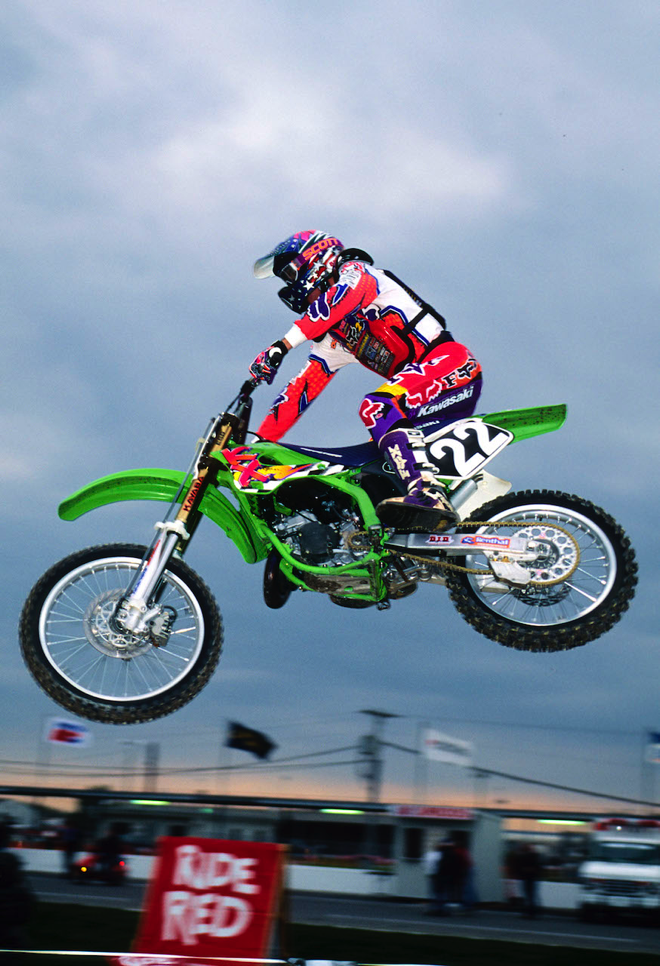 Few riders in the sport's history have been as fluid and flawless in style as Norman, Oklahoma's Robbie Reynard. Pegged for greatness from a young age, Reynard was fast, but fragile and never able to parlay his immense natural ability into professional titles. Photo credit: Paul Buckley
When bench-racing turns to the subject of artistry on a motocross bike, there are always a few names you can count on to pop up at the top of the list. Tripes, Bailey, Lechien, Bayle, Reynard, Everts and Windham, all in possession of immense natural talent on a motorcycle and every one poetry in motion. In the case of a few, this amazing natural ability has translated to championships, but for many others, grace, form and perfect technique have not added up to race wins or number one plates.
The reasons for these perceived failings have been varied and numerous. For some, the trappings of fame led them astray, while others found their talent to be a double edged sword that allowed them to succeed, while never cultivating in them the fire and desire needed to push past what God and good genes had given them. In motocross, as in life, talent will only get you so far, and often it is the person with the greatest desire, not necessarily the greatest natural ability, that comes out on top.
While skill and drive are both critical components to championship success, often the most important factor is physical health. Few sports of any kind are as hard on their athletes as motocross and there is a good reason you don't see 38 year-olds like Tom Brady winning Supercross championships. In our sport, there are no roll cages and even a minor fall can lead to a catastrophic injury. Because of this, things like talent and desire often take a back seat to random chance and even the most promising of careers can be derailed in the blink of an eye.
Such was the case with Robbie Reynard, one of the most naturally talented and technically perfect riders the sport has ever seen. In 1993, Robbie was one of the hottest prospects in the sport and looked like a sure-fire bet for motocross stardom. Even before turning pro, he was one of Fox Racing's highest profile athletes. He graced countless ads and catalog covers, while filling up the pages of MXA with his amateur exploits. At 15, Reynard was already a motocross super star (in an era well before Instagram and Dirt Shark videos) and one of the most recognizable names in the sport.
In the summer of 1993, Robbie stepped straight out of the amateurs and into a big-bucks Factory Kawasaki contract. Riding a works KX125-SR, Robbie was teamed with the reigning 500 National Motocross champion Mike Kiedrowski and perennial hard-charger Mike LaRocco. His first pro event would be at High Point, where he would score respectable seventh overall. A week later, in his first ever Supercross at San Jose, Robbie would suffer the first of many lingering injuries. While running up front in third and three laps from the finish, Reynard would come up short on a double and snap his right wrist. Robbie would end up with an eighteenth place finish and cast as a souvenir of his first pro Supercross action.
After taking a few months off to heal, Reynard would rejoin the 125 National series at round seven in Troy, OH. The injury and layoff would deal a setback to Robbie and double digit finishes would follow at Troy, Glen Helen and Washougal. By the end of the series, however, the Kawasaki phenom began to get things on track. An eighth at round ten in Millville would be followed up by an impressive fourth at Broome-Tioga. In Delmont at the season finale, Robbie would cap his comeback with a 6-1 moto score to card his first ever 125 National Motocross win. With the victory coming a few months after his sixteenth birthday, Robbie became the youngest rider ever to win a 125 Motocross National (a record he still holds).
After his impressive showing at Steel City and a 1993 Arenacross title, things looked to be going exactly to plan for Kawasaki's youngest star. Unfortunately, those plans would once again take an unexpected turn at Kawasaki's annual Race of Champions in Englishtown, PA. At the 1993 KROC event, Robbie would crash and dislocate his right shoulder for the first time. A month later, he would travel to Paris for the famous Bercy Supercross, only to have his shoulder pop out several more times again. After the Bercy experience, Robbie and his family decided it was best to have his right shoulder fixed and elected to have surgery to repair the ailing joint. While this was certainly the best choice, it left him with precious little time to prepare for the Supercross season opener in January.
Even with his off-season injury, Robbie he was still considered as one of the favorites for the 125 East Coast Supercross title. Once again teamed with Kiedrowski and LaRocco, Team Kawasaki looked to be one of the most formidable lineups in the pits. A fourth in the Orlando opener looked promising, but the flu and severe arm-pump would hold the Kawasaki ace back to thirteenth at round two. At round three, Robbie would card his best finish of the season with a second behind eventual series champion Ezra Lusk. After Tampa, the rest of the season would see Robbie competitive, but not quite on the pace of Suzuki speedsters Lusk and Jimmy Button. Reynard would card one more podium at Indy, before suffering yet another shoulder injury (this time to the left shoulder) at Charlotte.
Unfortunately, the effects of this second shoulder separation would plaque Robbie throughout the 1994 outdoor season (and well beyond). During the summer, Reynard would ride through the pain, but deliver inconsistent results. Double-digit finishes at Budds Creek, High Point, Troy and Washougal would be offset with a solid second at Unadilla and a surprising repeat victory in the season finale in Delmont, PA. In spite of the victory, a seventh place overall finish in the final standings would be the best Robbie could muster.
The 1995 season would once again prove a tough one for Reynard, as he would endure not only a broken collarbone, but also a pair of ACL surgeries. The collarbone would give way at round one, when Robbie would crash over a set of triples only three laps from the finish. He would miss all of the early rounds of the Supercross, only to once again confound his detractors with an out-of-nowhere dominating ride in the 125 National season opener at Gainesville. After the Gatorback win, it would be back to the drawing board with a crash and a torn ACL a few weeks later at Pontiac.
Initially misdiagnosed as a simple knee sprain, Robbie would soldier through the pain to race the 1995 outdoor season. While he was out there, he initially found it difficult to back up his round one victory. He was solidly in the top ten, but unable to match the pace of Honda's Steve Lamson at the front. Late in the series, he would pull of another win at Millville, but unfortunately follow that up with a second ACL tear the following week at Washougal. This time, Robbie would decide to get his knees fixed and miss the last two rounds of the series.
What would follow would be an endless cycle of injury and recovery (often getting too much of the former and not enough of the latter). Robbie would get hurt, rush back, be unprepared and get hurt again. It was a vicious cycle that the blazing fast kid from Oklahoma could not seem to break out of. The 1995 season would be his last at Factory Kawasaki and at the end of the year, Reynard would turn down a ride with Mitch Payton's Pro Circuit team to stay paired with his dad and race for the new Primal Impulse Honda team.
Reynard would spend three seasons on the Primal team, taking a moto win at Unadilla and an overall at Steel City in 1998. In 1999, Robbie would step up to the 250 class full time and earn a Factory Suzuki ride along side Greg Albertyn and Larry Ward. He would spend two years with the Factory squad, before once again pairing with his dad for a privateer effort in 2001 and beyond. Over the course of his sixteen-year professional career, Robbie never failed to impress with his fluid and effortless style. Never an elbow out of place, he was the epitome of grace on a motocross machine. While his five National motocross victories fell short of the expectations of many, his enthusiasm, talent and incredible ability to push through adversity never waivered. Today, Robbie is still hauling the mail on two wheels and you can bet he still looks damn good doing it.
Matthes: Blaze, I've been going to Millville just about every year since 1988 when I was 14 and just about every pro race since 1996 as a mechanic/media guy. I've seen a lot of races come and go and a lot of racers as well. There are very few rides (that weren't put together by a rider I was wrenching for) that stick with me after all these years, they blend together after a while you know what I mean? Sebastian Tortelli at Glen Helen in 1999 is one, Jeremy McGrath and Ricky Carmichael at Anaheim in 2001, Travis Pastrana at Daytona in 2001, James Stewart and Ricky Carmichael at High Point in, I think, 2006 come to mind as times when I was left just shaking my head and smiling. Watching someone on another level from someone else and being there in person is special. Looking at that list above, those riders are all incredible champions and legends. Robbie Reynard is neither yet he's made my list not once but twice.
The first one is Unadilla 1998 when he was on a Primal Impulse Suzuki and he caught, passed and left Carmichael behind. This never, ever, ever happened to RC and RR did it. It was a riding clinic and one of those that left you speechless and realized why Robbie was able to get people to pay him to ride a dirt bike. He wasn't the amateur phenom at this point. He was just trying to get good results and stay injury free. He didn't win the overall (1-3 on the day) but his first moto was something I'll never forget.
The second time Robbie makes the list is from this year our photo is from. 1995 was his third year pro and although he'd already been hurt a few times, the 'can't miss' label was still attached to RR. Blazier touches on the race I'm talking about and that would be my "local" national Millville. I was pretty much done racing, 1995 was the first time in three years that I didn't line up in the 500 class and try to make the motos. I was there as a spectator and also try to start working on connections to become a mechanic for someone, anyone. I had already gotten a few ins with friends that were working on the circuit and so '95 Millville was important to me for a few different reasons.
I remember it was blazing hot. Like seriously hot and muggy. I remember having a pit pass through my buddies and being able to go anywhere I wanted. I watched most of the motos from the first turn area right outside the mechanic's area. And I remember Robbie Reynard.
As Tony says, he had already won one race, missed a bunch of others and was riding with a torn ACL. You wouldn't think he'd be much of a factor on this day. Steve Lamson had missed the start of the nationals with an injury and was on the march on his factory Honda to the title. Pro Circuit's Ryan Hughes was the points leader and had two wins. Damon Huffman was a rising star on Suzuki and in short, there were a ton of reasons why Robbie shouldn't have won Millville.
I wanted to go back and see if Robbie was as amazing as I remembered he was. Thank god for Cycle News archives right?
Yup, I was right-It wasn't even close. RR went 1-1 on the day and according to Cycle News, he had an over 20-second lead on Lamson in the second moto. There was one rider who was actually ahead of Robbie at any minute in either moto and that was Michael Brandes who was passed by Reynard in the second turn in the first moto. That was it. I remember him absolutely crushing everyone, I was in awe of this because as I said, it was so hot and humid (Mike Craig basically passed out after moto one says Cycle News but he refused an IV so he could race the second moto) and you know Robbie wasn't 100% health-wise and that meant probably fitness-wise as well. You couldn't even tell as he just walked away from everyone.
Lamson said after the race "Robbie rode real good today, real good" in an understatement of the week.
It was amazing to be there. This kid on the Kawasaki that had so much hype around him for so many years justified it on this day. You just weren't supposed to be able to do what he did. It was too hot, too rough and the other riders too good. I'll never forget Reynard's ride. It was something else indeed. Although Robbie had a nice career, there is a sense he left so much more on the table due to injuries but at Millville Minnesota in 1995, he was at the pinnacle of the sport, if only for a day.