Bendgen explains why a one year deal is one of the scariest contracts to sign.
Bendgen explains why a one year deal is one of the scariest contracts to sign.
Photos: Simon Cudby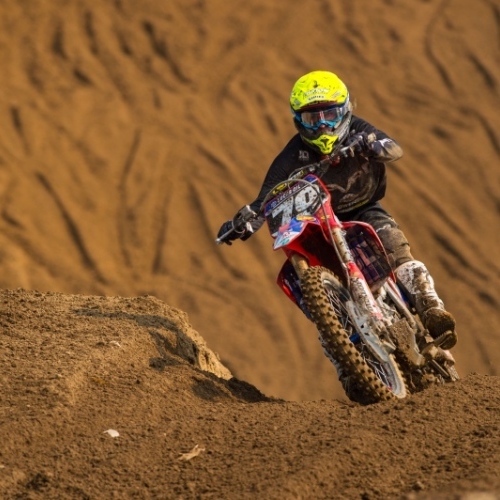 Not calling out Jace Owen by any means, but he fits the category of this column. Owen earned #59 this year and doesn't have a ride for 2016 yet.
September and October are some of the worst times to be a professional motocross rider. Unless you are a rider with a two or three-year deal you are searching for a ride right now. Typically riders will be talking to several teams throughout the year if they know they do not have anything going on for the next season. All this means is that a rider is reaching out to tell teams that they do in fact have nothing for the next season and they would love to be under some sort of awning. The rider's thought process is that when it comes time for teams to make rider selections, the team managers might remember a few conversations with an upcoming free agent.
I'm sure this theory has worked many times in the past, but I'm also sure that it hasn't worked for many riders as well.This is why many riders do not burn any bridges in this small sport of ours. If you burn a bridge, well good luck riding for that team ever again. The team won't want to work with you.
The other problem with this theory is that none of the teams have the budget in place for the next season until; well it really just depends. The factory teams tend to get the budget first and then the higher supported teams, and so on down the line.
It seems that every once and a while a new team will come in with some big sponsors and support, but then fold before the season even starts. Either that, or as the season goes on the team keeps on racing and the money never comes through. The riders have no choice but to jump ship since the sponsor isn't living up to their end of the bargain. In this situation the rider thought they had a home, but in reality are actually doing it on their own still.
When you don't have a ride for the next season, and the first race is in three short months, it's a very scary position to be in. It's also very scary to not have any job security. If you aren't winning championships, or races, you are very replaceable. There is always that next big talent coming up to replace you. This is why your best race needs to be your last. If a rider can only sign a one year contract then he will have to deal with the same process the next season of finding a ride.
I talk to so many privateers each month and they tell me the same thing when I ask them what their situation is looking like for next year. The riders tell me that they are still in talks with some teams, but nothing is signed yet. Obviously I'm not an idiot. I've been covering this sport as a journalist for almost seven years and I've been following it my entire life. I have my ways to get the information that I need. I know that some of these riders do in fact have deals signed for next year. They just don't want anyone to know until the team makes it official. I respect that, but at the same time you have to respect that I have a job that I need to do. I need to report on your situation. If the riders tell me that they don't have anything signed, that's what I report. I just play it off like I don't know what is going on. This is another column rant that I will save for another day.
Also, a lot of the privateer guys will jump onto smaller teams. These smaller teams are a great fit, but it also makes it hard for journalists to figure out the logistics of the deal. Yeah, I get it. It's just a dirt bike and guys are going to jump on them and race. the smaller teams usually do not have press releases to share that a certain rider is working for them for the upcoming season.
I can make an analogy of this problem and compare it to college students. College students ("riders") who are graduating in December and this coming May need to be in talks with businesses ("teams") for a future position in a company. The students don't have a signed contract, but can be in talks with businesses as they finish up their schooling. It's a very scary time for them because they don't know who they will be working for full-time and those college loans are going to jump up and bite them soon.
The only major difference is that if you are a full-time college student you can't get hired on by a company until you graduate. Hey, would you look at that? A rider can't get hired on officially until their previous contract is over. Also, privateers and college kids alike have acquired a large amount of debt trying to get to the next step of their careers. Boom. Analogies are the hot thing right now bro.
Nothing is for certain in this sport and the silly season just gets later and later every year. Pretty soon the sport won't know who is riding for what team until Anaheim 1. Here's hoping everyone lands on their feet whether you're racing in stadiums or trying to get your foot in the door of a corporation. The world is a cruel place sometimes. You just have to continue to follow your passions and work very hard every day to accomplish your goals.
Thank for taking the time to read my column. I really appreciate writing about this sport, whether it's the good parts or the bad. You can further discuss this topic or anything else by emailing me at Troy@pulpmx.com.