The Motocross of Nations is a spectacular event. I have been to several editions of it now and will continue to venture off to faraway lands in pursuit.
The Motocross of Nations is a spectacular event. I have been to several editions of it now and will continue to venture off to faraway lands in pursuit.
Photos By: Ray Archer
There are several things that make this race so incredible and in my opinion, the best motorcycle race of the year. As great as the event is, there are always things that could be improved. That's going to be true for any event worldwide so no one should get all uptight about it. Let's take a look at what makes it so special and also what I think could be a touch better.
Having a team event is such a cool change to the normal dynamic. Some of you are going to say "there are already teams in motocross" but, for example, when Cole Seely and Trey Canard take off from the starting gate, make no mistake that they are racing for themselves and don't really think about a "team". At the Motocross of Nations, though, every aspect is about the team winning. From the gate pick choice to the sharing of lines and strategy, it is just a different outlook completely for the riders and personnel. The camaraderie and cooperation makes for a great atmosphere for all of the participants. Compared to the standard world of cut-throat American racing that I am accustomed to, everyone working together towards a team goal is a refreshing variation.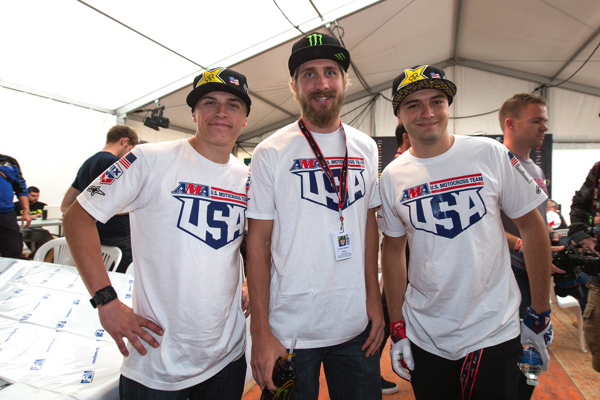 Love how everyone bonds together for a common, National-pride, goal.
Being an American, most of the MXON events are held abroad. Getting to travel the world has been a great blessing for me but in most cases the only culture I experienced at those international supercrosses was the Duty Free store at the airport. Nowadays, though, I am afforded more of an opportunity to take in the sights and sounds. Having said all of that, there is no Motocross of Nations quite like a Motocross of Nations in western Europe. The fans there are just on a different level of passionate. The atmosphere of Erneè or Teutschenthal is nothing that I have experienced anywhere else at a motocross event.
The two-day format for an event like this is a nice change from the one-day format we see in America. The event is so massive with riders converging from all over the globe, it gives everyone an opportunity to soak in the weekend. Not only is there the extra day but Friday is a great chance to catch up with like minded people that live thousands of miles away.
The absorbed cost for this event is tough to swallow for many countries. There is no getting around the fact that this event costs a lot of money. Travel and equipment alone is running into the tens of thousands of dollars for most teams. From what I understand, the travel stipend is somewhere in the 2000-2400$ range and that simply isn't enough. It puts too much pressure on the country's federations while the promoter is, from what I have seen, doing quite well. The admission prices are in the 75 Euro range, and with 50,000 plus spectators at the event, there has to be some room to help out the teams a bit more, no?
The timing, and I know this is solely an American problem, is tough for us to field our ideal team. With the event taking place a full 5 weeks after the American outdoor series ends, it puts a huge inconvenience on a title contender. With the Red Bull Straight Rhythm and Monster Energy Cup being mandatory for most riders these days, it puts a real time crunch on the calendar. The simple fact is that no one on the American schedule wants to be practicing outdoors in late September. It makes no sense and is a hurdle that sometimes can't be overcome (Ryan Dungey in 2015). While I don't think sweeping changes will or should be made to accommodate the USA timetable, it does present complications for the home team.
Let's do some rapid fire Q and A. Which is kind of weird because I am asking and answering the questions. Anyhoo, here goes: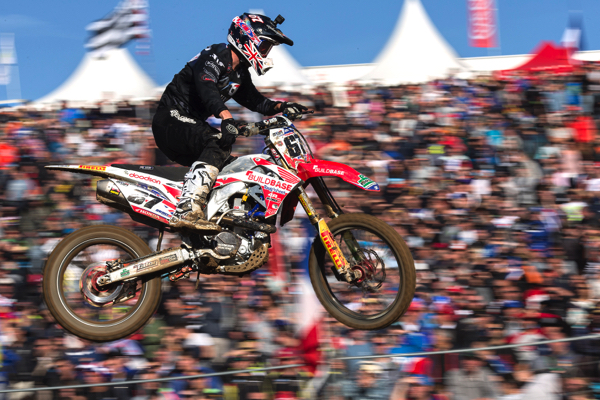 Biggest surprise: Ben Townley's performance over the weekend was unexpected and inspiring for all of us AARP prospects.
Biggest disappointment: Great Britain's Max Anstie went down in a brutal heap Saturday afternoon, taking his country's podium hopes with him. He stalled on the triple-downhill and was violently landed on. For such a strong team with big hopes, they went into Sunday with no chance of success.
Fastest rider: Romain Febvre was the fastest man on the track every time he rode onto it. Those were incredible performances from the young superstar with many more to come, no doubt.
Best team look: As much as it crushes my soul to say this, I have to give France credit for their look. From the custom gear to simply having the luxury of running the #1 plate, the French team made their Parisien fashion family proud.
Selfless Hospitality Award: Alpinestars does hospitality like no one else. They welcome industry peoples from far and wide with open arms, providing a heavenly oasis for those with no where to call home. I am a frequent visitor to their setup both at motocross and MotoGP events worldwide and they never fail to impress and accommodate.
Toughest weekend: Puerto Rico had a rough, rough go. This team has had a chance at top five finishes in the past and this year, well, this year wasn't on that level. With Michael Leib leading the way alongside two bona fide Puerto Ricans, they didn't even qualify for the B final. Certainly two DNF's in the qualifying races were the culprit in the disappointment but with thousands of miles of travel, GoFundMe accounts, and the countless hours of preparation, spectating on Sunday couldn't have sat well.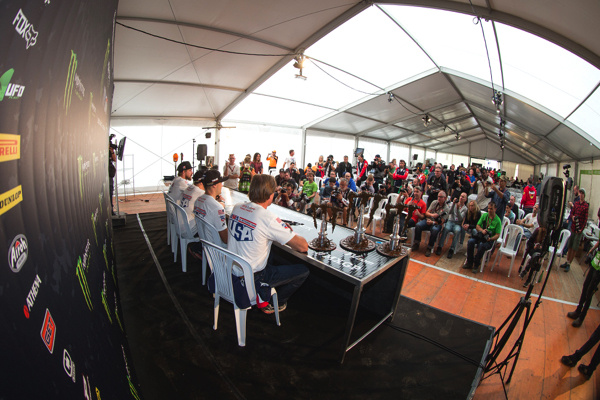 Youthstream has a way of turning a Press Conference into a Marketing and Propaganda seminar. Team USA demonstrates the former, here.
"Is this North Korea" moment: Youthstream's endless press conferences are tough to sit through. Not because they don't do a great job on the organizational side, but the propaganda and self adulation is simply numbing to absorb. There is simply no bigger fan to Guiseppe Luongo than Guiseppe Luongo. Don't take that as an insult as I really have no ill opinion of Luongo or Youthstream whatsoever, it just becomes less and less objective as the weekend rolls on.
Well, that gives everyone a sneak peak inside my warped and biased mind. I am sure that many people will disagree with my takes on some of these things… and that's fine. I have my opinion and have formulated it based on decades of insider perspective. Opinions are, as they say.. well you know what they say. Still, though, I think that some of my views are truths and could be improved. How to go about change is always a delicate subject and I don't claim to have answers to every cause and effect scenario. In the end, I just want the best American riders going head to head against world-at-large's best riders on the best track under the bluest skies. Is that too much to ask? I didn't think so, either.