Cunningham gives us the insight of his career and every team in 3500 words.
Cunningham gives us the insight of his career and every team in 3500 words.
Photos: Simon Cudby
Becoming a veteran in the sport of motocross and supercross isn't an easy task. You literally have to fight for every ride you get year in and year out. Also, the wear and tear on your body helps keep things complicated. However, if a rider has longevity in this sport it isn't by accident. I thought it would be fun to go outside of the box and do a quick glance at every year of a career. What happened behind the scenes that they could tell us after the fact? It can be cool to look back and hear the different stories of what people went through. If this goes over well we might just have to make it a series!
Up first we have Kyle Cunningham. Take us on a stroll through memory lane Kyle!
2007 – Yamaha of Troy – #622
Supercross: 10th (250 West Region)
Motocross: 24th (250)
"That year was cool for me. I made the decision to jump from B class to turn professional. Dave Osterman was the team manager at the time and he stepped up to offer me a ride. I thought it was a no-brainer. Unfortunately three weeks after I made the decision to sign with the team Dave was gone. Chris McAvoy stepped up to run the team. I felt it was a solid rookie season. I accomplished my goal of finishing in the top ten in points for the supercross season. I felt really comfortable and the bikes were great."
"When I got to the outdoors, like most people's rookie years it was a bit up and down. I was in the top ten in points and then I had a scary crash at Southwick. I compound fractured my left clavicle and that put a stop to my season. Overall 2007 was a big opportunity for me with a great team. Yamaha of Troy had been around for a long time. It was a great program. I learned a lot in my rookie year. Looking back on it now I feel like I should have had another year with those guys."
2008 – BTO Sports/DNA Energy/Rick Case/BBMX/ Honda – #58
(Final two outdoor races: Motosport Extreme Team Green Kawasaki)
Supercross: 10th (250 West Region)
Motocross: 7th (250)
"Karsten and Forrest Butler stepped up for me when the team was in its early stages. It was kind of different because instead of training on California test tracks we were instead in Atlanta testing. We had a pretty good supercross season that year. I think I put in a couple top five finishes. I thought that I had a better supercross season than in 2007, which was a step forward. All through amateurs I had ridden a Kawasaki and then I did one year with Yamaha. I had never ridden a Honda before. They had a good program that was building at the time. It's definitely different than where they are now."
"Going into outdoors the team didn't have a plan to race them that year. My dad told me that he was taking me racing still. We loaded up and hopped in a pickup truck and took off. We stopped at tracks along the way to get ready for the weekends. It was a really good year for me. I took it upon myself to do my own training at home. It was different going to the line with my dad. At the end of the day all he cared about was that I gave it my all on the track. My Honda was pretty much stock that summer. I was eighteen at the time and I feel that I just couldn't give up one full summer away from the track. We had a good time. I'm thankful for the people who were behind me. We had a low budget program. Ted Parks stepped up at some of the races to get my bike under the tent. There were a lot of good people who helped me that year. Over at the Honda rig, when Carlos Rivera was there, I took off on the parade lap at Unadilla and my bike wouldn't go anywhere. Luckily the rain came in and the race was postponed, but Carlos was over there with my dad putting a clutch in at the line. I ended up battling with Josh Grant that moto for 35 minutes. That was one of the races I remember where I felt like we weren't even going to be able to race. I ended up fourth place in a moto on a privateer bike.
"I had been talking to Bobby Hewitt and Extreme Team Green with about five rounds left in the series. I inked a deal with them early before the season was over. I ended up racing the final couple of rounds with that team. It was definitely an experience going places in the truck on my own."
2009 – Canidae Extreme Team Green Kawasaki – #36
Supercross: 11th (250 West)
Motocross: 11th (250)
"The 2009 season started at the end of 2008 for me. I was able to get a feel for the team and get under the rig. I carried that into 2009. We had the same consistent results in supercross. I was still lacking something, perhaps I was still learning. I struggled with some setup issues, but I got through it. I've always been consistently in the top ten through the years. I've just never gotten out of the gate that well. It's really made it super tough on me. That was a big problem for me in 2009. My results were there, but I was struggling with some injuries, and coming from behind every race."
"When we went to Washougal that year I had gotten a great start in the first moto. I kept pushing and I got into second. I think (Ryan) Dungey made a little mistake on the final lap and he only beat me by a bike length at the finish. I was feeling really good that day and I started the second moto around eighth. I ended up getting together with a guy jumping down that double to that shaded section right before the finish line. He came across my front tire, I crashed hard, and that ended up putting me out of the moto. It was a bummer. None of my results that year were really standout for me, but we had a really good team. We had a lot of support from Mitch Payton and Bones from Pro Circuit and a ton from Kawasaki. I put in my best moto result to date that year."
2010 – Tisco Racing (First few races) 250 – #32
Valli Rockstar Yamaha – 450
Supercross: 23rd (450), 8th (250 East)
Motocross: 16th (450)
"I found myself sitting there trying to figure out where I was going. The options weren't there. We had talked to a few teams and they had some interest. At the last minute those options fell through. I talked to some local guys in Texas that had a team by the name of Tisco Racing. They had an awesome supercross track out at their facility. Pro Circuit did all of their bikes and they had a good program. I had a string of top ten finishes at the beginning of the season. That led me to the fill-in job. I ended up getting a phone call from Chad Lanza and John Mitchef at Valli. They offered me a deal and Tisco let me move over to that team. I put up some good results. The team was a small effort, but the important people that you needed involved were there. John oversaw everything for Chad and Yamaha was really involved. Keith Burns was my mechanic and he was at Yamaha of Troy before that. I knew a lot of the people involved. I got to do motos with Ivan Tedesco and Johnny O'Mara. I learned a lot from those guys. They took me under their wing at the test track and I'm very thankful for that.
"Unfortunately Ivan got hurt with three rounds of supercross left. I weighed 150 pounds at that point and I had ridden a 450 one time in my life in 2008 when I trained with Kyle Lewis. I got the call to fill-in for Ivan. In Las Vegas that year I was around fourth or fifth overall in practice. I was scratching my head, I felt super smooth, and I wasn't riding over my head. To this day that was one of the most fun races I'd ever been a part of. Kevin Windham and I started 14th and 15th. We were buried in the pack. I just chased him for twenty laps and battled with a lot of the guys I looked up to. I ended up finishing fourth that night. It was a huge standout ride for me."
"I didn't have a ride for the outdoors coming into Vegas and I was going to have to do it on my own again. Then Valli stepped up and let me finish the year with them. It was a huge step for me with limited 450-bike time. I raced X-Games that season and on the last lap of practice I crashed hard in the whoops. I ended up breaking a bone in my left wrist. That put me out for the rest of the season. Luckily with the 250 and 450 results that I had put up for the season, I was able to sign a deal with Star Racing Yamaha for 2011. It was important because I could continue my relationship with Yamaha and stay on the same bike.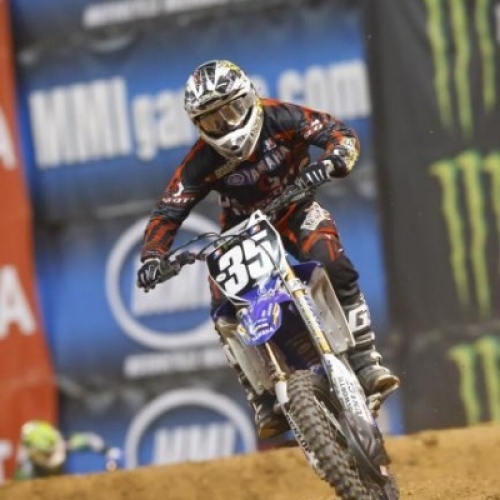 Kyle's 2011 season saw him finish a career high fifth in the outdoor season.
2011 – Star Racing Yamaha – #35
Supercross: 8th (250 West)
Motocross: 5th (250)
"Supercross started off bumpy. I felt good at the test track, I had a new trainer, and I was putting in the work at the gym six days a week. At the first round I came from 19th to around fifth and it was a bummer. I was trying to dig myself out of a big hole after that. I had some good results in there. During the East Coast break of the series I decided that I was just going to ride outdoors. The outdoor stuff helped my speed and I came back for the final three races and went 4-5-3 to finish off the supercross season."
"At Hangtown I was able to ink a deal with Star for a two-year extension. I went into Hangtown with a clear head because my deal was already done. Not having to worry about having good finishes to have a job the next season allowed me to put up better results. At Freestone I strung together some results (in the following rounds). I went 3-4 for third, 4-4 for fourth, 4-4 for fourth, 8-3 for fourth. I felt that the consistency was there. We had a podium at the second round. The main thing in 2011 that helped me the most is that I got out of the gate. I put myself in some good positions around the top six every moto. All of the time that I put training in the offseason paid off. You get one and it's a chain reaction. I ended up finishing my best outdoor season yet."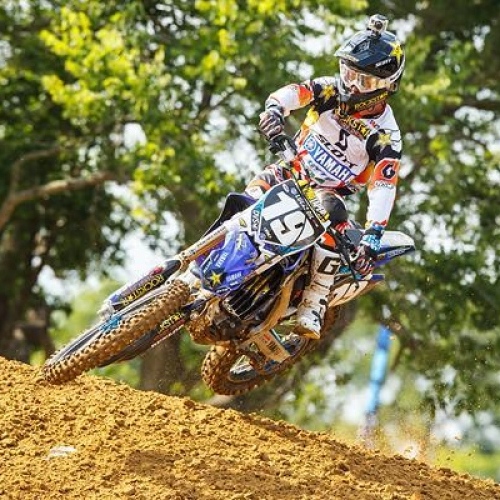 Cunningham at Freestone in 2012 rocking the lowest number he has earned.
2012 – Star Racing Yamaha – #19
Supercross: 8th (250 East)
Motocross: 15th (250)
"I was confident and my results were there. Everything went right in the offseason. Then I had a practice crash right before the season started and I fractured my wrist. I had to take a couple of weeks off. I was moved to the East Coast and my results weren't where I wanted them to be. I struggled with my starts. 2012 was plagued by injuries and I tried to race through it. That was the year that I caused the first red flag in supercross history. At Indy my hand slipped off of the bar and I ended up pile driving myself into a berm. I took a dirt nap for two and a half minutes. It was slow coming back from that. I put up a great race in Vegas again like I had since 2010. That's when your boy Matthes started calling me the "Sam Boyd Assassin". My confidence was back after that."
"At Hangtown I was coming back from a bad start and I caught my foot wrong in a rut, not knowing that I did it. So then I was forced to hobble around and race the next few rounds with an ankle injury. Every time I caught my foot I would hear my tibia and fibula pop. I raced the next four rounds and went to get an MRI. I found out that one of the two ligaments that hold your tib/fib in place was completely torn, and the other was partially torn. Even in the past when I have a small injury I don't take the time off. I feel that it's important to be there. A lot of those guys that I'm racing with are doing the same thing. But, I had to get it fixed. I ended up on crutches and in a boot for five weeks. I came back and raced the last few rounds to just get some gate time. I think I had some decent results although I wasn't 100 percent."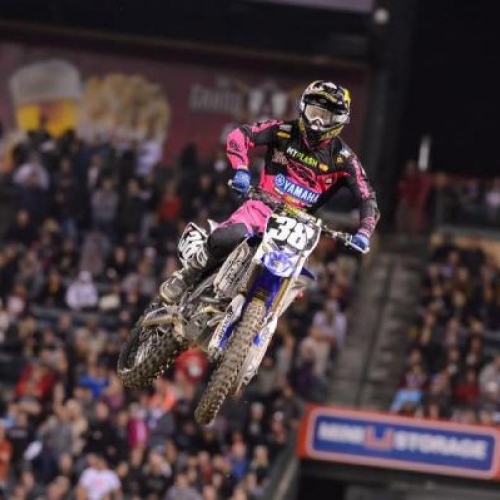 Cunningham struggled through some bad injuries in 2013.
2013 – Star Racing Yamaha – #38
Supercross: 6th (250 West)
Motocross: 10th (250)
"It was my third year with Star. I was consistently there, but I needed just a little bit more. It was the last year of my contract and I needed to put up some results. That's what I needed to do to secure something for 2014. In supercross I didn't put in any standout results. I wasn't putting myself up front off of the gate. I think I had a fourth and a fifth in there and it ended up being a decent supercross season."
"The outdoors started off like they did in 2011 for me. I felt good and I had a lot of testing. I struggled with some bike setup. I feel like I setup my bike for the West Coast tracks and I was fighting the bike a little bit. I put in some top ten results. We were in good company and I raced pretty solid. Bobby Reagan and the team did a great job. We went to Elsinore, which was the last race of the season, and I crashed in a corner. I went to get up and my foot was completely numb. After 19 years of racing you know when something is broken. My first three toes were dislocated and my foot was shattered in 16 pieces. It was a nightmare of a surgery. I found myself on the couch, not able to walk and waiting on 2014. I didn't have a ride. I spent three months making calls, just trying to get something lined up. I found myself an opportunity with Mike Genova and the guys at MotoConcepts."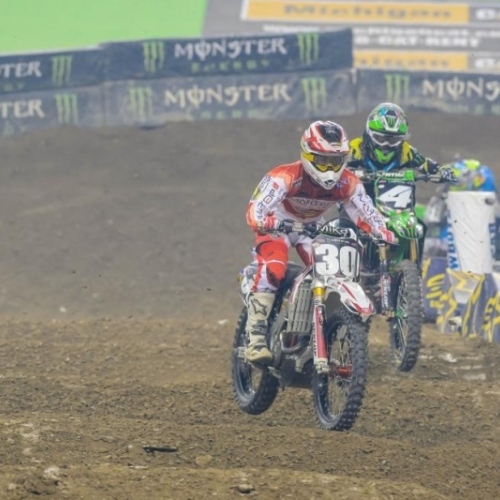 Cunningham finished fourth in the 2014 East Region with MotoConcepts.
2014 – MotoConcepts/SmarTop – Honda – #30
Supercross: 4th (250 East)
Motocross: 16th (250)
"I put together a solid supercross season with good results. At first I struggled going into the season because my foot was still sore. I could find myself trying to land on a different part of my foot on the footpeg over jumps. Also, after four years of riding a Yamaha I was back on a Honda. We were flying suspension in on Fridays and putting it on the bike and racing with it on Saturday. It wasn't ideal, but I appreciated the effort. Everything that we did was to get the bike to where we needed to be. We accomplished that towards the midway of the supercross season. I strung together a few fourth place finishes and we ended up fourth overall in the championship. That was my best supercross season yet."
"Man, I had a scary one at MetLife on press day. A few of us were doing this big rhythm; we were going over the table, three, and three into the turn. I cross-rutted off of the lip and endoed my brains out into the berm. It was one of those where you get up and surprisingly nothing hurts. I still kick myself for that race. I felt so good and my qualifying times were in the top five. My dad wrenched for me at that one and he hands me my goggles and I had accidently grabbed my practice goggles. I had two tearoffs for the main event. Sure enough, five minutes later the rain comes. I'm like, 'Here we go.' I finished sixth that night, but I was bummed out because I raced three or four laps salvaging my goggles."
"Then things changed. The team wanted to go race in Canada and I felt at the time that it wasn't the best thing for me. I understood that is what they wanted to do as a team. I wanted to be down here racing to secure myself a job for 2015. Genova let me keep my bikes and helped fund my program. The AG Motorsports guys took my bike to the races and I flew the MotoConcepts banner. It was kind of like back in the 2008 days with my dad and I, except with more help. That led me to my deal for 2015."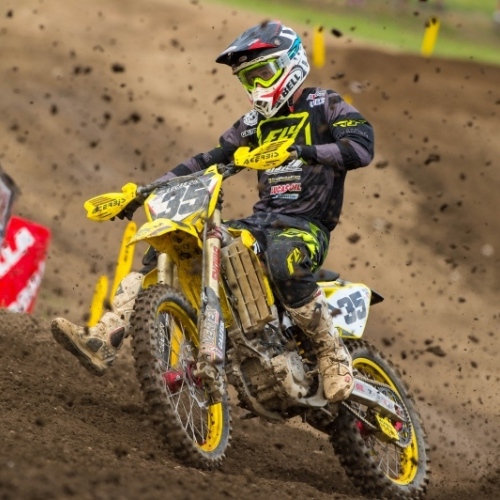 Cunningham at Unadilla on his TPJ Suzuki.
2015 – Gurrnaid Energy/AG Motorsports – Honda – 250 – #35
The Privateer Journey – Suzuki -450
Supercross: 9th (250 East)
Motocross: 17th (450)
"The AG guys were hauling my bikes in the summer of 2014. We ended up working some things out and I ended up signing a deal with them. I knew it was a newer team, but it was something different. They wanted a lot of my input and to help call the shots in the program. I got a terrible start in supercross again in Dallas and made my way up to sixth. Then I had another scary one. I think I scared most of my family as well as everyone who was there to watch me. I went to wheel tap the little three jumps before the finish, high-sided, and slammed myself. I caused another red flag and staggered start. It was definitely a bummer to start the season that way. We came back from that. I got super lucky. I went to the doctor the Tuesday after that and we took the proper steps. They said I got lucky. When I came to on the jump I had no memory loss. I knew whom I had passed the lap before, where I was, and how I crashed. I'm very thankful for the Bell Helmets that I have because I feel like they enabled me to race the next weekend."
"I struggled with some mapping stuff for three or four rounds and to get the bike where I wanted it to be. At Indianapolis we hit the nail on the head and had a top five weekend. Never would I have imagined the trouble with the team starting at the first round in Dallas. The team was ready to fold on me because the funding wasn't there. We struggled with some things. I asked those guys if the team was racing outdoors, if not, there may be other opportunities out there for me. They tried to do it for two rounds and shut their doors. It's something that I knew was going to happen all season. I was fortunate to put together a deal with Pat Alexander and Ted Parks at Glen Helen. I was surprised at the halfway point of the season because the support just isn't there because the budget is gone. Before I knew it I had a practice bike in Texas. I practiced on little Ted Park's bike for 15 minutes before I raced it at Colorado. They really stepped up for me and I'm very thankful for Suzuki to do that for me."
"At the end of the season the one thing I can look back on is that I wished I had more time on the bike and prepare. It was my third different bike in five months. It was definitely tough in that sense. It was a big learning experience. The field is stacked. I had some solid results, but I really would have liked to be around the top ten more often. I'm sitting here in the same spot right now trying to figure out what I'm going to do for next year. It was a big eye opener for me and I had the chance to work with such a great group of people."
2016 – TBA – #45
"I've had a lot of good phone calls and others that have fallen through. The sport is tough right now with a lot of guys and not enough rides. When I do decide to hang my boots up it will be on my own terms, not due to not having a ride. That's one big thing about me. One way or another I will be racing in 2016 and looking to make my results better than in years past. Whether I race East, West, or the full series is still up for debate. I'm looking to do the Monster Energy Cup on my Suzuki, but I haven't put much time on the supercross track yet. Hopefully I'll know something in the next week or so. I know I have a lot of good people behind me and I know we'll put something together."
Thank you for reading my stuff each week. I really enjoy putting them together each week. You can reach me at troy@pulpmx.com to chat about this story or any other topics. Twitter/Instagram: @troybendgen