A frustrating summer leads to a new opportunity.
A frustrating summer leads to a new opportunity.
Photos: Simon Cudby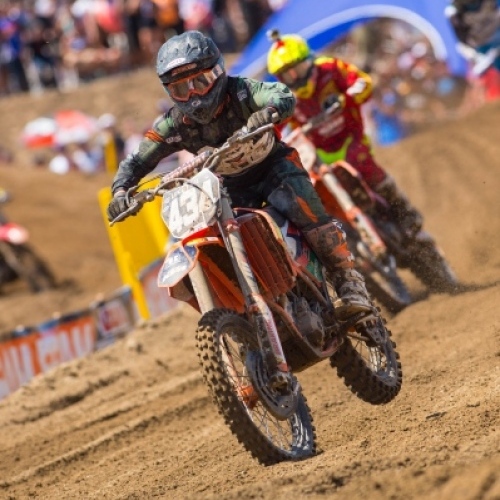 Baker made his debut at Hangtown where he finished 13-23 for 20th overall.
The 2015 Lucas Oil Pro Motocross Championship just didn't go the way Daniel Baker had planned. Baker came up in KTM's Orange Brigade system and quietly made his professional debut at Hangtown.
"Man, I have so many mixed emotions about the season," Baker said. "I feel like I had fewer opportunities to test than the other guys had."
It wasn't necessarily Baker's or Orange Brigade's fault that the summer didn't necessarily work out as planned. Baker was a late addition to the team's roster whose budget couldn't exactly cover another rider. Regardless, KTM stepped up to give Baker a bike and believed in him in his first season as a pro. The team gave him a professional pit area, helped him get to the races, offered him advice, among other things a rider may need to be successful.
"I didn't sign a contract heading into the season, so all I had was a verbal commitment with them (KTM)," Baker said.
With limited time and resources to test with during the week, Baker was left to ride with the same setup for most of the summer.
"I really struggled to feel comfortable on my bike all season long, which resulted in bad finishes and tons of crashes" Baker said.
Regardless of some of the issues behind the scenes, Baker said that he learned a lot in his first outdoor season. He enjoyed traveling the country and he was able to race at every track except for Unadilla and Utah, which won't matter for next year anyway.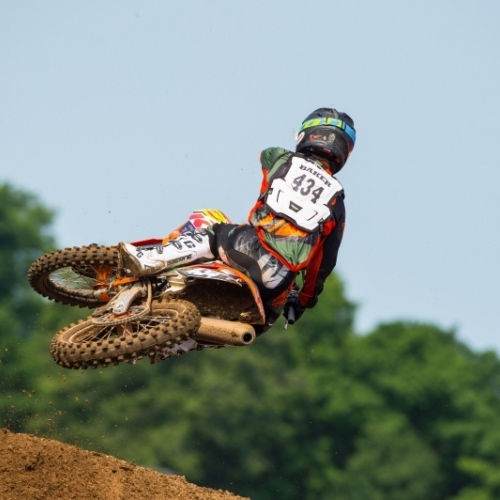 The weekly grind was a huge learning experience in his first summer as a professional.
A few weeks before Hangtown, Baker said that he was coming into the season without any expectations. He didn't know where he was going to fit in because he was riding by himself with help from his trainer Ronnie Tichenor in Florida. Baker didn't even have a TV that he could watch the races on. Essentially he said that he basically jumped into the series blinfolded.
The weekly grind got to Baker during the season as well. No matter how much he practiced the race day schedule away from the track it was still was a major learning experience during the season.
"Sure, we only had to ride one day a week, but that one day is so gnarly," Baker said. "We practiced that during the week so I thought I was ready for it, but it's twice as intense at the race, especially with being on a plane twice a week."
Baker was able to close out the summer with a 15th overall at the Indiana Ironman National. He finished with a career-high 12th in the second moto, despite breaking his thumb that morning in practice.
"I overshot a jump by just a couple of feet and my suspension bottomed out so hard that my hand came off of the bars," Baker said. "I twisted my thumb around."
Ironman is the closest race to Baker's home in Crittenden, Kentucky and he said having all of his family at the race that day allowed him to push through and put on a good show for them.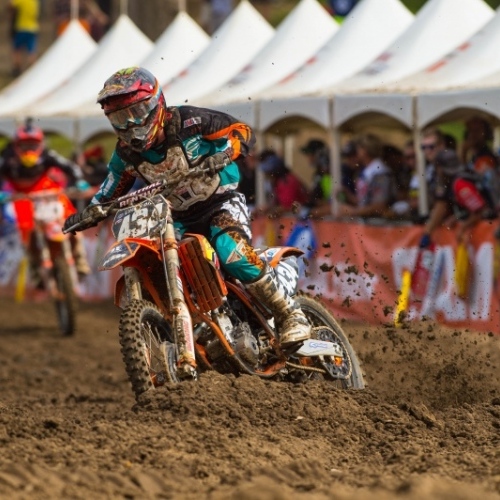 A broken thumb and all led Baker to a 15th overall at Ironman.
Despite the ups and downs and sitting out two rounds due to knocking himself out, Baker still managed to finish 23rd in the standings. He earned national number 78 for the 2016 season.
Speaking of the 2016 season, Baker said that he just signed a two-year deal with the new Suzuki 250 team effort (yes, that team that we have been hearing so much about). The team is going to be supported heavily by Yoshimura and Suzuki will also be stepping up to help out the effort.
"This team is going to be so legit," Baker said. "This year will be about getting things rolling and then next year it will be full blown next to the 450 factory team."
Gearing up for his first supercross season Baker is confident in his skill. Back when he was on Bobby Hewitt's Rockstar Suzuki squad as an amateur he would ride on the supercross track up to four times a week. He was also able to practice with his professional teammates at the time like Davi Millsaps, Jason Anderson, and Blake Wharton.
"Back then man, I honestly didn't even know how to ride a dirt bike (laughs)," Baker said. "I like supercross way more than I like outdoors. I like to flow."
Baker did add that he hasn't ridden supercross much since then, but he is very eager to start once again. He will be flying out to California to meet up with his new team and ride his new Suzuki in just a couple of weeks.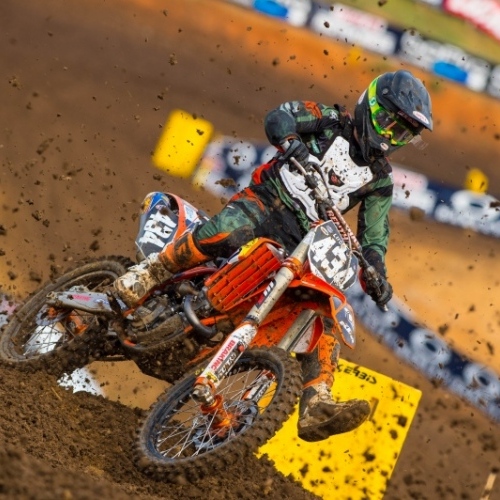 Baker is going to be yellow next year.
Some big changes are ahead for the Kentuckian, who had a rough summer. He will still be working with his longtime trainer Ronnie Tichenor, but will also be living in California and working with Sebastien Tortelli as well.
"I don't have to worry about anything this year. I'm still going to work my butt off, don't get me wrong, but having the security of a two-year deal is really nice," Baker said.
The 2016 season is all about sticking to the program for Baker and he is very eager for his fresh start.
Thank you for checking out my columns every week. I really appreciate the feedback. If you'd like to send me a comment you can reach me at troy@pulpmx.com. Instagram/Twitter: @troybendgen