A fresh start for a Team Green standout.
A fresh start for a Team Green standout.
Photos: Simon Cudby and Courtesy of Sanayei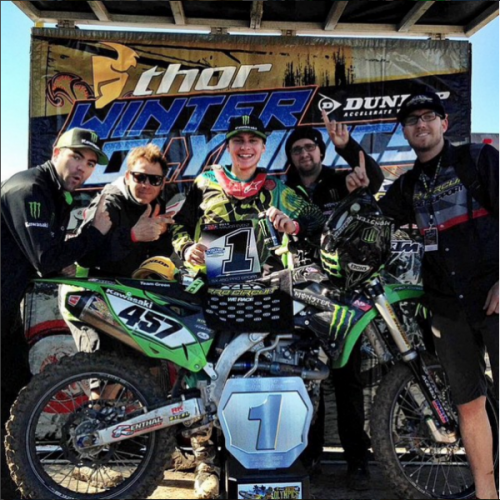 Sanayei finished his amatuer career strong with wins at Mini O's, Freestone, Daytona, and Mammoth.
After finishing as the bridesmaid in both 250 and 450 A classes at Loretta Lynn's, Darian Sanayei was still unsure about his future.
Two weeks later, with help from loyal sponsors like Team Green Kawasaki and Monster Energy, Sanayei found himself racing the final round of the Rockstar Canadian Nationals at Walton. He would go on to finish fifth overall on the day in the MX2 class virtue of finishing fourth in both motos.
The next week Sanayei traveled to Indiana to make his American professional debut at the Ironman National in the Lucas Oil Pro Motocross Championship. He was consistent again and finished fifteenth in each moto, scoring sixteenth overall.
With most of the American teams full next season Sanayei had to look elsewhere for a job. He's the kind of guy that won't turn down an opportunity to travel the world. He will do whatever it takes to continue to race motocross for a living.
Again with help from his longtime sponsors, Sanayei signed a deal with Bud Racing/Monster Energy Kawasaki and is heading to Europe for the 2016 season..
It turns out that he gets to race on both sides of the pond for his rookie year. Sanayei will get to race the first seven rounds of 250SX West Coast and then do the full European Motocross Championship in the EMX250 class. His teammate Maxime Desprey will also be doing the same deal.
"It's the best of both worlds for sure," Sanayei says. "I get to showcase my talents in supercross and then try to lock something down for the GPs."
Sanayei is looking forward to his new venture and he's also very happy to continue his relationship with Kawasaki and Monster Energy.
The thought behind racing the EMX250 class will give Sanayei a year to adjust to life overseas instead of throwing him into the MX2 class of the GPs right away.
"It's still a pro class," Sanayei explained. "It just doesn't have an age limit, so a lot of the guys who can't race MX2 anymore race that series."
The European series is ten rounds out of the Grand Prix season and Sanayei is looking forward to getting his feet wet on the new tracks.
"It'll be good to go over there and get used to the culture, tracks, and get my confidence up," Sanayei said. "Next year I'll go to the GPs."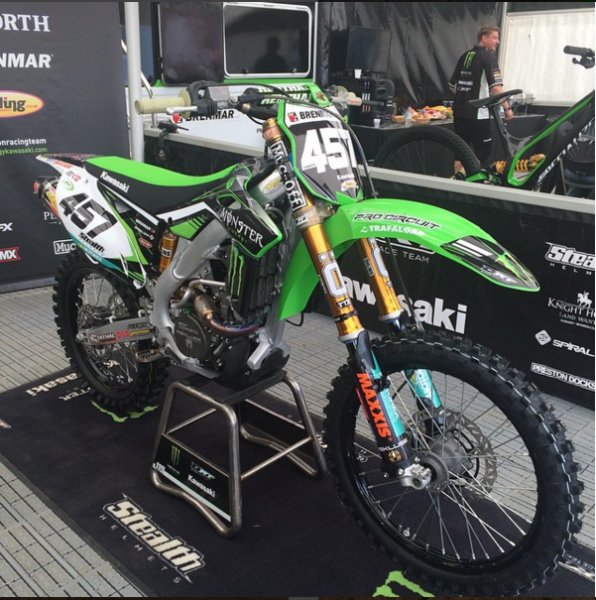 Darian raced the Matterley Basin round of the EMX250 class in 2015. He won a moto and finished fourth overall.
Yesterday Sanayei flew to Spain and drove to France to meet up with his new team. From there he is getting his bike set up to his liking for the Lille Supercross next weekend. Stadium racing isn't new to Sanayei either, as he's raced Ricky Carmichael's Road to Supercross this past season in Amsoil Arenacross.
Despite racing in both series, the traveling won't be as extensive as one might think. Sanayei is setting up home base in Elsinore while he is in the States and Hossegor, France while in Europe.
In the spirit of this deal, Bud Racing has arranged for good ol' David Vuillemin to train Sanayei.
"It's pretty cool, I'm excited to start working with him," Sanayei said. "I don't know him, but I looked up some YouTube videos of him and did some research (Laughs)."
DV12 seems to be the perfect fit to help Sanayei this season. Vuillemin has been in his shoes before, just in the opposite position.
"I just have to try and pull as much information that I can from him to help me out with the French lifestyle," Sanayei says.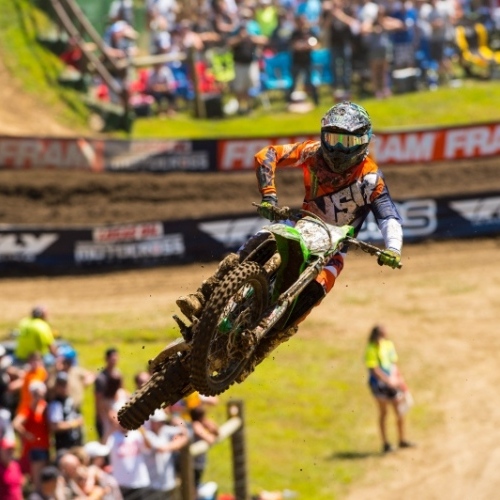 Pro debut: Ironman National 16th overall
Coming into the season Sanayei doesn't feel any pressure. He can just do his best and build every week. He plans on enjoying some good food along the way, but hasn't figured out the French word for pizza quite yet.
"No one really knows who I am right now, I can go to Europe and re-invent myself a bit," Sanayei said.
Sanayei said that he did receive a few offers from teams for the supercross series but ultimately chose this deal to stay loyal to his longtime sponsors.
"I like the Europe side of things," Sanayei said. "This opens up more of a door for me as a racer and I'm excited about that."
Thanks for checking out my columns each week. I really enjoy putting together stories about our favorite sport. If you'd like to yell at me or tell me I'm doing a good job you can reach me at Troy@pulpmx.com.
Instagram/Twitter: @troybendgen