These races are great for the pocketbook but for the 2016 SX season? Not so much…
These races are great for the pocketbook but for the 2016 SX season? Not so much…
For many riders, the off-season can be one of the most lucrative times of the year. If you are asking yourself "how does that make sense?", keep reading. In the months of October, November, and December, race promoters around the globe schedule supercross events and make big cash offers to the sport's elite riders. The timing for the events is no coincidence as it is the only opportunity on the calendar to steal an American supercross star away to some far away land. These events are a great way to add to a rider's income and also see the world. I was one of the most active riders in this category for 15 years and while I knew it was great in many ways, I also knew that when it comes to predicting results when the real racing started, it was nothing more than fool's gold. Let's look at a few reasons why.
Off season supercross, whether it's in Europe, Australia or South America, is a completely different style of racing. The tracks are incredibly tight, often times half the size of an American supercross. The dirt is much different as well, with Europe's harsh winter leaving soft and rutty tracks for the incoming riders. With modern dirt/lime mixing at an American event, the days of deep ruts seem to be over. American supercross racing emphasizes whoop speed, fitness over twenty laps and finding good traction on the hard packed tracks, especially at night. The European tracks typically don't have big whoops, showcase 8-10 minute main events and offer an abundance of traction as we talked about before. There just isn't a lot in common when it comes to the track and style of racing.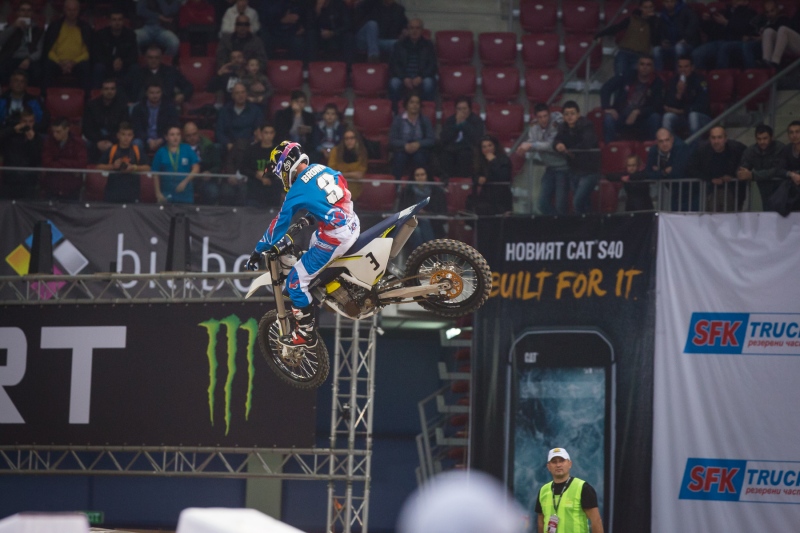 Mike Brown has used off-season supercrosses to make some money for years now. Photo by Anton
The motorcycles themselves are another factor. At these European races, most riders will be riding setups that are close to a standard bike. Sure, everyone brings suspension and their personal bits but it's a fairly level playing field. Compare that to when they arrive at Anaheim on their full factory race machines and you can see the difference. For example, if I was competing against a rider like Nick Wey at a race like Bercy, he would be on a bike similar to mine. We would add what we could but they would be relatively close in performance. Fast forward to Anaheim, and he would have a bike that weighed over ten pounds less than mine with 3-5 more horsepower, better compound tires, factory ignition for better throttle response and a specific ratio in his transmission for supercross. You can see how the results or separation might differ from race to race, simply based on equipment.
The timing of these events is right in the middle of preseason training. That means that no one is fully prepared to go racing yet, adding to my list of reasons that these races don't mean much. It's not that these races don't matter, because they do, but they aren't the focus for a rider's calendar. These races don't dictate the following season's contracts nor show up on any team radar as to why they would sign said rider. In all honesty, most trainers view these races as a nuisance as they disrupt the training continuity that a boot camp calls for. Money talks, though, and trainers' opinions are often overridden when it comes time to decide on a week of training or $30,000 for a weekend of racing. My point here is that riders don't necessarily put an emphasis on results for these races. Yes, riders need to perform well to satisfy their requirements and secure next year's race invite but that's basically the only concern. Staying safe and making some extra money are the items of importance.
These races are cool. I have done well over 100 of them and I enjoyed almost every one. The different cultures are something that not everyone gets to experience. When it comes to drawing conclusions on next year's supercross season, though, they aren't good indicators. Riders like Robbie Reynard, Larry Ward and Steve Lamson were damn near unbeatable when it came to these events. They would dominate everyone in a way that prompted people to pick them as the next season's champ yet each and every year, the results would prove otherwise. Justin Brayton is a guy that fits that bill in this era. All great riders and absolutely elite in their own right but when it comes time to pull into Anaheim, the smart money isn't on them winning the race. The off-season races in Europe are good for many things but predicting the next season's outcome isn't one of those.