Sipes takes us down memory lane in this fine Thanksgiving week.
Sipes takes us down memory lane in this fine Thanksgiving week.
With the great response that we got with Kyle Cunningham's "Through the Years" piece, we decided to make this a series. Becoming a veteran in the sport of motocross and supercross isn't an easy task. You literally have to fight for every ride you get year in and year out. Also, the wear and tear on your body helps keep things complicated. However, if a rider has longevity in this sport it isn't by accident. I thought it would be fun to go outside of the box and do a quick glance at every year of a career. What happened behind the scenes that they could tell us after the fact? It can be cool to look back and hear the different stories of what people went through.
Photos: Simon Cudby, Andrew Fredrickson, and Ken Hill
It's Ryan Sipes' turn and we started all the way back in 2004. Take it away Ryan!
Favorite Teammate of All-Time: Wil Hahn
2004 – Team Green Kawasaki- #264
Loretta Lynn's: 125 A/Pro Sport – 1st
250 A/Pro Sport – 2nd
Motocross: 26th (250)
"The year before I had done the A classes and I won some, however I crashed more than I won. I wanted to do another year of A. I actually had the chance to turn pro at the end of 2003 season but it didn't work out. FMF was trying to put together a team on Suzuki's. It was supposed to be Bobby Kiniry, myself, and another rider. I've been an FMF guy my whole life and they were all fired up about this new team. I'm glad now that it didn't work out, because I wasn't ready. Going into 2004 I wanted to win everything that I could. I had a bad injury at the very beginning of the year. I lacerated my liver and I came back to my first big amateur national of the year, which was the World Mini Grand Prix in Las Vegas. I didn't race any of the spring nationals because of the injury, so nobody had seen me yet that year. I only won one title in Vegas. I was up against Mike Alessi in a lot of my classes."
"Coming into Loretta Lynn's I knew that Tommy Hahn and Matt Goerke were going to be tough. Every moto it was us three battling it out. I ended up getting a title and second in the other class. The first pro national I did was High Point. I trained a ton for it. I worked on speed, my fitness, and still didn't have a clue going into it. Two weeks before I had raced Broc Hepler at a local race at High Point and I beat him. At the time he was going out there and getting second to James Stewart in the national series. I felt pretty good about my chances. I qualified fifth out of practice and in the first moto I also ran fifth until their were a few laps left. I got tired and faded back to seventh. I didn't know then what I know now about nutrition, and didn't really eat anything in between the motos. I hit a wall in the second moto and I felt lightheaded and everything. That was a big eye opener."
"I went home and did some homework. The rest of the nationals that I did didn't go as well as High Point. Not having any expectations going into the first national caused me to do better. On the other ones I thought that I should be in the top ten. When I got a bad start I would freak out. After that I started talking to some teams and I signed up to race for WBR Suzuki in 2005."
2005 – WBR Suzuki – #65
Supercross: 8th(250 West Region)
Motocross: 12th (250)
"A ton of the success that I had in this season I owe to David Bailey. I started working with him around 2001 here and there. When I started to do well in the A classes we started to get closer. He was a big reason that I got the ride with WBR Suzuki. When I signed up for the deal he was the team's riding coach. Three or four days a week he was out there at the supercross track working and helping us get better. I had never ridden any supercross growing up. This is actually pretty funny; I started training for supercross on December 8, right before Anaheim. I practiced on a supercross track for the first time three weeks before the actual race. We made the most of it. David worked us hard and I was motivated to go out and do well. I was happy that I got the ride with WBR, but a lot of other guys got rides with some higher profile teams, like Pro Circuit and Factory Connection Honda. I wanted to prove them wrong and that they made a mistake with not picking me."
"We did well. I got a podium and ran up front a bunch. I ended up getting hurt after the West Coast swing, so I missed the last couple of rounds when the series resumed. The outdoors that year were tough. I was close to the top ten overall, but I started the season in a rough spot because of my injury."
2006 – WBR Suzuki – #36
Supercross: 34th(250 West Region)
Motocross: 22nd (250)
"I had a bunch of injuries, however I was very fast that year. I was way faster than what I was in 2005. I think I qualified the fastest at Anaheim 1 that year. I was caught up in a first turn pile up that night and had a really bad race. I was putting way too much pressure on myself to do well. I knew I could win. At Phoenix I think I qualified fastest again, but I didn't qualify for the main event. I had a crash in the heat race and LCQ. It was like the whole season was coming to an end for me. The very next week I crashed practicing and broke my foot. I was out for four months after that."
"When I came back to the nationals I did well. I had some top tens, might have had a fifth overall, and just a couple of decent races. I barely raced half of the season due to injuries and it was just a tough year."
2007 – Sobe/No Fear/ Samsung/Factory Connection Honda
Supercross: 19th (250 East Region)
Motocross: 25th (250)
* 1 win – Vancouver
"It was a dream come true for me to be on a team like that. I trained hard. Every week I was the fastest guy at the Honda track, maybe not faster than (Kevin) Windham, but faster than all of the 250 guys. Everything was going really well. I went up and did the World Supercross round in Vancouver and smoked em'. I beat Ryan Dungey, Jake Weimer, and all of those guys. After that I raced the East Coast, so I went home for a while. When I got back into it I was still going fast. I was down training in Georgia getting ready for Atlanta and I had one of the worst crashes of my career. I collapsed both lungs, cracked my sternum, broke my nose, separated my shoulder, bruised my kidneys, and all kinds of bad stuff. I still ended up racing two weeks later on a whole bunch of Ibuprofen and numbing shots. I honestly could have had a few podiums, but I was racing at probably 60% because of my injuries."
"At the fourth round I ended up getting landed on and I broke my leg. It was just another rough injury-filled season. I just didn't have any success besides that race in Vancouver. When I came back to the nationals I was out of shape for being hurt basically two years straight. I had no confidence, I didn't ride well, and I lost my ride. That was a big blow to me. I only had a one year contract anyway, but I felt like I showed some speed. They didn't think I could stay healthy, which I hadn't shown to that point that I could."
2008 – MDK/Muscle Milk KTM (Jaegermeister sponsorship on 450) – #57
Supercross: 7th (250 East Region)
Motocross: 6th (250)
"This was a really good year for me. Supercross was up and down and I had a couple of podiums. In outdoors I had a really good year. I got on the box in some motos and ran anywhere from third to fifth all year. I finally stayed healthy. I was pumped because I hadn't done that yet. I could have done better, but I stayed healthy and that was good."
2009 – MDK/Muscle Milk KTM – #31
Supercross: 7th(West Region)
23rd (450)
Motocross: 21st (250)
"I had a two year deal, so I was able to stay with KTM for another year. Again, I was fast but got hurt. I dislocated my wrist at Seattle that year and just had another tough year. That took it out of me. I came back and did some nationals, but I didn't ride that well."
"Riding the 450 that year was something that we just did for fun. I wish that I had the chance to do it all over again. I think I could have done well in 450 supercross if I could have gotten a year or two to learn it. We threw someone else's setting on the bike and raced. I didn't test it. We could have been more prepared I guess."
2010 – MotoConcepts Yamaha – #46
Supercross: 7th (250 East Region)
Motocross: 8th (450)
"That season went well for me. I crashed a lot because I was trying to get my factory ride back. I had a motorcycle to ride so I couldn't complain, but at the same time I wanted to show everyone I could still do it. I had the speed to win that year. I almost won in Arlington. If not for a lapper I think I would have won it. With MotoConcepts I had less pressure from others, but more pressure on myself. I always want to prove people wrong and show them that I can. When it came time for the outdoor season I asked them if I could switch to the 450 and they let me. I had a really good year. If not for two DNFs, one with a fuel pump, and one with electrical, I'd have been fourth overall in points. I had a fourth and a fifth overall and should have had a third once. I did well and that led me to Star Racing for the next year."
Sipes had two wins in 2014 when he ran his lowest earned number or Star Racing Yamaha.
2011 –Star Racing Yamaha – #25
Supercross: 3rd (250 East Region)
Motocross: 21st (250)
* 2 wins – Indianapolis and Las Vegas
"That year I qualified the fastest in all but one round. I did that over a ton of good dudes. I had podiums, but I was just short of getting a win. At Indy I passed (Justin) Barcia in the heat race and won straight up. In the main event I was in second and the leader made a big mistake. I was able to pass him and lead the rest of the race. I had a pretty good battle with Barcia, so that was huge. It felt good being a veteran and close so many times to a win to get that one. And then back it up with another in Vegas."
"I had some good rides in the nationals. I got on the box a couple of times in motos, but I couldn't seal the deal. I led a lot of the race at High Point then I crashed out and got a concussion. I wasn't consistent and I didn't execute."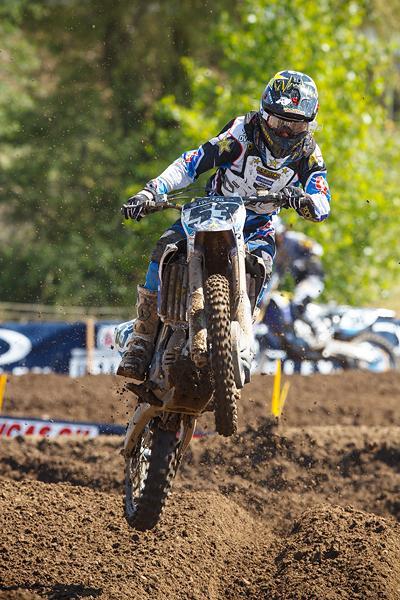 Sipes pulled out his fourth and final career main event win in 2012 at Seattle.
2012 – Star Racing Valli Yamaha – #53
Supercross: 8th(250 West Region)
Motocross: 20th (250)
19th (450)
*1 win – Seattle
"I raced supercross on the West Coast and 450 in the outdoors. Neither of them went well. I just wasn't on it that year. I don't know if it was because I was training wrong, or something else. I forgot that I had that one win. So yeah, that win was cool because nobody expected me to do that. Everybody said it was because (Eli) Tomac and (Dean) Wilson crashed, but I had them covered way before the crash. I was gone."
"I had a big injury before one of the races, so I only did a few supercross races that year. I broke my wrist and separated my shoulder really bad. I don't think that it's in the history books, but I'm the last guy to win on a carbureted bike. Make sure you write that down!"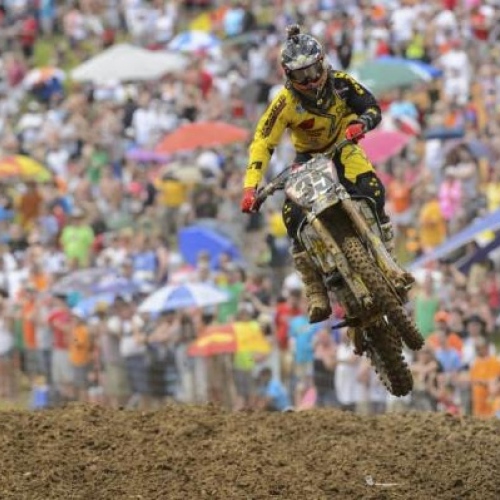 In his mind, Sipes knew that 2013 would be his last full season as a professional supercross/motocross rider.
2013 – Rockstar Energy Suzuki – #35
Supercross: 14th(250 West Region)
Motocross: 15th (450)
"I had another opportunity to stay with Star, but I moved over to Rockstar Suzuki. It was a little bit of a better deal. No team was better than the other, so that's why I did that. It was just another rough year. I had some bright spots and was pretty fast. I had some good rides in the outdoors on the 450. I wouldn't say that I was burned out, but I was in a rut. With racing I was gone all of the time and staying on the West Coast. I'd gotten pretty serious with my girlfriend at the time, which is now my wife, and she couldn't be out there with me. I was just ready to come home. That year I showed that I could still go fast, but I was ready for something new."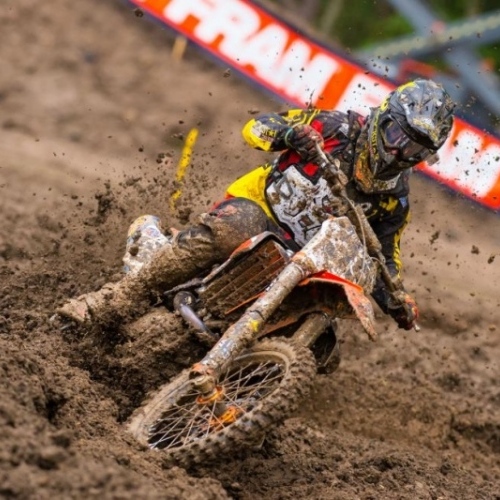 Racing both GNCCs and select Lucas Oil Pro Motocross races, Sipes ended up third in the second moto at the Ironman National in 2014.
2014 – Rockstar/WMR/KTM
GNCC XC1 – 14th Overall (Top 20 Bike)
"That was a rough year. I was used to being up front and having the talent and speed to win. When I moved over to GNCC racing I wasn't even close. I was getting my butt spanked every weekend. I would have some speed and run up front for two hours, but in that last hour I'd end up just falling apart. I physically wasn't ready to run up front. I trained for it and did three hour bike rides and three-hour motos, but there is nothing you can do to get yourself mentally and physically ready unless you race. You can do whatever you want at home, but until you have a bunch of three hour races under your belt you aren't going to figure it out."
"Towards the end of the year I started getting better. I got a fourth at Mountain Ridge and a third at Ironman. It was a good way to finish out the year. And in MX I got a third in the second moto at the Ironman National and fourth overall. It was a pretty bad mudder, although, I've ridden in worse. I was just riding and wasn't doing anything special. We had a bunch of mud races in GNCC. That motocross mud race was nothing compared to GNCC in the mud. I think I was just used to it and ready for it. The GNCCs get nasty man. A motocross race with mud on it is pretty easy compared to it. It was cool getting on the box in the second moto and fourth overall was good for a guy that doesn't do it full-time."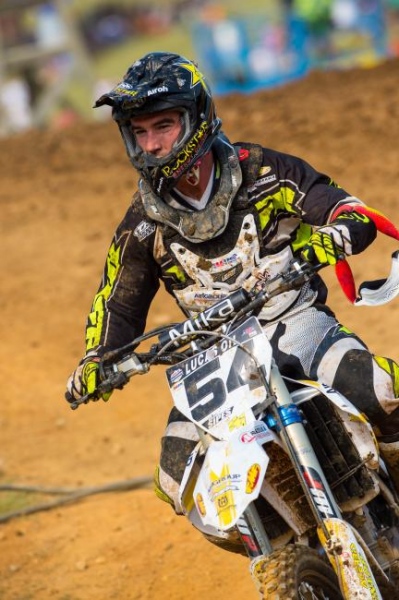 Sipes made history by becoming the first American to win the International Six Days Enduro (ISDE) in 2015.
2015 – AirGroup/Rockstar/Husqvarna
GNCC XC1 – 6th Overall (Top 20 Bike)
"I made the switch from the 450 to the 350. I knew right away that it was the right thing to do. It's a much better bike for me in the woods. The woods is my weakness in GNCC, when it gets into the tight stuff. When it's fast and you're out in the fields and stuff it's no problem for me. The 450 is hard for me to ride fast in the woods, but with the 350 I can ride it like a 250, which I'm used to."
"I started the season off really well and ran up front at the first few rounds. At about the sixth round I started to get some podiums. I actually put together a run of podiums there. I did a few motocross races and got close to the top ten, which was cool. When I got the nod for the ISDE World Trophy Team I was pumped. That style of racing at the ISDE is a lot of fun for me. It's more fun than GNCC or supercross. It's a full sprint as hard as you can for a couple of minutes and that's a blast. I did a lot of training on a grass track and practiced changing tires and all that stuff. When I went over there I didn't expect to win it, but I did expect to run up front. Kailub (Russell) won some tests over there the year before and I think my speed is comparable to his. I won the first two tests of the week and I didn't expect that. Fortunately I was able to hold it together and I won eleven tests on the week. It was probably the most stressful week I've ever had. Everyone kept telling me that I was going to be the first American to ever win the event. So I was proud of the way I handled the pressure and stayed focused. I got it done!"
2016 – Coastal Racing Husqvarna/Rockstar
"I'll be riding for Coastal Racing. I'll be on Husqvarna's again with help from Rockstar and MSR as well as some of my other sponsors. I'm actually going to be with a team. They've had a quad and UTV team for a while, but they're jumping into the bike side of things now. I'm really excited about that."
"I'll do GNCCs for as long as I can be competitive at it. I feel like I have quite a few more years in me. I'm only 31, but I'm getting smarter. I'm learning a lot about GNCCs and how to train and practice for it. I think I have a lot of room to get better. I want to try and do a couple Hard Enduro races this year as well as a World Enduro. I think that would be a lot of fun. I actually had an offer to race the World Enduro Championship, but once again that involves leaving my family. That would be tough on my family and tough on me. I don't want to be the dad who is never home."
Ryan would like to thank: Airgroup Radiant Logistics, Rockstar Energy, Husqvarna, MSR, Leatt Protectives, Dragon, FMF, Dunlop, Mika Metals, Maxima, Acerbis, Factory Services, Steve Hatch Racing, Rekluse, Airoh, Spider Graphix, Renegade Fuels, FPS Racing, Dubya, Asterisk, Sunstar, Excel, Guts Racing, Super B, TM Designworks, IMS, DT1, ARC, Hammer Nutrition, Holly, Mom and Dad, Stryker, Jeff Crisafulli, and Ryno for their help and support.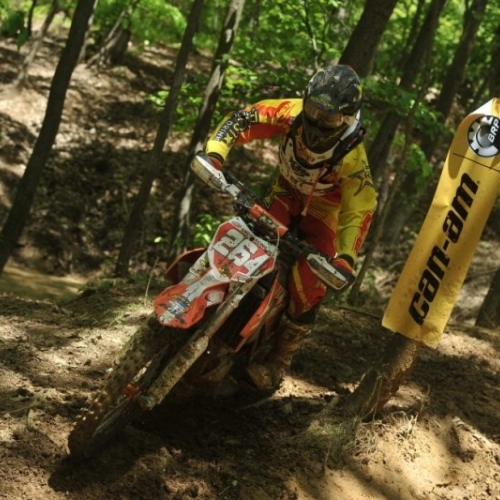 Sipes is looking forward to his best year of GNCC racing in 2016.
Thanks for reading. If you have any story ideas, comments, concerns, or just want to chat you can email Troy@pulpmx.com. He always replies to every email and enjoys bench racing.
Instagram/Twitter: @troybendgen