Should we change our ways in deliveriing news to you?
Should we change our ways in deliveriing news to you?
Photos: Simon Cudby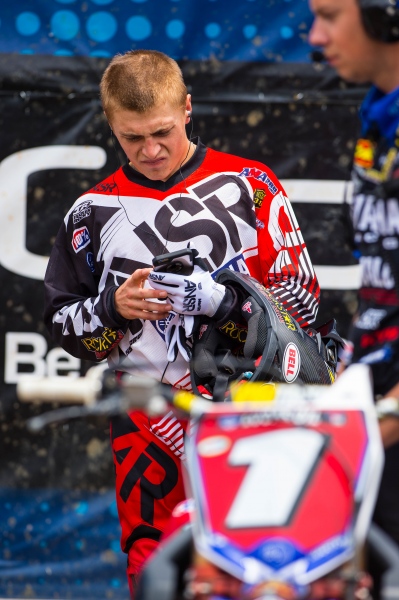 It looks like Jeremy just got a text requesting another interview.
We like to have a lot of fun here at Pulp MX and we should because motocross is the greatest sport on Earth. However, I want to talk about a serious issue that impacts all of us in the sport today. I'm talking about the journalists in our sport.
This is a tough subject to discuss for me. I don't mean to offend anyone I have worked with over the years, nor do I mean any disrespect to anyone who covers the sport in the past or today. With that being said, the fans of this sport are robbed of information on so many levels.
First of all, what is a journalist? According to the Merriam-Webster Dictionary it's, "A person that writes for newspapers, magazines, or prepares news to be broadcast on radio or television." Yeah, everyone could've figured that out. My point in bringing this definition to you is that I don't see any words like certified, or qualified in that definition. Did I just waste $60,000 in getting my Bachelor's Degree from Northern Kentucky University, where I majored in journalism? If anyone can just decide one day to be a journalist can they? What is stopping them?
In order for my wife to become a teacher she had to pass countless Praxis tests that tested her knowledge on the subject to even apply for her teaching license. In the teaching field they don't just allow anyone to bring information to the students. Why should anyone be allowed to bring news to the public? The truth is that some of our best reporters in media do not have a college degree. Some of them do. The ones that don't aren't here on accident. They get more inside information for the public because they attend all of the races and talk to a lot of great sources in the pits. Those who have taught themselves the journalism craft are the ones who I have major respect for. It's not an easy job.
Compare motocross journalism to other sports journalism. While the motocross journalist may bring you the story, important items may be left out of the story to save face. We know that Tom Brady was in the limelight for "Deflategate" as well as his four-game suspension that was lifted in the beginning of the 2015 season. All of that information was accounted for and reported. What about motocross? The journalists in this sport do a great job reporting. They really do. The problem is that we have to keep certain information from the public and that isn't fair. It could be because we simply do not know, so we can't report it.
Are you telling me that not one single journalist knows what was found inside the Kawasaki locker? We all know that Davi Millsaps was let-go from Kawasaki immediately, which was reported accurately. I simply don't know what was found, nor do I really care, but it leaves a lot of questions for the public. Was what was found really the reason his contract was terminated? Could it have been something not that big of a deal, but the two parties needed a change of scenery? Good questions.
As a journalist you don't want the public to have questions because it means that you left information out of your story. I don't mean to call out Davi because that isn't very fair, but our sport is still so small that juicy gossip like that is all we have to hold onto for a year. It took a long time to get any information on the suspension of James Stewart. Those that covered it did a nice job of getting all of the details of what was known at the time.
Motocross is smaller than the mainstream sports like basketball, football, baseball, soccer, and hockey (I did that for you Matthes). That's the problem. Do you think a reporter covering the Patriots can just text Tom Brady to setup an interview? No! That doesn't happen and it shouldn't happen. That reporter has to go through agents and directors of media services in order to get a one-on-one interview with him (and that's even if the guy has time). A whole lot more goes into that process than I know. We have it easy. We can text Stewart and get the okay for an interview. We don't have to wait until a press conference after the event to get some quotes from him.
Do you think that would help? Should Feld institute another press conference after supercross events? The problem with the press conferences is that the journalists aren't filling up the seats and hardly ask a question. Why would they? The journalists who aren't in attendance are getting the one-on-one scoop with any rider they can find in the pits. I say we cut that luxury out of the equation and keep it even. Everyone reports to the press conference after the event for all of the information they need for their stories. We need to institute a fine of some sort if an athlete refuses to talk to us. It happens in other sports, so why not motocross?
Ethics is a huge deal in journalism, however they really apply in motocross media. Let's say a rider says something negative to me about his bike that he didn't say was off of the record. I know I won't report it because it looks bad for his team that has been doing everything they can to support this rider. His team has been great with me in the past when I request an interview. However, if I would report this negativity it would be great insight into why this certain rider was struggling. It's the behind the scenes stuff that people like. I'm not going to degrade the rider's team, nor will I call out that rider for saying the truth. If I did report it, well I'll probably never be able to get an interview with that rider again, or any other riders that team works with. Do you see what I mean? You know for a fact that a ton of NFL reporters have reported negative information about Tom Brady, yet he still talks to all of them.
This is only one part of this topic and I'm going to investigate this issue in future posts. I'll get some rider insight into this and we'll see if we can make a difference in this sport.
When I set out to be a journalist six years ago I had goals of making some sort of change in the sport. I was that fan who wanted to know the entire behind the scenes drama and see the deals that could have happened. Wouldn't you like to know if so and so was talking to the Red Bull KTM team for the 2017 season? We don't report this and we should.
(That was hypothetical. No one is talking to Red Bull KTM for 2017 because we haven't even seen anyone race in 2016. As far as I know…)
I might get in trouble for posting this column. I'm just trying to come up with different ideas to help our sport grow in the long run. I respect all of the hardworking men and women that devote their life to motocross media. It's a very hard job that looks glamorous from the outside looking in. It's not glamorous, but we love it and we wouldn't change that aspect of it. If we made some changes in media then maybe this would allow our sport to grow larger, which would be a very good thing.
Don't be afraid to share your thoughts on social media. You can also email what you think to me at Troy@pulpmx.com. If I get a lot of opinions I will share them in a post. Thanks for reading!
Twitter/Instagram: @troybendgen