Amsoil Arenacross and Monster Energy Supercross kick-off. Who's ready?
Amsoil Arenacross and Monster Energy Supercross kick-off. Who's ready?
Photos: Simon Cudby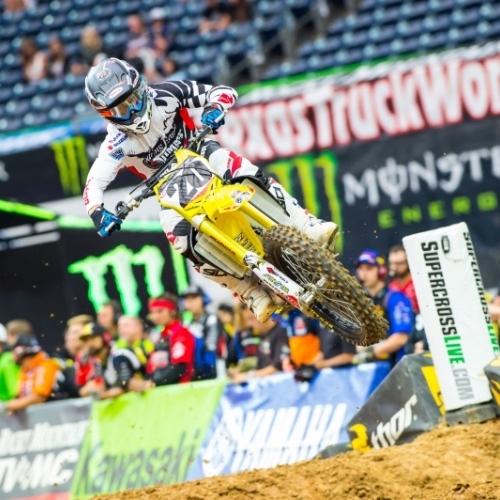 Tickle and the rest of the gang are back!
It's almost here. I've had January 9, 2016 circled on my calendar for months now. I'm sure I'm not alone in this eagerness. While most of the anticipation lies in Anaheim 1 (pumped for it), most of my excitement is for Amsoil Arenacross.
I don't go to a lot of events anymore. I like to consider myself a privateer journalist where I mostly travel to the rounds closest to me. This is the second year that arenacross kicks off the series in my hometown of Cincinnati. You better believe I'm not missing this.
It's going to work out incredible for all of us on the East Coast. I can go to US Bank Arena, watch the event, and then get home in time to catch most of the live coverage on TV from Anaheim.
Let's take a look at this arenacross deal. We have an ongoing saga still a 'brewing between defending champion Kyle Regal and runner-up Jacob Hayes. The last time these two raced one of them lost the title and you better believe there is still some hostility. Hayes is coming into the season making sure that he doesn't finish bridesmaid for the third season in a row. He told me a few weeks ago that he was ready to go.
Also, out of the final top ten from the 2015 season only seven riders are returning this season. Gavin Faith, Cory Green, Chris Blose, Travis Sewell, and Gared Steinke will all be back for more. We'll be missing Matt Goerke, Bobby Kiniry retired, and Steven Mages made the move to the 250SX West Region. This leaves room for other guys to step up and show what they are made of. Regardless the talent will be overwhelming the small confines of the arena once again.
With Ricky Carmichael's Road to Supercross in full effect plenty of riders are looking forward to getting their supercross points. I know for sure that up and comers like Zac Commans (who will be racing some West Coast 250SX) and Benny Bloss (who is racing East Coast 250SX) will be in attendance this weekend. As will a million others I'm sure.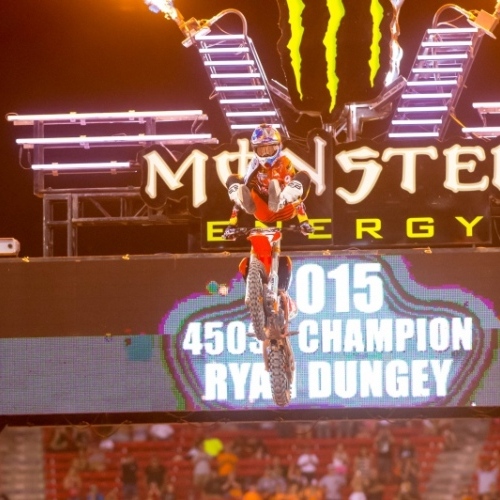 Can anyone match Dungey's consistency?
It's going to be a fun, exciting, overwhelming time in the pits this weekend, but I'm game. I'll have plenty of coverage for everyone from the event in the coming weeks. It's a great time to be involved with arenacross as they are unveiling the new Ricky Carmichael Cup, which is the new trophy for the champion. Bro, we've got Carmichael all over this series. Buddy Antunez got the short end of the stick on that deal!
As for those of you unfortunate folks who have to miss this splendid event, just go to SX or tune into it live on Fox Sports 1. I promise it'll make you feel better. The biggest question is whether or not someone will be able to match Ryan Dungey's consistency. The 250SX West Region is more or less going to be the Cooper Webb show in my opinion. He'll have his hands full with TLD Red Bull KTM's Jessy Nelson and Monster Energy Pro Circuit Kawasaki's Joey Savatgy. You also don't really know who else will have stepped up their game this offseason. I like to think that all of the riders have improved and stepped up their game to championship level.
We have a lot of rookies making debuts and we also have veteran riders getting another chance at a team ride. It's good for them and good for the sport. We have a lot of dark horses in supercross that are really going to surprise some people. In arenacross we have a platform for new stars to rise from the crop. The stage is set and if you weren't excited about Saturday before I don't know how you can't be about ready to jump out of your skin now!
We have two series, two cities, close to two hundred riders competing, in one night. Saturday is going to be one of the best days of all-time!
Thanks for reading! If you'd like to bench race further or talk about anything you can email troy@pulpmx.com.
Twitter/Instagram: @troybendgen