Celebrating three years of Windham retirement.
Celebrating three years of Windham retirement.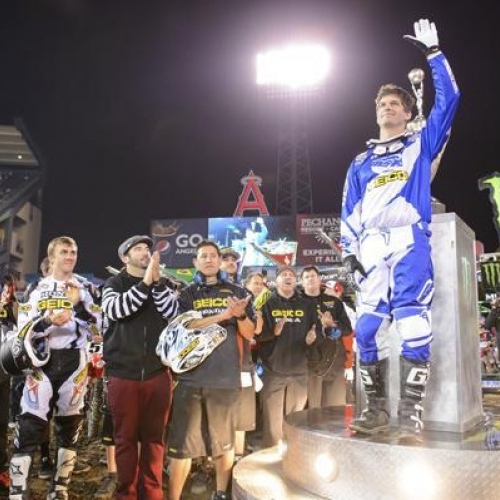 You could compare this moment to Michael Jordan announcing his last retirement.
Photos: Simon Cudby
As probably many of you don't remember January 19, 2013 marked a very sad day for the sport of motocross. It was a day that will forever hold a sore place in a lot of people's hearts. It was the day that our beloved Kevin Windham retired from the sport. As you gasp and hit yourself for not remembering, just know that it's okay and that K-Dub forgives you. Luckily for you, I've compiled a list this week to commemorate the three year anniversary of why we miss the legendary #14 (sorry Cole Seely, it's going to take a while). We miss you at the track bro!
14. In the Booth with Ralph and Jeff
Face it; I know I'm not the only person in the world who misses Windham in the booth at supercross races. The knowledge that he can provide for the viewers at home is hard to match. He simply knows what riders are thinking and where they are going to make their moves. He can spot any rider setting up a pass from a mile away. It's rare when he is in the broadcasts, but when he is he adds so much for the casual and hard core fans.
13. Generations
Let's take a little field trip here and I'll use myself as an example. When K-Dub turned professional in 1994 I was three years of age. When K-Dub decided to retire in 2013 I was halfway to my 23rd birthday. That's a lot of years at the track! That means that Windham was a prominent figure in our sport in the 1990s, 2000s, and a little bit of the 2010s. I can count on one hand the amount of riders who have been a professional athlete in our sport for 20 years. The answer is one rider and that rider is, yep you guessed it, Windham. He's raced with Jeremy McGrath, Ricky Carmichael, James Stewart, Chad Reed, Ryan Villopoto, Ryan Dungey, and everybody else in between. So many people have looked up to this guy that it's unreal. No matter what decade you were born into K-Dub was a star.
12. Natural Talent
I don't even have the right to write this paragraph. Is there a more naturally gifted motocross rider than Windham? You could argue Stefan Everts and Ron Lechien against K-Dub's talent, but man this Mississippian was (still is) smooth as silk. Kevin was smoother than a cigarette ad in the 1950s.
11. Style for Years
From his clean-cut days of dominating the West Region on 125s to his burly man beard later in his career, K-Dub had it all. Whatever Windham did on or off of the bike just looked so cool. Remember in his comeback of 2003 when he grew out his hair? I have picture proof from that year that I did the exact same thing. Windham always looked good in his No Fear gear as well as his own line of helmets each year. Towards the end when he switched to MSR it was hard to get used to it at first, but then it caught on. Oh yeah, it looked good. The gear mixed with his riding style was an unbeatable combination. Windham was one with the bike.
10. Personality
Windham is just a genuine human being who truly cares about his fan base and the sport. He could talk to you for an hour about anything. Or he could meet you for five minutes and act as though he's been your friend for years. It takes a special person to have that many people skills and Kevin mastered that along the way. He was always happy and he never showed that he was upset or lost his temper in the public eye. That's pretty remarkable for 20 years in the limelight.
9. Fan Base
If Windham showed up to supercross and signed autographs he would have the longest line in the pits. Even three years after his retirement he's as popular as ever. In 2014 he did the track preview and came out during opening ceremonies. The crowd went absolutely nuts and loved every minute of it. If he did that in 2016 the crowd would do the same. Nothing has changed. The people love their K-Dub.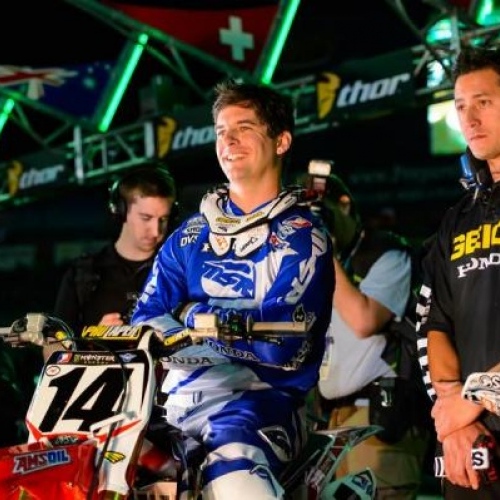 Smiling after another successful opening ceremonies in 2013.
8. Opening Ceremonies
Whenever Windham would be introduced during opening ceremonies you knew something crazy was about to go down. The voice of the SX God would call upon our hero and just put on the best show for everyone. He would do things on the track in the dark of the stadium that a mere mortal wouldn't do on a fully lit one. I remember in 2014 at the Indianapolis SX that he came out at the end of opening ceremonies. My father had no idea that Windham would be there. Mind you, this is a 60-year-old man I'm talking about. Well, Windham is my dad's idol and when he came out of the tunnel my dad had tears in his eyes. My dad doesn't cry for anything, just K-Dub apparently. It's a cool show to be able to provoke feels like that.
7. It's On
Not only was Kevin so naturally gifted, but also when he was on no one could beat him. If he showed up to the track and felt perfect all day you might as well have just gone home because you weren't going to beat him that day. To have that power coming to any track for 20 years is remarkable. Windham could win any race that he showed up to and he was a threat to win up until the weekend he called it a career. Most athletes fade off into the sunset when they get older, but Windham didn't.
6. Throttle Control
Nobody has before or since had better throttle control than Windham. He was very dangerous (in a good way) on very slick tracks. It could be a downpour or extremely dusty and Kevin would have no problem navigating the track as fast as he could. This is one of those skills that you can't teach.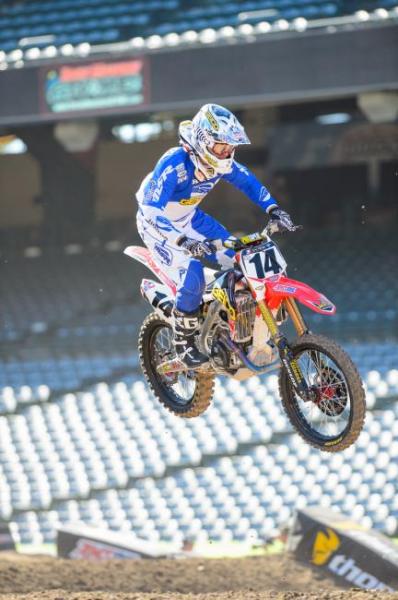 The CRF450 Honda and K-Dub. Just like peanut butter and jelly.
5. Iconic #14
When Kevin took over the number 14 in 1999 no one could of guessed the ride that he would be in for. To have a number attached to your name for sixteen years is quite the run. To see Cole Seely wearing it today on a Honda is only fitting, but it's just going to take some more time to get used to it. Windham and 14 became synonymous through the years. When you think of the number 14 in motocross whom do you think of?
4. Ricky's Achilles Heel
Not only could K-Dub win on any given weekend, but also he was the only rider to beat Ricky Carmichael when he was in the prime of his career. If Kevin had not been around in 2001 or 2003 then Carmichael probably would have had more than two perfect motocross seasons. Windham was a machine at Washougal and Unadilla through the years (probably due to throttle control) and stopped Ricky's win streaks straight up.
3. King of Slop
This topic kind of goes with the 'could win any race' theory I introduced earlier in the article. However, when the clouds opened up and the track became a mudder you knew who was going to shine. Kevin set the tone for his mud skills when he won the Charlotte Supercross in 1997 as a rookie in the 250 class. The rest of his career was filled with other memorable mud moments. Who could forget Daytona in 2008? K-Dub powered through the mud technically as possible. Man, was he fast in horrible conditions!
2. Transfers
This is what made K-Dub so unique later in his career. Somewhere along the way he had the great idea of making crazy jump transfers in just one spotlight during opening ceremonies. Any sane person would make the same decision, right? These transfers would get bigger and bigger until he finally had to tame them down a bit. His Dallas transfer in 2012 was one to remember as the biggest ever.
1. Heel Clickers
In the mid-nineties freestyle motocross was just taking off. You'd see those guys do tricks on practice tracks as well as X-Games and it was cool. Windham decided to take freestyle to the racing side of things. Jeremy McGrath had already brought the nac-nac into popularity, so K-Dub did the heel-clicker. If you were a kid in the nineties and you saw Windham do one in a race then that memory stuck with you forever. I know from personal experience. I'm sure he had to quit doing them, as he got less limber and older, however the heel-clicker helped put Windham on the map. It's just another thing that made Kevin so unique.
Do you have a favorite moment with K-Dub that you'd like to share? Email troy@pulpmx.com and if we get enough moments we'll put them in an upcoming column. Thanks for reading and thanks for the memories K-Dub!