An hourly walkthrough of Zac Commans' debut.
An hourly walkthrough of Zac Commans' debut.
(Photos: Browndog Wilson/Slaton Racing)
As I sat at my computer last week to write my first PulpMX article of 2016, I quickly realized that I was wasting my time unless it was a breakdown of the Peick/Friese fight or an unreasonable opinion on the Stewart/Dungey incident; so I went golfing instead. Sorry Steve…I am sure Debbie would understand.
But I am here now and thanks to Gerardo at Nuclear Blast Records, I will be dropping in every week or so to give you an inside look at all things YP.com/ Nuclear Blast KTM. This week I thought a detailed timeline piece highlighting the day Zac Commans made his Supercross debut would be a great way to kick things off.
—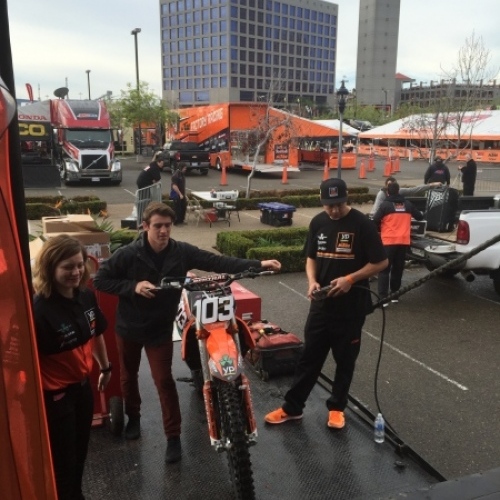 Zac bringing the #103 machine back from Ohio.
8:53am- Zac and his Dad arrive after what was almost a direct drive from Cincinnati, Ohio where the rookie had to race the first round of the Amsoil Arenacross series while the rest of us were in Anaheim.
9:15am- After saying hi to everyone, it's off to registration to get dialed in with the AMA and get a few other things handled before the track walk.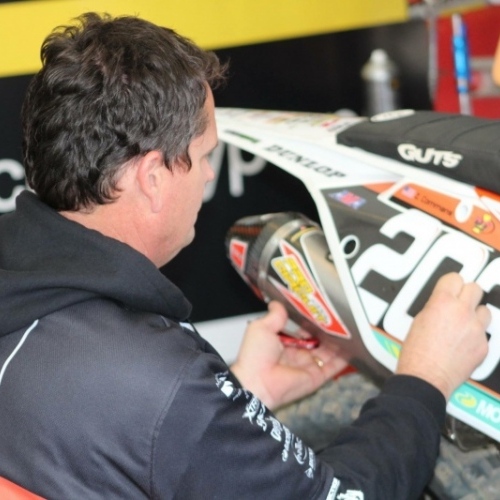 Installing new graphics.
10:00am- Zac says good-bye to his beloved #103 that he had FOREVER! If you are looking for Zac at a Supercross race, he is now #203.
10:10am- The riders and some of the crew start the twenty-minute walk from the pit to the stadium.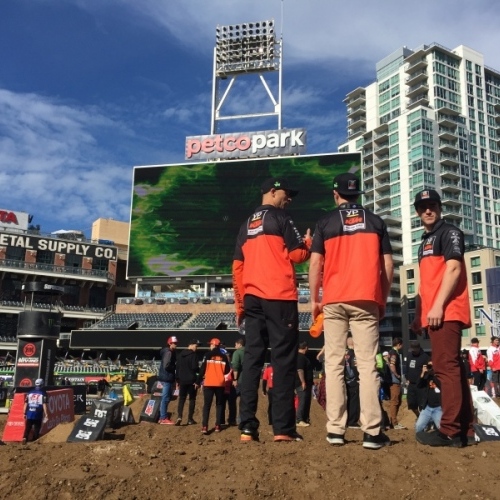 Welcome to the big show Mr. Commans.
10:30am- Track walk starts and Zac was excited to get things going, if he had any nerves…he did a great job hiding them.
11:20am- After the track walk and the riders meeting, it was time to make the hike back to the truck and get ready for free practice.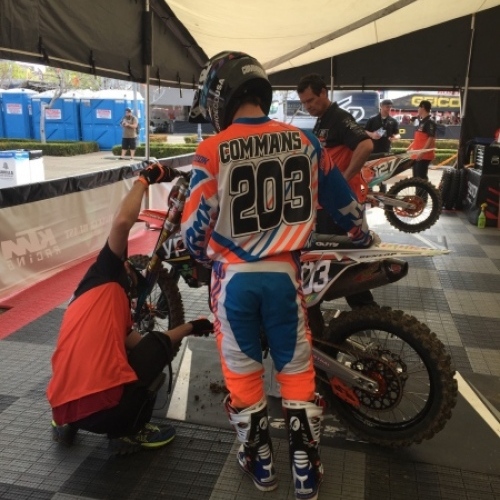 Fresh gear and fresh bike, these are the luxuries of riding dirt bikes for a living.
11:45am- Zac kits up in a fresh set of FXR gear. All that was left to for the #203 was to start his pro career.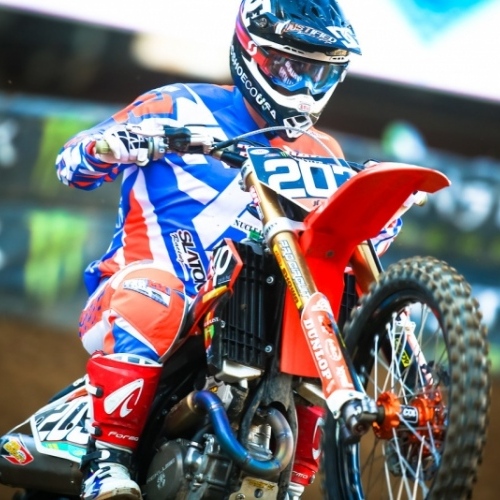 Commans felt at home right away.
12:03pm- Not that it surprised anyone on the team too much, but Zac went to work immediately and wasn't scared to push slower riders out of the way in the C sessions. The rookie put his times to the top of the board on the first lap and never looked back.
12:20pm- After his free practice, Zac jumped into the stands with some of the crew to watch the 250/450A and chat lines.
1:15pm- With the insane trek back to the rig after watching the A sessions, all there was time for was a quick goggle change and then it was back to the stadium for the first timed qualifying session. As expected…Zac turned the fastest time of the session.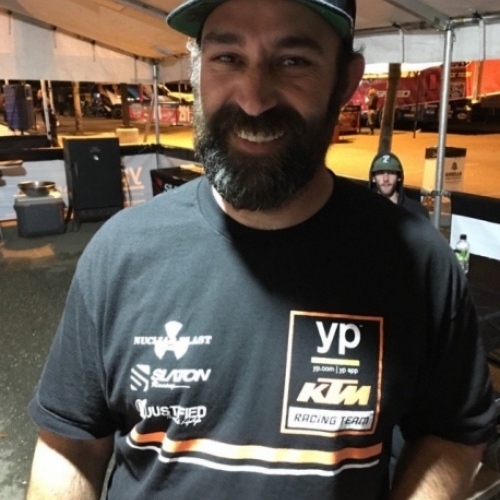 Cheffing it up.
1:50pm- Lunchtime for the guys and if any of you have been to our hospitality area…you know that Chef Jim Devine from 1455 American Grill is an ANIMAL. For the San Diego round, the guys hammered down some chicken and rice for lunch.
2:00pm: During lunch…Zac and Cole were able to sit down and watch some videos of the first practices.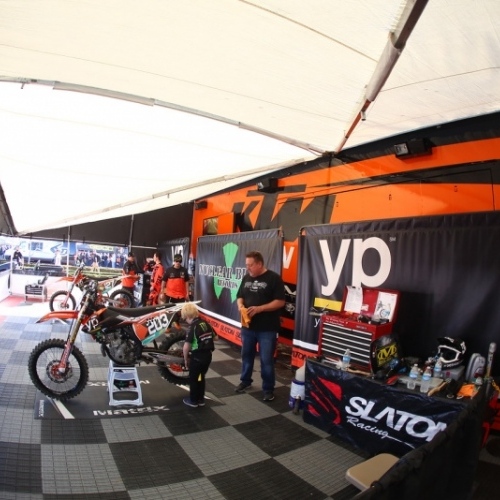 The setup.
2:30pm- After lunch, Mitch Payton's little guys stopped by to give Zac's mechanic a hand. The entire Pro Circuit crew and Commans family are great people and have all been key in helping us take Zac racing.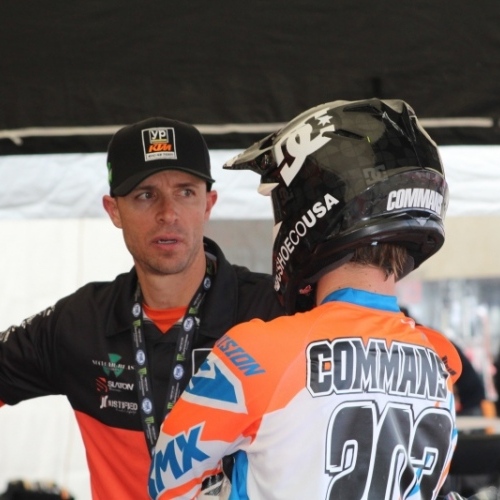 Final practice talks.
3:00pm- Just before the final practice, Zac and some of the crew relaxed and talked strategy and lines for the final practice.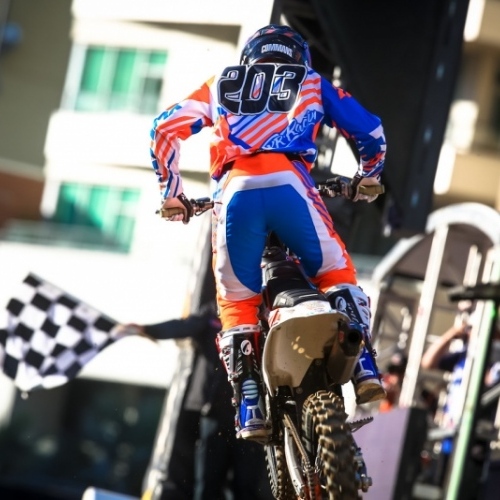 Zac arrived a week earlier than expected because he did not have to ride the full Road to SX program in Amsoil Arenacross.
3:25pm- Like he did in the first two sessions, Commans tops the board easily and was on his way to the night show with the 27th fastest time.
4:00pm- The team broke it to our graphic sponsor that we'd probably need 5 sets of number plates for Zac each race because his he the gift of destroying them within' two laps every time he rides.
4:05pm- For the next hour or so…it was about the crew and riders just relaxing and since we had no major issues during the day program, there was minimal prep on the bikes for the night show.
5:05pm- DINNER time, poor Zac and Cole got stuck with chicken and rice again…but everyone else got to enjoy some Chef Jim prepared bacon wrapped brats, smoked chicken with honey BBQ sauce, penne pasta with sundried tomatoes, and a mixed green salad.
6:00pm- With the San Diego sun going down, it was time to get ready for the night show…again to the crew's surprise, Zac did not seem nervous. One thing was for sure; he was WAY calmer than his mechanic!
6:45pm- Even though both Cole and Zac were in the second heat, everyone packed up for the night show a little early to make the extra long walk to the tunnel at the stadium.
7:00pm- GO TIME!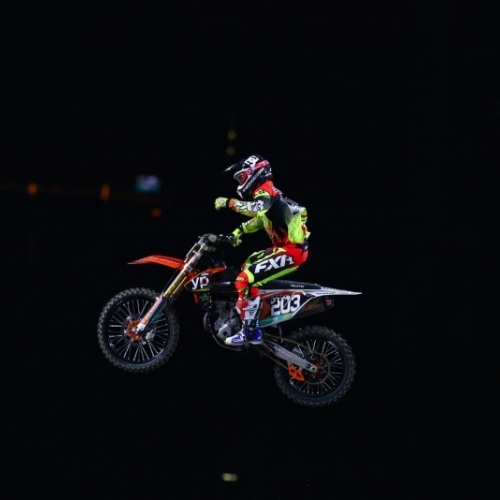 One race down and ready for Anaheim 2.
7:19pm- Both Zac Commans and Cole Thompson lined up in heat two. When the gate dropped, both Commans and Thompson got off to poor starts. Thompson was able to work himself up to 6th for a transfer spot directly into the main, but heavy traffic and a stall left Commans lined up for the LCQ.
8:06pm- The LCQ was filled with carnage, but the rookie used impressive poise and veteran like maturity after an almost disastrous moment with a handful of tuff blocks to ride clean laps and put his YP.com Nuclear Blast KTM in the main event.
8:30pm- With the LCQ over and Zac in the main, everyone could breathe again. Once again, with the long walk…time was tight, so Zac changed his jersey, prepped his goggles, and grabbed a quick drink just in time to head down for the main.
8:53pm- It was time to drop the gate on Zac's first career 250 main. A bad jump off the gate hurt the rookie, but Zac never gave up and made a few passes to earn 18th place and very valuable experience. His teammate, Cole Thompson grabbed 12th.
9:40pm- Everyone meets back at the truck to congratulate Zac and begin to pack the riders away and send him with what they need for the week of testing.
10:25pm- The team debriefs and everyone goes their separate ways, see you in Anaheim…