A points leader and a nice story talk about their nights
A points leader and a nice story talk about their nights
Jake Weimer
What's it like factory rider, being on the line for the LCQ? It's got to be gnarly. Two laps in, you were out of qualifying position, but then you rebounded well.
Dude, on the first lap I'm like, dude, I don't know if I'm going to make it. This is bad. In the semi, it's just a racing deal, but I got smashed in the first turn. I got my hand pretty bad and for a minute I'm like…
You didn't fall though, but like a handlebar?
Yeah. It took me a couple straights to be like, okay, I can ride. But then the LCQ, Baggett went down in the first turn and it kind of bunched a few people up. Then yeah, I had to have been like 8th or something. I was like, oh my gosh. So thankfully I made the main.
It's also one of those things like once you make it through the LCQ you're going to have a bad gate pick, but you're in and whatever at that point.
That might have broke the internet if I didn't make it.
He's undeserving, take his bike away!
I told you!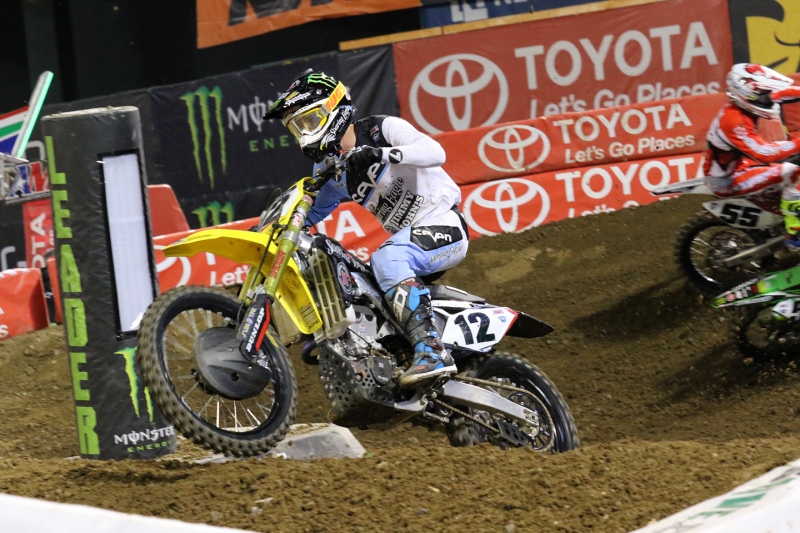 Weimer was battling for a top ten until a late race crash had him settling for 12th. Jani Hovi photo
In the main, you followed Brayton around a lot in 10th until a late crash. Then you hit Schmidt's rear tire and I think Millsaps got you.
I crashed before that. I was behind Brayton and I made a pretty big mistake, maybe six or seven to go. So then I was like, all right, calm down, smooth out. And then my mechanic told me five to go. So I was like, all right, I'm going to try and put on a push here. And kind of got back up to him and then I crashed. Then got up and then crashed again when Schmidt kind of crossed down some ruts. I ran into the back of him. So I went down again, and then that's when Davi got back by me.
No triple into the sand at all. I talked to you before the night show and I didn't see you do it. You said, I'm just not going to do it.
I just felt like risk to reward and for where I'm at…
Half the 250 guys were doing it. I don't know how risky it was. Anyway, I liked the track tonight. I thought it was good, besides that triple in the sand. I thought it was really tricky. I'm surprised there wasn't more passes. You guys were not making that many mistakes out there. But it seemed like it was busy all the time. That turn before the triple before the whoops, different lines, guys going inside. You weren't able to triple one lap, almost got landed on. It was interesting.
Yeah, you never know how the tracks are going to turn out. Even in practice they're so much different really than when we actually line up to race. But it was different. It was fine. I would prefer something like this over last weekend when it was kind of more open and just really fast. So I would prefer something a little tighter and more switchbacks and whatever. So I thought it was fine.
Two more races I think in our Pulp MX helmet sticker deal. Are we going to be able to run the rest of the races out? What's going to happen here?
We'll be in comms.
So I think it's been working out for both parties. I think you're getting some exposure, I'm getting some exposure. I think it's working out well. Maybe we should continue this.
I told you, you're the one talking about "maybe we'll take a race off" and then I maybe have a little more bargaining power. If that's what you want to do.
I'm going to rip the sticker off and then you'll miss it and you'll get some pressure from fans and you'll cave.
That's how this works.
Your wife said that you guys need the money also which is not helpful. It was good for my strategy, she said earlier.
Is it good for your strategy?
Yeah, I know you're desperate.
I mean, I'm pretty sure for what our deal is I could sell this spot to someone else.
Probably.
I never thought about selling a spot for that little money. So I guess it's opened up some new ideas for me.
Maybe so. Twelfth tonight, which is much better than last weekend. Maybe a tenth if things hadn't gone sideways. So a good night with Canard back in and Bogle back in and Baggett and those guys. Another nice ride.
It was okay, just a few mistakes on my part. I've said it before, but I've just got to be better qualifying and get a better gate pick. For as far wide as I was I didn't really start all that bad. I'm healthy and I feel like things are going in the right direction so we'll just keep plugging away.
How's Watson been?
I like him.
What's the funniest thing he's done?
I just like listening to him commentate during the day. It's pretty good.
I guess he doesn't have much to do with the racing as far as your bike setup.
I don't think as far as bike setup but he's in the know, I think.
*****
Joey Savatgy
45 text messages for Joey Savatgy, the winner. That's what happens when you win. Great job.
You know how many I had last weekend?
None.
Yeah actually none. Literally none.
That's what happens. They probably all want something from you. Great ride tonight, man. You and Cooper going at it. He loses out the front end, but it was nice. You were under some pressure and you stuck to your lines. Lap times were consistent. Really nice job. Two guys coming to the red plate and that's your guy. That's impressive. That's got to be a real mental thing for you.
Yeah, I felt good all day. He was pressuring me and kind of putting me in a position to where I had to ride a little defensive, so I couldn't go where I wanted to and I couldn't hit my lines like I wanted to. But it was one of those deals where it's a cat and mouse game. I didn't want to leave the door open, so I kind of had to be defensive and lose time and he could go where he wanted to. But all in all it was a great night. We got off to a good start and he was there to pressure me but I feel like once he went down and I could start taking my own lines we started clicking off laps. I think we actually had the fastest lap of the night, too. So to add a little cherry on top and a little bit to the confidence, I feel like we're sitting in a good spot. We had a bike change this week, I tested some. They brought me the new setup here for the race and I tried it first practice and I felt like it was a step in the right direction.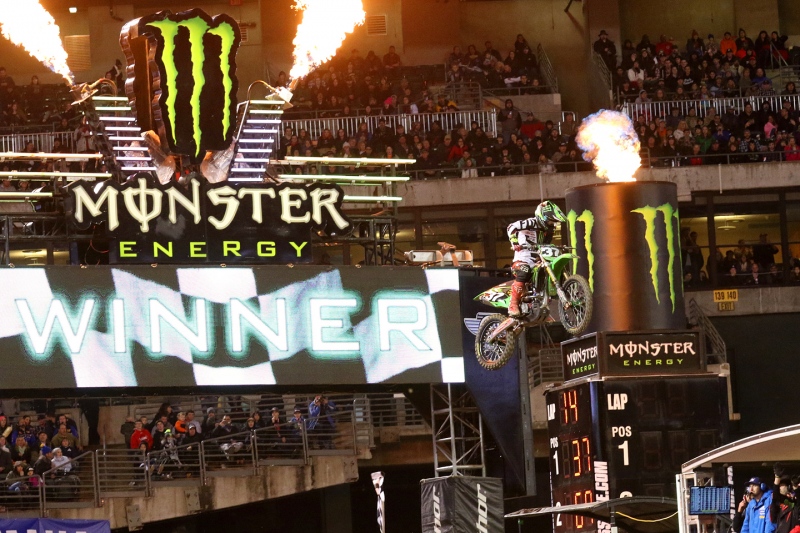 Savatgy took his second win of the year and the points lead in San Diego. Jani Hovi photo
Every weekend the bike's constantly getting better. I feel like the team's getting better and I'm getting better. Just putting in the work during the week, man. We found ourselves in a good position after my first win, and from there it's kind of up to me. We got to capitalize on the situation and the position that I've been given. I'm not going to go down without a fight. I think a lot of people thought it was going to be the Webb show but I feel like now there's a lot of guys that can potentially win I think, between me and Christian and Cooper, and even Osborne. I feel like there's four guys that on any night can win a race. So it's not just a one-man show anymore; there's three or four other ponies in it. It's going to be a battle all the way down to the end, especially with that East/West shootout being points paying and the East joining in with the West. There's a lot of stuff that can happen. The main focus now is to go home and to work on some things that I need to work on this week and come out swinging next weekend. Do the same thing we did today; have a good practice, have a good heat race, and put ourselves in a good position for the main.
I wrote this last week or the week before, Webb staying with Alldredge the last couple weeks and he's flipping off some other dudes. He's making mistakes. He was so untouchable, so unbeatable, I feel like all that kind of stuff gives you guys hope as far as maybe this guy's feeling a little bit. Maybe he's just feeling the pressure of, hey, I should be winning, I'm not. I'm pissed, I'm mad. Does that matter to you guys? Do you look at that and agree with kind of what I was saying?
Yes and no. I think Cooper is capable of winning. I think we see that all the time and I think we see that he has the number one plate for a reason. So I do think he's a little bit… I guess the word is flustered, rattled. I think he's upset. Truthfully I don't blame him. You have a 20 point lead and you lose it all in one night due to something out of your hands. That's unfortunate but we saw tonight it happened to Chris. It can happen to anybody. That's part of racing. So like you said, I think he went from being untouchable, can start wherever he wanted to start, last place, middle of the pack, and come through and wear dudes down. I think as the races are going I think a lot of us are getting in a better race shape, too.
Cooper was probably the most prepared. I say that because he had the most gate drops under him. He did all those overseas races, he did the Aus X open in Australia. He had a lot of gate time. I think that first round, obviously he had a little bit of problems tangling with people, but I feel like as the weeks go on we're getting better as far as the racing condition. Our race smarts are getting better. The biggest thing, like I said, is we got to put ourselves in a good position every weekend. There's so many dudes that are going fast and there's so many things that can happen that the only thing I can focus on is getting a good start and riding my own race. If there's a dude that's faster than me, he's going to pass me regardless. So my main thing is to keep focusing on me and to keep going back home and doing my homework, and working on the areas that we need to keep improving on and when it comes time to race get off that gate. Wherever I end up off the gate is where I end up, but the next fifteen laps is all up to me to keep the ball rolling and to keep focusing on me. Hit my lines, have good lap times, and to keep banging out the lap times until the fifteen laps is up, and where we end up is where we end up.
It's turning into a really great series next week going into the break. It should be fun. Congratulations. Great job. Tell RC I said hi.
Will do.