It's never too early to get excited about the start of a new series.
It's never too early to get excited about the start of a new series.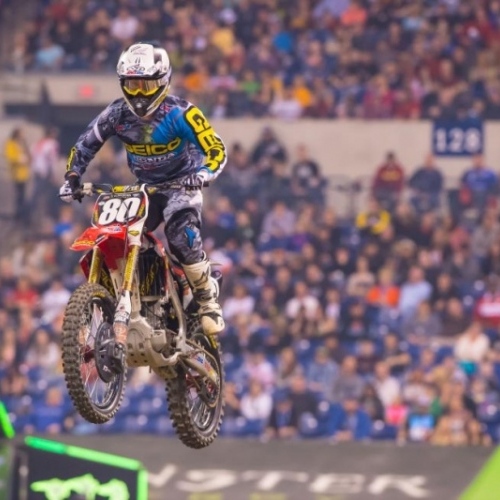 The East is stacked and ready to rip.
Photos: Simon Cudby
I may be writing this column a week early, but whatever I'm excited for the 250SX East Region. I will say that I'm quite bummed that we have to wait for the epic conclusion to the West Region. The West Coast guys have been killing it and Cooper Webb continues to make mistakes. I'm just really glad it's not a runaway snooze-fest like the 450 class has been.
Anyway, back to the topic at hand: the East Coast. I've resided in the Midwest my entire life and so of course I always look forward to the East swing every year. The tracks are so rutted and the dirt is always tacky. It's always fun to watch the top guys in the sport pick their lines on a rutted-out track.
The cool thing about the East this year is that no one really knows who is going to win the title. Going into the West Region we all kind of knew the Webb was going to shine the brightest. Before the season even started fans and media alike were debating on whether or not he would go undefeated. The East is different because there are several story lines that could play out.
My preseason favorite was Adam Cianciarulo, but since he injured his wrist I have to choose another rider. You'll have to read or scroll down to the bottom of the column find out who exactly I choose, but I'm going to go through some contenders here first.
First up, Tyler Bowers is going to always be solid. He's going to be Monster Energy Pro Circuit Kawasaki's ace in the hole for the championship. I know that his teammate Arnaud Tonus will also be in the mix, but I'm on the fence with him. We've only been able to see him race a couple of times since he came to America, so I think he will take a few rounds to get comfortable in supercross. He's already comfortable outdoors so you never know. We could have a very fast learner on our hands here.
Next up is the GEICO Honda crew of RJ Hampshire and Malcolm Stewart. These two are primed and ready for race wins. Stewart more than likely vie for the championship if he can get his inconsistency problems under control. If he's going to win a 250 title this is his best and probably last chance to do so in 2016. Hampshire will be tentative at first after his head injury from the Red Bull Straight Rhythm. No matter where he finishes it will be good to just see him back on the track.
A big dark horse that I don't think a lot of people aren't paying attention to is going to come in the form of Matt Bisceglia. He's the lone wolf underneath the Yoshimura/ Dirt Candy Suzuki awning for the East swing. I like what Bisceglia has to bring to the table this season. He's got more experience, a new bike, and most probably a new attitude. If he can also figure out his consistency he will be a front-runner every week. Keep an eye out for a Matty B feature in the near future.
The TLD/Red Bull KTM team is loaded for the East. We'll get to see Justin Hill, rookie Alex Frye, and title threat Shane McElrath. Each one of these riders has serious speed and McElrath really showed that last season. Hill will be up in the mix as well. Frye hasn't been able to prove himself in the pro ranks just yet and if he can put it in the main event and stay healthy that will be a win for him.
You can't forget about Martin Davalos holding it down for the Rockstar Husqvarna team. Is this the year he puts together a full season?
Another dark horse I have for the East is CycleTrader.com/Rock River Yamaha's Luke Renzland. This kid should win just based on his personality alone. In my eyes he will make the podium on more than a few occasions, so don't be surprised when I say I told you so. He's promised to drop a #Ginobili when he wins too. If you don't know what it is he'll demonstrate soon enough.It's a big move that could forever change motocross racing.
Last but not least let's talk about the Yamalube/Star Racing Yamaha squad. Did Jeremy Martin up his supercross game in the offseason? He's a proven winner both inside and out, but do you think he's going to put it together for all of the rounds? In my opinion I say he will be in the hunt by the final round (I know I'm really going out on a limb with that choice, right?).
As promised I told you that I would save my championship prediction for the end of the column and as promised here it is. I predict that Aaron Plessinger (AKA "Jumpman") will hoist the number one plate at the end of the series. This may or may not have anything to do with his latest feature story in the April edition that I penned for Racer X. I've spent a lot of time talking to Plessinger and his inner circle in the offseason and I think he has all of the tools in place to become a superstar in 2016. Will he pull it off? We'll have to wait and see, but I believe he will. Are you fired up for the East Region yet? Good, but I'm sorry to break it to you, we still have a week left to go before the first gate drop.
Thanks for reading my column. I really appreciate bench racing and you can email me at troy@pulpmx.com to talk about all kinds of things dirt bike related.