Gajser shines brightest in Qatar!
Gajser shines brightest in Qatar!
Images: MXGP, Honda
Article: Jonathan McCready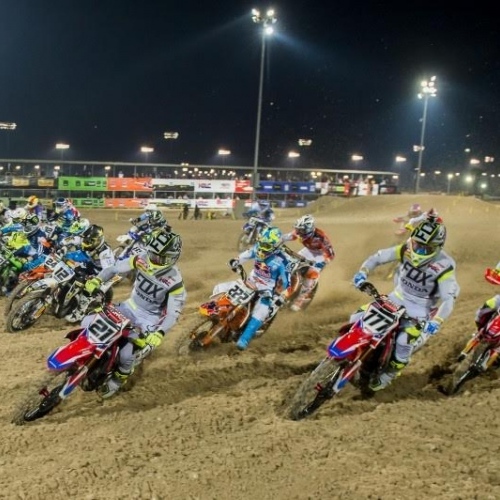 The MX1 blasts off of the line under the lights of Qatar.
Tim Gajser was the story of the weekend in Qatar. It wasn't a surprise that the MX2 world champ ran at the front but it was a surprise that he dominated and controlled both motos.
Gajser was silky smooth and scarily composed on a track that was easy to make a mistake on. Gajser already looks far more comfortable on the 450 that he did on the 250. Everything is happening slower and his style is evidently more suitable to the bigger machine. The rest of the riders need to consider Gajser a genuine threat for the rest of the season, he knows he can win now and that makes him even more dangerous.
Gajser said: "I was really relaxed coming here, I didn't have pressure on myself. I didn't know what to expect, I knew I had a good winter, good preparation, good testing and good with the team, so I came here just wanting to give my best."
Romain Febvre bounced back from his elbow injury a few weeks ago to got 3-2 despite some arm pump and a crash in race two that clearly frustrated the defending world champion. Febvre looks like he wants to win every race and he experienced first-hand last year just how much your first win can improve your speed. He has raced Gajser in MX2 and he won't want the young phenom to overshadow him this season. Look for Febvre to push hard in Thailand.
Evgeny Bobreyshev's pre-season form was no fluke and third overall was a great start for the Russian. He has his speed back but this time he is more controlled. Bobryshev is a genuine contender in 2016.
Honda also seem to have stepped up their program, it was a Honda 1-2-3 out of the first turn in race two showing the powerplant is where is needs to be even with three tall and strong riders onboard. But it wasn't a good day for Gautier Paulin with a tenth in race one, and a DNF in race two. Paulin was already back to third after a holeshot in race two when his bike quit, and being passed by his two Honda teammates won't have felt good.
The Frenchman is now third on the totem pole at Honda and has some work to do to find his mojo. He is under big pressure to perform this year.
Jeremy Van Horebeek was a solid fourth and was satisfied with that after showing good speed from average starts.
Tony Cairoli took a hard earned fifth after breaking his ribs a month ago and missing all the pre-season races. It was a very Cairoli performance, putting himself in a good position and staying there. Cairoli will only get better from here.
Shaun Simpson also had a good weekend with sixth overall and hot on his heels was Tommy Searle with seventh overall. Both Brits are fyling but Searle will be especially pleased to be in the mix again after being injured for most of last season and not showing his potential.
Ben Townley found out that the MXGP class is a lot more competitive than the MXDN but after struggling on Friday he upped his pace on Saturday and was running on the back of the main contenders and salvaged eleventh overall. He should get into the groove more as the season progresses.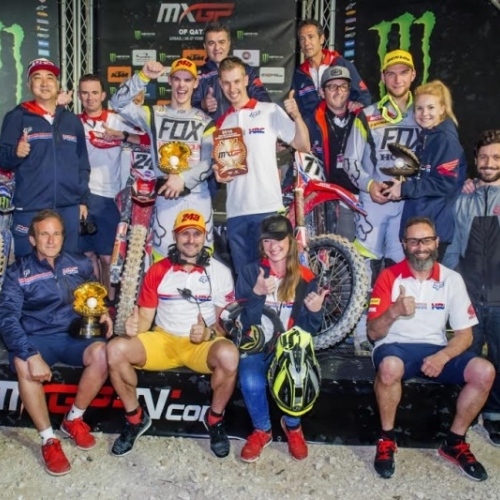 The Honda crew celebrates on the podium with Bobryshev and Gajser.
In MX2 Dylan Ferrandis nearly caused an upset in race one after leading Herlings for the majority of the first moto. The duo put 30 seconds on the third placed Pauls Jonass and Ferrandis showed his desire by ramming Herlings when the Dutchman tried to pass him at the end of the first moto. Herlings eventually edged it but Ferrandis showed he won't be intimidated.
In race two Herlings got into the lead and pushed hard, Ferrandis stayed with him for a while before backing it down as Herlings kept the pace again to try and get a big lead like he used to!
Herlings said: "I didn't really feel I was riding like I should be this weekend except in the second moto, when I felt comfortable and could get the max out of my riding. This weekend we were winning but we didn't dominate but in the last moto, we did. Now we go to Thailand, it's going to be warm but I want to make the best of it. I feel physically and mentally strong and I didn't feel threatened by Ferrandis in the first moto. I felt comfortable and strong right to the end and when I had the opportunity and the right moment to make the pass I did it."
Whether Herlings rode better or Ferrandis backed it down remains to seen, the gap from first to third in both motos was similar indicating that Herligns might just have been riding as well in moto one as moto two!
Pauls Jonass was third and although he was not on the pace of the front two it was a good performance. Jonass injured his thumb a few weeks ago and hasn't been able to race or ride much coming into the first round so to still be on the podium is a pretty impressive start to the year. Jonass will get faster from here.
Jeremy Seewer was ill but Everts has clearly got him to be more aggressive this year! Seewer was very impressive, leading early in race one and fightinh his way back after a crash in race two. This might just have been the best Jeremy Seewer we have seen. It will be interesting to see how he progresses this year under Everts' coaching.
Brent Van Doninck showed what he is capable of in Qatar despite a big crash in timed training! Fifth overall was impressive for the Kemea Yamaha rider and it will be interesting to see if his can keep this pace up. Petar Petrov impressed also, he isn't known for his starts but came through the pack well in race one and only a crash in race two prevented him from going for a top five overall.
Overall it was a good start to the season but now they head to heat of Thailand and with a new track again, it will be a another challenge for the riders to cope with.
MXGP Overall: 1. Tim Gajser (SLO, HON), 50 points; 2. Romain Febvre (FRA, YAM), 42 p.; 3. Evgeny Bobryshev (RUS, HON), 42 p.; 4. Jeremy Van Horebeek (BEL, YAM), 34 p.; 5. Antonio Cairoli (ITA, KTM), 33 p.; 6. Shaun Simpson (GBR, KTM), 30 p.; 7. Tommy Searle (GBR, KAW), 25 p.; 8. Kevin Strijbos (BEL, SUZ), 25 p.; 9. Glenn Coldenhoff (NED, KTM), 25 p.; 10. Maximilian Nagl (GER, HUS), 24 p.
MX2 Overall: 1. Jeffrey Herlings (NED, KTM), 50 points; 2. Dylan Ferrandis (FRA, KAW), 44 p.; 3. Pauls Jonass (LAT, KTM), 40 p.; 4. Jeremy Seewer (SUI, SUZ), 34 p.; 5. Brent Van doninck (BEL, YAM), 31 p.; 6. Petar Petrov (BUL, KAW), 30 p.; 7. Aleksandr Tonkov (RUS, YAM), 30 p.; 8. Samuele Bernardini (ITA, TM), 25 p.; 9. Brian Bogers (NED, KTM), 17 p.; 10. Jens Getteman (BEL, KTM), 17 p.