Yeah, I know people from Atlanta hate the term "Hotlanta", but I dig it.
Yeah, I know people from Atlanta hate the term "Hotlanta", but I dig it.
To me, it always encompasses the exciting vibe and anticipation that accompanies the Supercross circus' return to the Dirty South. Last year, the addition of a second Atlanta round may have deluded that vibe a bit, but this year it was back in full force. The startup of the 250 East series and a return to ruts and real dirt certainly played an important role in that feeling of anticipation.
After going to several different venues all over the country, Atlanta is still my favorite and I am genuinely bummed to see them scrapping the Georgia Dome. I love the intimate feel of the venue and personally I can't see anything wrong with the place. I love that the press box is not behind glass and you can actually hear the bikes and the crowd. As lovely as new stadiums like NJ are, the press box is too far away from the action and being behind glass, too disconnected. At the Georgia Dome, you are right on top of the action and can hear every gasp and panic rev. Hopefully the new venue will be amazing, but I have my doubts.
Here are just a few of my thoughts on another great trip to the peach of the South.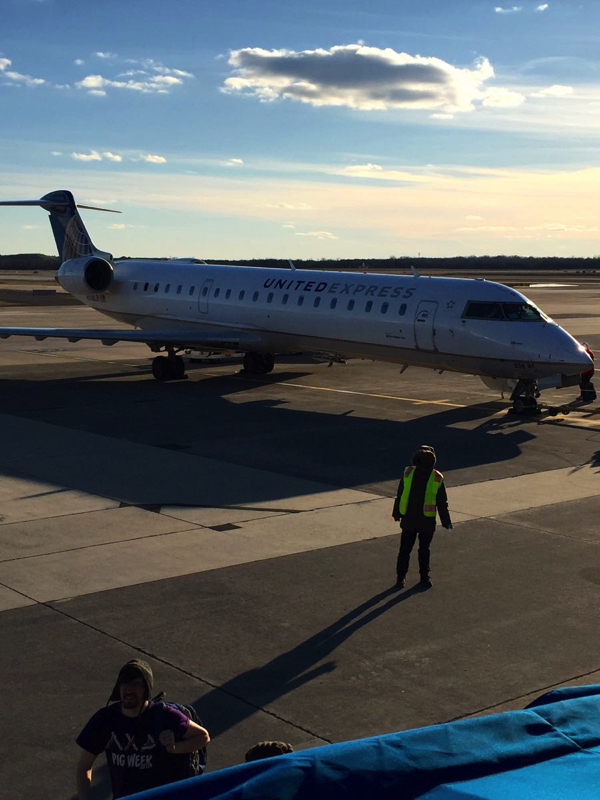 Next stop, Atlanta: I tried to use my classic moto street cred to score a ride on JGR's private jet, but back issues of MXA only get you so far. Forced to fly commercial, I spent my 90 minute flight to Atlanta catching up on Bar-To-Bar 1998.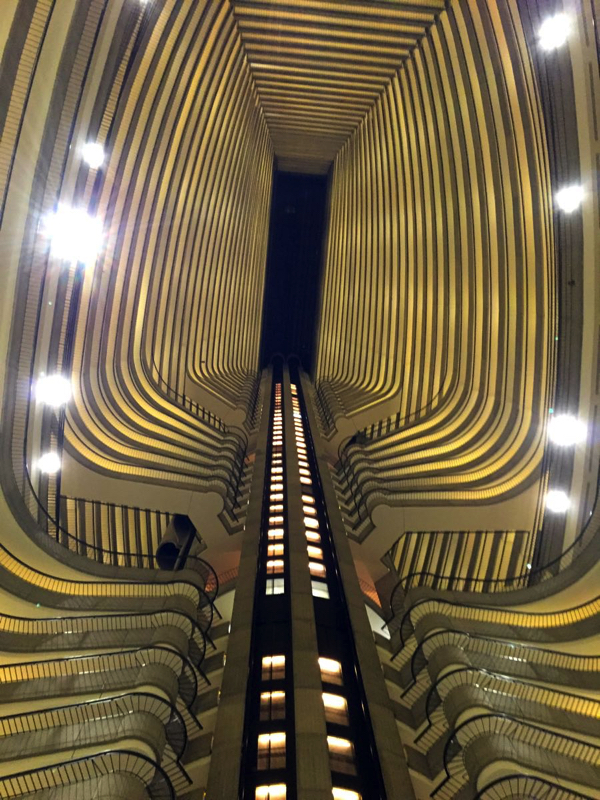 That's not a moon, it is a space station: Once in Atlanta, I shacked up at the Marriott Marquis, a lovely hotel located near Peachtree Center. Just the name of this place made me feel classy in a David Vuillemin sort of way. The architecture of the hotel is quite interesting and there is a giant central atrium that reminded me of something you might see housing the deflector shield controls on the Death Star. Tempted though I was, I resisted the urge to fire any photon torpedos down the service elevator into the main reactor.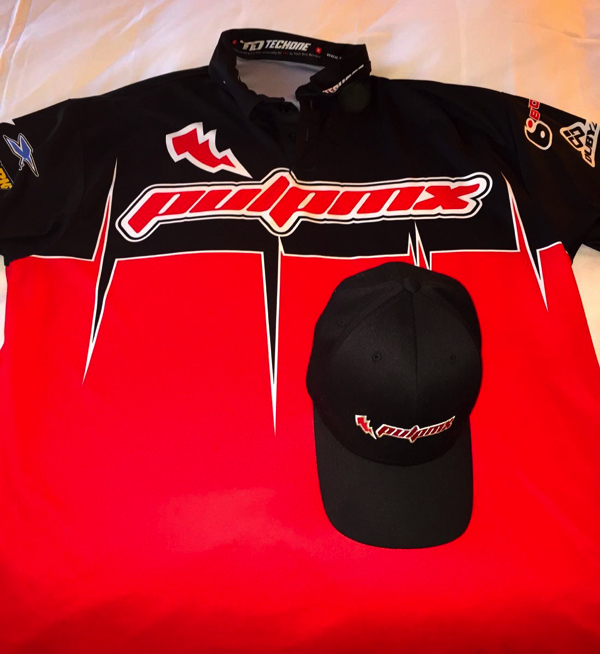 As the great Fernando Lamas once said, "It is better to look good, than to feel good" and I was rocking my Pulp gear proudly in Atlanta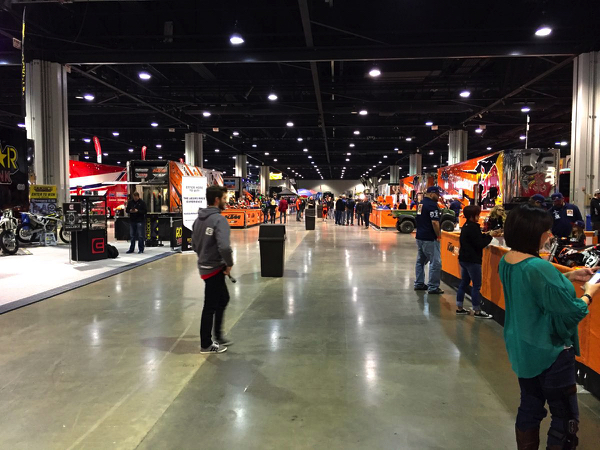 Once the pits are open, it becomes nearly impossible to walk in here. Atlanta is one of my favorite events, but the sheer volume of people in attendance can make it feel more like a cattle drive at times.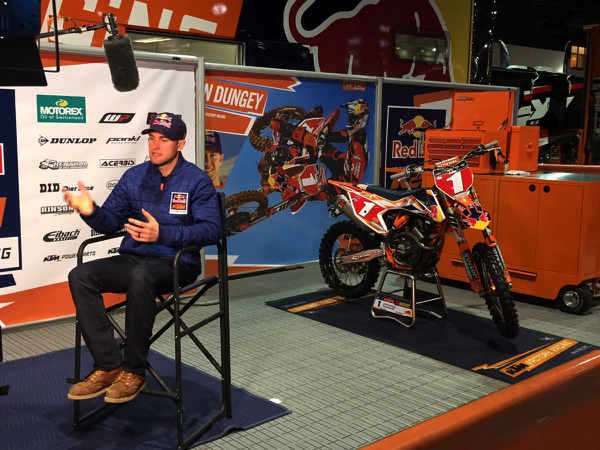 When I got in the pits, the Fox Sports crew was interviewing the champ on the usage of new technologies like GPS trackers. Systems like the LITpro allow the guys to see what lines are actually faster on the track and fine tune their riding to shave valuable seconds. Personally, I think Christophe Pourcel may have one of these units permanently implanted in his backside.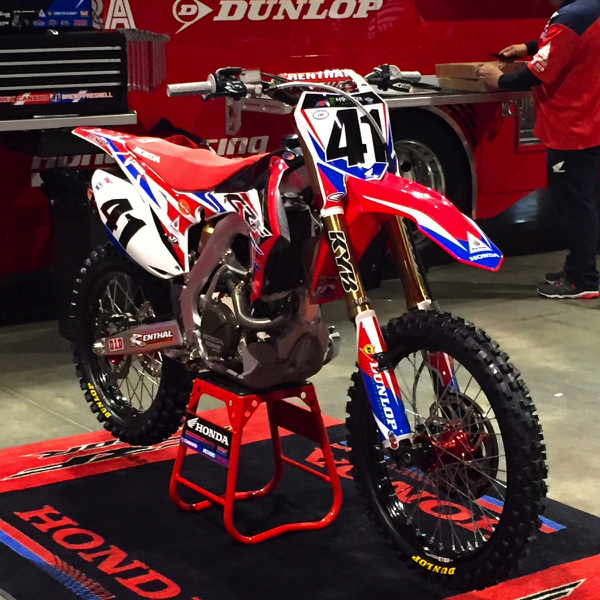 Trey Canard may not be having the season he and his team had hoped for, but damn his Factory Honda looks sweet. After seeing it in the flesh for the first time, I have come to the conclusion that pictures don't really do it justice. The red, white and blue graphics really pop in person and the bike just sweats Factory trickness. With a disappointing 16th in the main, hopefully better days are ahead for the sport's fastest ginger.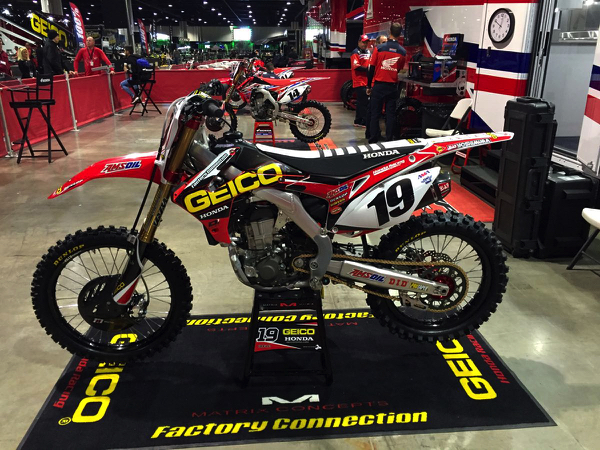 Just as Eli Tomac did the year before, Justin Bogle is sharing space under the Factory Honda tent this season. While I am sure he would love to snag a podium before the year is done, I think his 8th in the main is a good showing for Justin. While not exactly mind blowing, he was actually the highest placing Honda rider in the main.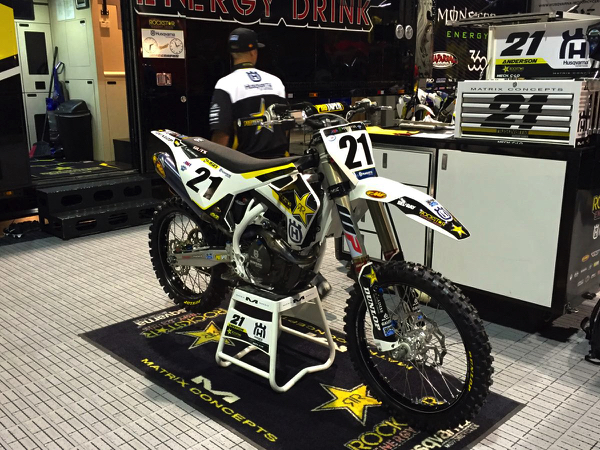 I always loved the looks of the original Swedish Husqvarna's (not so much the funky Italian and German versions though) and KTM is doing a great job of bringing back that feel with the new machines. This year, the Rockstar Husky bikes are some of the best looking in the pits and appear to have the performance to match.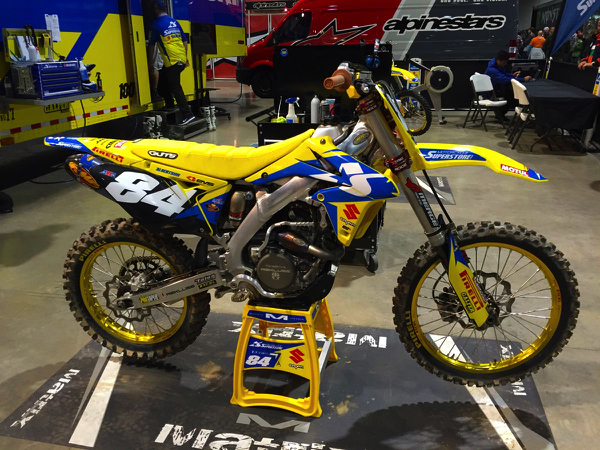 Top Jimmy: After making fun of Suzuki the last few years for not have a 250 in the field, I am pumped to see them back in 2016. Jimmy Albertson's Motorcycle Superstore Suzuki team is a welcome addition to the pits and I personally love the old school mid-eighties Suzuki color combo they are running.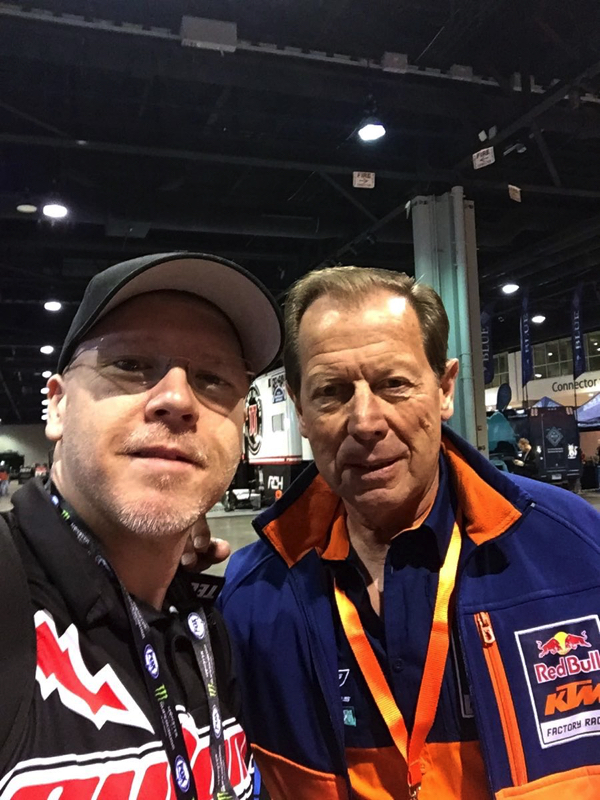 After "we" lost last week, I thought it was best to get together with Roger and work on "our" strategy for the main. Thankfully, "our" plan to pressure Marvin and use Stew to execute a text book "Mallachi Crunch" worked to perfection.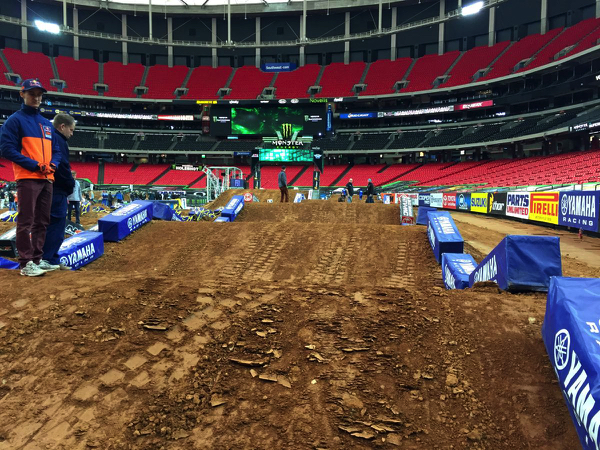 On track walk I saw Marvin scoping out this tricky triple-triple leading into the dragon's back. On TV, it looks pretty simple, but at ground level this sucker was incredibly intimidating. It had a short run, small, flat take-off and tall landing. The landing was about double the height of the take-off, so it was like a long and technical step-up. To my eye and meager skill level, it looked utterly impossible, but guys like Brayton and Musquin made it look easy (at least until the last lap).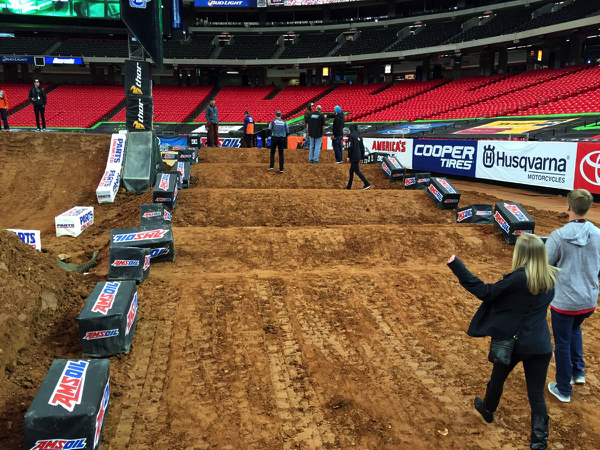 This dragon's back turned out to be by far the trickiest section on the track. All day long, it collected rider after rider into its clay clutches. If you could nail the 3-3 into the dragon, it was probably fastest, but going 2-3 and jumping up to the third whoop and then over seemed safer. Mookie was the first person I saw to nail this line and he looked super smooth hitting it all night.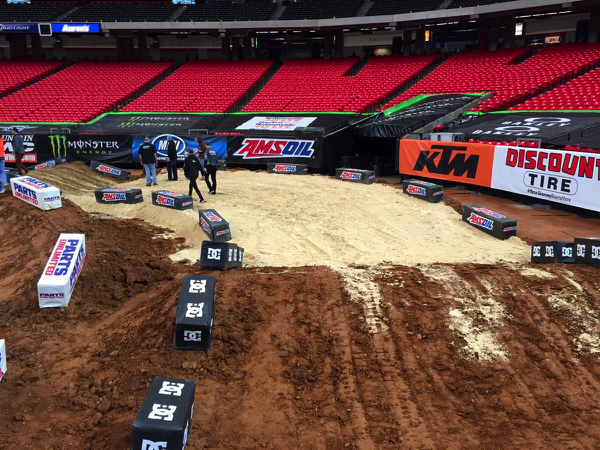 Sand sections are usually a non-factor in Supercross, but this week's bit of beach claimed riders all night. This is the view from the top of the dragon's back and riders seemed to have a lot of trouble making this double down into the sand. The sand and soil in this section was pretty soft and this whole section developed major ruts throughout the day.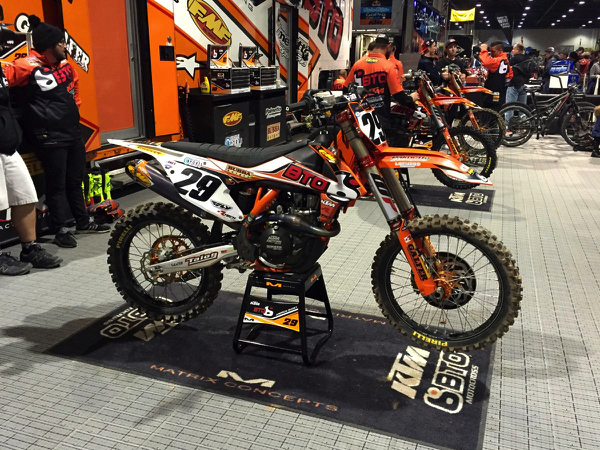 I was super pumped to see Moser's favorite guy Andrew Short back at the races. Every time I get a chance to talk to him, I am struck by what an amazingly friendly and just plain normal person he is. After his nasty crash in the heat, I hope we have not seen the last of the 29 on the track this year.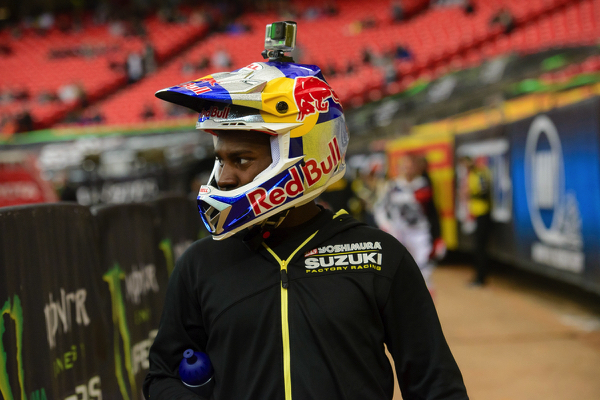 I have never been a James Stewart fan, but I can appreciate his talent and was glad to see back in Atlanta. While I'm sure he feels a TON of pressure to come back, his riding showed that he might need a few more weeks to get back in the grove of things. All day long he looked off to me and just not like the guy we expect to see on the track. While I can't lay all the blame for Marvin's last lap faux pas on JS7, there is no doubt in my mind his actions played a part in it. As a guy who has spent his ENTIRE life dealing with lappers, he should have known better. Photo Credit: James Lissimore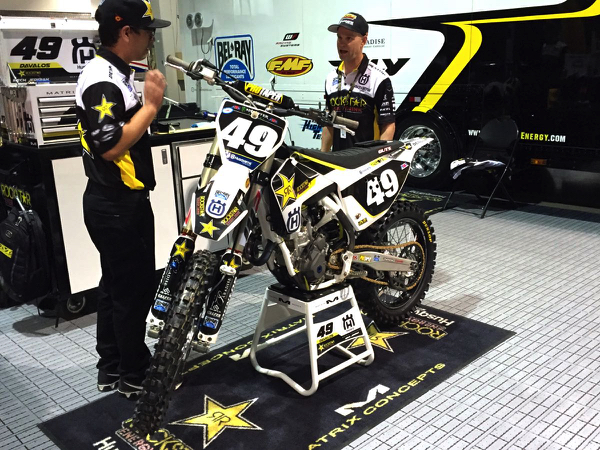 Coming into the 250 East, I had a lot of questions in my mind about where Martin Davalos would factor in the title chase. In 2014, he was near the head of the class, but a pretty rough 2015 had many (including myself) doubting his chances.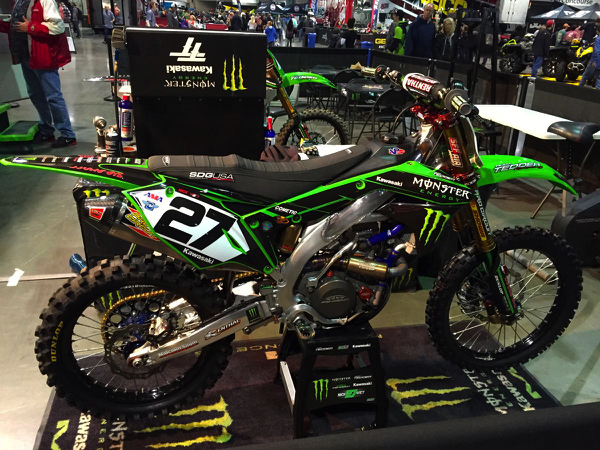 I was looking forward to seeing Nick Wey back in the saddle in Atlanta, but word has it he was not quite ready to make his triumphant return to racing. Hopefully, he will be on the gate at Daytona.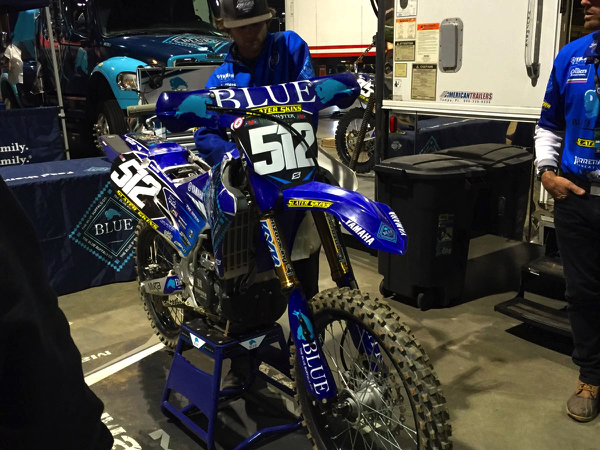 I know I am dating myself, but this interesting front numberplate reminds me of the oddball Unadilla plate/handguard combo Acerbis offered back in the eighties. No one bought it then either.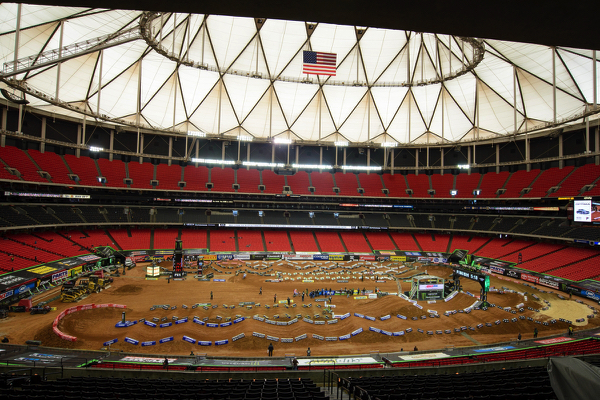 As I said earlier, I really love the Georgia Dome. The view from the press box is awesome and you feel much less removed from the action than other tracks. I've been coming to this event for over 20 years and I sure hope they don't ruin all the great things I like about it with some fancy-fangled new stadium. Photo Credit: James Lissimore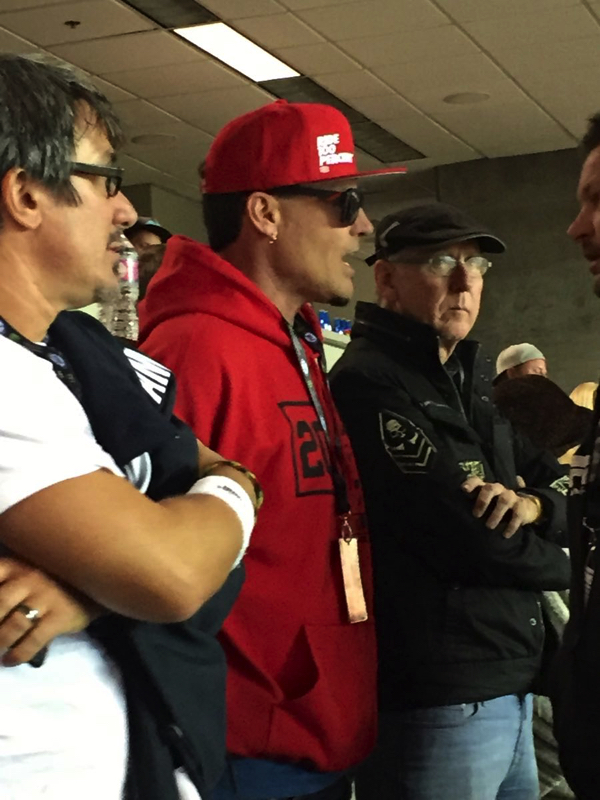 By far the oddest part of my Atlanta adventure this year was when I turned around in the press box to find Vanilla Ice standing behind me. At first I did a double take, just to make sure it was indeed the icy one. Here, a certain four-time Canadian motocross champion regales Mr. Van Winkle with his many Manitoba exploits.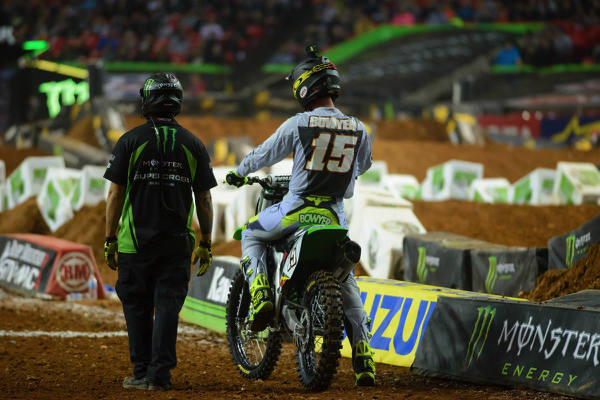 First off, I hate NASCAR. I am utterly bored to tears by it and all the NASCAR worship that seems to go on in our sport, so the thought of a holeshot contest among a bunch circle-trackers interested me not in the least. Well boy was I wrong…this turned out to be AWESOME! Photo Credit: James Lissimore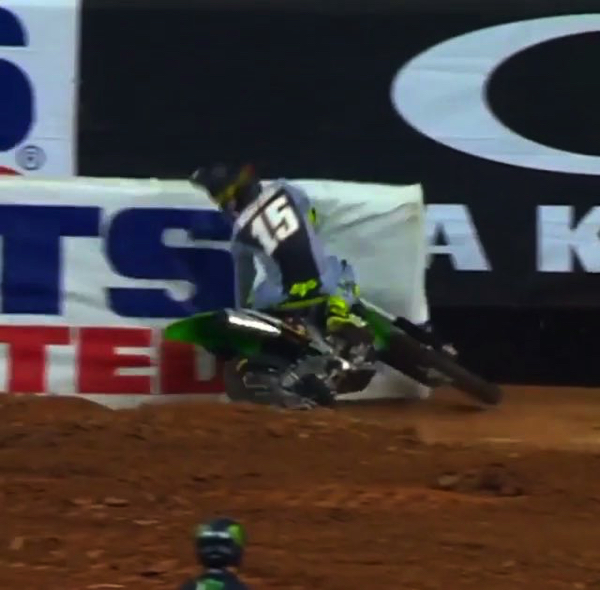 Hammer down now: This silly bit of NASCAR envy turned out to be one of the most entertaining parts of the whole evening, as Clint Bowyer tried to plow his KX into the side of the Georgia Dome at warp factor 10. Now if this had been a right-hand first turn, I could have understood his being perplexed by this unnatural maneuver, but it was a LEFT! Maybe, he had been watching too many Days of Thunder reruns and was sure the tires would hold? Regardless of the reason for this spectacular bit of awesome, I was thankful Clint managed to center-punched a Tuff Block and avert a very high profile disaster. Photo Credit: Fox Sports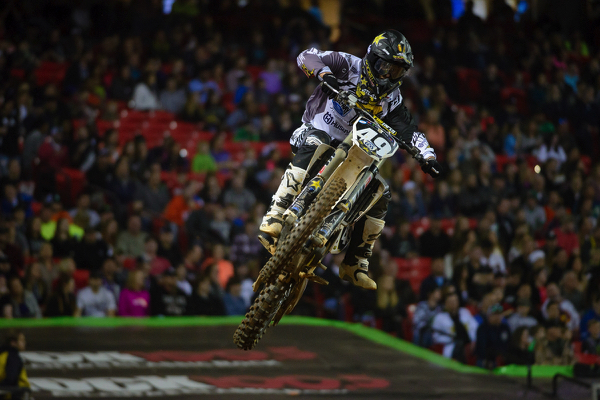 Personally, I don't really have a problem with Davalos staying in the 250 class. After all, it's not like he has been cherry picking these guys or anything. Still, his win came as a bit of a surprise to me. If Mookie had not fell, I think he probably would have caught him, but not falling is a skill as well and Marty deserved the win. Photo Credit: James Lissimore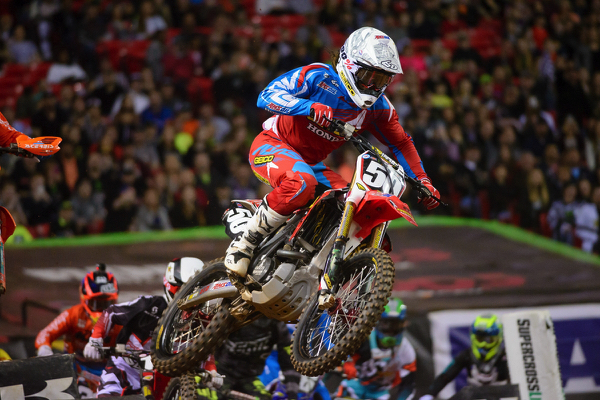 Mookie looked soooo fast in practice that I thought this was his night for sure. Once again, though, he could not keep it off the ground and a run in with Shane McElrath in the sand section probably cost him the win. If he can keep it on two wheels, it should be his title, but that is a big if.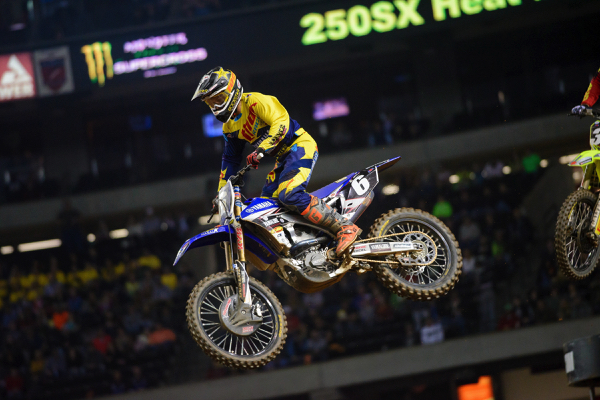 I don't know what to make of Jeremy Martin. The guy is so fast outdoors, but just does not look that comfortable to me on a Supercross track. He was never really a threat and if he wants to really make it big, he is going to have to step up his Supercross game.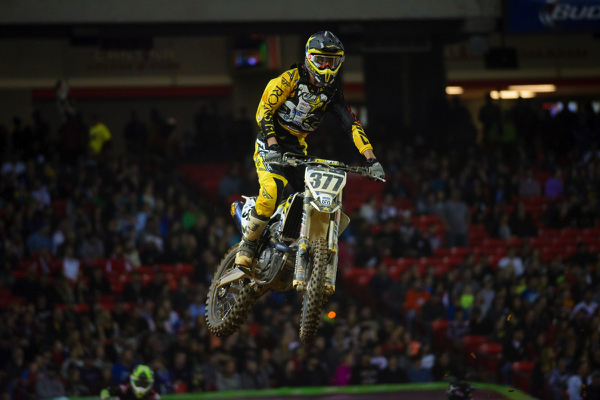 While I did not think he would be a championship threat, I did expect a bit more out of Christophe Pourcel this season. Once again he was blazing fast in practice, only to fizzle out in the main. He has the bike and the talent, but not the desire to push that is required to run upfront. Photo Credit: James Lissimore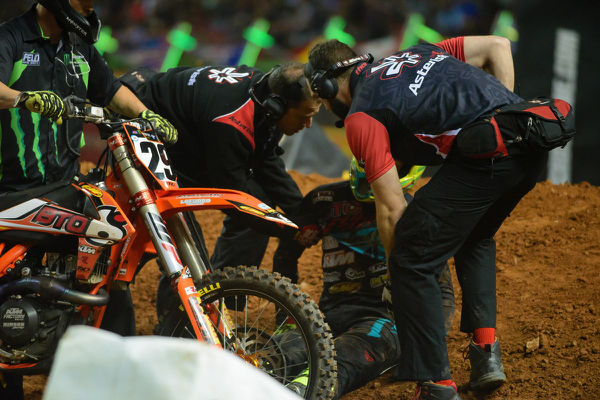 Man I was majorly bummed to see Will Hahn, Phil Nicoletti and Andrew Short go down in the second heat race. It sounds like all three are going to be out for a while. With a second concussion in three months, I fear we may have seen the last of Shorty on the track as a professional. Hopefully all three heal up soon. Photo Credit: James Lissimore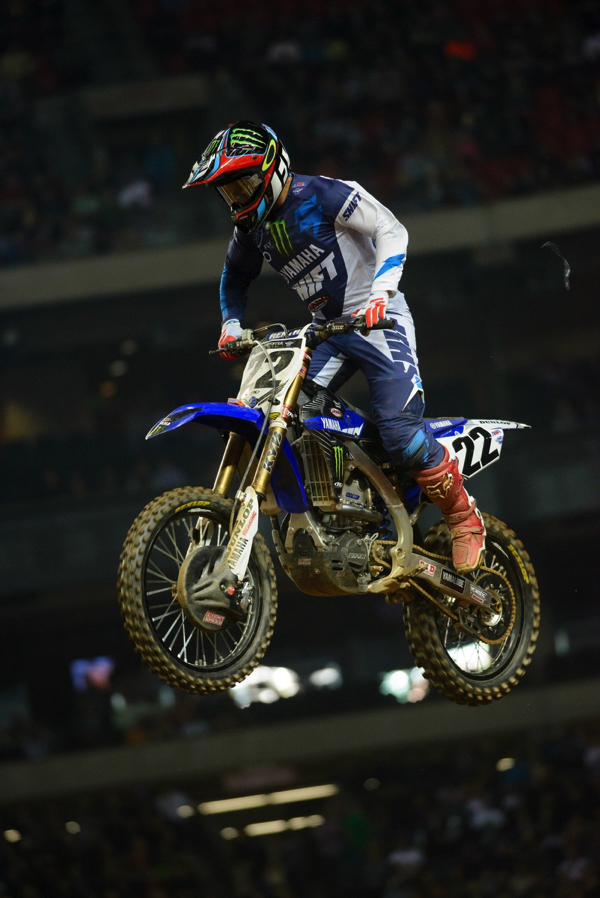 I was super pumped to see Chad back upfront at Atlanta. Even though he has been struggling lately, I was secretly hoping he might be able to pull another rabbit out of the hat in the main. Even though a win was not in the cards, his third was an encouraging improvement. Photo Credit: James Lissimore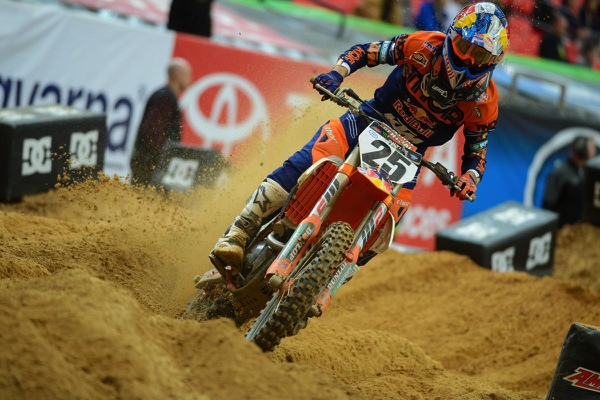 Man Marvin was on fire in the 450 main. Early on, I was sure Dunge would run him down, but as he kept clicking off laps, I started to believe. He had the tricky triple-triple into the dragon dialed and never flinched under intense pressure. When I saw Stewart in front of him starting the last lap, I think we could all see there might be trouble. Photo Credit: James Lissimore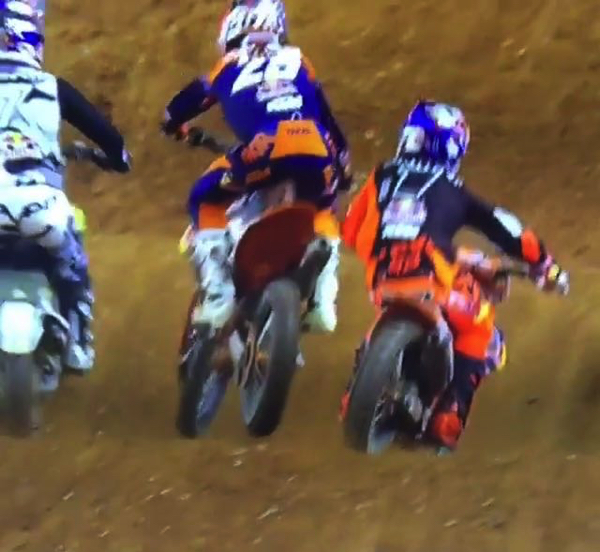 Close Call: Watching this happen live, I could not believe what I was seeing. Of course it had to be Stew in the middle of this, and then you had Dunge, Stewart and Musquin coming within inches of collecting all three in a massive heap. Even though Marvin threw away what should have been his first win, this could have been sooooooo much worse. I'm just glad everyone came out unhurt on this one. Photo Credit: Fox Sports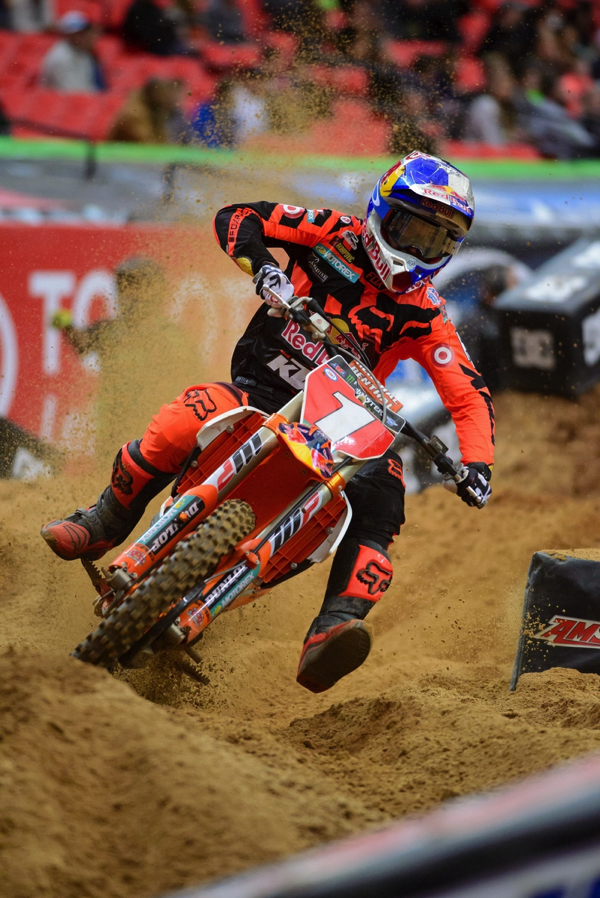 Steady Eddie: Another night of crashes, drama and Bubba's World and you know who comes out smelling like a rose once again. I know a lot of people don't like to give Dungey his due, but this guy is once again showing he is one of the sport' greatest champions. Photo Credit: James Lissimore
For your daily dose of old school moto goodness, make sure to follow me @tonyblazier on Instagram and twitter. On Facebook, it is www.facebook.com/TheMotocrossVault