AJ Cat talks about dirt bikes, his training facility, and life.
AJ Cat talks about dirt bikes, his training facility, and life.
Photos: Simon Cudby and courtesy of Catanzaro
The Foxborough Supercross was a good homecoming for the New England racers on the circuit. One of those racers that benefitted from the home crowd was Connecticut's own AJ Catanzaro. The 22-year-old put together his own program this year with help from some really loyal and local sponsors. AJ set himself up to compete in the 450 class at most of the East Coast rounds and for the most part things were going well. He made the main event in Atlanta, Toronto, and Foxborough and his best finish was a fifteenth north of the border.
Unfortunately for AJ he dabbed his leg in a turn during timed qualifying in Detroit and tore his ACL. Since then he's been in a decent amount of pain, especially in the ruts and corners. The East races have been brutal lately. We felt it was time to give AJ some love in this column. It turns out that he had never read my column, nor did he know that pulpmx.com even exist. AJ did redeem himself by telling me that he listens to the Pulpmx Show and only knew what pulpmxshow.com was. WE matter too AJ…we matter….
Below is a half hour conversation that AJ was kind enough to hang out for. Enjoy!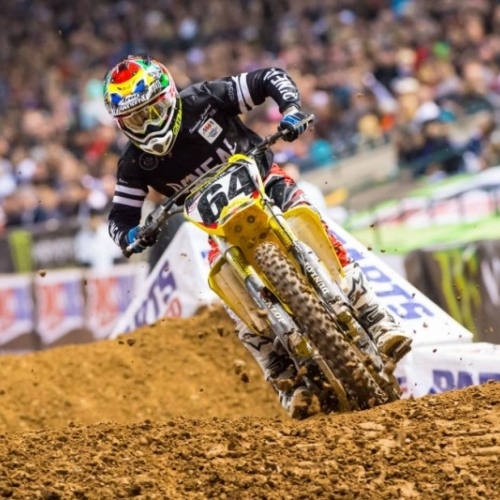 Last year Catanzaro dabbled in the 450 class, but mostly focused on the 250SX East Region.
Pulpmx: I was doing some research on you for this interview and I found out that your knee is pretty messed up right now.
Catanzaro: Yeah I did it in Detroit. In timed qualifying I tore my ACL, which sucked because I was coming off of a good ride in Toronto. I felt really good in qualifying at Detroit too. I just kind of dabbed it.
You have surgery scheduled for after the supercross season correct?
I have it scheduled for May 13th, so that will be following the Las Vegas supercross. It's going to be my first surgery ever.
Wait…you've gone your entire career without any surgeries?
Yeah, I've only broken a couple of bones. I don't normally crash and if I do it's always someone else's fault! That's why I'm so bummed because all of this is on me. It was just a stupid mistake.
You've been going to the races close to you on the East Coast. Tell us how you put your program together this season. You've got some very unique sponsors.
It was put together all at the last minute. The team that I was on previously I had a two-year deal with. Up until January I figured it was a go. When I figured out it wasn't I was put in a situation where I had to scramble. With the help of my mechanic Jeremiah, he's got a lot of connections up North in Cape Cod, Mass. Essentially all of my money sponsors are all local companies, which is really cool. They are all great guys and they are very involved in my program. This past weekend in Foxborough they were all there. On one hand they don't care how I do. I care enough how I do, so I don't need added pressure. I put enough pressure on myself. They're just happy that I'm out there and it makes for a happy environment.
From the outside looking in you can't even tell that you're riding injured. You had some great TV time this past weekend and you looked comfortable on the bike. You could tell the local crowd really made a difference.
This past weekend my knee did feel a lot better. It stinks because I don't think a lot of people were aware of the injury. I'm kind of embarrassed because I sucked really badly at Indy and St. Louis. I was riding well enough to where I was riding like I wasn't injured, or people wouldn't have believed me.
For those two races I couldn't bend my knee past ninety degrees. It's my left knee, so in a right-handed turn I couldn't bend it enough to keep it on the footpeg. It was a nightmare. The past week the ligament found some sort of way to unbind itself or something. I started cycling and I have a lot more of a range in motion. It still hurts like hell when I dab it, but other than that it's okay.
When you're landing off of jumps that hurts too, right?
No, actually. If I land off of the jump in the range of motion I'm fine. Unless something goes wrong I have no reason to move my leg past ninety degrees. The turns are my biggest issue. Of course since I've hurt it all of the tracks have been really gnarly as far as ruts go. That hasn't helped me either. I'm trying to ride standing up in the turns. At Indy there was only one turn where I would have to sit down and the rest of the time my feet were on the pegs.
Was that the turn after the finish line and right before you went over the start straight?
Yeah, exactly it was right after that awkward wall jump and it was that tight left. It was an absolute nightmare for my leg. The ruts were so deep all the way up the face.
It seems like the New England area is so loyal to its riders. The people just want to support you and they just want to see you do well.
It's cool. Even though I technically don't live there anymore all of my family still does. They just get behind all of their riders. Look at guys like Doug Henry and John Dowd. We're all just one big family and it's really cool. I don't know if it's like that anywhere else in the country.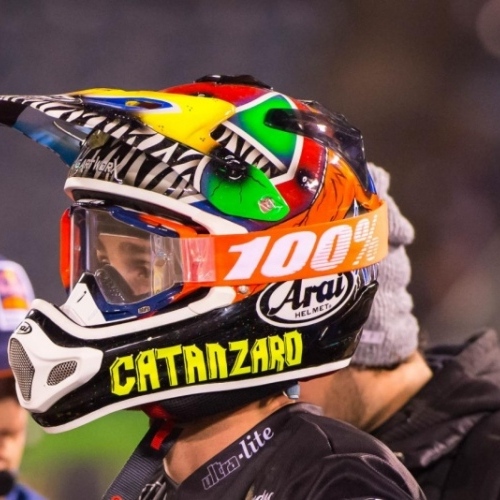 A rare custom painted helmet spotting!
Yeah, you're living in Georgia now and you're working at a new training facility as well. Talk about what that is all about.
I'm a partner at Moto VIP Training Facility in Adrian Georgia. Pat Beccaria is the owner. He sponsored me last year and he's a good dude that loves to ride himself. He's always owned his own businesses and always wanted a training facility. Once our relationship grew he found a piece of property. I think we have 70 acres, which is the perfect amount. It's been a lot of work because we don't have any investors involved. That's the toughest part, just doing it on our own. We don't have a crazy budget. Even though the track isn't close to being finished right now there is always something new going on. It gives me a sense of pride. I learned how to use all of the equipment; so everyday I'm out there building stuff. Even if I build a roller I'm excited because it's something new on the track.
I enjoy the teaching part of it as well. I've been doing motocross schools since I was 15-years-old. I'm very good, at least I hope, at getting information across.
How many kids are you training?
Kids come in and out. Right now we are open to daily riders as well. We didn't want people in there at first because we had a lot to do. In the past month or two people have been rolling in, whether it's weekly, monthly, or full-time guys. I'd say we have up to nine guys out there, which is perfect because I'm still out on the equipment for the majority of the day. We'd love everyone to come check it out. In the next couple of months we will have a finished product. For myself the lap we have already is around 2:40, so it's a pretty long, brutal outdoor track. I think the average guy is above three minutes.
That would be six minutes for me then.
(Laughs)
It's cool because you have a place to make money and work when you are trying to make it to all of the races.
Exactly, we will have a supercross track built before the season next year. We'll have one of the track builders come out and do that. It'll be perfect. When all of the kids are on their lunch break I'll be able to go spin some motos for myself. It's an enjoyable job. My girlfriend always asks when I'm getting home from work and I tell her to quit calling it work. It doesn't feel like it.
Making money by going to the track everyday isn't too bad.
I can't complain.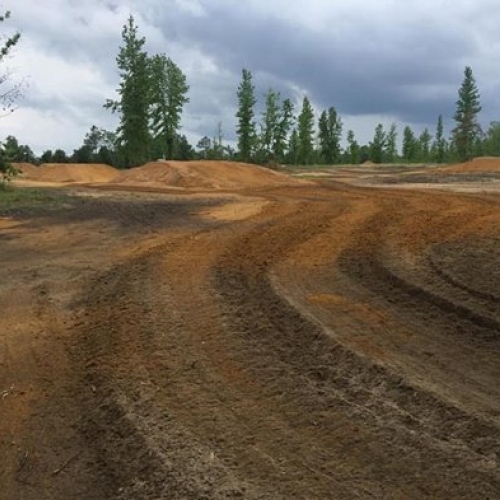 A sneak peek at Moto VIP Training Facility. AJ has spent countless hours building this facility with his business partner Pat.
I saw that you were looking for someone to transport your bike out to Las Vegas. Did anybody step up yet?
Yeah, Trader's Kawasaki is taking it out there, so now I just have to find out a way to get it back. I guess if anyone knows anybody going remotely close to New England let me know. It wasn't a problem for most of the teams to take it out there, but they are all staying for outdoors.
Had you not have gotten hurt would you have been able to hit up most of the outdoor races?
I would have hit a few. It's hard enough to make it through the supercross season with the budget that I'm on. To do that and then regroup in two weeks for the outdoors and get new bikes, it's not easy. I had my heart set on doing Southwick. Next year the plan is to do all of supercross and then hit as many outdoors as possible too, it's been a while.
Southwick is back! I thought it was gone for good.
I for sure thought it was gone for good. That was always my least favorite track growing up. As soon as I started racing the nationals it turned into my favorite track. Believe it or not, Southwick is a whole lot easier to race at a national than it is a local race. It gets rougher at a local race because you have guys letting off the throttle at all different times. At a pro race you'll have huge breaking bumps coming in, but you can rail the turn. I was always used to racing it locally and then when I raced it as a pro it wasn't that bad.
You pro riders are head cases man. This hometown crowd stuff really works. We watched Aaron Plessinger at Indy, where he was on fire all day. Then you do well at Foxborough despite your injury.
(Laughs) I think that's been my biggest downfall, the whole mental game. I can ride a dirt bike there is no doubt about that. A lot of people tell me that I'm one of the most talented riders on a dirt bike, but when it comes to racing I've always struggled. I always say I'm a great dirt bike rider, but I'm a terrible dirt bike racer. If you put me on a practice track with these guys I don't think I'd be in the same spot that I'm at in the races. I think I'm too safe maybe.
You've moved to the 450 class again this year. The class is extremely stacked this season.
Although it's stacked I find it a little easier. Again, I think that ties into me being smooth and riding slow on a 450. Slow is still fast enough. When you're racing a 450 you don't have to worry about people t-boning you and making boneheaded moves. It seems safer. In the 250 class its just chaos at all times and I always hated that. Right now everyone in the 450 class is a bad dude. They aren't out there to kill you either. There might be one or two that you have to look out for maybe. Besides that I can do my thing and pretend that I'm on a practice track.
What do like to do in your spare time?
That would be anything that doesn't involve motocross at all. I don't know really. My girlfriend takes up a lot of my time. I'm huge into cycling and mountain biking. I guess that is kind of a given. I grew up on a BMX bike, that comes second nature to me as well. Honestly I love going out to eat. It's my favorite thing to do ever. My favorite thing about the race weekend is getting a huge dinner with all of the sponsors. I just think that is so much fun.
Thanks for taking the time to speak with me A.J. I really appreciate you doing this.
No problem I really appreciate it. I want to thank: Pilgrim Powersports, Jeff Perrette at East Coast Fiberglass, Federal Hill Home Theatre, Don Coyman at Complex Building Solutions, Moto VIP Training Facility, my mechanicJeremiah Ellis, my trainer Ricky Lindeborn, my manager Rob Clingan, my girlfriend Ally, Oneal Racing, Morvelo, Arai, Ampd Apparel, Hellion Designs, Factory Connection Suspension, Pro Taper, EVS Sports, Works Connection, 139 Designs, Moto Seat, Tire Stickers, Ryno Power, TLR Performance, and Flo Motorsports.
Thanks for reading my column. If you'd like to chat about anything you can email me at troy@pulpmx.com and I will respond back as soon as I can!
Twitter/Instagram: @troybendgen