Gajser surges to another victory!
Gajser surges to another victory!
Report: Jonathan McCready
Pics: Youthstream/ Honda/KTM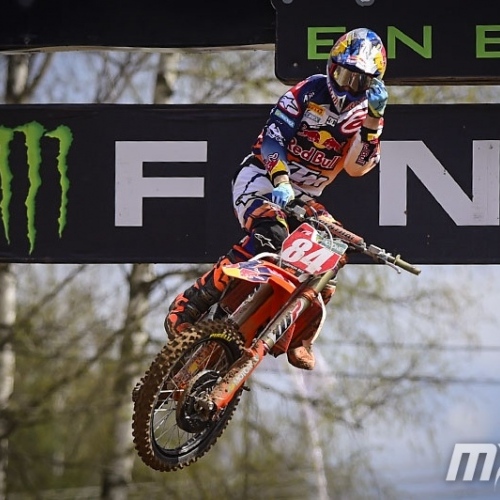 Herlings…still undefeated in 2016.
Showing some scintillating speed, courage and determination to take a memorable GP win in Latvia, Tim Gajser is now the man of the moment in MXGP
After holding off a charging Nagl to win race one (and block passing Cairoli to take the lead) the Gariboldi Honda rider threw himself on the deck early in race two and it looked like his chance of the GP win was over. But no-one told Gajser and the teenager fought like the champion he is to win the GP overall by passing Max Nagl for fourth on the last lap to deny Cairoli his first GP win if the year!
It was Gajser's third GP win in a row and he is not just one point behind Febvre in the championship. But mentally this was a big win for Tim, he dug deep and won against the odds after a big crash, right now Tim Gajser is dealing with everything being thrown at him in his rookie season and is coming out on top.
Gajser said: "I really can't believe that we won today! The crash was pretty bad and I'm pretty sore from it, but as soon as I got back on the bike I had no idea what position I was in – I just wanted to attack again. I had some really good lines and was pushing really hard – going wide open especially in the wave section where I think I made nearly all my passes. I had no idea where I was in the GP overall, but I just saw 'Nagl' written on my pit board. I didn't know what it meant but I just gave everything to pass him, and that was the pass that won the Grand Prix so I'm really pleased that I made it, and that with the team we work so well. I'm just so happy because I really had to fight and work for that one, so it means I'm enjoying it even more. It's definitely my best MXGP win, for sure!"
Antonio Cairoli came within a lap of winning the overall but it still isn't the Cairoli of old. The Italian holeshot race one but got passed by both Gajser and Nagl ending in third, on a track like Latvia that is not normal service for the eight-time world champion.
In race two Cairoli holeshot again but had Gajser and Nagl on his rear wheel only for Gajser to crash and take Nagl with him. That gave Cairoli a five second lead over Febvre but the Frenchman caught, passed and left Cairoli leaving the Italian to wonder what might have been even though he still took second overall.
Cairoli just isn't as aggressive on the 450 and it looks like he can't ride with the same fearlessness as he did on the 350, Cairoli meanwhile believes he is still lacking race fitness and doesn't have the strength to run at the top pace for 30 minutes.
Cairoli explained: "I'm still missing the feeling that I've been looking for. I know that the beginning of the season I wasn't ready but now its getting better and better. I'm happy about the season so far except perhaps the race in Mexico where we messed up a bit and I lost a lot of points, otherwise we would be very close in the championship. But I am always in the top five and I'm looking forward to the next GP. This one was close to the win."
Romain Febvre wasn't on his best form all weekend, but the Frenchman fought hard to win the final moto and only lost two points to rival Gajser keeping his red plate by a solitary point. Febvre is showing the kind of tenacity it takes to defend a title even on his bad days, but he won't want Gajser to get anymore confidence!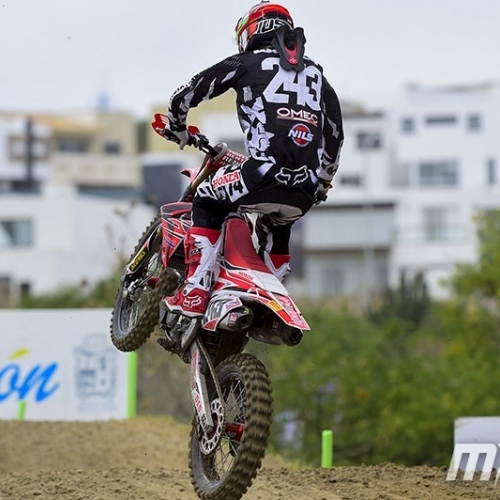 Gajser has been a great addition to the MX1 class this season. He has more overall wins than any other rider.
"In the first moto I made a small mistake, went down and lost a couple of positions," explained Febvre. "It's disappointing but we made some changes to the engine in between, and in the second moto I felt like the real Romain Febvre. I was turning fast in the corners and playing with the bumps."
Jeremy Van Horebeek made big changes to his Yamaha to help him with the starts and it worked with the Belgian hovering in the top five all day for fourth overall, but he is still missing that final piece of the puzzle to challenge for the win.
Max Nagl very nearly caught Gajser to win race one but got collected in Gajser's crash in race two that put paid to his hopes for the win. Nagl is riding really well but will feel he should have had a podium in Latvia. Expect Max to be strong this weekend in Germany in front of his home crowd.
Evgeny Bobryshev deserves the tough guy of the weekend award! The big Russian qualified fastest but went down hard on the start straight in the qualifier and was too sore to ride in warm-up the next morning but somehow the HRC Honda man ignored the pain and charged to sixth overall despite bad starts from having last gate pick but yet again Bobby showed he is one of the toughest riders in the sport.
In MX2 it was all Jeffrey Herlings again, the KTM dominating both moto so easily he probably could have raced the 450s and won that too!
Behind him Max Anstie managed to shake off the bad luck to finish second overall in what was his best performance of the season. Max has got the Husky working to his liking and should be a regular feature on the podium from here on out.
Jeremy Seewer took yet another podium on the Suzuki, his work with Everts is paying dividends and he secured his second place in the championship. Seewer has been the highlight of Everts' first year in charge of Suzuki with his MXGP riders still struggling to post results their speed should attain.
Dylan Ferrandis made a welcome return to racing and finished an impressive fifth overall despite bad starts and only a couple of days back on the bike. Ferrandis came from a first turn crash all the way back to sixth in moto two, he has the speed and is the only one not intimated by Herlings, if anyone can beat the Dutchman it will probably be the Frenchman!
MXGP Overall Top Ten: 1. Tim Gajser (SLO, HON), 43 points; 2. Antonio Cairoli (ITA, KTM), 42 p.; 3. Romain Febvre (FRA, YAM), 41 p.; 4. Jeremy Van Horebeek (BEL, YAM), 38 p.; 5. Maximilian Nagl (GER, HUS), 38 p.; 6. Evgeny Bobryshev (RUS, HON), 27 p.; 7. Christophe Charlier (FRA, HUS), 26 p.; 8. Ben Townley (NZL, SUZ), 22 p.; 9. Shaun Simpson (GBR, KTM), 21 p.; 10. Milko Potisek (FRA, YAM), 20 p.
MXGP Championship Top Ten: 1. Romain Febvre (FRA, YAM), 260 points; 2. Tim Gajser (SLO, HON), 259 p.; 3. Antonio Cairoli (ITA, KTM), 213 p.; 4. Maximilian Nagl (GER, HUS), 203 p.; 5. Jeremy Van Horebeek (BEL, YAM), 200 p.; 6. Evgeny Bobryshev (RUS, HON), 197 p.; 7. Shaun Simpson (GBR, KTM), 143 p.; 8. Kevin Strijbos (BEL, SUZ), 142 p.; 9. Glenn Coldenhoff (NED, KTM), 121 p.; 10. Valentin Guillod (SUI, YAM), 116 p.
MX2 Overall Top Ten: 1. Jeffrey Herlings (NED, KTM), 50 points; 2. Max Anstie (GBR, HUS), 44 p.; 3. Jeremy Seewer (SUI, SUZ), 38 p.; 4. Petar Petrov (BUL, KAW), 33 p.; 5. Dylan Ferrandis (FRA, KAW), 31 p.; 6. Benoit Paturel (FRA, YAM), 28 p.; 7. Pauls Jonass (LAT, KTM), 27 p.; 8. Brian Bogers (NED, KTM), 25 p.; 9. Brent Van doninck (BEL, YAM), 24 p.; 10. Calvin Vlaanderen (NED, KTM), 22 p.
MX2 Championship Top Ten: 1. Jeffrey Herlings (NED, KTM), 300 points; 2. Jeremy Seewer (SUI, SUZ), 230 p.; 3. Pauls Jonass (LAT, KTM), 193 p.; 4. Petar Petrov (BUL, KAW), 165 p.; 5. Aleksandr Tonkov (RUS, YAM), 163 p.; 6. Benoit Paturel (FRA, YAM), 154 p.; 7. Samuele Bernardini (ITA, TM), 133 p.; 8. Vsevolod Brylyakov (RUS, KAW), 132 p.; 9. Max Anstie (GBR, HUS), 126 p.; 10. Alvin Östlund (SWE, YAM), 110 p.