Vegas Pulpcasts transcribed for your reading pleasure.
Vegas Pulpcasts transcribed for your reading pleasure.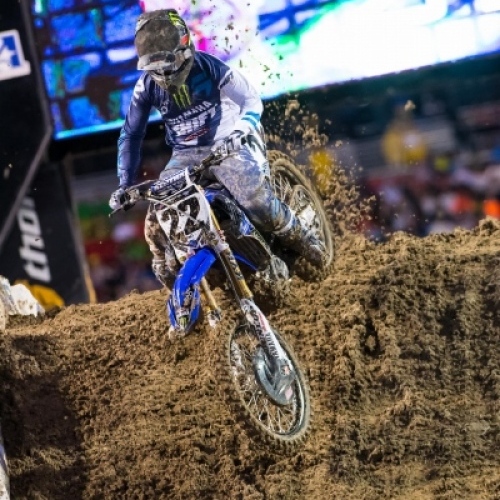 Reed doesn't know if he'll be back at Yamaha next year.
Chad Reed
Pulpmx: I want to thank you for providing the entertainment. You and Baggett's race was phenomenal for fourth and you prevailed.Yeah. Truthfully I think I had an easy podium tonight. I sure would have liked a nice holeshot.
Going to the semi was not good.
No, the semi was bad. I didn't really see the checkered flag or the white flag. I would have liked to have known that it was the last lap. I probably would have tried wide open through the whoops and seeing what happened. If I crash, I crash. I didn't want to go to the semi, so I would have risked it. Truthfully I felt really comfortable all day, even riding press day on Friday I felt good. Our strength is hard pack at this point, not ruts. Today it got rutty but it was a slow rutty, so that helps us. Truthfully, a holeshot, some clear track, I think I can skim the whoops, do the jumps. I think I was like one of two or three that did the triple.
I only saw you and Millsaps do it.
Eli did it. Actually Eli followed me and also Trey. Truthfully I think that I could skip the whoops and do what I had to do to win.
I'm talking to Baggett and I'm like, that didn't look like fun. He's like, no, it was fun, it was great.
It actually was fun. The only thing that wasn't fun is it was a weird feeling. When you would hit the jump you really had no feeling of what it was going to do. Most tracks when they get muddy or whatever there's a rut so you come up over the jump and you land in the rut. Well, tonight there was no ruts. The front of the bike or the rear would just totally go from underneath. I don't know that I've ever really experienced that feeling before. So I don't know if it was just so hard packed that we never got into it.
It just had a super hard base.
It was, so I don't know. The track was actually scary. It actually had its part of it that were scary. But I felt comfortable. Dry, in the wet.
Press day you were jumping that dragon back, the only guy to really do that. You looked good.
Obviously we only had one practice but I was terrible in practice. I felt like I had at least a second in me and I was about 1.2 off or whatever it was. We tried some things in practice that didn't pan out and I wasn't able to be consistent in the rhythm. She's all over, 17 races and now I get to figure out where we go from here.
Were you okay with the laps being cut down? It looked like it was probably a good idea.
Yeah, last race, I get why they did it. I'm not butt hurt about it, to be honest with you. I'm ready to get out of here.
You're doing a couple GPs so I guess you got to start riding some outdoors.
Yeah. I got to ride outdoors. I go to California not next week but the week after. I'll try not to party too much in the next week.
The outdoors/supercross season as whole for you, some really good, some not so good. Up and down. Didn't get that win that most of us thought you'd get a couple at least or one anyway, but overall not a bad season.
Yeah, it was okay. It started out good.
Seven out of ten.
I was going to say I don't know that I'd give myself a seven.
A couple of seconds right behind Dungey. That was really good. Then there were some bad races…
I kind of agree with her.
Ellie Reed: Just because we're old doesn't mean we're like on the retirement bench.
She's always gnarlier than you and I.
I think we had our ups and downs for sure. I think that when we were good we were good, and when we were off we were really off. For a 17 race series you can't do that. I haven't heard anything but it sounds like we're going to have a chase format next year and a little different schedule – here, there and everywhere. I think that will be a little more challenging on the body for everybody, a little bit more flying, things like that. So I'm excited. I think next year will be fun. See if these guys want to keep me around.
You're not just going to automatically go back here like we all think?
I don't have a contract. I'd like to stay here, obviously, but I don't have a signed deal.
Stew and Chad together on Hondas, I can see it now.
Me and Stew teammates? All three of us? That was cool. I was proud for Mookie tonight. He killed it all year.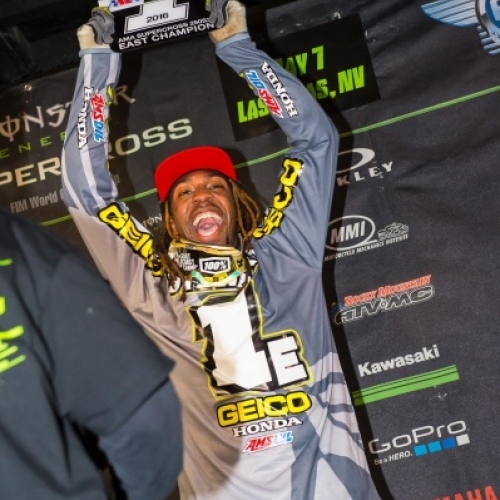 Stewart will be in the 450 class next season and quite possibly Hangtown.
Malcolm Stewart
I imagine you were probably sweating like a lot of dudes when the rain started falling. Anything can happen. But you rode about as well as a guy could do. Not worrying about playing any points, just taking advantage of it.
Yeah, like you said, the beginning of the day I was like, everything's going to go good, and then all of a sudden it just starts raining. We're in the desert. It never rains in the desert! I don't think it's ever rained in Vegas, ever. I don't think we ever had a mud race here. I'm sitting here like, man, you got to be kidding me. I'm fighting for a title. Why can't we just have a nice, clean, just normal Vegas? Slick, fifth gear through the whoops, having fun.
Those dry dragon backs were made for you, if it was dry.
Exactly. I was managing the dragon's back. I was good in the whoops and then all of a sudden everybody was rolling the whoops. Tonight I was nervous. I'm not going to lie. I was really calm. I knew I was going to get a good jump off the gate. I was like, man, I just need to focus off the start. That is going to be 98% of the race and the other 2% is just staying up. I got a good jump and I was I third. I'm like, all right, we're doing good, we're doing good. Nichols blew by me like I was standing still. I was like you've got nothing to lose. Just go, buddy. I just hit my marks. I knew I was going slow but I was just trying to hit my marks. I kept an eye on Osborne. I didn't even know I was in second place until like lap nine. I didn't even know. I didn't even see Nichols down. There were yellow flags and red flags everywhere. I was just riding my race and then I saw Osborne coming. I knew I was getting real sketchy. The more the laps started going down the more sketchier I got.
You kind of let him by.
He was going down the straightaway and I was like, just go. You don't have anything to lose. You can go ahead, too. Hampshire and I about got into it. That was one of the laps. I about landed on him. My heart started pumping again. I was freaking out. I stopped breathing. I was like, all right, just calm down. The very last lap I decided to get arm pump out of nowhere. Clearly I was nervous, not breathing. I heard a Yamaha coming behind me. I could tell it was a Yamaha just the way it sounded. I was like, whoever this guy is needs to go away. Didn't know it was Plessinger but I heard that something happened to him in the very first one or two laps. Hats off for that guy to come from dead last to all the way past me. That was a heck of a ride to him. He kept me honest this whole entire year. He was one of those ones that snuck up on me in this season. It threw me off my game a lot, for sure. It was a fun race, for sure. I started getting arm pump. I stopped breathing. It's all part of being a champion. It's like, what do you expect your first championship? You don't know that feeling and now I finally know that feeling. It's awesome.
So Foxboro didn't go great. You looked like you were going to win. Tightened up, you admitted you were thinking about it. You dropped back a ways. Things didn't go well for you then. And then last week you just said, screw it, and rode phenomenal and won. I think last week was really the key for you.
Yeah, honestly last week I was like, I have to win tonight. The Yamaha boys had a little bit more momentum. They were confident in themselves. Especially the way I rode in Gillette Stadium, they knew that I was a little nervous and I was worried about points and stuff. I actually had a little meltdown after that race. I did. I'm not going to lie. I was really disappointed the way I rode. I let it go, and then I felt like ever since I let that go I came into Foxboro and just did my thing. I knew that I needed to win and I went out there and did it. I set myself in a very good position to be in this, and then the rain happened. So I'm like, oh boy. Rain or shine, but I'm like, this is where you really lose the championship. We made it happen, and I'm happy.
Congratulations. Great job. What about outdoors? What do we know?
I can't say anything yet. I don't know. I've got three weeks.
Zach Osborne

I picked you to win. This was when it was dry and good. And then when it rained I really thought my pick was looking better. It just took you too long to get going in the main, really.
Not even too long to get going. I had 20th gate pick, which was not ideal, and I was not down in the first turn but I was stuck in the first turn. And then I started to pick people off and then I saw the board and I could kind of see fifth place out in front of me. I was like, oh, that'd be good, top five from first turn pileup. And then I blitzed past those dudes, then it was like, maybe I can get on the podium. Then I passed Mookie pretty easy.
Mookie gave it to you, but that's cool.
Yeah, but he was racing for a championship, so I can understand that. And then Nichols was down in the whoops, so then I was second. And then with two to go I looked over and I saw that I had caught Joey pretty considerably. So I just kept doing what I was doing which was pretty basic just doubling everything and just making sure I could jump the finish line. That was a huge part of it. I feel like had it gone the fifteen laps maybe I could have been closer to him at the end. I finished six seconds behind him from a long ways back. Overall it was a good day. I took a big crash in the heat race in the first corner.
That really did you in. You were pretty far back.
I was back, and it broke my shifter off. I was like, man, I'm going to have to ride the LCQ in this and then I'll have a crappy gate pick. So I got really lucky and some guys missed their pick and I got the same gate I had in the heat race. Pulled a fat holeshot and got second in the LCQ. Then going into the main I didn't really have a whole lot of expectation because I knew gate was going to be horrible no matter what I did. And then I just rode my own race and I was really comfortable with my bike and stuff, just everything really.
Did it feel a little bit like you were in Argentina in the ISDE?
Definitely not. Argentina was like the Mohave. It was freaking ridiculous. Somehow our sprinklers got left on at our test track on Wednesday night. It was really muddy and I didn't want to wait on it to dry up. So I just kind of made my own track and rode in the mud on Thursday. I was just like ready to get my laps done. It was my last day of supercross, and leave. I did that and I think it really helped me tonight. Everything happens for a reason. It was good.
Great ride, end of supercross season. Didn't get a win. Certainly was fast enough to many times. I guess how did your surgery thing go? Was that good?
Yeah, my surgery was really good. I haven't had any issues with my arm since. I took like ten days off riding after Santa Clara. That was kind of the healing time to let those scars and stuff heal. I'm happy with how that turned out. I feel like it's going to be really good for my outdoor season. I didn't win a race but I feel like I can't be too bummed. I won four heat races and I was on the podium five times. It's definitely my most successful supercross season so far. So I'm happy with it.
Tyler Bowers
You were third or fourth early but like everybody else went down at some point. That was a gnarly race.
Yeah, I had a blast.
Did you? I was just going to say it's not fun.
I love mud. It started pouring and I was still doing my rain dance at the rig hoping it kept going. Believe it or not that was probably the roughest, gnarliest race of the year, but I didn't think it was hard at all. I could have rode all day on that. I had a blast. It was all right night. At one point I think I was in fourth catching Mookie a little bit.
So you kind of knew where you were a little bit?
Yeah. I could see Mookie. I knew I was catching him. I think I saw fourth on the board or maybe on the tower or something. It was like maybe almost midway through. I'm still skimming the whoops, like one of the only guys doing that. I was like, all right, rolling through them, they were all rutted in-between so I just started skimming them so I didn't have to hit the ruts. But then bit me in the ass like halfway through. I caught a rut and went down. Gloves all muddy, trying to wipe those down. Then from that point it was basically trying not to crash anymore and just kind of survive. I don't know what I ended up – maybe sixth or seventh.
I thought it would be not fun but you said it was cool.
Yeah, it was awesome. I got really muddy. I took some dudes out but unfortunately I didn't mean to. Actually I didn't really take anybody out; my bike did. I ghost rode it.
What happened there?
I just passed Craig in the very last turn. I went for it. I had to kind of ride over my head to even get by him. And then we went through the whoops and I messed up in the whoops. So I was out of control going up the lip of the finish but I was going like last position here, got to go for it. So I went for it and I was out of control. I was coming off the side of the tunnel, like getting ready to land on the tuff blocks, and I pitched it.
Did you fall off the landing?
No, but if I would have stayed on I would have landed on the tuff blocks and then fell off, which would have probably been ugly because I would have been under the bike.
And then your bike took out people?
Yeah, I ghost rode it and then I didn't know anybody was down there until I ghost rode the bike and I'm like, oh shit! And it hit Dan Betley from Honda right in the back of the head. I thought it killed him. I felt so horrible. I landed sitting down, so I thought I hurt my back again. But then I was like, oh cool, it's good. The surgery worked. Awesome! So I got up from that and I ran down and checked on Dan. He was sore but he was good. Literally I watched my bike. It was front end high. The frame hit him right in the back of the head, like the skid plate. He's like, my head's a little sore. We checked for blood. Everything was good. I think he was shoulder was hurting or something. But he was like, I'm all right. He stayed and watched the 450 main.
There goes your Honda ride.
That's what I said. There goes any chance at Honda ever.
You're not doing outdoors, or not at first anyway. You're working on that, trying to figure things out. So we won't see you for a little bit.
I don't know. I'm twisting Mitch's arm right now but he's still not into it. He said he might need me as a fill in but if he needs me to fill in I need a practice bike because I won't be ready.
You need some time on an outdoor track. It's been a while.
I've been riding a supercross bike on outdoors the last two weeks, because I can't get an outdoor bike going. I don't know. We'll see.
Mike LaRocco
Congratulations first of all, 250 east coast supercross champion.
Yeah, that was a stressful evening but Malcolm actually did everything right tonight just like we talked about and brought it home.
I really think I told him too, Foxboro he looked good. I thought he was going to win. Faded to whatever he did. Then he kind of had a meltdown afterwards. Admitted the pressure was getting to him. Then he comes out last weekend and just dominates. That was really the key to this series. Somehow he went from barely leading to now a 14 point lead.
That was a huge turnaround. I think it was the best thing that he could do.
Have the meltdown?
Yeah, the meltdown. It's kind of an indescribable pressure. People don't really get it. It's like you were hit with a tranquilizer gun. You just can't react in this situation. He was feeling it.
Have you had something like that yourself?
I know exactly what he's feeling. I didn't have the… Yeah, I had it, but it was a long damn time ago. But anyway, talking about it and he was doing everything right all year. Every time he had a plan. He'd go out and get a fast practice, get the start, get the heat, get the start in the main and get up front and then he just didn't have a plan. So we just tried to find some way to distract him, get that load of his chest. That was the best race I've seen him ride was last week.
It was absolutely a key. Today with the rain and everything else though, still a little bit of stress.
A lot more stress. It went up like 100% when it went down with the rain. But I'm proud of him. He did a good job.
He really rode great. I don't even really see him making any mistakes in the main. He let Osborne by or whatever. It was a really good ride.
His job was to get up front and put in ten good laps and then kind of just do what he had to do, and that's exactly what he did.
What about your first win here? '91 was your first win. What do you remember about that?
The only thing I remember is back then you could see in the starting box and I saw the guy move so I got the holeshot.
Blake Baggett
I was watching you and Chad for probably the last three or four laps. That was great. It was a good battle. You tripled by him, he stuffed you in the corner. Going at it for fourth. I like it.
Yeah, trying to stick to the number. It just didn't work tonight. Chad's old but he's crafty and he's still fast. It was good times.
Was it fun out there? It didn't look like fun, but was it?
It was pretty fun. It was so technical and so gnarly that I think it divides the field up pretty big. It makes it so that to me it's real racing because a guy can't just look over at you and cut you off. He can't square up or T-bone you, really. It's all about skill and talent for the night. I think these tracks are better when they end up like this.
Did you go down at all?
I got some assistance in the heat race. I had third going out of the start, going down back into the stadium and made the turn and then I got some assistance.
Toughest part of the track was by the whoops?
Yeah, for sure.
Did you notice Chad was tripling the big triple. Everybody was doing the one, and then the other one Chad started doing. I don't know if you noticed it.
I did notice it, I just couldn't get the drive I felt out of there. I didn't want to end up in the face of it and throw away a decent finish.
Nice to go into outdoors with a season best, tied for a season best finish. That'll be nice.
Yeah, for sure. Two fifths on the season, our season wasn't great but we'll go outdoors and see if we can turn it around. By the end of round one people will already forget about supercross.
That's it. You're good at Hangtown. You're a good outdoor rider, so you got to be feeling a little bit under the radar coming in.
Yeah, it should be good. As long as we can turn things on like we have in the past years… Last year wasn't the greatest, but if we can turn things on like the old me I think it'll be good, a good summer.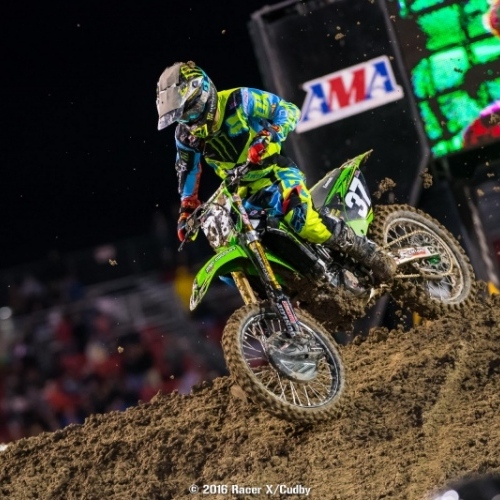 Savatgy did everything he could to take the title from Webb in Las Vegas.
Joey Savatgy
You did everything you needed to do. Dominated. 35 second win. You were great in practice and then it rained like shit and you were still great. What can you do, right?
Yeah, like you said, we were quickest in the dry and we were fastest in the wet. All in all it was good. I went out and executed, got the holeshot, won. That's all I could do. We learn from it and move on.
You know what's tough is you're going to lay in bed tonight and think about those two points, where you could have got them, where you threw it away. Anaheim 2 or whatever.
Yeah, like you said, two points, not a lot. But you look back on the year and you know there's a lot of points on the table that were realistically out of my hands. It is what it is. We fought hard and we never gave up. We came up just a bit short. But I'd rather come up short trying than lose by quitting.
Did you monitor him? Did you know anything where he was? Were you watching anything?
Yeah, actually my mechanic told me every lap what place he was in. He actually didn't tell me what size lead I had. So I went probably way too hard for way too long because I didn't know where anyone was. But he made sure to let me know where he was. Once he got into 13th I knew it was pretty much over and he stayed right around that area the whole time. So hats off to him. He did what he had to do and he rode through it. Congrats to him, but I'll be back next year.
You were good. When'd you become such a good mud rider?
I don't know, man. I hate riding in the mud. It sucks. It's not fun. I don't think anyone likes it, even the spectators or anything. We try to make it happen no matter what.