Read what some of the guys had to say about the Hangtown opener.
Read what some of the guys had to say about the Hangtown opener.
Photos: Simon Cudby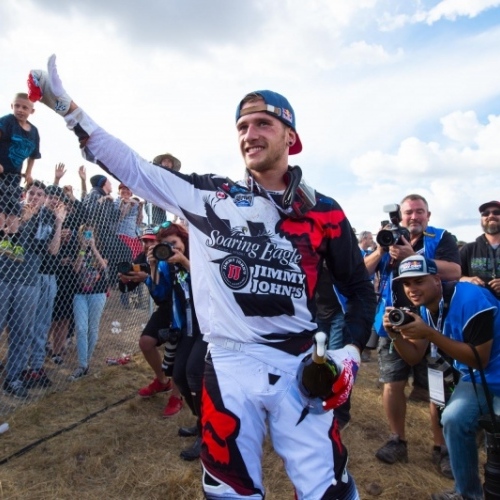 Specify caption here
Ken Roczen
Pulpmx: Great job today. Really that second moto, that was the race I think right there. Dungey knew what your plan was – to get by him and sprint. You were probably like, no, that's going to be my move. Right there was a nice pass on him and I guess that was kind of the motos.
Roczen: Yeah, ain't happening, bud. It's good. Like everybody says, nobody really knows where they're at. Sometimes you can come in and feel really good and you're not that good, or the other way around. I felt like I was riding a little better in the first moto, but second moto I made the pass happen pretty quick. I actually didn't have that good of lines. Towards the end with a few laps to go I switched up some of the lines because I stuck to the same line and I'm like, man, I don't really like it. I lost a lot of momentum. I wasn't really comfortable with it. Especially some in the harder areas, the step down before the finish over there. I switched that up and it kept me so much more momentum. That's when I started gapping him. I wish I'd done that earlier. But it is what it is. It's always good to go 1-1. We're in a much better position than we were last year. I don't want to play catchup again. But I'm still keeping it cool. Lots of racing left. But I just want to bring the intensity and everything every weekend.
It's kind of one of those things where you were like, I got to go, and you did. Second practice you were a little off. No big deal, just cruising?
Yeah, practice, same in supercross.
It affects my fantasy picks.
Now you know. Every time in practice I'm sand bagging. I'm not a practice guy. I'm not that guy – and it was flat too – that hangs it out and left and right.
I heard a lot from riders today they didn't really like this track. I think they were thinking some rain was coming so they left it pretty hard. What'd you think?
I agree. Obviously with how many riders we are so it does get rough, but the bumps are so freaking hard. So it was all right. It was whatever. You got to deal with it. But it definitely was harder than it is usually here.
Christian Craig
Pulpmx: First moto was great. You were 40th. What'd you get, 12th or something? That was fantastic. It was a great ride. I think people won't really notice, but everyone's going the same speed. The track wasn't very rough, but you still made passes. Good job in that first moto.
Yeah, I hated going down in that second turn, but 40th to 15th. My speed was there I just was back with those other guys and let the lead pack get away. Second moto the restart kind of ruined me. I got a good start in the first one and then they restarted it and I came out way back. Got in behind Cooper and we pretty much just went through the pack for a while. I tried to stick with him. Made some passes and then I ended up going down with like four laps to go and Forkner got by me. I almost got him on the last lap for 7th. I have speed to be top five and now my fitness is there. I was strong until the end. The track wasn't really rough and it didn't separate, which I was pretty bummed about. I've been riding rough tracks. The rougher it gets I feel like the better I get.
The first moto outside of you and a couple, there really wasn't much passing because guys were pinned and they couldn't really do much.
Yeah, one line, little braking bumps. It was tiny. I was kind of bummed on that. I think they were just too worried about the rain. Glen Helen will always be rough, so I'm looking forward to next week.
Do you have much experience at Hangtown? I don't know from your pre-injury days. Have you raced there much?
I raced Hangtown one time in 2011 and I was 10th overall in the 450 class. I've never raced the Glen Helen national, I've only done the GP so this will be a first for me.
Yeah, but it's a little cheating because you know Glen Helen. You practice there so much and all that. But that first moto ride, no one's going to talk about it, but it was really good. Pretty impressive. Good job on that.
Yeah, we've got to get up in the top five for sure.
Andrew Short
Welcome back to the races. You begin your farewell outdoor series. I think this is not that good of a track for you always. A couple of good rides today. You like to see you better in the second moto, which you were.
Yeah, my second moto was definitely a lot better. My speed was definitely my weakness today. This track didn't suit my style. I feel like when it's hard pack and fast you have to kind of go balls to the wall and that's not my style. I was expecting it to be a lot sandier and rougher and softer.
What happened to this place?
I think they did what they should have done, with the weather that they were predicted. Keep it hard so it runs off and whatnot to preserve the track. But not what I expected. It's probably the worst Hangtown I've ever raced in terms of track conditions, but that's not their fault. I think legitimately they tried their best for what they were dealt with.
They were thinking rain too.
If I was prepping the track I would have done the same thing that they were doing. Weird day for me. I didn't expect the intensity at the first. It caught me off guard. I felt like an old man. But so stoked to be able to race. I didn't think I'd be able to race there for a while again. So really enjoying the fact that I'm here and hopefully I'll improve as the season goes on because if I keep finishing where I do it's not going to be super fun. But I felt like I was decent today.
You can't be as bad as JT's farewell season. That was really bad. Your starts weren't so good today I don't think. So we need to see 29 starts again third gear pulling them.
No, first moto start was really good, but my eyes were ginormous. I was going backwards really quick, let's put it that way. So first turn I was decent, but then just got schooled by everyone. That's where I say the intensity caught me off guard. But second moto a lot better and my endurance is good, but I definitely need some speed.
For a veteran like you that's probably the last part of the equation, the least worried. You're in shape, your head's good, your body's good. You'll get the speed. You'll figure it out. It's not like your first rodeo.
Yeah, I'm hoping. I want to get inside that top ten. That's my next goal. 12th second moto and 11th with Bogle. He did a nac-nac in front of me over the big triple, and I was just hoping I could jump the triple because I never did that, and he's doing a nac-nac in front of me. So I got a good chuckle out of that one.
Maybe that's when you know it's time to hang it up.
Trust me, I don't want to hang it up. I love it, but at the same time when you can't even jump the triple and the dude in front of you is doing a nac-nac off it.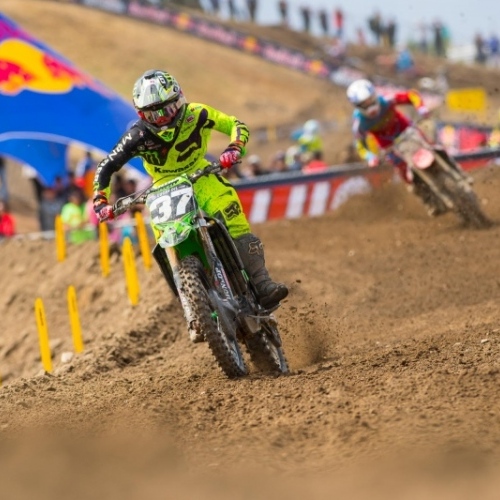 Specify caption here
Joey Savatgy
I'm glad we had a pre-race chitchat and I was able to maybe contribute a small amount to this win. You never know where you stand coming into the first outdoor, but 1-1, great rides, led most laps. Terrific job.
Yeah, I think probably 98% of that win was you coming by. That pre-race prep really helped me out for sure. But on a serious note, that first moto always sucks. Practice is one thing and then you go into the first moto on the gate and there's just so many jitters because you don't know. So once the first moto went and it went good, holeshot and we won, you kind of have an idea as to where you should be. So then the second moto we got a decent start. Davalos made a mistake and then I rear-ended him, and Craig got around me. Then they red flagged it and we capitalized on the restart.
So you were pretty far back on start one?
I think fifth or sixth the first lap. But then we capitalized on the restart. Got another good start, almost had the holeshot. I was behind Jessy for a while. I was trying not to follow him. I was trying to take different lines. Once I realized that my lines weren't working I kind of had to start taking his and then started eating roost. But I got close enough to where I could make a move. Once I made a move just tried to focus on my laps and bring it home.
The qualifying quickest today, obviously that was a nice thing, but coming into the moto like you said, whether you're first, you knew you'd be in the top five and that's fine for you. Did the qualifying first give you a little bit of an idea what kind of day it could be?
Yes and no. Qualifying is one thing, especially with as smooth as that track was first practice. It's kind of a false sense of… I don't want to say it's a false reading, but the track won't be like that when we race the rest of the year. But all in all, I knew I would be in the top five. My main goal was to come here and leave on the podium. I would be happy with a podium, especially because it's a long series. It's 24 motos. It's not supercross where you have nine rounds. So there's not a lot to say. I did what I wanted to and did better than what I had planned.
I need to go back and look at your lap times but you've got to be stoked on your fitness too. I bet your times are all pretty close, pretty good. I think that says something for your fitness, never mind your speed and all that, but I think your fitness is maybe something special.
Yeah, I've been working hard, man. It's been a long road. We've had a couple rough years but kept our head down and kept digging. Been doing a lot, man. Been doing a lot of bike rides and a lot of motos under Ricky's eye. Whether you like him or not, the dude knows what he's talking about. We've been putting in the work. Jeannie's been helping me out, and my trainer Clint. It's just been a positive deal. When you've got a bunch of good dudes around you and it's fun it makes everything worthwhile. Fitness feels great. I feel like we're ready to run the distance this year, regardless of who it is and how hot it is. Keep the ball rolling and come into next weekend and try to do the same thing.
I heard that you hadn't spent much time in California. Mitch has been letting you do your thing with Jeannie, obviously somebody that he knows and trusts. Are you going back to Florida this week?
No, I'm going to stay out here.
So much for that theory. I was going somewhere with that.
Well yeah, but I haven't been testing at all. We kind of ran last year's settings for a while. Actually they sent me an updated maybe shock last week and I got a couple days on that. I've been relying on these guys. A big part of what we do is relying on the dudes who work on your stuff. Between Bones and Mitch and my mechanic, you got to rely on the dudes around you. So I've been relying on them to get their work done and they've been relying on me to do my work back home.
Phil Nicoletti
First off, is Troll still here? Good job for him.
I'm stoked for Troll. He was the guy on a mission in that moto. He was the fastest guy in the moto. I'm pretty sure every 450 guy was watching him too trying to learn his lines. He was a second and a half faster than everybody else. Him, Plessinger and Osborne had a nice little freight train going. I'm stoked.
Smith's pissed at him. I got to go find out.
You going to hold him up and then he's got to ride behind him?
It was a dirty pass.
Because Smith's never taken anybody out?
Enough about that. Good job by Troll, and you too. Tenth overall, 11-9 rides on the day. Kind of decent starts. Kind of stayed where you were. Moved forward a little bit. You got to be happy.
Yeah, it was good. First moto, it's always hard to see where you're at. It was good. I got stuck behind Bogle a little bit. Made a pass on him and then he was on me for the rest of the moto, so we had a good little pace going. The second moto I was in a little bit better position. Battling with Marv for a little bit. I should have latched onto his pace and then maybe I could have caught up to JG a little bit more.
Did you make a mistake or something? You were kind of closer to him and then within a couple laps he pulled out.
Yeah, I ran off the track. There was nobody around, so it was okay. So then I tried to work my way back up and get JG. The class is just stacked. You make a little bobble, you lose a couple seconds a lap. It was good for first round. Tenth overall, I'm happy with it.
Smoother, harder packed Hangtown than in years past.
Yeah, but it's still pretty gnarly out there. More square-edged type bumps. I didn't mind. I was kind of worried first practice because it didn't look like it was going to get rough at all but it got beat down. A lot of square-edged holes, which I don't really like but I'm pretty happy because I think this is the best setup I've started an outdoor season. So my base settings are quite a bit better.
Are you far off what you ended last year?
Yeah. We're actually quite a bit different, which is all for the better, so I'm happy for that. Just look forward to Glen Helen and I'm pretty sure we'll get starts at Glen Helen. Shouldn't be worried about it.
How's the new mechanic? You didn't want to call me?
No, you're retired. You don't even have a toolset anymore. Merv did good. It was his first show with the team. He was actually Barcia's practice guy for a little while. He did his job. My bike didn't break, so I'm happy.
So you flew your girlfriend out here. She flew from Texas to here then California. You didn't fly her home, though. You got her two out of the three flights. You cheap ass. She's got to get home.
Roger Decoster
A harder packed Hangtown we've seen in a while here. Pretty smooth, pretty hard pack. Hard for guys to make up time.
Yeah, this was definitely the fastest, smoothest Hangtown I've seen maybe ever. But still I think the reason it turned out like that is solely because they were worried about the rain, the forecast. So they did not INAUDIBLE as deep as usual. Still the race track I thought was fast but it was good. It's the same for everybody.
Well, Ryan Dungey's streak of never winning the overall here continues. He rode well, 2-2, but Kenny was better today, no doubt about it. And Marvin was up and down, I thought. What's your take?
Yeah, Kenny was really good today. He deserved the win. For us, Ryan is always a little bit conservative at the first round and it was the same this year, although I was happy that the gap was not as big as last year. Last year I was really worried leaving here. But now we have to come back and hopefully we can win next week.
And Marvin? He had a goggle issue or something in the first moto?
Maybe he thought he had some issues, but the issues I think was more him than anything to do with the equipment or the goggles. I think he let himself get frustrated in the middle of the race and then start wondering about the bike or the wheels and looking around and everything. We checked everything and there was nothing wrong with anything. We talked about it. He knows what he needs to work on. He needs to work on himself. The 450 is a tough class and a lot of guys go fast.
Did I hear that Pitt said that Ryan is confirmed for MXDN if everything goes well? Is that true or is that just something I heard out there on the internet?
Somebody told me that too but it's a little bit early for us to say. We have basically a full outdoor season still to take care of. If Ryan wants to go that will be great. I'd like to have him. But I think it's a bit early.