For this edition of MX Captured, we are going to look back at a couple of sweet shots of AMA Motocross and Supercross champion Jeff Emig shot by Paul Buckley during the epic 1993 125 Outdoor Motocross season.
For this edition of MX Captured, we are going to look back at a couple of sweet shots of AMA Motocross and Supercross champion Jeff Emig shot by Paul Buckley during the epic 1993 125 Outdoor Motocross season.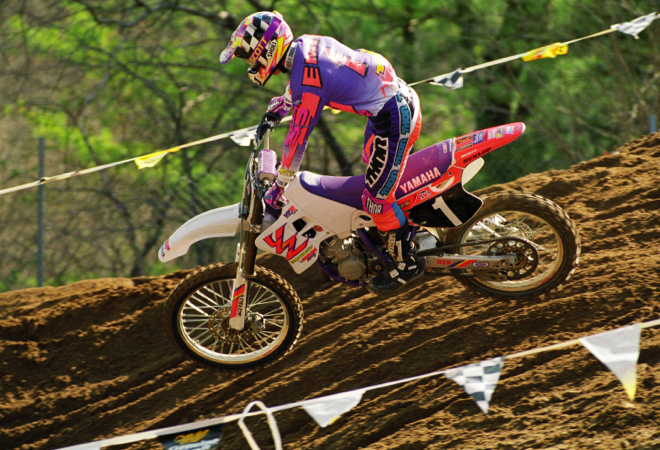 In 1993, Jeff Emig and his Steve Butler-tuned Yamaha YZ125 proved one of the fastest combinations on the track. Photo Credit: Paul Buckley
Coming into 1993, factory Yamaha's Jeff Emig was the defending 125 National champion. In 1992, he had started off the season slowly, only to coming roaring back to capture his first National Motocross title. Catching fire at round five in Buchanan, Michigan, Emig reeled off victories in six of the last seven Nationals to snatch the title away from Kawasaki's Mike LaRocco.
In 1993, things once again got off to a rough start for the defending champ. At Gatorback, Emig carded a solid second in the first moto behind a surprising Jeremy McGrath, but suffered a costly DNF in the second heat due to a broken throttle housing. Carding a ninth overall, Emig was already a down a full moto to the points leader going into round two.
At the second round in Southwick, the bad luck continued for Emig. A crash on the first lap claimed the champ and left him at the back of the pack as his teammate Doug Dubach set sail out front. Fighting through traffic and eating sand for thirty-five minutes, a fourteenth was the best Emig could manage in the first moto. For Emig, the only bright spot was the points leader McGrath, who suffered a similar fate on the first lap and was only able to manage a twenty-third by the checkers.
In the second moto at Southwick, things would go much better for Jeff. A holeshot in the first heat would leave him with clear track, but a ton of pressure from hometown hero Doug Henry. A new hire to the Factory Honda squad for '93, Doug was coming off his first 125 Supercross title and a resounding win in the first moto. For two laps, Henry shadowed Emig, darting inside and outside, looking for a window to pass. At the end of the second lap, Henry used his knowledge of the sandy circuit to slingshot around the outside and then dive under Emig in a tight right-hander. From there, Henry was not challenged and Emig followed him home for second in the moto and fourth overall.
After two rounds, Emig's title defense was looking problematic. Two poor motos had him stuck back in sixth place, a full 35 points behind the new series leader Henry. With Henry and McGrath both showing surprising speed on the blazing-fast factory Honda's, it looked like it was going to be another uphill climb for Jeff to capture a second 125 National title.
Thankfully for Emig, things finally turned around at round three in Mt. Morris. A dominating double-moto victory in PA pulled him to third in the overall standings and cut Henry's points lead to twenty-seven. Another first moto win at Hangtown further closed the gap, but a fall while leading the second moto cost Emig any chance at the overall. Jeremy McGrath would take advantage of Emig's mistake and capture his second overall of the young season. While Emig's 1-7 was only good enough for third overall, it only cost him three points in the series points standings to Henry.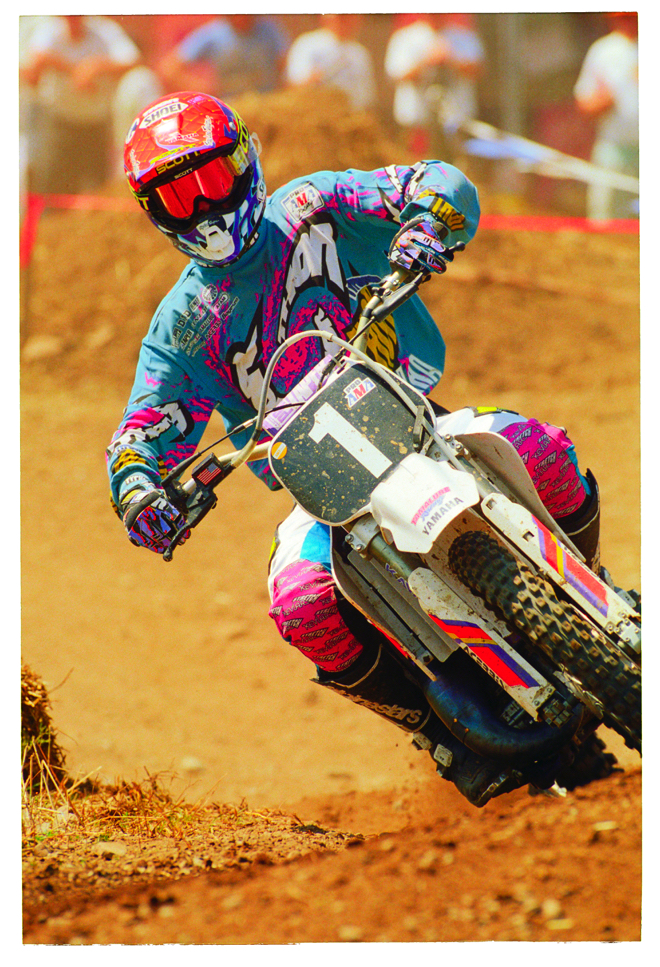 In 1993, Jeff Emig had the speed, but not the consistency to repeat as 125 National champ. Winner of the most overall victories (five), he would come up a heartbreaking nine points short to the less speedy, but more consistent Doug Henry in the final standings. Photo Credit: Paul Buckley
After Hangtown, Emig would fall into an on-again, off-again pattern that would see him take victories at RedBud and Kenworthy's, only to struggle the week after. While his third at Unadilla was not a major blow, his fourth at Glen Helen hurt far worse. There, promotor Roger DeCoster and the AMA experimented with a Supercross-style one moto format that paid double points in each class. This meant double the benefit and twice the penalty if things went wrong.
In the one and only moto, Jeff pulled out to the holeshot with Henry close in tow. Once again, Henry shadowed Emig as the two stars circulated the hot and dusty Glen Helen circuit. On lap two, Henry faded over into Emig on an uphill, pinching off the champ and causing him to clip one of the San Bernardino track's many dirt embankments. Jeff was forced to come to a complete stop to prevent falling and with that, Henry was gone. While he had given up the lead, he still held onto second over Kawasaki's Mike Craig. Unfortunately, however, that advantage would be short lived. A lap later, Emig's bike began to bog and sputter, nearly throwing him over the bars on the finish line jump. Shortly after, the number one Yamaha was on the side of the track with Emig's arms raised in disgust.
After venting his frustration, Jeff made an attempt to get his malfunctioning YZ restarted. After a few stabs at the starter, the YZ came back to life, but not before Jeff had lost three more spots on the track. Nursing his ailing YZ to the finish, Emig captured fourth, but lost pile of points to Henry. At the start of the day, Emig had held a narrow three-point lead over Henry. By the time the sun had set on San Bernardino, however, that lead had evaporated into an eleven point deficit. With only four rounds to go, it was Doug Henry out front with 327, Jeff Emig in second with 316 and Jeremy McGrath in third at 296.
After the disappointment of Glen Helen, Emig went on a tear at Washougal and Millville. Overall victories at both rounds once again put him into the points lead with only two rounds to go. Going into the penultimate round at Binghamton, Emig held a narrow five-point lead gap over Henry and a more comfortable thirty-nine points over McGrath.
At Binghamton, Emig would suffer the kind of day that costs championships. Crashes in both motos would see the champ back in the pack and struggling in traffic while his two championship rivals pulled away out front. While McGrath and Henry dueled out front, Emig fought his bike and the track to a fourth in moto one and fifth in moto two. With Henry sweeping both motos and Jeff struggling to a disappointing fifth overall, the points were once again reshuffled. With one round to go, Henry sat in first with 458, with Emig back to second at 447 and McGrath trailing in third with 418.
Just as in 1992, the 125 title came down to the final moto of the year, but this time Emig's Cinderella story would fall just a bit short. In the first moto at Steel City, both Emig and Henry did what they needed to do by getting off to a solid starts. For the first few laps, the two dueled for position as privateer Todd Dehoop set the pace out front. The two championship rivals passed each other back and forth several times, before Emig finally got by Dehoop on the third lap. Once in the lead, Emig put on a burst of speed and pulled away to an uncontested victory. Content to follow him home for second, Henry experienced a tense moment mid-moto by cross-rutting his Factory Honda and cartwheeling off the track. Thankfully, he remounting quickly was able to reenter the track before he could be caught by Brian Swink in third. While he was able to salvage second, the fall left him with an injured wrist going into the final and deciding moto of the year.
Going into moto two, tensions were incredibly high. Emig had cut Henry's lead down to only eight points and with Doug still ailing from his first moto crash, anything could happen. At the start of the second race, things got even tenser for Henry, as he creeped into the gate and had his wheel trapped as the rest of the forty riders roared into the first turn. As Doug fought to extricate himself from the gate, the stage was set for another Emig comeback victory. As fate would have it, however, the Moto Gods had other ideas. In the second turn, Emig crashed with another rider and found himself at the back of the pack with Henry.
As the two title combatants worked their way through the field, they fought a titanic battle for position. Picking off rider after rider, Henry and Emig jockeyed for track position in their own private war. Passing each other several times, the two took their title battle to the final turn, where Henry nosed Emig by a bike length at the checkers. With Henry's sixth place finish, he claimed the 1993 AMA 125 National motocross title. If Emig had not fallen and had won the moto, Henry's sixth would have cost him the title, but as it was, he ended up with a nine-point cushion in the standings. In 1993 Jeff Emig was often the fastest rider, but mistakes, mechanicals and just plain bad luck kept him from repeating as 125 National champ.