35 pros tell us about their favorite track.
35 pros tell us about their favorite track.
What is your favorite track on the Lucas Oil Pro Motocross Championship tour? We all are biased to a specific track for some reason or another. Is it all about the flow? Is it more about the dirt? You know a huge reason riders like to come to a certain track has got to be the fans, right? I was curious about what some of the guys racing the tracks thought, so I went through my phone and sent out a poll. You can see the tally at the bottom of this story. Here is what some of your favorite riders think about their favorite track.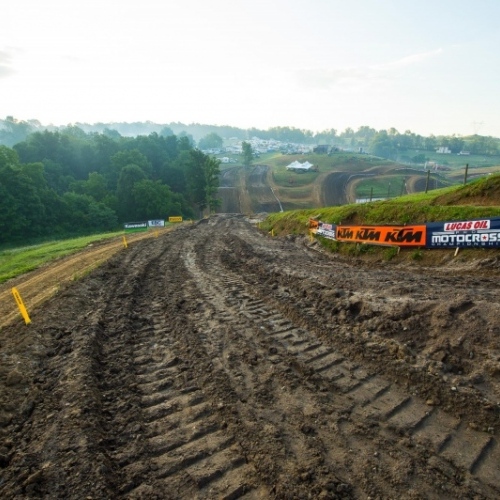 Mitchell Oldenburg and John Short chose High Point and you can see why in this photo.
Photos: Simon Cudby
"I'd have to say that my favorite track is Millville. It's similar to what I grew up riding and it gets tough and gnarly. – Kyle Peters
"I'm assuming you're talking about Canadian tracks? My favorite so far would probably be Wild Rose MX Park in Calgary. It's mostly just because I had my best result there. The tracks in Canada have been a lot different for me and hard to adjust to. That was the track that I felt most comfortable on." – Mark Worth
(Worth gets to vote Canada because that is all that he has raced as a professional.)
"I would have to say Thunder Valley, but I doubt most other riders feel the same. The dirt there isn't the greatest and the bikes are always quite a bit slower because of the altitude. I feel like the track offers a little bit of everything. There is elevation, big ruts in the corners, bumps are chattery, rather than the huge ones that kill your momentum. They do a good job of having big jumps throughout the track that are still safe and raceable." – Dustin Pipes
"Man, it used to always be RedBud, but the last few years I haven't been a huge fan of their track changes. It's a bit fast now in some places and over-prepped. It's still a close second to my new favorite Millville. Millville has a little bit of everything and the dirt is primo. The sand rollers are awesome and the hills have clay dirt, which is awesome too." – Kyle Chisholm
"Millville, I really like the dirt and the way that the track flows. It seems like you're always having fun. I'm also a big fan of the sand rollers because they are a big factor of the races." – Benny Bloss
"RedBud because it has the best dirt. It's a man's track that tests your fitness and ability in the ruts. Plus it has super fun jumps to get some hang time!" – Ben Lamay
"That's a tough question. I love the feeling of going back to my home race at Washougal. I also like Lakewood because I have best friends and family within miles of the track. As far as the best track, my favorite to race the last two years has been RedBud. I love that race and it's a beautiful motocross track!" –Matt Bisceglia
"Hangtown is my favorite track because I grew up racing there as a youngster. Riding Hangtown comes natural to me, but all of the tracks have good features on them." – Josh Mosiman
"My favorite is Southwick. I actually haven't raced a national there yet because it wasn't on the schedule last year. It's my favorite because it's close to home in New England and I grew up riding there." – Dakota Alix
"I'd say Millville because of the huge hills, which means big faces that just launch you to the moon. The dirt and scenic setting is an added bonus. The creek is refreshing and I'll try to avoid it next time!" – Michael Akaydin
"RedBud because of the fans, the dirt, and the badass jumps that make the track flow. The whole scene is just sick there!" – Alex Ray
"My favorite track was Washougal given the technical traction element and the fact that most of the riders hated it. I tied with Ryan Dungey for the win there in 2009!" – Blake Wharton
"High Point! The dirt is perfect and I love the way the track shapes up with a million lines." – John Short
"Ironman in Crawfordsville, IN! It gets rough, has awesome elevation, big jumps, flows amazing, and has epic dirt." – Justin Starling
"RedBud, hands down! The dirt is amazing and the facility is top notch! The fans are crazy and I grew up racing there."- Marshal Weltin
"Washougal. Unfortunately I won't be there this year, but I really like that place. The track flows really well and it's in the coolest spot." – Zack Williams
"Washougal because it's a track I've grew up racing and I love racing in the Northwest!" –Chris Howell
"It's got to be Washougal. Just having all of my family and friends there makes it special. Ever since I can remember I've dreamed about racing Washougal as a pro and having all of the locals go crazy! That's why it's my favorite." – Noah McConahy
"Southwick because it's the only round where practice isn't a mudder and who doesn't like railing sand berms all day?" – Jeremy Smith
"It's either RedBud, or Southwick. Both of them are rough, brutal, and the fans are insane at both." – AJ Catanzaro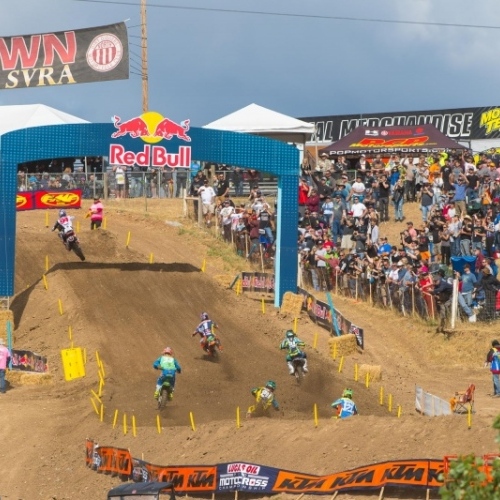 Josh Mosiman is biased to Hangtown because he grew up riding there.
"Southwick because I love sand and I grew up racing a ton of local races there so I feel at home." – Luke Renzland
"High Point. I really like the East Coast and I always seem to do well there."- Mitchell Oldenburg
"Unadilla for sure. It was my first ever national. I love the dirt and the terrain. It has some sick sections and the fans are great!" – Austin Howell
"Man, that's a tough one now that Southwick is back. I'm going to have to go with Southwick just because it's an old school moto track. It doesn't have any big jumps, it's all natural, and super rough." – Heath Harrison
"Millville is definitely my favorite track. I like the big hills. It's also my home track. I grew up riding there!" – Henry Miller
"Millville because it's where I'm originally from. A lot of my family and friends get to come and check it out!" – Gannon Audette
"Southwick. The joy I get from riding there is the same as a three year old playing in the sandbox!" Anthony Rodriguez
"My favorite track on the circuit is Glen Helen. It has a great flow and I love the hills that we get to ride up. It also was the track where I scored my first national points!" – Hayden Mellross
"Indiana would probably be my favorite because it's close to home and a lot of my friends and family can be there to watch." – Aaron Plessinger
"Washougal because the dirt is tricky like my track and I can go fast on it when a lot of guys let off. It has some fun jumps too." – Ryan Sipes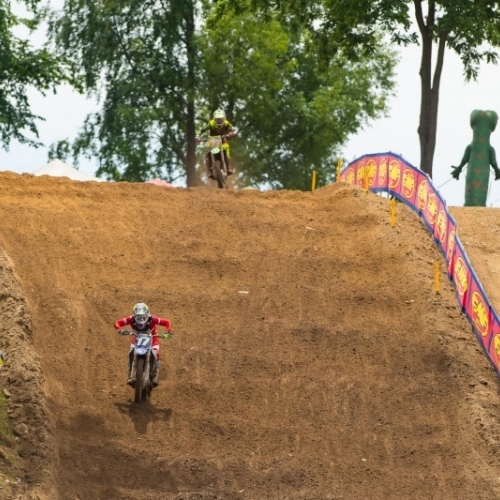 RedBud is always in the conversation of favorite track with riders and fans.
"ReeeeedBuuuuud is my favorite. The fans are amazing with it being July 4th weekend. The dirt is always perfect, which allows the track to develop tons of lines and breaking bumps on a really fun layout. There is no other race that I'd rather spend my birthday than Buchanan, MI!" –Kyle Cunningham
My favorite national track would definitely have to be Budd's Creek. It was the first outdoor national I ever went to as a kid and I always raced amateur day. If you could lie down and dream of a perfect track, then Budd's Creek would be that track. It has all of the elevation that you could want, hard dirt, soft loamy dirt, off cambers, and big jumps! To me that's what it's all about! A picture perfect place!" Cody Gragg
"Washougal. It's more of a hometown race for me. Going up and down the hills into the forest makes for an awesome track to race." – Ryan Breece
"My favorite track on the circuit would be Unadilla. It gets really rough and super rutted. The dirt kind of reminds me of a few places around my house that are similar. I enjoy racing there." Nick Gaines
"Washougal because that's where I grew up racing and home is where the heart is. I usually do pretty well there." – Tevin Tapia
The Results:
1.) Washougal – 8 votes
2.) Southwick – 6 votes
3.) Millville/RedBud – 5 votes
4.) High Point/Ironman/Unadilla- 2 votes
5.) Glen Helen/Thunder Valley/Budd's Creek/Hangtown – 1 vote
It looks like Washougal is a huge favorite among the riders in this sport. It's very scenic, that's for sure. All of the tracks were listed in the poll except for Muddy Creek, which I found kind of odd. You usually hear of RedBud or Millville as the favorite, but Washougal took this one fair and square.
Thanks for reading! If you have a question you'd like to poll the pros on give me a holler at troy@pulpmx.com, or you can hit up my Instagram and Twitter @troybendgen.