Transcribed for your reading pleasure.
Transcribed for your reading pleasure.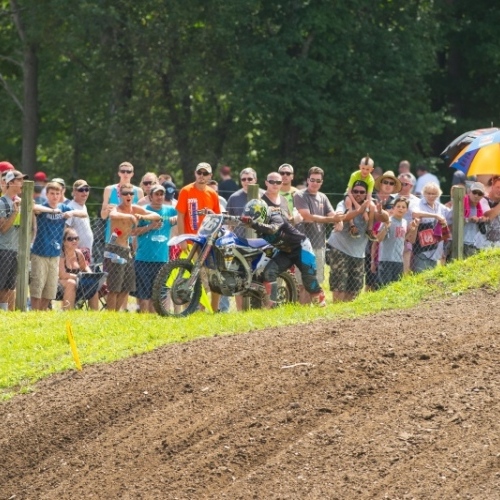 Despite troubles A-Mart salvaged a decent day at Unadilla.
Photos: Simon Cudby
Alex Martin
Good job today. You got a lot of passing points. Second moto you were up there and fell late, so not a good day. Fell in the first turn in the restart. You were second in the first start? What were you before the first red flag?
Fourth.
Then we have a restart. You fall in the first turn.
Yeah, like you said doing great before the restart. Not great, but I was up there. I was in the hunt. It was early. The heat was tough today. It was humid. You don't see it on TV. Actually the track was awesome. Just came into the left-hander before Gravity Cavity and there was a hole in the rut. Didn't see it. Kind of went over the bars and got ran over a couple times.
But you also fell in the first turn with Forkner, right?
No, I crashed on the restart in the left-hander before Gravity Cavity.
So then you were like dead, dead last. It was a nice ride. You broke into the top 20 and then you were there for a little while and by the end of the moto 13th. So that's solid.
Yeah, and I actually tipped over again. The two-lap card was out in the same corner. I had the pass on Marty Davalos made and so I would have been 11th I think, because I had Renzland and him I had passed that lap. So I was 11th and then lost two spots. Maybe could have ended up 10th, so 40th to 10th would have been excellent. It was one of those damage control things. I just wasn't feeling good. I've had some serious stomach cramps all day and wasn't keeping anything in. When you have a hot weather race like this it's just not what you want to have happen. You need to be on point to be competitive with those guys. I just really got a big gift with Joey pulling off that second moto. I'm not sure what happened. I passed him there at the beginning of the second moto and just came to find out he was nowhere to be seen. When I tipped over and let Plessinger and Hill by, I looked back and we had like 35 seconds to sixth.
Where'd you fall in the second moto?
I don't know how you'd explain it. Two corners before where Carmichael and Stewart landed on each other, that right-hander. The rut was really long. I just kind of got off balance, tipped over. Got back up fifth. Today was like if you had a tip-over it completely wrecked your momentum. And the heat catches up with you when you're going zero miles an hour. At least when you're going 30-40 mile an hour you have some wind blowing on you.
This Unadilla track, Cooper told me it's the worst one he's seen. What do you think?
I don't think the worst track is really accurate.
Just rough and rutty. It didn't look like much fun.
Yeah. Honestly I thought for the conditions, I was looking at the weather forecast all week and it was saying 80% chance, 100% chance of rain. So the fact that it didn't rain today… And I know when you have rain like that coming up to it the ground's going to be soft, so as a promoter it's going to rut up really, really easily. In practice they did a good job. They flattened the straightaways and started from scratch. The first moto the track was awesome, I thought. In the second moto they left a couple spots, but it's like real motocross. Heaven forbid that there are ruts all the way around the track.
Some of those were deeper than you.
That's why you stand up or just take a different line. I actually liked the track. It was tough and it was rough and it was challenging. The thing I didn't like was just the humidity but you can't control that. This is one of those tracks where you really need to have good technique and you can't be like Filthy Phil. I saw a replay of him on the TV. Worst form I've ever seen. Terrible. He told me he has no balance. His balance is terrible. This is one of these tracks where Roczen is probably perfect on a track like this with no rear brake and carrying momentum and standing a lot. Phil sits a lot. The replay they showed him sitting, feet were off to the side dragging in the ruts alongside of him. You just can't do that for 30 minutes.
You got a lot of passing points today. Rough day for you overall and you did the best you could to salvage it. Sometimes your lap times, I was looking in the first moto, they were comparable to third and fourth place but again the crash did you in. so I think it was a good ride anyway.
It's always disappointing too when you get selected for Team USA and then you have kind of an off day. There's maybe a little bit of pressure involved in that.
The fans are like, oh god.
Here's our Team USA pick. He's really great. 13th place there going to the des Nations. But I obviously have had a great season and I don't think today is anything to worry about. I think physically I wasn't there. We'll make some changes and we'll be better for the last two. I'm excited to have a good training block leading into des Nations. Going to California. Going to train with Cooper out there for a couple weeks. I think having that to push each other… My brother's been hurt for three weeks now so I haven't rode with him since before Washougal. So it'll be nice to have someone to push me a little bit.
You were kind of playing it pretty coy on the Pulp Show when we asked you about it and I guess you'd already been asked. It seemed like you were, yeah, that'd be great. What a story. You rode for Puerto Rico and now you're on Team USA. It's incredible. Great work. You've got to be so honored and excited. What a deal.
Yeah, I know they approached me before Washougal, or right after Washougal, but obviously the fact that Joey is really fast and I think we've been really close all year long in speed, if it wasn't for a DNF and a couple bad motos I'd have been right there in points. But after Washougal I was only two down anyways. So I was kind of like, we're going to have this long break. Who knows if they're going to pick Joey or me. But obviously I think Cooper wanted me as a teammate maybe a little bit more, especially after that little issue they had in the second moto at Washougal. So I'm excited. It doesn't happen too often, or ever, that you have a Puerto Rico become a USA citizen.
Most of the time when you went there I think you guys kind of sucked, but regardless always feel like there's a lot of pressure. It's a weird race, weird racers, but that'll help you. The fact that you went for Puerto Rico will totally help you.
Right. I really didn't treat des Nations the way – and Phil can vouch for this – he kind of kept training after the season and I really went on vacation. I was racing for Puerto Rico and I would ride once or twice a week. The training really wasn't there. So this time around I'm going to California. We're going to keep up on the training obviously with Swanepoel and Cooper and I. It's kind of a different story altogether.
Matt Bisceglia
Welcome back. First race since I think Red Bud and two top-ten rides. You've got to be stoked. You showed me your hands. They're pretty gnarly and pretty beat up but regardless, after missing so much time you've got to be happy.
Yeah, I'm happy for sure to get out of this safe, with two top-ten finishes. Unadilla hasn't been the best to me in the past so I'm happy to have a couple solid rides and get out of here safe. I'm even happy with how I rode today. I rode awesome. The second moto I rode well. I feel like I had around a fifth to seventh place pace. I just couldn't hold it, like you said. My hands are pretty blown out right now. About halfway through that moto I just couldn't hold on anymore. I was struggling to come out of the corners and struggling to have my hands not fly off. But I'm looking forward to these next couple weekends. Budds Creek and Iron Man are a few of my favorite tracks, along with Red Bud. I'm excited for that. We'll see how it goes. I'm just going to let my hands heal up a little bit this week and get a couple good days of riding in and come back strong.
The hands, is it from not riding from your injury or from riding too much? Which one is it?
I think it was a little bit of lack of time on the bike. I just haven't been able to ride that much. I was really, really sore from my crash at Southwick up until about this time last week.
That was a good one then, huh?
Yeah. The first day that I rode that it didn't hurt me too bad to ride was this Tuesday.
And it was a sand track. Imagine if it was a hard-pack track.
For what it was I'm glad it wasn't worse but I was pretty banged up for a while. I was just happy it's not hurting anymore, so I'm excited to get back at it. My pace is good, I've just got to put two motos together like I did today again and just be a little bit stronger.
You've been testing at all a little bit to try to get the bike a little better? Obviously back at Lakewood you were thrown on it. How much better is your bike?
It's a lot better. One of the days I got to ride this week Rio and Todd with Showa came out and helped me out. We made a bit of progress and it was good. It's awesome working with these guys for sure. It was a good week. We got good progress in and those guys are easy to work with. I'm easy to work with. It just goes hand in hand. It was nice.
I talked to some of these guys. They're really happy with your attitude as far as your willingness to test and try and be appreciative. These guys are stoked because they hadn't had a lot of great finishes, as you know. Talking about the track today, you took the wrong rut a few times. I saw guys both legs out. They would hit neutral and the pegs were drug… There were some deep ruts.
The only thing I'm going to say is that was the gnarliest track hands down I've ever ridden. I've ridden all the nationals multiple times and it was to the point where I'm actually really surprised they didn't fix some of the track. I'm not going to lie. It was borderline dangerous. I know in the 250 class a lot of people went down and didn't finish. The tracks are gnarly and they're separators and I'm not trying to sound like the one that complains about it because that's not how I am, but I think it gets to a point where they should fix it a little bit or do something about it. When it starts to get to a point where the top pros are getting hurt because of the track, it sucks to see.
For me, it looked like no fun to ride, zero fun.
If you were in a flow it was fun.
Roczen probably had a good time.
That was a perfect track for Roczen. He's riding phenomenal right now. In my mind he's the most talented guy on a dirt bike right now. He makes it look effortless. I go back and watch the races every week and he just stands up, he keeps his momentum up and that's why he's killing everyone.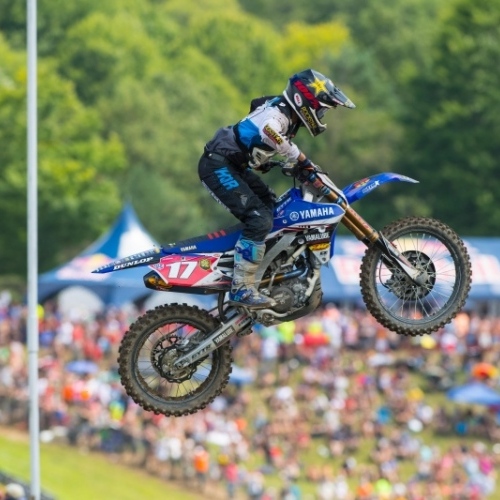 Webb can clinch the title next weekend.
Cooper Webb
What a day. First off, two red flags, which was super weird. I kind of didn't think you were going to win that moto because I thought it reverted to the lap before, which Forkner was ahead of you. But you ended up getting the win and the overall. Nutty day.
Yeah, it was. It was really wild. Two red flags and some craziness, but it was obviously a really solid day. I was able to get pretty good starts all day.
Where were you the first start?
The first start I was like fifth. By the end of the first lap I was behind Joey in third, so that was good. Then obviously in the first moto I was second behind AC and he actually rode really, really good. I think he actually let me by just so maybe he could kind of fall in behind me and whatnot, so that was good. I felt really good in that one. Then in the second moto I got another good start and Forkner was riding really well. I was just pacing. I honestly thought he was going to make some mistakes and maybe crash but he was solid.
He put a couple of seconds on you in a couple of laps and I was like, hey, this kid might actually have something.
I knew I had the overall. I was planning on laying the hammer down later. It was hot and the track was rough so I didn't want to go too hard too early. That was actually my plan. I closed him up. It was right after halfway, two laps I closed him in and was all over him and passed him. It was weird. I guess where they technically gave the red flag I had led just over a lap. It's a little weird. I don't know how the rules and all the works. It sucks because I felt like I was just really getting going. I hope Jessy is all right. The track was no joke, but I'm stoked, 1-1. I think someone said 81 points.
You'll probably clinch it next weekend.
That'd be awesome.
I've been to Unadilla a ton and I don't know if I've ever seen it this rutty this fast. It was like a slot car track. It was pretty gnarly.
Yeah, it's the gnarliest it's ever been for me at Unadilla.
Was it just so soft in the morning?
I think it was just really soft in the morning. I was kind of bummed because they prepped the track and then after that they hadn't touched it. So I thought it was actually really good. After that second moto sight lap I was just like, holy shit. Where do I go? So you definitely had to be on it. The only unfortunate part is for some reason it was kind of one-lined and hard to pass, but I've never actually even been on the podium here so I was stoked to win.
Kyle Chisholm
Track was pretty muddy this morning. It looked like zero fun out there.
I actually enjoy this track. Today it was really tough. Just the track in general is an awesome track. It's one of my favorites. Conditions today were tough though. I wouldn't really say it was super muddy. Mud-wise I felt like it was just like normal when they water it, but from all the rain all week and last night it was just like a sponge. The track was like riding with both your brakes half on the whole time. It was just pulling you down. It was tough. It was a lot of ruts everywhere. Nowhere you could go that weren't ruts and bumps obviously.
We were talking to you a couple weeks ago and you weren't pumped on your suspension but you had found a guy, you'd done some testing, and you said you'd be better and you have been better. Almost getting near the top ten this week, so it's better.
Yeah, I said at the beginning of the year I was on the bike five times before Hangtown. I had no time on the bike. I was even skeptical to even race. Look at Deano – he waited until about halfway to come back, and our injuries time off the bike was almost the same. What he did, I feel like I maybe should have done that, but I did say in the beginning of the year by halfway I think I'll be back closer to where I was. Since Southwick which was halfway I've been 13th, 14th, not sure what I was today but I was 13th or 14th today or whatever. My goal for these last six was to be top fifteen every moto and try to get a top ten before the end of the year. So we're right on track. I'm getting better. Shoulder's still not 100% but I'm feeling better on the bike. Like you said, nothing wrong with my suspension guy from the past. He's in California and I just needed to test because I was getting up to speed, and I have a guy in Florida that I've known. He actually does Timmy's stuff too.
And you know it's like pillows.
It's good. He's been helping me the last few weeks. It's been helping me a lot, so big thanks to him. It's Matt at Active Ride. Shout out to him. He's helped me and I've been getting better. So like I said, I want to be top fifteen from here on out. I think I can get a top ten if I can put everything together.
Today you were up closer like 11th, 12th, slipped back a little bit and you told me before we hit record that you might have overdone it this week?
The last two weeks. For the break we had three weeks, essentially. The first week I didn't ride at all because I wanted to just recover, regroup and then have two good weeks. This week and last week I just was doing it pretty hard. It's been really hot in Florida, like it was today. I just came in today a little bit over-drained a little bit from the last couple weeks. So I'll regroup, take off Monday, tomorrow and Monday obviously. Get my riding in this week and try to come back at Budds next week.
A good day today I think overall for you, especially how far you've come since the opener. Good job, and now we don't have to talk about you retiring. So nice work.
No, I think I got a few more years left in me. Keep trying. That's all I can do.