JGR switches brands for the first time.
JGR switches brands for the first time.
Welcome to the offseason and our new ongoing "Team Previews" column. Every week from now until the Monster Energy Supercross season starts in January we will be profiling a big team in the sport. We'll go through the changes that have been made, analyze results, and give each team a grade on all of their offseason moves. This week we have JGR/Toyota/Suzuki and you will find the full schedule below.
Photos: Simon Cudby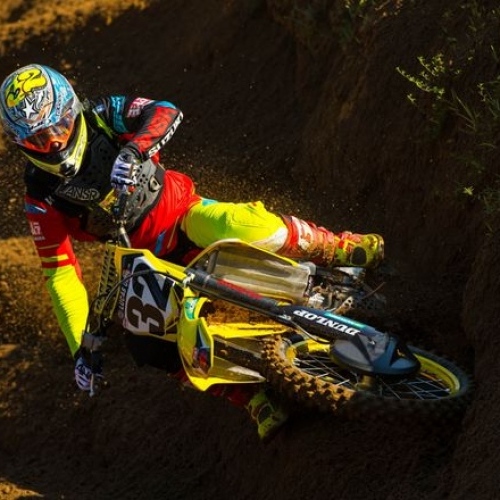 Bisceglia found a home, but will be sitting out for a bit due to an injury.
Who's In:
#32 Weston Peick
#37 Phil Nicoletti
#43 Matt Bisceglia
#51 Justin Barcia
Suzuki
250 Program
Who's Out:
Yamaha
Last season's Supercross Results:
Weston Peick – 13th 450SX
Justin Barcia – 21st 450SX
Phil Nicoletti – 24th 450SX
Last Season's Motocross Results:
Justin Barcia – 4th 450MX
Phil Nicoletti – 5th 450MX
Weston Peick – 8th 450MX
Offseason Grade: A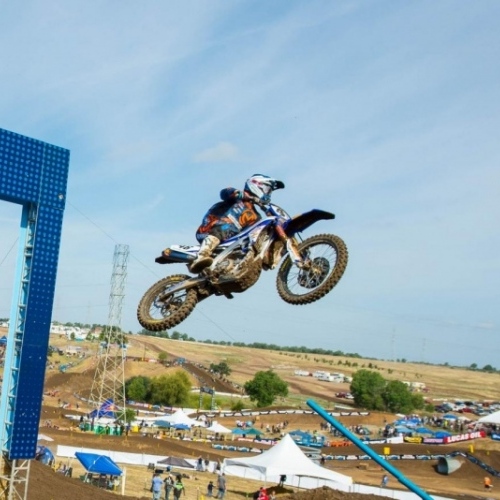 Can Nicoletti tame supercross on a 250?
The Rundown:
The crew over at Joe Gibbs Racing deserves some kudos this season. They've done the impossible in this industry by creating a job and not letting any riders go in the process. They've also created some excitement with their switch to Suzuki after being a Yamaha team since its inception in 2008.
The lineup is the same except for the addition of Matt Bisceglia and the 250 program. Phil Nicoletti is dropping down to the 250 class as well in a surprise move. It's not that Nicoletti was exactly struggling in the 450 class as evident by his fifth overall in the Lucas Oil Pro Motocross Championship last summer. However, if the only job available to Phil were a 250 ride, then I would take it too. This supercross season could go either way for Filthy Phil. On one hand he could hone his skills in supercross and do very well. On the other hand he could just crash a lot like we've seen in the past. The ball is in his court and I'm not so sure how it's all going to play out. If I'm a betting man I say that he continues to struggle with supercross and excel in the outdoors.
Bisceglia was set to have a great season until Matthes reported that he had broken his ankle earlier this week. That would move Nicoletti to the West Region and hopefully Bisceglia can be better by the East. It's a bummer deal for Bisceglia whose deal came together very late in the season. I had talked to him before this deal landed on his table and he told me that he was going to quit if he didn't get some sort of ride. IT came together, but this is a tough break.
Many will remember Weston Peick's 2016 season for the punching of Vince Friese and suspension. It was a rough year from the start and we didn't get to see a glimpse of the same almost podium guy of 2015. Does the switch to Suzuki, a bike that Peick chose as a privateer in years past, get him to that level again? I have a great feeling that it might make him more comfortable this year.
The team leader Justin Barcia seems to be having all sorts of issues the past several years. He hasn't been the same rider since early in the supercross season in 2013 it seems. That Barcia was exciting and challenging for wins and podiums every week, but since then we've only seen glimpses of him here and there. His surge in the 2015 nationals was great to see. It showed that he still has the fight in him to win and be a contender. We all have very high expectations for Barcia because he's shown that he can be an exciting rider to watch. He's fast, throws his bike around, and isn't afraid to mix it up with anyone, what is there that's not to like?
Like many, I haven't been able to wrap my head around why he isn't on Ken Roczen, Ryan Dungey, or even Eli Tomac's level. He should be. He's raced them before and he's won. Why can't he do this on a weekly basis?
Barcia started to turn on the heat toward the end of the nationals, but could not beat Roczen. It was a step in the right direction and maybe he will be able to keep it going on his new Suzuki and become a winner again. Matthes did report that with the switch to Suzuki that Barcia took a pay cut, which can't feel too good right now. Could this be more motivation to show everyone that he still has it in 2017? Let's hope so for his sake because if not it will be a scary time on the Barcia camp.
The JGR team brought excitement to the offseason with the switch of brands, adding a 250 program, and adding Bisceglia to the lineup. Will the changes be enough to contend for podiums and championships? I don't think championships will happen, but podiums are very much expected and any of these guys could get one on a good night.
Preview Schedule
10/14 – Rocky Mountain ATV/MC KTM
10/21 – Troy Lee Designs/Red Bull KTM
11/4 – Monster Energy/Yamalube/Chaparral/Yamaha Financial Services/Factory Yamaha
11/11 – Yamalube Star Racing Yamaha
12/9 – Factory Monster Energy Kawasaki
12/16 – Monster Energy Pro Circuit Kawasaki
12/30 – JGR/Toyota/Suzuki
Thanks for reading my series of team previews for the coming season. If you'd like to talk about these or any of the other stories that I've written you can email me at troy@pulpmx.com. You can also reach me on Twitter/Instagram: @troybendgen