Important things you need to know about tomorrow's opener.
Important things you need to know about tomorrow's opener.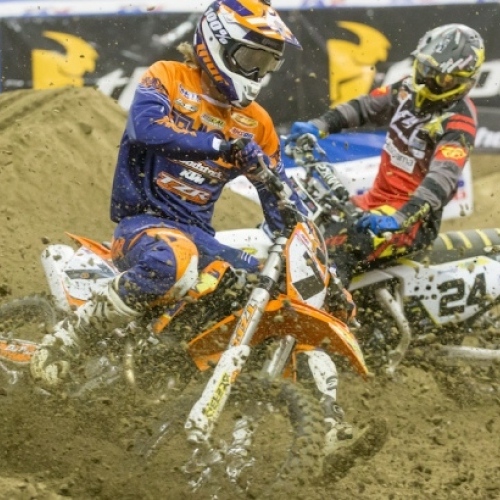 Sewell is looking for his first title in 2017.
Photos: arenacross.com/ShiftOne Photography
It's going to be incredible to see how many people go into shock this weekend because of how much racing is going to take place. Can we handle this? We're going from no races in America in months to full blown two series kicking off this weekend!
While Matthes will give you everything you need to know from Anaheim 1, I will be on hand at the Amsoil Arenacross opener. I'm excited for this and you should be too. This is the third year that arenacross has kicked off in my home city of Cincinnati (I've since moved 40 minutes south, but it was home for 26 years). Nothing exciting usually happens in Cincinnati that I care about. Our professional teams are blowing it right now and they are nothing to cheer for. However, when arenacross comes to town it's like Christmas.
The season opener of any series is always awesome. These guys have been putting in the work during the offseason and have been trying to up their games for a chance at the title. It's going to be tough to take away the number one plate from Gavin Faith, but as we've seen in years past, anything can and will happen in this series.
Gone are the days where we will have a rider win multiple arenacross championships in a row. The new format with the points reset really throws a fork in the road on that happening. Since the new format came into play three years ago we have seen three champions in Tyler Bowers, Kyle Regal, and Faith. Will we see a fourth new champion in 2k17? I like the odds on this happening.
The usual suspects from the past couple of seasons are all chomping at the bit to get things going. We've got Jacob Hayes, Chris Blose, Travis Sewell, Jace Owen, Ben Lamay, Steven Mages, Kyle Regal, Kyle Bitterman, Matt Goerke and more ready to do battle. It really is anyone's title to take and all of these guys are capable to win on any given night. The majority of them have proved it in the past that they can win; it's just putting it together for all of the rounds, staying healthy, and staying consistent after the reset.
One guy that I can see turning it up another level is Hayes. Hayes has been the bridesmaid twice and finished third last year. He's got to be feeling incredibly motivated heading into this season. He switched over to the #90 this year for a fresh start and he will be a very big threat for wins on his Monster Energy Babbitt's Kawasaki.
Another rider that I have high expectations for in 2017 is Lamay. The Alaskan Assassin is starting his first full season of arenacross racing. Last year Lamay had a late start to the season as he was racing in Germany and his TiLube Honda deal came up at the last minute. Regardless, Lamay was able to win some races and stood atop the box on more that one occasion. He's tall and he has an advantage in the whoops on his 250. I recently talked to him and he said that he was working on being more aggressive this season. He's got the correct build for it as we've seen the big bear Tyler Bowers win title after title in the past. I could see Lamay taking over this series at some point if he can get some starts, ride a wide bike, and take off.
I also have a really good feeling about Ohio's own Steven Mages this year. Mages is an incredible dark horse pick for this championship. He spent last year chasing the 250SX West Region on an Atlas/Slakawear KTM, but now he's back full-time in arenacross. It will be interesting to see how he will fare this weekend considering that he had emergency appendix surgery earlier in the week. The doctor told him that he was good to race this weekend on Thursday and he's running it! He's back home on Kawasaki, which is a brand he's ridden for the majority of his career. Keep an eye on the #12 Custom Powersports rider in 2017.
Of course I have to mention Travis Sewell at some point in this article. He's on a new Babbitt's Kawasaki ride and will be yet another title threat.
The past two seasons have come down to the final main events in Las Vegas. In 2015 it was a memorable take out move that decided the title would go to Regal instead of Hayes and last year Faith got the job done over Blose by a mere five points.
Cincinnati is the Anaheim 1 of Amsoil Arenacross. The excitement of not knowing who put in the most homework in the offseason alights track walk and the pits before practice even begins. It's going to be about getting a good gate pick and finding yourself in a good position off of the start. These guys are so good these days that only tenths separate them, so minimizing mistakes is key.
Keep me locked in on Twitter @troybendgen all Saturday because I will be in the heart of US Bank Arena checking out all of the things going on. Hopefully this column hyped you up for the race because I'm about to jump out of my skin. Let's go racing!