Here are three key players from Saturday night
Here are three key players from Saturday night
Ken Roczen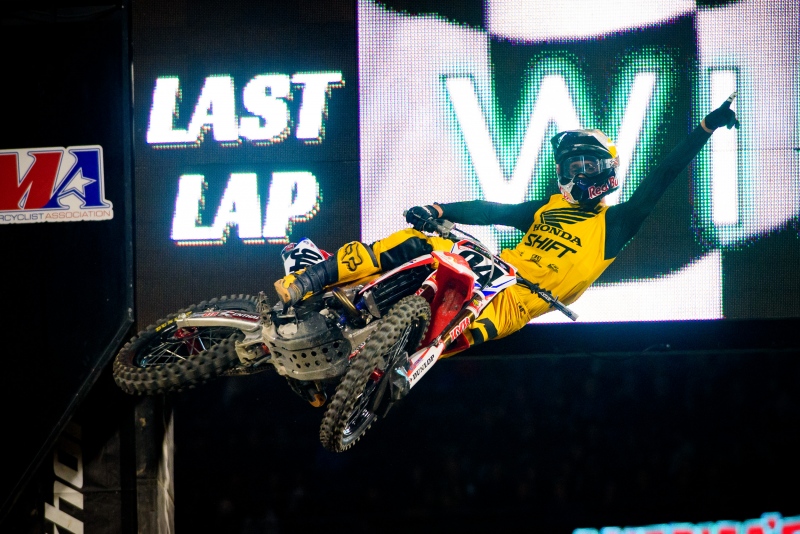 Roczen at A1=Riding clinic. Lissimore photo
What a start for you. A terrific race, terrific qualifying. Left no doubt in anybody's mind. You're on the game.
The biggest thing is that I have no doubt in my mind, but at the same time I'm staying really calm and trusting my capabilities and what I've done in the last few months, and especially the trust that I have in the team and the people around me. It's been a ton of fun. Everybody is in good vibes. Obviously I love getting good results. I love putting a smile on everybody's face. That helps out a lot. Obviously tonight went amazing. Like I said in the press conference, I'm just keeping my head on my shoulders and bring that focus every single weekend because I feel like in the previous years I've kind of got a little bit too anxious and rushed a little bit. I don't want that to happen this year.
More than anything you've got to be stoked about lap twelve. You started really pulling on those guys and opening your lead even more. That's got to make you happier than even sprinting away. That kind of shows you something.
Yeah, absolutely. I tried to do something different once in the whoops and that didn't work out at all so I think I just lost a coupe of tenths so I went back to it. That was one of the areas I wish I would have kind of figured out a little bit better. It was kind of like one of those things where you can hit them good or find a good line and it will give you such a better flow on the track. But also on the last few laps I kind of found my rhythm and could go even faster.
I know you're not a big practice or qualifier guy but the first one you were fastest. Second one not as good. You were sixth I think. Any worries or were you trying something?
No, not at all. I just haven't ridden since Tuesday and the track was a little bit weird. I didn't rush anything and just kind of rode to where I was comfortable. Like I said, I had no doubt in my mind going into the night show and going racing that I would feel uncomfortable or stuff like that. So I just kind of left it there and put a smile on my face and had fun.
The '96 CR McGrath thing. How awesome was that?
It's badass. It's a cool thing. If you see the VHS box that they made. There's a USB stick in there obviously, but it's just so sick in the video. It looks one on one like Jeremy. It was a cool thing. The part that was not so fun after I rode that thing I went to the test track and hopped on my bike and I felt like a novice out there. It was cool. It's coming out on the 10th so I'm really excited for people to see it.
Not worried about doing something like that before A1 obviously?
Nah. It's all right.
Weston Peick
How was the night?
The heat and semi were a little rough, not how I wanted. I wanted to qualify from the heat. A bad start and just it's a stacked field. If you don't get the start, everybody's pushing. You're only doing six laps so it's hard to make passes. Other than that the main event came around and I got a bad jump and there was a good opening in the first turn so I made it happen. I came out fifth or sixth. I ran up there for a while and kind of got passed by two or three people and then kind of settled in a groove and just had a pretty good race there for a minute. Then Reed came up on me and we just kind of duked it out there for a while. He put it in on me pretty hard once. We almost both went down. He T-boned me right before the red cross flag because I slowed down, and then he ended up DNF'ing or something happened. Other than that I think overall finishing A1 with an eighth place is not where I wanted to be but it's better than where I could have been.
The battle with Reed, you knocked something off. Radiator hose or something.
Yeah. He was coming after me and I had some faster sections and he had some faster sections. He hit me pretty god damn hard the first time. It's racing. I knew he was there and he thought I was going to check up, but I don't check up for nobody. I'll hit you right back as hard. I'll lean into you. We had that little first one and then there was the red cross flag going, and it was the second lap we came around. I was just cruising and he ran it in on me and T-boned me. I think he blew his radiator or something happened. I slowed down for a reason and whatever happens.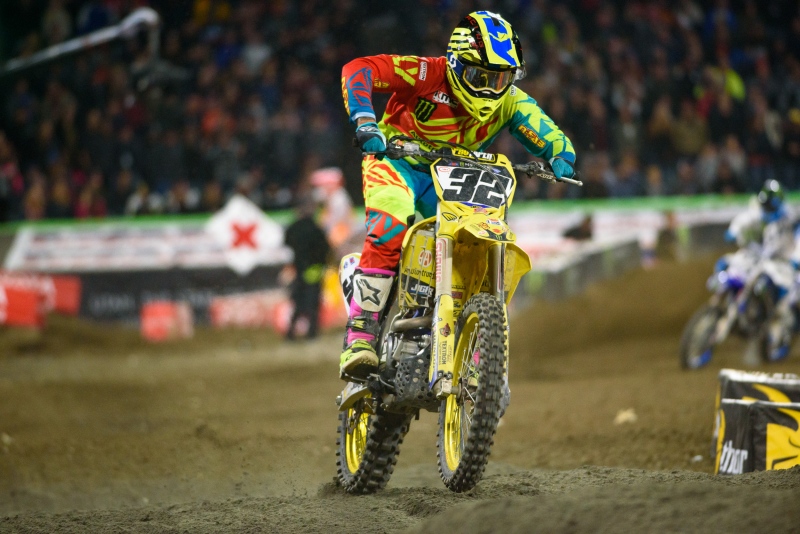 Weston Peick had another eventful Anaheim 1 Lissimore photo
The semi race we thought we were going to see some aggressive racing.
The semi was ridiculous. I got a bad start, caught my way up, made multiple passes. Then I got behind Friese and he just starts looking back, sees me. Idiot's cross-jumping me left and right, almost cleaning us both out. Then the last turn before the finish line I could have just snapped his femur.
I think you could have ran it in a little harder.
I could have ended his career. Actually, I should have.
But do you think about that suspension last year and all that?
I figured I have to race with the piece of shit all season, so I'm not going to start this off at A1 and start it off on the bad foot. I just had some words with him after telling him that he's an idiot rider and he doesn't know how to keep a straight line. It is what it is. We finished A1 actually racing and not sitting on the sidelines.
You've got to be stoked. I was talking to him before the day. It really is a stacked field. Eighth place come away… Some guys, Pourcel didn't make the main and Canard didn't finish. It's a gnarly field, so I think you've got to be stoked with an eighth.
Yeah, I'm happy because I think in the end of the day the way everything pans out every year is consistency. Taking an eighth place at A1 is just as good as a win considering how so many people get injured and there's so many crazy things that happen. It's a battle for consistency.
Or you could be Phil.
I could be Phil and hang myself in the trailer.
You've been back on a Suzuki for a little bit now. I don't want you to shit talk the Yamaha or anything, but what do you like about the Suzuki that's better? What are you enjoying? You've rode them before RCH days. What are you enjoying about the RM-Z?
It's a little bit of everything. I think that the Yamaha fits certain riders. I like the Yamaha but it's a hard bike to setup and get right consistently week in and week out.
With different terrains or something?
Yeah, different terrains, different dirts. It's hard to get that bike to work everywhere. I think what suits me better with the Suzuki is I can find a good setting and I can race that setting from A1 all the way until Vegas, and I can be at least 80% riding the Suzuki no matter what happens. It's just those little things that the Suzuki does better than the Yamaha, but both bikes are good. They both do their job.
I'm sure your bike's pretty fast, but do you miss a bit of the Yamaha bottom throttle response?
The Suzuki's are definitely getting there faster-wise but I think the Yamahas have a freaking killer bottom end where you can seat bounce and pretty much do anything you want. That also hurts you at the same time. Having too much power wears you out. It's a rider preference.
Phil Nicoletti
Good start, third. Hit somebody then…
No, I didn't hit somebody. Somebody hit me.
And then your rear brake?
It must have got stuck in the dude's spoke and was touching my foot peg.
You were kicking it.
I was trying, I just didn't have enough leverage so I pulled in. Murph moved it about an inch just to give me some wiggle room. I'm okay if we're risking it for the biscuit but I'm not going to be dragging my rear brake off triple faces. So I put myself in a good position. I think everything would have been good. It is what it is. Didn't show much. Heat race obviously had a bad start, made a little bit work.
You fell in the first lap of practice or very early. You fell in the heat. Had to pull in early in the main.
Sick day, huh?
Just kind of sucked but what'd you think overall?
Honestly I felt really good. We had a couple tip overs and stuff but it wasn't like anything spectacular. It is what it is.
We're one round in and you've already had an incident with another rider. Scotty Champion apparently had some words for you.
He called me a squirrel, and he didn't make the main. Go figure.
Apparently you said it's going to be a long year if you don't shut up.
It is what it is. It's a heat race. I'm going for it. I caught you from dead last, passed you. I qualified, you didn't. End of story. I'm not going to argue about it. But like I said, it was good. The guys at Suzuki did an awesome job, Yoshimura. I'm bummed about the night but I do have a lot more in the tank. I do feel good on the 250.
Jeremy was saying when he lapped you he was very happy. He said you were squirreling out.
I was going the same pace as him. I think he was in sixth or seventh and I had no rear brake and he was following somebody the whole main event. Reardon, somebody on a blue bike. I was like, man, Jeremy's really killing it right now. It was a bummer for him because he's paid to win and I expect to be on the box. It was a good weekend. It is what it is and move on.
Did you see how good Weimer did with a Pulp sticker?
I'm pumped for Jake. I've always been a fan of Jake, even when I was a squid back in 2010 and he was winning his championships. He was a cool guy to me.
You never gave him a throat slit gesture?
No, I had no reason to. He was always out front and I was in the back. Everyone on the team did good so we're happy for round one.
Shane McElrath
Congratulations. None of us were talking about you, I'll be honest. We were like, McElrath's going to be good, but we didn't see this coming. Heat race, main event, no worries at all. You've got to be stoked.
The last probably month the media has been out at the track and everybody's been talking. It's easy to kind of get caught up in that but at the same time we've been working for four months and we've had two or three little breaks. So we've definitely put in our work. I think it was beneficial to come in under the radar. It sucks when you get the internet and see pictures and videos of how fast everybody else is going and then you're kind of bummed because you don't see yourself. Us as racers, we always like to see "how do we look in this picture?" "What can we do better?" We just put in our work. It was time to race tonight and that's kind of what I've been looking forward to. We know what we've got to do. We've worked on our weaknesses and it's time to put it in play. It still doesn't feel real. It's weird because I know everybody had a bunch of talk about everybody else – not that I thought I was the underdog but it's like everybody's going to be really good. The top ten qualifiers were in like two seconds. With how the track was, that could have been anybody's race. we've been working on my starts and just really learning about everything. It was good to put everything into play and put it together.
Nice job and now you have the red plate and everybody's going to be watching you now. Now you're on everybody's radar.