We're all headcases…and the 450 class is no different.
We're all headcases…and the 450 class is no different.
Photos: James Lissimore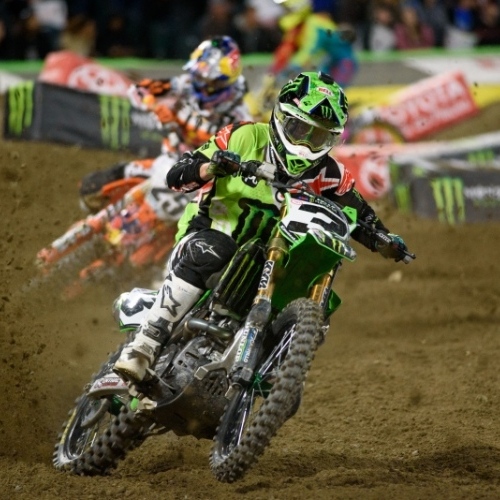 Tomac changed everything at Glendale…but can he stay consistent?
I knew this would happen as soon as Ken Roczen had to hit the eject button at Anaheim 2. No, I'm not talking about Ryan Dungey running away with the title (or the media getting yelled at for it); I'm talking about other riders stepping it up. In this sport we often see riders that seem to step up their confidence and speed level as soon as some race winner is out due to injury.
You can call me a fool all you want and tell me, "You're an idiot this doesn't happen. All of those guys are trying their best every week." I'm not saying they don't bro, put your pitchforks and torches down. My theory on the 450SX class this season is quite simple really. As soon as Kenny Roczen showed up to the press conference all clean cut in his suit and tie he had the upper hand. He just carried this confidence about him. The other riders saw this and his speed on the track and were halfway beaten before the first gate drop. K-Roc won the first two main events and it just wasn't looking good for everyone, despite Dungey keeping the pace at A2.
Here's the thing though, I feel like the class isn't as intimidated by Dungey as they might be of Roczen this year. Most of the best riders in the class have been able to beat Dungey at one point or another (in a race) and have been able to at least battle with him over the years. Roczen has been more dominant as of late and I don't think some riders carry the same confidence when racing him because of this fact.
With Roczen out we are beginning to see the depth of the class come into play. Eli Tomac and Chad Reed who went 8-7 respectively at Anaheim 2 went 1-2 in Glendale. Both Tomac and Reed had been noticeably struggling through the first three rounds and this turnaround is much needed so that we don't have another Dungey runaway. The real problem is that Dungey already has a fifteen-point lead on Marvin Musquin and twenty on Tomac and Cole Seely.
Most of the concern lies in Tomac this season. We really don't know what to expect from him on a given night. The first three rounds were very unTomac-like and he just wasn't on the pace. Now all of a sudden he rights all of his struggles and wins a main event? So, does this mean that all of a sudden he's cured and going to go on a win streak? Reed is in the same boat this season, so does he reel off a couple of main event wins too? As a matter of fact how many other riders will get a main event win this year? Will they be able to contend for the championship in the end?The good news is that we've got thirteen rounds left and we've also only been through one month of racing. Do we see more riders step up and win main events? If they do will they remain consistent through the remainder of the season and make a run at the title? Or is this simply Dungey's championship until the end? If Dungey is feeling it he is going to go for the win and if he doesn't feel as comfortable he will still finish on the podium. Unless something drastic happens Dungey is going to finish on the podium in every race and history has proven that fact. Is thirteen rounds enough time to chip away the points on an always-consistent Dungey?
I'm hoping that this column doesn't get taken the wrong way and get the top guys angry. I do think that Roczen being out has something to do with other riders getting more confidence. Maybe they really have found that magic setting, or maybe it's a little bit of both? Or, maybe I'm just crazy and these guys would have had the same results no matter what.
Nothing is being handed to anybody and with thirteen races to go I'm starting to have a great feeling that this championship will go down to the final few rounds. I think I speak for mostly everyone when I say that I don't care who wins the championship. I just want to see thirteen main events with incredible racing and NO more injuries.
Thank you for reading my columns! If you'd like to chat about anything else you can reach me at troybendgen@gmail.com or troy@pulpmx.com. You can also reach me on Twitter and Instagram @troybendgen.