Seven titles in five years.
Seven titles in five years.
Photos: James Lissimore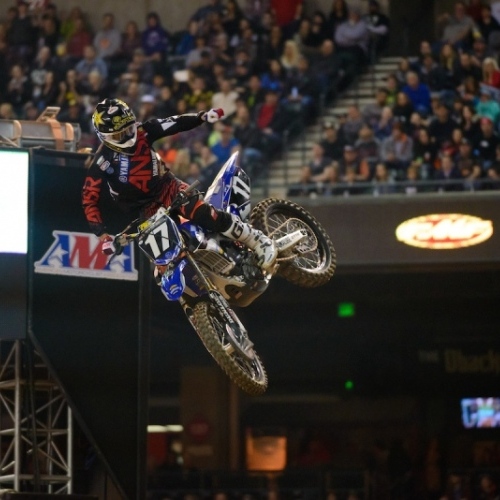 Savatgy has big shoes to fill with the #17.
When Joey Savatgy makes his season debut this weekend in Minneapolis he's going to be in great company. That's because the Pro Circuit Kawasaki rider will be rocking the #17, which has been a well sought out number the last half of a decade.
Since the great Robbie Reynard passed the number on at the end of the 2009 season the #17 has graced four 250 class greats before Savatgy got ahold of it this year. In 2010 Justin Barcia started the party when he was fast and up in the mix all season. However, it wasn't until 2011 that Barcia was able to bring home a 250SX East Region championship while wearing the number. Barcia went on to carry the #20 in 2013 and the #17 went to his teammate at the time under the GEICO Honda truck Eli Tomac.
Tomac carried the #17 in 2012 and 2013 while winning both the 2012 250SX West Region and the 2013 250MX Lucas Oil Pro Motocross Championship. After that Tomac moved on to the 450 class and with it chose the #3 for his career number. The #17 was then passed onto Rockstar KTM's Jason Anderson for the 2014 season.
Anderson wore the number well with his jersey flapping in the breeze. Sometimes you couldn't tell if he was #1 or #7, but at the end of the 250SX West Region that season he was in fact #1. It was starting to get scary at this point. Like, maybe Reynard had put some sort of magic on the number after all? That was four championships in four years with three different riders. Anderson moved onto the premier class in 2015 and took the #21 with him, which vacated the "magic number" once again.
Well, where Anderson dropped it off that's where Cooper Webb picked it right up. Webb reeled off the 250SX West championship in 2015 and then defended that once again in 2016, then showed everyone who was boss during last year's Lucas Oil Pro Motocross championship. Webb has now moved onto the 450 class and chose the #2 for his career number and now it's Savatgy's turn. Doesn't all of this sound like a familiar cycle? It's actually kind of scary how great those riders have been with it.
It could be due to the fact that the #17 always seems to be one of the lowest numbers available for second or third year guys to take. They are usually on the way to the top at this point anyway. So, it is kind of funny that we can call it before the season even starts. Savatgy is that next guy in line and we can all see it coming.
IF Savatgy ends up being the man to beat in 2017 it's going to be pretty remarkable. It's not a long shot if he is because he's been building everything up to this point of his career. This is all setting up to be Joey's season and methinks that he will take full advantage of the opportunity.
Now the number juju is just something I obviously made up. It's cool how successful riders have been while wearing it, but it only makes for great bench racing. Obviously the riders that have come in contact with the #17 have all been on their way up and were going to do great anyway. The stats are pretty incredible if you add them up. Since 2012 the rider who is national #17 has won seven titles in the 250 class. That's quite a run!
Savatgy is my title favorite for both supercross and motocross this season. I think that he has taken his game to another level and it's his time to get the job done. It's something that I assumed would have happened earlier than 2017, but that's only because I had the chance to watch him ride as an amateur a lot. In fact I would say that I've watched Savatgy spin more laps before he went pro more than anyone except maybe Webb. I saw his potential early and it should all culminate this season if he can stay injury free, otherwise he will be in the hunt for every race win.
What are your thoughts on it being Savatgy's year? Email me at troy@pulpmx.com or troybendgen@gmail.com. You can also reach me on Instagram/Twitter: @troybendgen. Thanks for reading!