Here's everything that DV saw and heard while he was in Minneapolis
Here's everything that DV saw and heard while he was in Minneapolis
The series came back to Minneapolis for the first time in four years and a nice new stadium. Not many people had good things to say about the track, what did you think?
It seems like we talk about tracks way too much these days. I'm sure Joey Savatgy and Eli Tomac enjoyed it. We get a new track every weekend and the challenge is to adapt to it as fast as you can. No matter what it is. Even if the race was in the parking lot around cones, you have to adapt to perform the best. I find it very interesting to think about how to go fast and what lines are the best or what combos. I thought there was some good racing even if most of the riders didn't like the track. I just think "the track sucks" conversations are getting old. The track is what it is. Put some effort to go around it the fast and the most consistent way possible because you gonna have to deal with it all day. I myself liked the track because there were some secrets on how to go fast on it but it was in the small details that could make you gain significant time.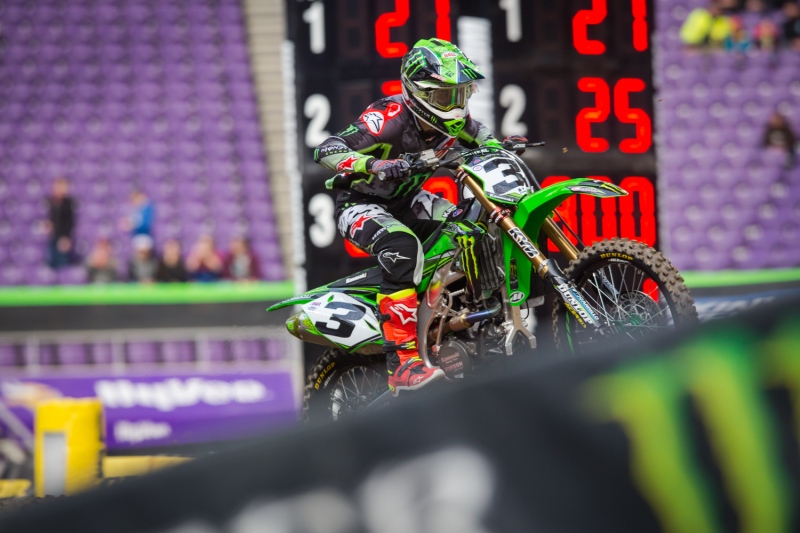 Tomac was, once again, very good in Minneapolis.
The tracks don't seem to be able to hold up very well to all these laps in the main events with riders saying it's getting a bit dangerous. Thoughts on this?
Once again, I like that part of the racing. You have to adapt to the track changes and your lines and combos have to evolve with it. It obviously gets more chewed up because the 250 main was 4 laps longer and the 450 was 6. That's when you have to use your head and make some changes. For example, after the sand in the beginning of the 450 main, the outside was better. Towards the end of the main, the inside rut, even as deep as it was, was faster. In the whoops, skimming them early in the race was ok but jumping them at the end was better. As for the dangerousness of the track at the end of the mains, you have to make the best decisions. Not Saturday because everyone jumped everything the whole race but some races the big rhythm sections won't be able to be jumped the whole race. Riders have to be smart about it and not take too many chances when the track gets really rutted.
On some tracks it will help to be fearless and a little reckless to win races. It all depends the degree of danger the riders can deal with. Technique and riders' skills to deal with ruts also come into play. Riders bitch when the track isn't what they like, they bitch about small whoops, big whoops, ruts, no ruts, lappers and on and on. I think the track breaking down is great for skilled well-trained riders. Tomac and Musquin are the proof of it this weekend… The bottom line is that SX is dangerous and if you don't like it, join a bowling league. If we make SX safe and mellow, we'll get races like the SMX in Germany. I don't know if you guys liked that but if US SX becomes that, I will never watch a SX race ever again…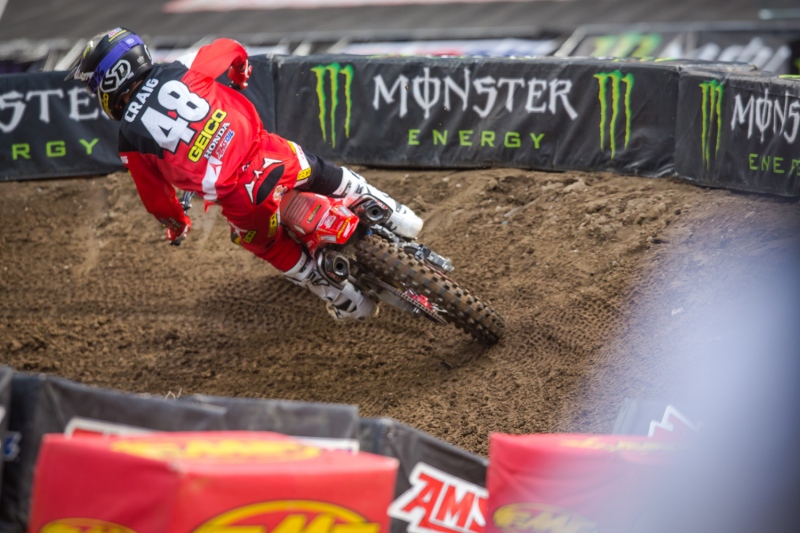 DV's rider looked great in the heat race, not so much in the main.
Well some good for your rider Christian Craig but a poor start and a crash in the main held him back from a good finish. Thoughts on CC's performance going forward from here?
A first race of the season can go in so many different ways. Some get pumped up. Some wait to see where they stand. Some grenade themselves… The vibe is always weird. Christian did ok in practice with the 3rd fastest time. It wasn't the best Christian I've seen but the way he rode was encouraging because just a few minor changes could've made him better. That's what we tried to focus on before the night show. The heat race went well. He got a good start, jumped all the combos the fast way on a 250, clocked the best heat race lap time and the fastest heat. Not in overall time but in number of laps. If you look back at that race, he rode on his own all day. Three practices alone to clock fast laps. He led the heat race from the start and won by a large margin.
But in the main, he got a mid-pack start and for the first time of the day he was surrounded by a bunch of guys and was lost. He never got going and even crashed off the track when another rider went down in front of him. Obviously, a 12th place wasn't what we were expecting but we have to make him rebound quick. We'll keep working and we have to fix a few things. We're in Florida this week to prepare Atlanta. I'm confident he's the best rider of the East Coast championship if he rides like he knows how to but he will have to become a better racer to race in front.
Well Eli Tomac rode great on a deteriorating track to take his third win in four weekends, where did you think he was really good?
Eli was on a mission all day. He was charging a lot on this track and wanted to make a statement. His lap time in practice was the proof. He was a full second faster than Marvin in 2nd. At this level, it's a lot! Same thing in the Main. He was super aggressive and was taking a lot of chances. He was borderline sketchy at times especially in the sand but made it work. He kept doing the fast way thru the long rhythm section, the triple-triple after the start. I liked the way he changed in the whoops. He started jumping thru them nicely. But what impressed me a lot is the intensity he kept the whole moto thru the turns. He charged them until the last lap which was a good strategy because the crafty Marvin was actually catching him towards the end. Marvin's racing IQ and ability to adapt to the track and find the faster line on the deteriorating track helped him a lot. More on that later. As of Tomac, if he wants to have a chance for the title he will have to ride like that and win if he wants to catch Ryan and Marvin in the championship. Because he (and us) know those 2 KTM guys will not be off the podium too many times until the end of the season. Eli has nothing to lose and he's riding like it. That's really his only strategy right now.
Is something wrong with Ryan Dungey, he was caught and passed by Musquin, something that never usually happens.
Dungey's race was divided in two different parts. The first part was good. He kept Eli's pace at the beginning of the race and at one point I thought he might have something for Tomac. He was riding well on Eli's rear wheel. They both were pulling away from Marvin, which was over 10 seconds back at one point on the main event. Then, something happened. He started losing contact with lappers. Eli is better going around them than Dungey. Ryan's riding didn't evolve enough in the main. He stayed in his lines that were getting slower for too long. He wasn't confortable in the sand nor in the turn after. He kept going outside for too long.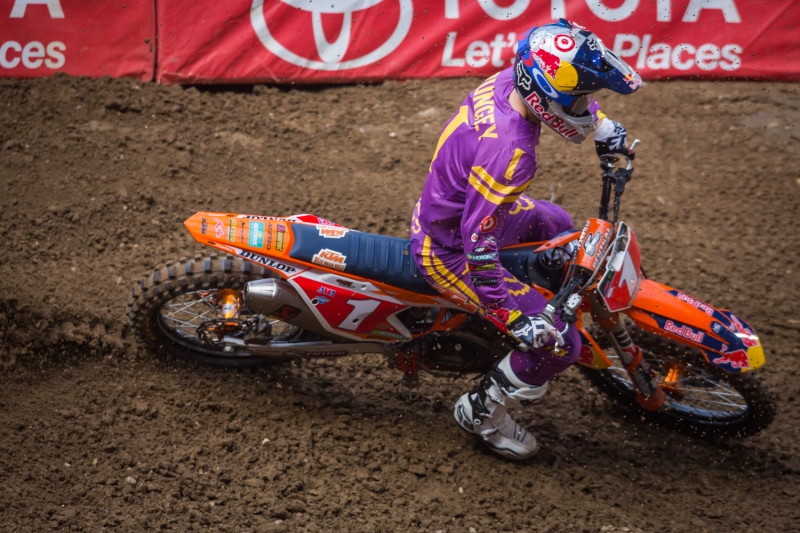 Vuillemin says Dungey's race broke down into two races.
After halfway, inside-inside was the way to go in that switchback. Dungey picked up on it only after Marvin passed him taking the inside line after the same. The same goes with the whoops. He stayed in the main line for too long. The best line later in the race was to jump in far on the ride side. He also started to do so after Marvin passed him and it was too late. I don't think Ryan's race was all bad. There was some positive because he had the pace early in the race. That's also the first race, since he got the red plate, he's lost points on second place in the standing. He will have to counter attack if he doesn't want Eli and Marvin to get their momentum and confidence going.
Musquin seems to be excelling when the tracks get really broken down, why is that?
I talked about it earlier. I think Marvin is great on tracks that break down because he's a very smart rider. He might have the best riding IQ of the field. He adapts so well to the conditions and he's not scared to be creative with the track. Other riders don't like to take chances to switch their lines or change the way they jump stuff and ultimately they start losing time. His main thing is to jump the whoops. Saturday, the way he jumped in the whoops was pretty sick. He wheelied before the first one and wheel tap on the first big whoop which propelled him 4 whoops deep. Two more hops and he was out of them. He couldn't do it every lap but when he did it was super fast. He started going inside-inside in the switchback after the sand as soon as the outside line wasn't good. Even Tomac kept going wide too long. He has a great vision when it comes to finding the smooth and fast lines when the main one isn't good anymore. He did just that last weekend in Dallas. His two sets of whoops in Dallas were great.
The points standings at it is right now, his second place in the main is like a win for him. That might have been the first time he caught Dungey and passed him like that. It was an impressive ride because I told myself when he was losing ground on Eli and Ryan that he couldn't do better than a 3rd in Minneapolis. He proved me wrong and kept grinding. He gapped RD by 9 seconds after he passed him and gained a handful of seconds on Eli to finish 6 seconds behind after being 6th on lap 1. I thought it was a better ride for him this weekend than the race he won in Dallas. I've been waiting for a while to see him have a race like that.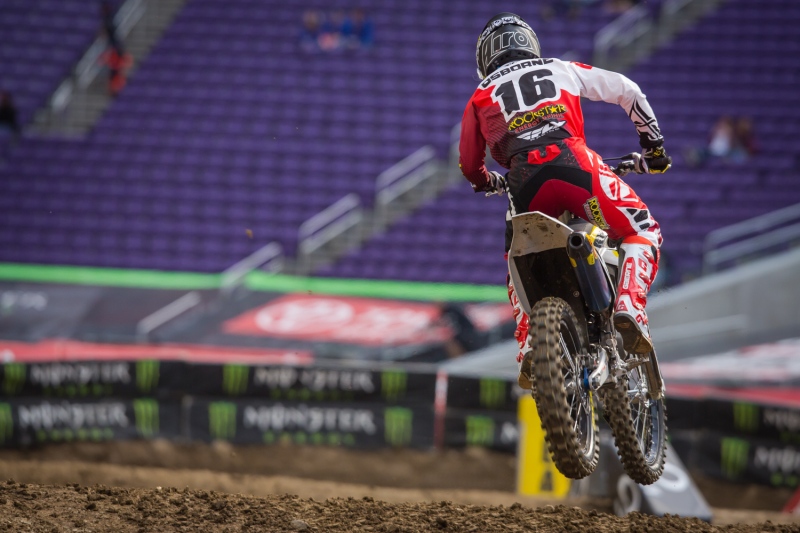 Osborne was very fast all day in Minny but had to settle for third after a fall.
Joey Savatgy wasn't blazing fast all day but he won his heat and rode steady in the main to take the win, thoughts on the 250 class? Surprises? Disappointments?
Joey got the job done. He got a good start in the main when it counted, took his time to pass a surprising Smith and went on to win the main. I'm sure he would tell you that it wasn't the best he rode but he's leaving Minnesota with 25 points. It's all that matters at this point. Smith was maybe the biggest surprise of the night in both classes. He was almost 2 seconds off the fastest lap in practice, had an eventful heat race where he qualified 9th. He was at the 18th gate on the outside, pulled the holeshot, led 10 laps and finished 2nd, only 1.4 second behind the Racer X East Coast Preview Podcast favorite. You gotta give it to him, he stepped it up.
Osborne was also very good in Minny. Fastest in practice and finished 3rd in the main less than 2 seconds behind Savatgy with a crash in the turn after the sand. He's definitely ready. Riding and training with Dungey, Musquin and Anderson had to help him. Hampshire did good in the main. He was 2 seconds off in practice but clocked the 2nd fastest lap of the main behind Osborne. They both were the only ones under 50 seconds. RJ went on to finish 4th which is a good results. As for the disappointments, I hate to say it but I have to be objective. I have to put Christian in there. A 12th place wasn't what we expected but we'll work to rebound as quickly as possible.
Story time! You have any Minneapolis SX memories?
First time I raced Minneapolis was in 1997, 20 years ago. That was the year before I was racing Dowd for the championship. I was a privateer on a YZ125 with help from FMF. I started the season as a Chaparral rider but bailed out from the team before the first race in LA. We had nothing 4-5 days before the first race at the Coliseum. We went back to FMF to see if they had a bike and if I could race or if I had to go back home to France. They had one, but it was the dyno bike. We built it with my dad's parts and suspensions, grips and graphics and went to race. Finished 5th at the first race. 2nd at the 2nd race behind the "infamous" Deegan ghost ride. Sucked in Phoenix and the last west race of the start of the year was Seattle. We gave $200 to a privateer named Bateman to bring my bike, a toolbox and a box of parts. I flew to Seattle. Landed, rented a U-Haul, picked my bike and went racing. I won the 125 Main in the Kingdome. That was great. It was a huge accomplishment with an old bike, a tool box and an Haul truck.
The series went East after that to Indy, Atlanta and Daytona. The next West Coast races were in a row, Minneapolis and Houston. I didn't have races in Europe so I came back for those 2 races since I was doing well in the series. FMF did some deal with the Pit Pro Suzuki team to haul my bike to those 2 races. Got to Minny and it was -25 degrees. I've never seen that before! It was the race MC showed up with his RM250 with upside down Showa forks and won his first race on the Suzuki. Windham was pretty much unbeatable in 125s then and I got 2nd in the main in Minneapolis in the old Metrodome. Looking back and thinking about it, we were plain crazy. No one does that anymore and I don't think it could be done again. A French kid racing a dyno bike out of a U-Haul box van and racing one of the best riders to ever ride a 125? As I write this, I almost don't believe what I'm writing but it's actually 100% true. It shows you the drive and the motivation we had to succeed and become someone in this American series. Did I mention I was paying for everything? Needless to say, I will never do it over again! A few years later in 2000, I won my 3rd premier class Supercross race in the Metrodome which no one ever talks about that race but it's one of my favorites with New Orleans the same year.