This is the oral history of the 1996 AMA 250 Supercross season.
This is the oral history of the 1996 AMA 250 Supercross season.
Coming into the 1996 AMA Supercross season, most experts thought it was a foregone conclusion that Honda's Jeremy McGrath would win his fourth-straight 250SX title. At this point, the humble kid from Murrieta, California, was setting records every time he racked up another win. The year prior, McGrath might have been at his best, adding a 250MX title to his resume for the first time, something some people had wondered if he'd ever be able to do. 
At his physical and mental peak and with a Honda CR250 that was perhaps never better, MC went into 1996 looking to become the first-ever four-time AMA Supercross Champion. Winning the title again wasn't the surprise, but the the way he did it has never been topped and still gets talked about now, 20 years later.
This is the oral history of the 1996 AMA 250 Supercross season.
The people involved:
Jeremy McGrath:
Then: Factory Honda rider
Now: Kawasaki Racing ambassador
Jeff Emig:
Then: Factory Kawasaki rider
Now: Supercross TV analyst for Fox Sports/Husqvarna Racing ambassador
Skip Norfolk:
Then: Factory Honda mechanic for McGrath
Now: Crew chief for Traders Racing Yamaha team
Mike LaRocco:
Then: Factory Suzuki rider
Now: GEICO Honda team manager
Damon Bradshaw:
Then: Factory Yamaha rider
Now: Monster Jam monster truck driver
Phil Lawrence:
Then: Great Western Bank Kawasaki rider
Now: Owner, Factory Phil's Lot Sweeping
Denny Stephenson:
Then: Great Western Bank Kawasaki rider
Now: Construction worker in Omaha, Nebraska
Damon Huffman:
Then: Factory Kawasaki rider
Now: LAPD officer
Rich Taylor:
Then: Privateer racer/Honda R&D rider
Now: Owner, EKS Brand Goggles
Davey Coombs:
Then: ESPN pit reporter
Now: Racer X Illustrated editor-in-chief
PRELUDE: Boom goes the lights
At the final round of AMA Supercross in 1995 in Las Vegas, an electrical transformer exploded and the stadium lights went out. The AMA brought in portable lights, but a lot of the riders didn't want to race. Whether that was due to the lighting situation or unhappiness with the promotion of the series depends on who you talk to. Yamaha's Jeff Emig did line up and won his first career 250SX main event, with Jeremy McGrath and other series' regulars choosing not to race. The decision by Emig and others to race did not sit well with the ones that sat out.
Davey Coombs: We always talk about the night the lights went out in Vegas, and what a weird night that was. Some riders boycotted, some didn't. Jeremy [McGrath] didn't race and Jeff [Emig] got his first win. But I don't think anyone realized that would really be the tipping point of two things. One, it was going to change supercross forever because the promoters had to get together. They had to make a better series. They had to work better with the riders.
And two, as far as Jeremy goes, I think he was so mad that those guys didn't follow him—including Jeff Emig—through the walkout that he decided he was going to lay down the law. If you remember, he dominated that summer outdoors. Then he rolled into '96 and he just looked different from the first practice on.
Jeremy McGrath: Do you know how hard it was for me to drive out of that parking lot and not race? We had 15 supercrosses that year and I won 10 of them. So for me to not want to go out and win another race … I love riding my dirt bike more than anything in the whole world, and winning is just as important. I was blown away when people were thinking that I was trying to boycott and unionize the sport and all this stuff. I didn't think it was safe. That's why I didn't race.
Jeff Emig: In Vegas in '95 there was a lot of circumstances that made it easier that night—reasons why some of the riders chose not to ride or whatever. I got my name in the record book. I made, like, 50 grand. Whatever. But still, the goal wasn't just to go win a supercross. The goal was to be better than Jeremy McGrath and to beat Jeremy McGrath in a championship. That was the goal and I didn't do that in Vegas.
Coombs: I'll never forget that night in Vegas. Emig kind of stood at the door of the after party. He was practically apologizing to anyone who would listen, like, "I had to race, man. Yamaha said that's why they pay me. Keith McCarty gave me a heart to heart." Everyone understood that but I think there was also this feeling that he sort of betrayed Jeremy and snuck a win away when Jeremy wasn't there.
McGrath: That race stuck in my head for a lot of years. Larry Ward was out there too. Emig and Larry Ward are the ones I really remember being out there. The reason why it was so huge is not because they raced, but because we all said we weren't going to race and then they raced. We all came together and said, This is a bad deal. The few guys that went out there and raced, I wanted to beat them and beat them bad every time the gate dropped.
Denny Stephenson: A win's a win anywhere, but I'd say industry-wise and peer-wise I think a lot of people felt the same way. I know Jeremy thought it was chicken shit that he [Emig] raced. Even years later at Havasu, Jeremy was still giving Jeff shit about it. 
PRE-SEASON: Key to the Puzzle
Skip Norfolk: I don't think I ever recall being as confident and as ready to go to the first round as I was that year. Even in subsequent years of being involved with racing and having some really amazing guys, there was no doubt we were ready for the gate to drop in '96, and ready to take the checkered flag. There wasn't anything about "let's see where we stack up, let's see how everybody else is doing." No, we're winning.
McGrath: I felt unbelievable. After winning the outdoor title in 1995, I felt like I learned how to commit myself and do what I needed to do to get the motocross series championship. I figured I had the key to the puzzle. It's on now. Nobody's going to beat me. Supercross I got unlocked, so now we're going to take down the outdoors for a while here. 
Emig: By the end of 1995, I had spent five years with Yamaha that were amazing and around such great people, but I do feel like my off-track behavior had really worn out my welcome with them. The individuals on the team were such a big part of my growth as a person, a man, a rider, but things were getting a little out of control by '95. [Team manager] Keith McCarty, I'm sure he was like, "Man, this is my best guy and I'm going to have to pay him more money than what I've ever paid him before?" I'm quite sure that he just didn't like my behavior. 
The easiest way to put it, I just felt like I wore out my welcome. I felt like I needed a change, too. In 1996 Roy Turner was team manager at Kawasaki and I felt like Roy was probably a little more open-minded with lifestyle choices. You get your work done and you win races. I mean, Jimmy Weinert had been on Kawasaki, there was Ron Lechien, there was Jeff Matiasevich. It's gotta be all downhill from there, right? Or so they thought!
Damon Huffman: I had two great years in '94 and '95. In '95 I dominated the 125SX West Coast series. I think I ended up third overall in the 125 Nationals with one or two wins in there. That was right in my prime. I locked down a three-year deal with Kawi that was great. We did a ton of pre-season testing. All that went really, really good. I was ready. My confidence was high. I was super pumped on the bike, new team. Everything was really exciting. 
Phil Lawrence: I had been a factory rider at Suzuki in '95 but they dropped me so I got on the Great Western Bank Kawasaki team that Dave and Jim Castillo started. It was fun. I had my friends on it and I liked the Kawasaki. The week before the supercross opener, I won the Perris Invitational SX race. So I knew I was riding really well. I beat some good guys there. 
Stephenson: In '95 I was with F&S Suzuki with some backdoor help from factory Suzuki. They didn't want to renew for '96 so I was going to quit. Davey Castillo called me and said, "Hey, what's your plans?" I'm like, "I really don't know yet. I think I might just hang it up." He said not to do that and give him a couple of days. Then a couple days went by, he called me back and said, "My dad just bought you a bike and a flight. Get your ass out here. We're starting a team." I'm like, "Oh shit, that sounds great." So I flew out there, went up to the [Castillo] ranch and we started the Great Western Bank team basically.
Mike LaRocco: I had been with Kawasaki for five years and signed with Suzuki for 1996. When I got there, it was a new model year and I had come off a pretty extensive knee injury in '95. I was uncomfortable during the testing but I kind of thought it was because I'd been off the bike that long. There were a number of things that I thought was contributing. The reality of what was going wrong with the bikes—and then my confidence—was the power valve would stick open. The linkage would break every time I rode it. The foot pegs would break off. There were a number of things going wrong with that model that were confidence robbing. It's not like they [Suzuki] weren't trying to overcome them, but once you're into the season and you discover all that stuff it's too late.
Damon Bradshaw: I had quit at the end of 1993 but Yamaha had told me they hoped that they would be the first ones I would talk to if I wanted to race again. So I did and they opened the doors and there I was. I was excited about it and Yamaha was excited about it.
Rich Taylor: I was doing all the R&D at Honda for the production bikes, and some testing for the race team. Parts would come in and they'd let me guinea pig them and ride with them. Then they would give them to Jeremy and Steve [Lamson] to take what was good and bad. For me, 1996 was a little bit of a crazy year. The supercrosses, I was kind of picking and choosing what I could race because Honda was coming out with the aluminum frame in '97, so they had us in Japan a lot of the year testing, and a lot of testing in California as well. So I didn't hit all the races that year until the outdoors.
ROUND ONE: THE OPENER IN ORLANDO
As the 1996 AMA Supercross season got going in Orlando, Florida, the vibe in the pits was that Jeremy McGrath was going to win his fourth 250SX title in a row. In fact Cycle News had 13 people select their champion and only one picked someone other than McGrath. And he painted Emig's helmet! 
When the gate dropped for the main that night, the #1 Honda rider jumped out front early, passing Honda of Troy's Mike Brown in the third turn and then leading the rest of the way for victory number one on the year.
"This is a big race," McGrath told Cycle News. "It's always good to win the first one of the season. It's a real confidence builder."
McGrath out front wasn't a shock, but the two riders behind him were as Great Western Bank's Phil Lawrence came from fifth to second and Yamaha's Damon Bradshaw, in his first supercross race in almost two years, finished third.
"I guess I'm tired of getting shoved around," said a jubilant Lawrence to Cycle News. "I know I have the speed and the talent to hang with those guys, but something always seems to happen. I've had more confidence lately."
"I'm happy," Bradshaw told Cycle News. "I'm a little surprised to finish on the podium mainly because I hadn't gotten a good start all night and third place is the best I've ever done here [in Orlando]. This is really good, my body is 100 percent and this boosts my confidence."
McGrath: Everyone knew what was going to happen come Orlando '96, especially after winning the outdoor motocross series. I felt great.
Lawrence: Coming into Orlando I just didn't worry about anybody else and put my head down. I didn't get the best start. I came through, passed a lot of good guys, and I got second. I was pumped, really pumped. I wish I had somebody say, "See, you could do it! Keep your head down …" but like normal fashion I got all cocky like, "I can do it!" 
Bradshaw: I would have never have come back if I didn't think I had a chance to win. That was the only thing that ever drove me. Second and third to me was first loser and it sucked. So I didn't know about coming in and being able to win the title. I never really looked at titles probably like I should have. I looked at winning races and trying to do whatever it would take to do that.
Lawrence: A friend of mine, Steve Weidler, built me a motor and Mitch Payton also, but I just felt more consistent, more confident with the stock motor, so I said, I'm going to run it. Bone stock. My carb was good, and a Pro Circuit pipe and silencer was it. That '96 KX250 was awesome for me.
Stephenson: We flew in on the [Castillo] jet to Orlando. My dad and the other mechanics basically put the bikes together out of the trunk of a car. The team was put together last-minute; we were just happy just to be there. For Phil to come out with a podium just gave us the respect that we wanted to get. We're kind of for real. I think Bud [Antunez] and I put it in the mains, and Phil put it on the box. We're a real team, actually. We're not a bunch of screw-offs. 
Lawrence: That race was unbelievable. Bradshaw was my hero, my favorite rider of all time. To catch him and beat him—I was pumped. I was, like, you're kidding me! And he was on the podium, so he was riding well also. I was like, this was awesome! I wished at that point that I would have said, I could really do this! I know I said this, but I really didn't believe it.
Bradshaw: I don't remember that, but it sounds good to me. I don't doubt it. That's good. I'm glad Factory Phil has a memorable moment from beating me because I know I have a lot of memorable moments from beating him! [Laughs]
Taylor: McGrath just had it figured out. His bike was so good. That engine was just … if he missed a shift or something it didn't matter. That engine just pulled and you were good to go.
Norfolk: I don't remember much about Orlando to be honest! Most of my memories that are just ingrained were the blizzard conditions we had trying to get to the next race in Minneapolis. That's what sticks out in my memory banks.
Coombs: I was working for ESPN and we didn't have the pre-production meetings before the race like the guys do now. I was working with David Bailey and Art Eckman who were the gold standard. They were so good together that my job was just saying, "Jeremy, how does it feel to win?" That was my whole job. And I knew what I was going to say, so why have a meeting? We all knew that Jeremy was going to win.
ROUND TWO: ANOTHER WIN IN MINNY
Frigid temperatures greeted the series regulars as they rolled into the Metrodome in Minneapolis, Minnesota. According to Cycle News the track was a bit less technical than a lot of riders would've liked, but in the end it didn't matter. Jeremy McGrath grabbed the lead from teammate Steve Lamson on lap two and took off for his second win in two weeks. At one point he had a comfortable seven-second lead but Bradshaw closed it down to three by the end. Still, "Super Mac's" dominance was already being established. But was the old Bradshaw back after two podiums to start the season?
"I'm sorry I didn't put on a better show for you guys," McGrath told Cycle News about losing time late in the race. "But I was concentrating too hard out there."
"I was lapping riders really early and it was hard to pass on this track. My arms pumped up a bit and I slowed down towards the end. I was keeping tabs on those guys though."
"Those guys" were Bradshaw, Honda of Troy's Mike Craig, and Suzuki's Mike LaRocco. Craig and LaRocco battled it out for third and Craig looked to have it until a lapper collided with him near the end of the race and LaRocco slipped by.
"I'm excited to be up front, the racing was good," Bradshaw told Cycle News. "It's a hell of a lot more competitive now than it was when I retired. I had to ride my hardest the whole time."
"Third is better than fifth [where he finished the week prior]," said LaRocco. "But I'm not happy unless I get to race with McGrath." 
Norfolk: We knew there was going to be some bad weather in Minneapolis. I built the bike before going in. The best way I can explain it is just imagine driving inside of a ping-pong ball. It was a brutal snowstorm. We ended up getting there—I don't know how we got there, but coming down into the city, all of a sudden I get on the radio and I go, "Hey, the throttle linkage [in the van] is sticking wide open. I'm just going to throw the thing in neutral and we're going to blow it up." We pull off, and come to find out that it was so cold that when we started going down the hill some of the melted water that was laying up on the engine had rolled down and it was dripping onto the throttle linkage and it was so cold that as soon as it dripped and hit something it froze. Next morning, every tire on the box van was flat because it was so cold. We were from California. We didn't realize we needed to do something different. Your valve stems would shrink so much and get so hard, they would leak. We ended up towing all the box vans to a shop and worked out of there for a day. 
Coombs: Bradshaw did start out that year good. He came back in the middle of '95 when supercross was over. So the last time we saw Damon, if you remember, he still was able to beat Jeremy in '93, like in Houston. In fact, he was the last guy to win a race before Jeremy took over at Anaheim in '93, which was the third round of that series. A lot had happened since then though.
Norfolk: Then, the morning of the race, I couldn't get the bike to start. I'm in the box van, the heater's blowing on the bike, just trying to heat it up. We missed the first practice. Couldn't get it to start. Our race bike carburetors didn't have a choke circuit on them so I had to get it up to temperature and missed first practice.
McGrath: Minneapolis, I always remember how cold it was. I won the first six years there, even on the Suzuki. The fans there were super hyped and pretty much every year it was so cold, I think the fans were amped to get out and have fun. The track was always rad, the dirt was always great there for some reason. Always great and perfect traction and never really rutty like you would think it would be. It was perfect. The fan base up there was awesome, I guess they're passionate sports fans. I think a partial reason they liked me there was because the track was always great so I talked really highly of it. People saw me being genuine. If I just talked about how cold it was like a lot of other riders there did, they might not dig that.
ROUND THREE: HOMETOWN COOKING AT THE BIG A
Back in a warmer climate, and a hometown race for many in the series, round three took place at Angel Stadium in Southern California, the site of McGrath's first ever 250SX win in 1993. And he got his 32nd career win in front of 65,249 fans with Kawasaki's Damon Huffman finishing second for his first ever 250SX podium and Steve Lamson getting the last spot on the box.
"This is my favorite event of the year," Jeremy told Cycle News. "A lot of my friends and family come out here and this was where I got the first win so I'm always going to be pumped for a win here. I'm still a young guy so I've got more wins in front of me."
Cycle News asked Jeremy if he thought he could win all the races to which he replied: "No, I don't think so. I can sure try but I don't think I can. I just want to be consistent and win the title. If I can win 10 races again, I will be stoked."
McGrath: Racing in Anaheim was always awesome. I think it didn't really get distracting until the end of my career. There's always the friend element of it. When I was young I didn't have a long list to take care of. I'll tell you what, the thrill of riding in front of the fans in Anaheim far outweighed the distractions. It was always my favorite atmosphere and it always had the special feeling. It was my home race and I was fortunate for that. It was a special feeling to ride there.
Huffman: I wanted to beat Jeremy badly. I didn't really have a whole ton of race finishes on a 250 prior to that. I knew I was capable of a lot more. Once the Kawi was dialed, the bike was great, my confidence was high, and I was riding the best I'd ever ridden. So I had a lot of confidence from a couple of those races that year when I came through the pack to finish second like I did at Anaheim.
Norfolk: Anaheim was home. It was comfortable. The concerns we had about Anaheim and those races was you went from five or six friends to 150 friends, and then just having to deal with that. But we did a good job of taking care of it early on when it needed to be taken care of, and he was still able to do what he needed to do. It was easier for him to be home. 
LaRocco: I had spent the last two years thinking that I was going to be the guy to take him [McGrath] down; mentally I was anyways. I just needed to get it together and at this point, it wasn't going well.
McGrath: People have got to remember, LaRocco got a really bad break. In '95 he was riding Kawis and he was supposed to really be competitive with me. He broke his wrist early on. So that '95 year, LaRocco was probably going to be competing with me. I got a huge break by one of the main competitors being out. 
Emig: When I signed my deal with Kawasaki, my group of friends were, like, "Man, you've got to get serious. If you want to reach this goal, here's what you've got to do." I even hired a friend of mine, Erik Hilton, to come live with me to literally just babysit me. Like, "no more parties. Get in focus." He's waking me up in the morning like, "Come on, time to go run." He was studying sports psychology at the time at a university and tried to help me.
So I just felt that I really needed to get serious about it. I think I thought that maybe Keith [McCarty] at Yamaha was right about these issues I had. So, okay, let's get serious and let's get focused. I probably didn't even go to a New Year's Eve party or anything. I showed up to the first two races, I had put so much pressure on myself. I was riding so tight. I got arm pump. I was just an utter mess. And that's not who I was. So that didn't work for me. So you have to find that balance between fun and dedication and hard work.
ROUND FOUR: A CHALLENGER IN SEATTLE?
The Kingdome in Seattle saw Jeremy get out to a mid-pack start while hometown hero and Honda of Troy rider Larry Ward led in his return from injury. Right behind McGrath was #10 Huffman, and for most of the race you could barely see Huffman lurking behind the big #1 Honda as MC ripped through the pack to take the lead. Soon enough, though, Huffman made a move by McGrath and took the lead. The two riders swapped positions for four laps until Huffman, right behind Jeremy, stalled it in a left hand turn with three laps to go. It was the first fight for the lead anyone had seen so far that year and for the first time McGrath looked human. 
"I think Huffman was watching my lines," McGrath told Cycle News. "He saw where I was passing people and he learns fast. He was faster than me in the whoops. That's where he got me. I think his bike may have been working a little better than mine also. It was good to race with someone, to scrap it out. It felt good."
"That was amazing," said Huffman. "That was the first time I had ever passed the guy, he goes so fast. I had to quit thinking about what was going on, you know 'I'm chasing McGrath and this is a supercross race' and concentrate on my riding."
Huffman continued: "I know I can race with the guy now, I just have to act like he's another rider. I mean, I know he's McGrath but I'm Huffman!"
Huffman: I remember this race like it happened yesterday. Once Jeremy passed me early on, I was like, okay, just stick with him. That was so clear. We were both kind of buried mid-pack. He passed a couple guys right away, then I got through them. Pretty soon we were one and two and pulling away. Then I had a couple good lines here and there, one in the whoops, and one in this rhythm section. Whoops were kind of uneven, cupped out, and rutted. I wouldn't jump off the first one. I would kind of skip over the first one. That would get me on an opposite rhythm where I was kind of hitting a couple beat down ones and skipping over some tall ones that were rutted instead of hitting the rutted ones. Next thing I know, I'm going by him. I'm going by Jeremy! Then I would go a little wide and he would get back under me. Next lap around I think I did the same thing, but this time I was able to kind of hold the line and remain in the lead. 
McGrath: What I remember most is him challenging me at different times early in the race. But I do remember Seattle was always so soft and rutty. I know that's the worst condition for me. I was mediocre at best on those types of tracks. 
Huffman: I think I got into the lead and was like, what do I do now? But the other issue I had going for me was my clutch was really starting to fade bad. It was about three laps to go and I was right behind him. I had the clutch all the way in but my bike was still creeping. I just tapped the rear brake a little too much and stalled it. I finished second. Of course you're happy to get second but at that moment I knew I could beat Jeremy. That was the plan. 
McGrath: He challenged me but I was always under the thinking that if he got me at this race it didn't matter because as soon as we get on regular dirt next week, it's over. Nobody will even have a chance. I never really ever worried about it. Of course there were guys a little bit closer to me in certain conditions, but if we got a normal track and normal dirt, it never changed the way I believed that my story was going to work out. I went into every race thinking I was going to win.
Norfolk: I remember getting on the radio and going, "Hey, you've got to talk to the Huffman guys. They've got to realize that he's a lapper. He's got to get out of the way. He's got to quit racing these guys." And they all come back on the radio and go, "You're way wrong, man. You're racing that guy!" It was just tunnel vision and I didn't expect it. 
Emig: If Huffman had won that night, then it would have done wonders for his confidence, and then psychologically, all the rest of the guys on the gate are like, "Okay, McGrath is beatable." But that didn't happen. So that's another weekend where the pressure turned the flames up a little bit higher.
Taylor: It was typical Seattle, deep ruts. I guess when you look back at it, Jeremy grew up on the West Coast where it's really hard pack, usually blue groove slippery, he was almost unbeatable, really those couple years. So maybe the ruts did have something to do with him having some challenges.
Huffman: If you listen to Jeremy's interview, he was a little stunned like, "Yeah, Damon was right there." I remember seeing that interview and I was like, all right, I have him slightly worried maybe a little bit and that's all I need. 
ROUND FIVE: SAN DIEGO: EMIG IS BACK!
Jack Murphy Stadium in San Diego was the site of round five and a record crowd of 42,808 wondered if this would be the race where MC would finally take a loss. Instead, McGrath grabbed the holeshot and took off for what Cycle News coined "his easiest win of the year."
But for the first time all year McGrath was beaten in a heat race, by Jeff Emig. Then Emig put in by far his best ride of the year in securing a second after coming from sixth on the first lap. Cycle News said that Emig "looked like the Emig of old, riding with more confidence and aggressiveness than earlier."
"That heat race win was a definite boost for me in the main," Emig told Cycle News. "My speed is up, that's the main thing. I feel better and I know I can race with him [McGrath]."
Emig: That second was huge. Everyone was worried about me. Roy Turner just paid me a bunch of money. We were supposed to be winning. Then we get to San Diego and I specifically remember two of my good friends down in that area, they were going to have a big party after the race. I was like, f**k this, we're going out. After the race tonight, we're changing it up. So before Saturday even happened my mindset had already switched out of, "Okay, well this isn't working." For me it's just psychological. It's not a physical thing. Certainly going out to the party after the race didn't help me get second, but psychologically I relieved all the pressure. 
Stephenson: I've known Jeff since we were nine years old. Any motocrosser is a head case. But Fro, if everything's against him he can beat himself up, but if everything's going right and kind of clicking his momentum starts banging on all cylinders. He can get in his head. But I think if he goes out and has a good time away from the track, that would take the pressure off him, I think that's when he was at his best. 
Emig: That night McGrath and I had a really good heat race battle. I typically didn't win a lot of heat races in my career, and I won a heat race that night. I felt like I was competitive for the main event win. He gets out front. I believe Mike Craig got in-between and Jeremy was absolutely brilliant that night. There was one little obstacle on the track that I wouldn't jump that he did. It made the difference. 
Huffman: In San Diego, I was running on a ton of confidence and there was this one step-over jump, which I think I was the only guy to do it, and maybe the only time in my 250 supercross career where I did something that no one else was doing. In the main event I remember Ezra Lusk took me wide out of a corner and I crashed, right on the first lap. I get up in last and come through the pack to get sixth. I was angry. I knew I had what it took to beat Jeremy and that was all I wanted to do.
ROUND SIX: SAME OLE, SAME OLE IN ATLANTA
Cycle News' headline for the race in the Georgia Dome in Atlanta simply says "Who Else?" as McGrath "hardly broke a sweat" in winning his sixth supercross in a row in front of 45,552 fans. McGrath set a supercross record with that sixth-straight win, breaking the record Bob Hannah and Rick Johnson had with five-straight. 
"I used to feel that on a track that gets rutty, that I wasn't strong enough to win," said McGrath to Coombs, who was covering the race for Cycle News. "Now after I won my outdoor title last year and got my training act down with Gary Semics, I know I can win on any track."
But behind McGrath, just like Huffman in Seattle, Jeff Emig led the main for a bit, finished second again and scored some more confidence. 
"I'm not completely innocent (of starting the rivalry with McGrath) and I'm probably getting under his skin a bit," Emig told Cycle News. "He's still winning the main event but it's getting harder every weekend. 'Gang Green' is coming, everyone on our team [Ryan Hughes, Huffman] is riding well and getting close. He [McGrath] knows that the time is coming and my goal is to beat him. I want to be there, I want to pass him and beat him."
"He does that all the time," said McGrath of Emig's stubbornness. "He gets a good start and will charge, charge, charge until you pass him and then he drops right off the pace. He's been riding good lately but I'm not too worried about him."
And with that, the McGrath/Emig rivalry got a little more intense.
Emig: Our relationship was civil. It wasn't like we were going to go get in a fistfight with each other. It was more about two young men trying to build their careers and their life, and that's what happens at that age. You're out there trying to get the riches, get the gold. So you're working harder, you're fighting for it. But for sure it was uncomfortable. It was like you're trying to battle this guy at the race on Saturday night. Then you go to the river or you go to these places and it's kind of a very similar sort of thing happening. I think a lot of young men, their competition in life is so great at that age. 
Stephenson: I wasn't real close to Jeremy but we were friends. We raced together in the 125 class and kind of ran in the same circles. But there was Fro's clique of guys and there was Jeremy's clique of guys. We were all buddies but yet those guys didn't get along. We'd all meet at the river at Havasu and everybody would party together. We'd go down to Club Rubber on a Tuesday night after the races and hang out. Those two would just kind of keep their distance. We'd have one limo and McGrath would have another limo with his friends.
McGrath: The way the clique worked is Denny and Phil were close friends because they had the Great Western Bank team and all that stuff going on, but I grew up with Phil. Fro was from Missouri. He moved down to Reche Canyon with the Albrechts when he was coming up, but he was more like an outsider. Phil and me, we raced each other since we were 14 years old. Phil was friends with Jeff, and good friends with me I would even say sometimes. I wouldn't hang with Denny because Denny and Jeff were buddies. He was team Jeff. 
Coombs: At that time, I remember they all lived fairly close. Jeff was in Riverside and Jeremy had moved out to Canyon Lake. They would end up at the same Taco Tuesday places. I think the only neutral ground was Launi's hair salon, right next to where Emig tried to build the coffee shop, the Daily Grind. That was the Switzerland of the whole SoCal deal for them. It was never violent. It was never insulting. There was just a bitterness I think that Jeff carried with him that Jeremy was doing so damn well and was so much loved.
McGrath: I think we had our own four or five guys in a crew. We were all cordial with each other. It was pretty funny. We would never get to where we were fighting with each other or anything like that. I respect Jeff, his career, and what he's doing now and I'm stoked for him, but he was an arrogant prick around that time.
Stephenson: Jeff and Jeremy would talk but you could kind of see the tension. Some stuff had gone on with a girl around this time. So they had butted heads. Jeremy was kind of feeling his oats and kicking ass, and Fro wanted that. The rest of us didn't give a shit. We just wanted to have a good time and race. 
McGrath: I love confidence and I even love cockiness, but I hate arrogance. He [Emig] had all three at once and in my eyes he wasn't that good. Then you stick in the girlfriend deal …
Lawrence: Back then I was more buddies with Emig. I was friends with Jeremy, but he had his own crew that he liked to hang out with. We were friends, and we hung out a lot, but I hung out with Emig more around this time.
Stephenson: I think the only guy that was truly good friends with both Jeremy and Jeff was Buddy Antunez. Budman got along with everyone all the time. 
Bradshaw: I didn't have any friends, that was what motivated me. I didn't want to have to battle against my friends. That's the way I was and the way I worked. I know people now operate differently. I got along with some of those guys, but when it came to racing all that shit was off the board. LaRocco and me were on the same team for a long time. We raced mini bikes together, were buddies and rode together and trained and all that when he was on the same team. But I didn't like him when we raced.
LaRocco: Bradshaw and I didn't really hang out. If you look back, I had one friend that whole time and that was Larry Ward. And the main thing I remember [about Ward] is that he was the hardest guy to pass! So I was like, all right, no friends. I kind of refused to have any friends. 
ROUND SEVEN: BUT CAN HE WIN DAYTONA?
After Atlanta SX, the 1996 motocross series started up in Gainesville, Florida, and Jeremy McGrath showed that his commitment to motocross, which started in 1995, wasn't slacking as he went 1-1 in the 250 National. Supercross, motocross, McGrath could do it all at this point. But the one thing still left for MC was Daytona. He had never won the Daytona Supercross by Honda, which was a hybrid of supercross and motocross (and way different than it is nowadays).
So it was "Mission Accomplished" as the Cycle News headline after McGrath easily blitzed to his first win at the speedway. McGrath passed Emig early in the race and stretched his lead out to over 15 seconds at one point by being the only rider to triple a section. 
"I was pretty nervous before the race," admitted McGrath to Cycle News. "Everyone makes such a big deal about this race. I wanted to win this one bad and went out and did it. I wasn't even tired, I could have pushed it harder if I wanted to."
A great battle erupted between the Damon's [Bradshaw and Huffman] for the second spot on the box with Bradshaw getting it. Huffman was now second in the points but some 51 points down on McGrath.
Coombs: Remember, you had the outdoor national opener thrown in there at Gainesville. So that was always a weird sort of time. But in '93, '94 we all thought Jeremy couldn't ride outdoors. We thought that he was a supercross-only guy before he actually was a supercross-only guy, you know? And then he proved us all wrong in '95 and then again at Daytona in '96. It was like, this is really going to happen. I didn't really see the opportunity manifesting itself for anyone else to win. Guys had their shots, but I thought he had them covered.
McGrath: Daytona for me was a huge, huge accomplishment because before me Jeff Stanton was Mr. Daytona and was a three-time champ there. And then Mike Kiedrowski won three in a row. There was all this chatter of how I could never win Daytona. It's the toughest race out there, blah, blah, and I could never win Daytona. So to get my first win there was awesome. When I finally won it, it was like winning an outdoor motocross national, going 1-1. A lot of my career was spurred on by people saying I couldn't do something. That was a lot of the fuel for my motivation. So when I got Daytona that was awesome. I was finally in the books with the so-called "greats." 
Huffman: Daytona was a lot tougher than it seems to be when I watch it now. Lap times were a minute and a half. Daytona was gnarly and I rode really well. I had a great battle with Bradshaw. He had just one of those days of Bradshaw of old where he was going great too. Actually I was pretty pumped on third but my mechanic, Brian Lunniss, was fired up that Bradshaw beat me. That was his old rider. He did not like that. I got an earful from him afterwards, but it was kind of in one ear and out the other because I knew deep down that I got third in a tough race and I was okay with that. 
Bradshaw: I always liked Daytona. I won it on a 125 and definitely did want to win it on the 250. Probably my best ride there was with Jeff Stanton and me one year. We battled and I led the thing until two laps to go. I think one of the Michigan guys got in my way in a whoop section and I had to give up the line by accident. But it was one of the best races I've ever had where I got second place. I'll never forget it. Stanton and me were standing on the podium both about to fall down, and you didn't see that much from Jeff Stanton.
ROUND EIGHT: BLASTOFF AT THE ASTRODOME
The beat went on in Houston as Jeremy McGrath took advantage of the Kawasaki teammates, Emig and Hughes, (who had both passed McGrath early in the main) crashing into each other and grabbed another win with Huffman getting another second.
"Jeff went wide and I went to the inside," said Hughes to Cycle News after the race. "Then he came all the way across the track and cut in front of me. We touched and both went down. That's what I'm sticking to."
"You know as a team we are working really hard to beat Jeremy McGrath," Emig told Cycle News. "Kawasaki is the only team that seems to have a chance at beating him. Tonight two of us were beating him and we ended up on the ground. What good is trying so hard when Ryno is going to do stuff like that?"
"The way I look at it is Daytona was going to be the hard one and I got that," McGrath said afterwards. "I'm just taking it race by race. Can I win them all? Who knows? But if these guys keep knocking each other down like that, maybe so."
Emig: The Astrodome. I get the holeshot. Ryno is behind me and McGrath is like mid-pack. I know where he's at and at that point I'm really riding with a lot of confidence. We had a lot of things with the bike really dialed in. I've got this race in hand. Hughes was absolutely going for it behind me. I guess he was like, "I'm going to lead this f**king race if it's the last thing I do." He goes to pass me in this 90-degree turn, takes us both down. Once again, here you go, Jeremy. He passes the rest of the guys and goes on through. I always rode well in Houston and I'm riding at a 20-lap pace and Ryno wasn't. So that stuff happened a lot during that championship. Let's be clear—that's my side of the story. Jeremy in his recollection, he could see this thing totally different, as can other riders. 
Coombs: Emig got there first and he was the one that was going to be Bradshaw's heir apparent. Emig was the one that we all thought … it was weird. They [Yamaha] kind of kept him in the 125 class too long and in supercross, I think they put him in the 250 class too soon, I think because of Bradshaw. I think that kind of gave him a sort of imbalance whether it was testing or how he rode the bike. He kind of got—and so did everyone else—completely blitzed by Jeremy in January of '93.
Lawrence: I was excited doing as well as I was doing. Of course I wanted to get on the podium more. I just tried and if I ended up beating Jeremy in the process then I beat Jeremy. I wasn't focused on him, maybe I should have been, but I don't think I was. I think Emig was focused on how he was going to beat him. Actually, I know he was. 
Stephenson: I was doing pretty good early in the season and then I jammed my thumb really bad at one of the rounds. I could barely hold on. So I wasn't even practicing. It was about this time you could start sensing the money was getting tight with our team. The jet wasn't going to races anymore. So I started staying on the road with Grayson Goodman. 
We stayed with Vanilla Ice down in Miami for like a week. Just getting from one race to another. We'd practice every once in a while. It was just a way for me to get to the races without necessarily riding with the mechanics.
ROUND NINE: EVERYTHING'S BIGGER IN TEXAS
The Cycle News headline after McGrath's win in Dallas, Texas, was "A Perfect Game?" as talk about Jeremy sweeping the series started to get very real. 
"I just want to worry about the championship," McGrath told Cycle News about winning every race. "If the perfect season happens, then it happens. I'm taking it one race at a time. If I lose, well there's always next week."
Ryan Hughes came from around mid-pack to finish a career-best second and Larry Ward also got a season-best third. Title hopefuls Damon Huffman (seventh) and Jeff Emig (fifth) had off nights.
The streak was a thing of beauty, as you had the best rider in the world on what was perhaps the best dirt bike Honda ever made. The 1996 Honda CR250 would be the last one with a steel frame, as a completely-different bike was coming for 1997.
Norfolk: At that time we had a shopping mall full of options. We were afforded the opportunity with American Honda to just go, "Hey, here's everything we have. Whatever you need. Make it the best you could possibly make it." The team that we had there with the engineers from Japan and the mechanics on the team was special. We were all just hunkered down to be a bunch of badasses; I guess you could say it was working. We were flying pretty high. 
Taylor: The motor on that factory bike was unbelievable. I can't stress enough how good that motor was. You could run first gear all the way down the start straight and it would keep pulling, or you could run third gear and it would have enough bottom that it would pull. Those guys were clicking third gear in the whoops back then before anybody even thought about it. They were clicking third and fourth gear and the bike would just lug and pull. It was amazing. I'll never, ever forget how good that motor was. It was so broad. Any novice kid or vet guy would have loved the motor. It was like power, right now, all the time. It was amazing. 
McGrath: Rich Taylor is right—the '96 engine was ridiculous. I actually have one of those bikes and I rode it not too long ago. I have an '05 Kawi KX250 that's Pro Circuit and everything, and the '96 engine was as good or better for sure. It might have been the best two-stroke engine ever.
Taylor: Those guys ran the 1993 frame for three years. Jeremy liked that '93 frame because it was soft and more forgiving. He could get through the corners better. I never really talked to him directly about why he liked it, but I'm pretty positive it was just because it was a more forgiving frame. But those guys were also changing his frame, I believe, every single race, because he would stretch it. The '93 frame was softer and those guys were stretching them out big time back then. 
Norfolk: We did not change frames every weekend. We measured it every race. If it was out of spec we changed it. Jeremy would ask for the bike to be a certain way. He was a human chassis dyno. We rarely ever second-guessed him. Ever. He would ask for the bike to do "A". And the team would give him "A" and he was better on the track. So it was easy to work with him. 
McGrath: We would always try the new frame for the first few races, and then we would end up switching back. I remember '95, I won 10 races that year in supercross, but the first four or five, I had to really work for it. Remember when Larry Ward led Anaheim for almost 10 laps and I finally got him? Because I was getting really bad starts. Something about the geometry with the newer chassis was, for me, not as good out of the gate. So that was kind of why we continued with the '93 chassis. If you had a more rigid bike it's not going to get as good traction off the line.
Taylor: It seemed like Jeremy always ran the bike really stiff in the front and lower in the rear. The shock, he always ran a lot of sag. The character of that frame liked that setup a lot. Obviously nobody rode better than him, so he had it figured out. I personally liked the '96 frame better. It was a little bit more rigid. It had a little bit more weight over the front of the bike compared to the '93 frame. It just worked. At the time that bike was amazing. It really was.
Bradshaw: At the tail end of '96 I went and did some races overseas. I didn't have a contract with Yamaha and I'm like, I've never had the opportunity to ride a Honda, so get me one of those. I took a Pro Circuit pipe, bars, and suspension and couldn't have been happier. I don't even know if I had to change the gearing on the bike. Felt right at home. Didn't struggle with cornering. 
I got on that Honda that was basically a stock bike and battled with Jeremy and Larry Ward at a couple of overseas events. Then I went to Japan and won. It was a great bike. I think Jeremy rode a very similar bike for many years, which I always wanted to do more of. When you had a good combination, stick to it, but that was not the way Yamaha wanted to do it.
Taylor: I think you could take that bike today and battle with any of the two-strokes out there in 2017. That thing was awesome. 
Bradshaw: We [Yamaha] were out testing one year; I was just struggling with the bike in general. They were getting pissed at me and I was like, let's try a Honda. So they went and got one and brought it out. Within three laps I was going easily faster, easily. They were scratching their heads. I had been saying that we should test our bike against some of these other bikes. They did that for pre-production testing but they wouldn't let us do it. I was faster on it than I was my race bike and it was a freaking shop bike from Pro Circuit. Those Hondas were good.
Norfolk: I can tell you one thing—it was the best motorcycle on the track that particular year. I truly believe that. We were very fortunate to have Jeremy, and not only Jeremy, but we had a couple other pretty dang good guys riding it that were able to showcase that particular motorcycle extremely well. They were just good. I don't know how else to say it.
Bradshaw: I think Jeremy could win on almost anything back then, well, except for Suzuki or KTM.
ROUND TEN: ANOTHER WIN IN THE HOME OF RACING
A cold night in Indianapolis greeted the series regulars but it was plenty warm enough in the RCA dome for the 45,217 spectators who saw McGrath (with "Nine Lives" sewn on the back of his Fox pants) get a so-so start and try to work his way up while Emig led. At one point the Kawasaki rider had a five second lead over McGrath and the race looked like it might go down to the wire. 
But Emig fell just past halfway and McGrath cruised home with another win on a rutty, soft Indianapolis track.
"I wasn't worried," said McGrath to Cycle News about what might have been his toughest win. "It was halfway and I had time. I just knew I had to be patient."
"I was fast, I was doing everything right until …" a dejected Emig said afterwards. Suzuki's Ezra Lusk rounded out the podium with a third.
Emig: Falling with the lead at Indy? You talk about being pissed off and frustrated—it's unbelievable. You're coming in and you're like, f**k me. Did I just give that race away? Stuff like that kept happening. Frustration was mounting as the season went on. I would start up front, he would pass me. He had my number. That's all there was to it, and it sucked. 
Coombs: The races would never get boring when Jeremy was winning because you never knew what Jeremy was going to do. You never knew when he was going to wheel-tap this or nac-nac that. You knew he wasn't going to crash. You could almost bet on that. So when things did happen and he would crash, it would be like the world was falling in, the sky is falling. He's down! Is he okay? That's the way you had to do it because there wasn't a lot of mistakes.
Norfolk: Later in the season, after Huffman went out, there were two guys that, no matter what happened, you had to figure that Jeremy, Emig, and LaRocco were going to be on the podium. Those three guys were, at that point, the clear favorites in that class. We always felt like LaRocco was the easiest guy to race, from a preparation and mental standpoint. Not saying you could go execute it very easily, but what you saw with Mike on the third lap of practice you got all day long. 
LaRocco: I'd show up at the races and have new issues [with the bike]. That kind of killed my confidence, and in this sport unfortunately that's a big deal. All the momentum I had on Kawi—I actually felt like in that 1994, '95 era that, had I stopped crashing, things would have been different. So going to Suzuki, that ended that whole run that I had going there. All these issues just took my confidence and put it in the garbage.
Norfolk: Now Emig on the other side of things, every now and then he could just uncork something really cool, go blistering fast and where the hell did that come from? But at the same time he could also throw one away. So LaRocco was the easiest guy to prep for, the hardest guy to execute. There were days that you'd go out and race him to try to beat him. Bottom line was when Jeremy got on the plane to go to the race he only had to beat two guys. The other 17 guys were beat before he got on the plane. That was just how mentally prepared he was and how he looked at it.
McGrath: I never really worried about LaRocco because the way our races played out were exactly opposite. I would start in the front and maybe at the end I would slow down and he would come up, or his race would start really bad and he would get quicker and end up with third or whatever. So honestly if you think about how many times it worked out like that, I never saw him, ever. There was few and far times between I had to ever actually interact with him on the track. He couldn't get the starts.
Emig: Our relationship [McGrath and his] was pretty uncomfortable. The bottom line is that individuals at Yamaha had an influence on me and their way of generating the desire to beat somebody is to dislike them. Guess that goes back to the [Bob] Hannah days. It was a blessing and a curse. It was he's [McGrath] the champ and he's the guy you want to take down, especially because he had won so much. All of us riders on the gate, we're all wanting to beat him. He was supercross. That's the guy.
Coombs: I imagine Jeremy's dominance had to be killing LaRocco, simply because Mike was just such a fierce competitor from the day he turned pro on a white Yamaha in the '80s to the day he retired on a Honda in the millennium. He always wanted to win, but whether Jeremy or anyone else beat him, Mike LaRocco was not going to be happy with the result.
LaRocco: Inside I hated him [McGrath], but he was actually always a pretty good champion. He was a good dude. I just hated him because I had to, but for the most part he was good. 
Stephenson: The front of our hauler was all done up in, like, shag carpet. We had a bunch of music playing in there. Jeff and Ryno would come over and hang out and just bullshit. He just liked getting away from the team effort and all the pressure and the stress. He'd come over and we'd just talk about whatnot. Then he'd go out and kill it. That was Fro.
ROUND ELEVEN: 11 DOWN, 4 TO GO
That was the headline in Cycle News for the 1996 Tampa Supercross in which McGrath won again with yet another so-so start. Emig got the holeshot with Jeremy around fifth but in no time the #1 Honda was on the #2 Kawasaki. There was some contact made between the two as both riders were forced to double a triple. McGrath had the inside for the corner after that and it was over. Later that lap Emig would fall and lose second to Hughes. Third went to LaRocco.
"I'm not worried about the championship at all because that's going to happen," Jeremy told Cycle News. "I want to win the next race and then look forward to the one after that. There's no pressure on me and I'm having fun."
"I think I could holeshot with my eyes closed on this bike," Emig told Cycle News. "I'm trying as hard as a I can to win and getting the holeshot is part of that." 
Scoring a fifth in Tampa and maintaining sixth in the points was Bradshaw. He wasn't winning races (no one was, other than McGrath) but after a year and a half away from the sport, his season was shaping up as a very respectable comeback. 
McGrath: I was riding a 125 when he was #8 and had just moved up to the 250s. He had that sick Fox gear and the mullet. Remember when he got the holeshot in Anaheim from the outside? I was a huge fan. It's well documented that Ricky Johnson is the guy I looked up to, but Bradshaw was another guy that was, like, the dude was so sick. To this day I remember the bark his bike had in the stadiums. On press day you could just hear that Yamaha.
Coombs: I think all of us who saw Damon Bradshaw in his pinnacle in '90 through '92, really thought that he was going to be that guy but by '96, his time had passed. He was just out there trying to figure it out and trying to find an exit maybe. I know Damon still loved racing but that two years of evolution that he missed when he took his hiatus, he wasn't going to catch McGrath.
Taylor: Bradshaw was the man. He should have been what McGrath became. He was so amazing on the bike, just watching him. To this day I could watch old videos of him in supercross just because of the way his body language was and the things he did off the jumps. He was awesome.
McGrath: I remember Bradshaw, when I was in the 125 C class, he had the full page spread in Motocross Action of his 1987 YZ80 with number 68 on it, with the big old paddle-looking tire. It was like a spread from Loretta's. I just remember seeing that and I was like, "Man, that dude is so badass." And he's younger than me! He was riding an 80. I was riding a 125.
Stephenson: I grew up racing mini bikes with Damon. We'd hang out when we were young kids and stuff. Once he turned pro, you'd see a little bit of his anger in his helmet. You're like, "What's up, Damon? Please don't kill me." I think at the end of the day that's what kind of burned Damon out. You can't be angry and pissed off at the world all the time. Definitely takes the fun out of things.
Bradshaw: I had some issues with adapting back to the bike for whatever reason. I'm not saying that's the reason I didn't win, but there's a lot of things going on there when a guy comes back and tries to do that. But the one thing I always liked was when I got to pass McGrath in '97 at Mount Morris when he was laying in the mud. That was my good Jeremy McGrath story. I still remind him of that!
McGrath: There was one race that year—there's footage of it somewhere—where he [Damon] came up and said something after the race. He was irritated with me. He was cussing me out for, I think, basically getting the holeshot and kind of moving over and closing the door on him. That's what he did to everyone else, but that's what I did to him. He was pissed at me. I remember I said to him, "You should go retire again." It had to be really frustrating for him. It's like, what are you yelling at me for? You're the one that retired. He was pissed and so he got me real pissed. I remember that one time. And I like Damon a lot. I still do. He's a great dude. He's a wild man for sure. 
Bradshaw: Being off for that time was what I needed but then at the same time it's tough when you lose that amount of time, especially with talented guys coming up, much less against someone like Jeremy. So I did come back with the ambition to try to win, and we didn't. We had some decent finishes. I really wanted to continue after that, things just didn't work out. So I think it was going to be a building process again, but Jeremy was just unstoppable that year
And then the rider second in the points, the younger Damon, exited stage right.
Huffman: I had four second places in the series and was second in the points. Out at Castaic Lake motocross track before Tampa, there were these two single jumps. They were supposed to be singles and I thought I could double them. They were kind of small and far apart. I went for it, cased it and jammed my wrist really bad. I thought initially that I broke something. I got X-rays, had everything looked at. It just hurt.
Norfolk: In the beginning there was never a thought in my mind about, "You know what? We could win every race." It wasn't even an occurrence. But with that said, we expected to win every weekend. If that makes any sense. His confidence level was just growing, and it was a controlled confidence. It wasn't inflated. It wasn't fake. He was for real and capable of executing that every week. He could win every weekend; it was that simple. 
McGrath: We didn't go there to get second. We went there to win the race and do the job. That's just how it was going to be. 
Coombs: Working with Art Eckman and David Bailey in those ESPN shows was awesome. Everything that those guys said was always spot-on. I think that David having been a part of some very unbelievable seasons, like his '83 season or that Maggoria '86 deal, he kind of knew this thing was building. Art Eckman, just an absolute professional host. He could have been covering a tennis tournament and would have that deep voice and say those hyperbolic things and sound like Al Michaels at Lake Placid. 
Huffman: At Tampa I rode with a roller blade wrist guard that I basically cut all apart and was just using the top plastic piece to limit my movement on my wrist. I was able to ride, but not pain-free. At this time, I'm still second in points by a pretty good margin. It's not like I'm going to sit out a race. It didn't work like that back then. If you're not broke, you're going to ride. So I raced and I was riding just okay. It was definitely going to take a couple weeks to kind of get back to normal. 
In the main I came out of a turn in first, jumped up onto this plateau, clicked it up to second in mid-air. I was leaning forward expecting to blast off but I came down in neutral. I went straight over the bars about as hard as you can go and tore my ACL, broke my front tooth in half, smashed my nose. It's the only time I've ever broken a helmet. It just cracked the face of it. I went straight onto my face and the bike was still on my leg. Up until this point I broke my collarbone when I was like 12, but I'd never been injured. I've never had anything majorly done. I'd been pretty lucky. So that ended my supercross season.
Coombs: I think Jeremy got it in his head pretty early on that these guys aren't going to beat me. I think that Emig, to his credit, never gave up, despite the constant beat down.
Stephenson: The big thing about Tampa Supercross to me was I didn't make the main and because I spent that whole day before the race at the strip club. I was really bummed I didn't make the main because I needed to make some money back.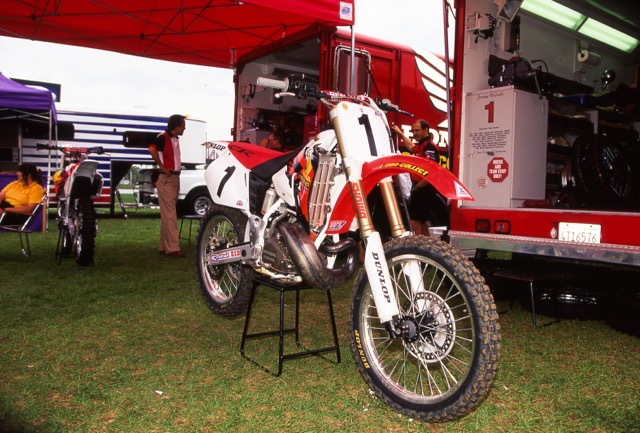 Specify caption here
ROUND TWELVE: DETROIT ROCK CITY AND NUMBER TWELVE
In a foregone conclusion, Jeremy McGrath clinched his fourth straight AMA Supercross Championship with another win in Pontiac and he had to do it yet again coming from behind. A crowd of 51,809 saw McGrath gate around sixth and pass Ryan Hughes on the seventh lap for the lead. Emig would start behind McGrath and he eventually made it up to second. Suzuki's Ezra Lusk led the first two laps, fell back to 13th and then charged up to an impressive third, his second podium of the year.
McGrath had 12-straight wins and three to go to make it a perfect season. At this point most everyone expected McGrath to do just that. Perfection on a motorcycle was the goal and in supercross, McGrath stood head and shoulders above everyone else. But what was it that made him so special? 
Stephenson: He was so smooth and so precise. When he went to the 250 class, Jeremy didn't seem phased by anyone. That first race he won, he passed [Jeff] Stanton and won the thing, and then kept winning. I remember we jumped in a rental car coming home from one of the races and I'm like, "Jeremy, what the hell are you doing, man?" He's like, "Denny, I have no idea." He goes, "This is the easiest thing I've ever done." He's like, "Man, I'm just out there riding. I'm not really doing anything. I'm not pushing that hard. The bike's great, and I'm just clicking." I'm like, "Well, you're killing it." I was thinking—how did this happen? I was just beating your ass like two years ago. A switch flips and it obviously did with Jeremy. I just don't know how he was so smooth. He could jump anything and make it look so effortless.
Lawrence: I think that the guy had so much talent. I would say three things: the guy had a ton of talent and the desire to win. And I would give a ton of credit to his parents, how they raised him. His parents made him work for stuff; they were levelheaded. Talked through things with him at a young age, forever. I was friends with him and I'd been around. I'd just seen their interaction between each other. I think if you have a parent that is like that, it builds security in you. You're confident in who you are and what's going on around you. You don't get shaken very easily because you know there's ways out of stuff. You never have to guess. I would say one of the biggest factors for Jeremy was his parents, how his parents raised him. 
Coombs: I agree with that. I think that Jack and Anne [McGrath] were the consummate race parents at that point. They had not been through the grind that the Stewarts or the Carmichaels went through when their kid is like seven years old and a factory rider, going through homeschool and doing this and doing that. Jeremy was bagging groceries when he was 14 at Von's. It was sort of like this pleasant surprise. To this day I think Jeremy remains just one of the most pleasant guys. Sometimes you never know who you're going to get when you're talking to this guy or that guy. You know who you're going to get when you're talking to Jeremy. He's going to look you in the face and he's going to ask you how things are that he knows are important to you and he's going to tell you what he's got going on.
McGrath: I credit my parents too. Obviously most of us have very supportive parents, but not in this industry. A lot of the kids just get this huge wedge in-between them and their parents and then they end up raising themselves. My parents were obviously very instrumental in making me respect what it took to have the luxury of being able to ride my dirt bike. My parents weren't rich. My dad worked his ass off. I would say fortunately for me the motorcycle stuff didn't cost as much money as it does now. I would have certainly not been able to race. But I think one of their main strongpoints that they ever did for me was first of all I had to stay in school. Secondly I had to get good grades—B average to be able to ride my bike. Then thirdly at a certain point they drew the line and said, "Okay, look you've got to go to college or you're going to have to start working. If you plan to be a racer then you've got to make this racing thing a job." That's when my parents gave me $500. My mom helped me start a checking account. I was working at Von's grocery store after I got out of high school. 
Then on the weekends I would write a check for 60-70 bucks to enter. Race GFI, race at Perris. If I won I'd make $200. I'd put it in the bank and then I'd race Saturday and Sunday. We'd go to bigger races and some of the races I'd get contingency. Obviously my mom and dad were still going to the races and helping support me with that, but they were making me understand what it really took to make motorcycle racing a career or a job. At that point it was a job. Those are some of the things you can look back now and go, wow, that's pretty amazing that they had the foresight or whatever to treat it like that.
Lawrence: He was a guy that really didn't talk a whole bunch about himself. It was awesome and so impressive. He was just so confident and quiet and humble about it, at least outwardly. It was awesome. I admire the guy so much. What a champion. How good is he? He was cool. And again, I put that back to his parents grounding him and making him levelheaded. He thought about things. He was really good with not just people, but riding, everything. 
Norfolk: The McGraths have been such a huge part of my life. They were parents. We were kids. Anne and Jack, they took care of me. Who knows how much of a screw-up I would have been if I hadn't had Anne in my life. That's the honest truth. If I hadn't had them in my life I would've been a screw-up. 
McGrath: At the time when you're that age you always think your parents are a pain in the ass, but when you get older and you look back and go, "Man, they really had the right idea. They did me a huge favor." So I respect and love my parents so much for that. Again, we've heard all the crazy stories about family members and moms and dads. I'm in the lucky bunch I guess. 
LaRocco: Jeremy had that confidence and he was really good about the start and the first 10 laps. No matter what, he'd put himself out there, take a sprint, and then let everybody else deal with the chaos and that paid off for him. 
Bradshaw: There was really never a point in my career that if I was in the right mood, I couldn't be faster than whoever was there. Whether I survived the whole race and didn't crash, that was a different deal. But Jeremy was one of those guys I couldn't be faster than. He was obviously very talented. I don't have a problem ever giving people credit where credit is due. He was one of those guys. 
Huffman: Once he got that first win in '93 he was always one step ahead of everyone else. What I think it was is a combination of many different things. I would say mentally he was able to focus on getting out of the gate quick, put in hard laps and just kind of maintain that pace. Seems like he never really had to dig super deep and pull it out on the last lap. Very rarely. He won the race in the first 10 laps and just kind of put it on cruise. A combination of just his talent, his skill to where he's able to land everything spot on lap after lap, get through the whoops decent, just impeccable timing. He was the first guy to start staying a little bit lower than everyone else. 
He was just the first guy to kind of come in with a little new school approach to riding supercross compared to hitting the face of the triple and you're launching in the air at whatever angle the face throws you up. He was able to kind of put his chest down into the bars quick and just be spot on lap after lap. That takes a lot of mental strength to be able to hold that for 20 laps and rarely ever make a mistake. 
Taylor: You watch him and he was always perfect. If you really look at all those races and watch old videos, you hardly ever saw the guy case a jump. Or if you did see him case, he cased it on purpose to get to the inside of a corner. So smooth on the throttle in and out of the turns. You never saw the rear end coming around on him. Just perfect. The guy always down-sided every jump just the way it should be. He just had it figured out. He just rode better than everybody on a supercross track. To this day I'm just like, dude, how did he do what he did every lap? 
Another thing is look at how many people he took out or slammed. There's hardly any! He'd pass guys clean. Not every time because it's motocross, but for the most part look at how Emig passed guys or Ryno compared to how he did. There was always a big difference. McGrath was just so clean. His lines and just the way he got in and out of corners. 
Emig: Nobody in our generation ever had that sort of aura around them. For me, there was more on the line than any of the other riders. It was just different. So the pressure was mounting, and as we went on there were a few races that I felt like I gave away. So then the pressure just builds even higher and you're thinking, man, what have I got to do there? It's so frustrating and you're working so hard. For me, I was doing everything I could possibly do to try to beat this guy. And at times I beat myself of course. But it wasn't for lack of effort or lack of trying. 
Coombs: Jeremy started doing these aerial tricks that no one really understood, because of his BMX background and because of his just pure charisma and God-given talent on a dirt bike. Everyone is watching. Everyone is talking about it. All of a sudden he's got a 1-800-COLLECT commercial and he's on the Jay Leno show. If you're Jeff Emig, these things are gnawing at you and these things are grinding at you. 
Taylor: Jeremy was awesome. I had a little bit of a relationship with him, not only from testing, but just from racing. He used to stay at [Gary] Semics' back in Ohio and I stayed at Fred Andrews' back there, so we used to ride together every once in a while. In Maryland at Skip Norfolk's house, we hung out there for a couple weeks one time and rode. So I've known him. Jeremy was one of the original just really nice guys. As good as he was, he had every opportunity to be a stuck up, I'm-better-than-everybody guy, but he never really was. He's a good dude for sure. That's him, and still to this day he's like that. He's a normal dude. 
Coombs: I absolutely do not think the pressure was getting to him at this point. I think that Jeremy McGrath had such a wonderful gift of just taking it all in, just like whatever happens is going to happen. Don't forget—this is a guy who holeshot a supercross in 2006 on a CR250 and did a nac-nac on the first triple. He just didn't give a shit. He was going to do whatever he could do. He was so laid back and yet so competitive. We weren't used to that. We were used to Jeff Stanton and Damon Bradshaw staring each other down.
ROUND THIRTEEN: WINNING IN THE MUD
An outdoor venue in Charlotte, North Carolina, awaited everyone at round 13, and the rain was there too. The track was a mess, which made a holeshot key—everyone wanted to get out front to follow the one dry line. But McGrath hadn't gotten a holeshot recently, so this looked to maybe be the streak stopper.
No such luck for the competition. McGrath got the holeshot and took off for his 13th-straight win. His lead built up to 13 seconds at one point, so this one came as easy as ever. Larry Ward finished second and in third was an up-and-coming rider named Kevin Windham, who had been racing 125s on the West Coast.
"We made some changes to the engine and my bike was killer," Jeremy told Cycle News. "It pulled so hard down the straights and I was stoked to get the holeshot. After that it was just be smooth and take the fast lines."
Not having a great night was Great Western Bank's Lawrence, but with two rounds to go he was seventh in the points and making for a real feel-good privateer story. For "Factory" Phil, it was all about having fun.
Lawrence: I just wanted to go out and go fast. I felt like that bike allowed me to do it. I didn't have any injuries so I had a decent base. I was good to go. I felt really comfortable on that bike. I was riding well. I had a pretty good season. I was happy with it.
Emig: Phil was really talented. I think that physically he was in a good place. Probably not a lot of pressure on him after riding for factory Suzuki before that. Their team with Buddy Antunez, Denny Stephenson, Dave Castillo, they just had a really good vibe going. It allowed Phil to ride pressure-free and just go out and ride his motorcycle and have fun with it, and that's what he did. 
McGrath: Phil and I were riding a lot together at that time too. We practiced together and stuff like that. He had a breakout year. Phil seemed to always ride better when he wasn't on a factory team setup. 
Stephenson: Phil never changed. He didn't let the pressure get to him. I think he was just like, man, let's do it. I've already kind of f**ked some things up in my career by being a d**k or by taking things too serious. At one of the early rounds, we come back from the races and our pits are packed. We had the stereo blasting and we just started throwing everything we got to the fans. All of our gear, plastic. We ran out of stuff. We had to order a lot of new shit for next week. But this was it. We were having a good time. For a privateer satellite team, he was definitely making everybody pay attention for sure. 
Taylor: Factory [Phil] was amazing. I think if he had a little bit better work ethic or whatever… he was so unbelievably talented as well. I think he could have done some damage that year.
Lawrence: I was having a good season, but I just think back to that year and it's like you're never satisfied. You never think, "Okay, I'm good here." I never thought that. I've never felt that I was satisfied with how I was riding and what was going on. You always want more. I think if you don't, then you're probably not going to be one of the guys that can race for wins or podiums or whatever. 
ROUND FOURTEEN: THE SPIRIT OF ST. LOUIS
For the first time ever the AMA Supercross series visited the Edward Jones Dome in St. Louis, Missouri, which happened to be the closest race to Emig's hometown. Many riders in the series had already given up hope of stopping McGrath's streak, but Emig was more determined than ever, especially with the local fans cheering him on. In addition, LaRocco, an all-time nemesis of both McGrath and Emig, grabbed a rare good start in the main event. He wasn't about to make it easy on either rider. 
But further, The Streak was beginning to take its toll on McGrath. With just two races to go to achieve a perfect season, pressure and attention were building to unheard of levels.
Norfolk: That particular day we let Jeremy down in my mind. If there's the one thing I could change it would be that night. I always felt like I was able to shelter him from all the crap, whether it was the media, the TV, just shelter him from everything on the race day to where he could execute the routine. At St. Louis, that didn't happen. He had a ritual. An hour or an hour and a half before the event, he would hide. Nobody knew where he was but he was sleeping in the front of the van. So we were inside the stadium. He would find a place where he could go hide and just be by himself. He could go to sleep, relax, whatever he needed to do. He was alone and it was his time. But in St. Louis, we couldn't be in the van because we were parked inside.
The promoters wanted Jeremy to come up and meet some VIPs before the main event. It turned out that here he is walking in all of his gear clear around the whole stadium. It was supposed to be just across the corner, but it wasn't. So he didn't get out of his gear. So he's lugging his boots around, he's doing all this stuff. We didn't do a good job—I'll put that on my shoulders—of creating that environment which he needed to thrive. It led up to what we saw in those laps. He was getting pulled in every direction. People were telling him, "You can win them all, you can go undefeated." I wasn't able to shelter him from enough of that, and it affected him. I'll put some of the blame on American Honda as well. They didn't help that scenario that particular evening, either. It was a firestorm. 
McGrath: Yeah, the promoters had me parading around for new sponsors and stuff walking around the stadium with my gear on, meeting and greeting and all this shit in-between the heat race and the main. I'm still a firm believer that I was pretty distracted when it came to that race night. 
Norfolk: In a matter of seven to nine days it went from "that's 14 in a row" to "oh, shit, you can win every one of these things. Nobody in the world has ever done that. You can't even think about it, fathom it!" It was just this unbelievable firestorm that just started brewing and I wasn't able to help him deal with that. There was no way with all the stuff that was going on—I don't care how good of an athlete or how strong mentally you were—I'll throw that up against any football player or anybody. There's no way one guy can deal with that, and we didn't do a good job of helping him. I squarely put that loss on my shoulders. Excuses or whatever you want to say, it's just an explanation or a recollection of what happened. 
McGrath: I wasn't angry. I was more disappointed in myself. I aim to please. I want to help everyone. I want to do what's right. I want to help grow the sport. I want to do all of it. I want to be the guy that everyone calls on to do that stuff. Sometimes my biggest downfall is not saying no. I just can't say no. So I was just more disappointed in myself.
Emig: First time racing there, this was the closest thing that I had to a hometown race. Kind of a perfect storm brewing. I just felt like I was coming home to my roots. However, you psych yourself up psychologically to use that to your advantage, that's what I did. 
The St. Louis main event was a classic. Emig grabbed the holeshot and fought off charges from Lawrence, LaRocco, and McGrath. Lawrence would eventually fall down while running second, but McGrath needed to get around LaRocco before he could work on Emig, and LaRocco was charging very hard, hanging off the bike, doing whatever he could to hold McGrath off. Finally, MC made the pass for second and started to attack Emig, but LaRocco came back with a hard block pass that nearly knocked the champion down. McGrath would have to regroup again while LaRocco tried to take the lead from Emig. LaRocco and Emig tangled several times until LaRocco finally came off of his bike, allowing McGrath to get back into second. McGrath then tried to bear down on Emig, but in the end, he was never able to get a wheel on the Kawasaki rider. Emig held on in a pressure-packed, drama-filled 20 laps to notch his second-career supercross win. This time, he did it with McGrath on the track.
"We all deserved this and it's been a long time coming," Emig told Cycle News after the big win. "It feels so good to be the guy to end the streak. I've wanted to do this for so long."
"What's that saying, you can't win them all?" McGrath said to Cycle News. "I can't say enough for Jeff, he rode a great race."
"I was pumped up the whole race and the track was really easy," McGrath continued. "I couldn't get a wheel up on anyone. I had to wait for mistakes but Jeff rode great and didn't make many mistakes. It was a stuff-match and Jeff did what he had to do by getting the holeshot."
"I hate to see Emig win but it's better than McGrath. I had my shot and messed up; maybe next week in Denver," LaRocco said.
"I focused on the end of the race rather than worry about every turn," Emig said. "Even though I had a lot of pressure I was focused on going forward and not slowing down the race."
"I would like to congratulate Jeremy on the title," continued Emig. "The guy's records and wins don't lie. He didn't cheat to get here, I don't know if it was harder to win this one race or for him to keep the streak going. Every week for the last 10 weeks I've been hearing about how I have to beat that guy."
Stephenson: I know prior to the race Jeff felt a lot of pressure because it was at home. That's always his home race. First time in St. Louis so he obviously had tons of friends. He did lots of TV, lots of local stuff. I think there was always a lot of underlying pressure from his dad and his family and that. 
Emig: Phil Lawrence almost won his heat race and fell with one turn to go. Things were so close at that point. Phil is a dear friend of mine to this day. I was like, "Oh, dude!" He's friends with Jeremy also. But I'm looking at it like, okay, Jeremy now goes from fourth gate pick to second gate pick, because I had the fastest heat. So the gate picks between first and fourth or whatever, it would be huge, because I had a strategy of where I normally lined up after Jeremy. So when Phil falls and doesn't win that heat, I was so pissed off. Not necessarily at Phil, but "Oh, shit, here goes another thing that goes Jeremy's way."
Lawrence: In St. Louis I almost won my heat race. I almost beat Jeremy until the last turn. In the main event I was all over Jeff trying to get him, until just before the halfway point when I crashed. He was not really slowing me down, but I felt like I was riding faster at that time. After that race when Kawi finally said, all right, we'll at least give this guy a motor. They did. They gave me the motor, and that's it.
Huffman: After I got injured I kind of thought he [McGrath] would just win them all. When Fro won St. Louis, I wasn't there but the track was a little different. Kind of smaller jumps. I think Emig was coming around and adapting, so it all came together for him right there. I think the track kind of suited his style. He pretty much beat Jeremy straight up. 
LaRocco: I remember getting a good start and having the ability to be in that race. I remember making mistakes. It was at the tail end of a year when I was just frustrated. Had I had my stuff together maybe that race could have been different. I think I made a couple of runs at it and made some mistakes and then I got lost in the shuffle. A big race for Jeremy, a big race for Emig, but for me it was just another loss.
McGrath: When you watch the race, LaRocco didn't do me any favors either. He took me off the track that night a couple of times on the Suzuki when I came up to him. So again, the track that night was my worst condition—rutty and soft, shitty. You add that on to the rest of the stuff that went on. If you think about it, I did pretty damn good. I should have probably won the race. I was the fastest guy on the track, but LaRocco didn't help me out and if I was probably a little more focused I would have been a little bit better.
Taylor: I was in the main that day so I don't really remember watching the race. But I do remember that track. In fact, at the end of that race I don't think I was even doing the triples because it was so rutty up the faces. It was sticky. I remember the whoops having big, giant ruts through them. To be honest, I remember the crowd going crazy. You could just hear them screaming. I'm like, what's going on? I figured Jeremy must be coming through the pack or something. That's just kind of funny. That's one thing I really remember is the crowd just going nuts halfway through the race.
Norfolk: Afterwards, I'm just livid. I'm totally pissed off. We go through tech inspection and then we get pulled down. Had to do a bunch of work on the bike. It was just like, "Here, let's throw some more gasoline on the fire." So he and I never—outside of getting off the track and doing our little high five and giving him a hug and saying, "Dude, sorry about that"—I didn't really get a chance to see him much. Then we were in the middle of the stadium. We couldn't get out of the place fast enough.
Lawrence: I was happy for Jeff. I thought it was cool for Jeff. I was like, dude, nice! But I was pissed. I wanted to win. Why did I have to crash? 
Coombs: To Fro's credit, he never gave up. On a 95 percent night for Jeremy, the one that he just wasn't quite head and shoulders above everyone else, he saw his chance. He got the job done. Barely, but he changed history. 
McGrath: The things I worried about when I was around him [Emig] was staying on my bike, because he's going to take me out. He's going to cross over my line on the triples and scare the shit out of me. To me he was just inconsiderate when it came to that. He didn't give two shits about me, and he didn't give me the credit of actually what I was doing and how I was doing it. It was more like, "Hey, I'm going to just chop that guy's legs off. I don't really give a shit about him." Me as a human, I could never act like that. So to me it was always baffling that someone could do that.
Emig: That race, compared to every other supercross race that I led before that, is that I had calmness, patience, and confidence, and I just kept telling myself that I was going to win it. That belief and that confidence that you have to have to be patient and all that, that's a hard thing to acquire as a rider, I think. At least it was for me.
Norfolk: Anyone who watches the video, I think it would be really easy to draw the conclusion that that's probably the worst I've ever seen that guy race for 20 laps. Just little mistake after little mistake after little mistake. Clearly it was not the MC that you saw before and you saw after in those 20 laps. The bottom line was on that particular day Emig was better.
Emig: Some of the footage that you can see was us having a laugh or two and shaking each other's hands and this and that, so I don't really know how Jeremy felt. I read some things, but that's not my words. 
Coombs: With Jeremy losing, it let the air out of the whole thing. You were kind of bummed that you didn't see this perfect game or this last second heroic … it just didn't happen because Emig rode a superb race, and Jeremy didn't have his best stuff that night. But they got in the box van and they just went to Denver. He just kept doing what he does.
LaRocco: I'll tell you what I really hated about the whole thing [Emig winning]—he was on my damn bike from the year before. I didn't like Emig. I'd rather seen Jeremy win all of them than have Jeff be the guy beating him. 
Coombs: I was friends with Jeff Emig more so than Jeremy at the time. I'd known Jeff from back east. He'd grown up at Loretta Lynn's, stuff like that. I didn't know Jeremy very well until I was in the role of covering him. So I felt kind of in some ways relieved that Jeff Emig got this monkey off his back, this burden of the one race that he won to that point in his career had a giant asterisk on it, and that was the fact that McGrath didn't line up and race [in Las Vegas the previous year]. So it was good in that sense, but it's also that disappointment that we had a front row seat to something really unbelievably special that was never going to happen again, and it hasn't happened since.
Emig: I can't speak for them. But one of the reasons why I felt that me of all people was the one to break that win streak was I just felt like I never gave up and no matter how bad it was, I kept trying. There was a point where certain riders—and I've been there before, trust me, dozens of times—where you go to the line and you're like, man, there ain't no way I'm going to win this thing. It happens. Some riders will never even tell you that, I would imagine. But I just probably had that extra incentive, that extra desire because of the sort of one-on-one battle that I had with this racer that probably contributed to that.
ROUND FIFTEEN: FOURTEEN IN FIFTEEN
The streak now over, the series visited Denver, Colorado, for the first (and last) time in sort of an anti-climatic finale. But before Denver, rounds two and three of the AMA National Motocross Series took place at Hangtown and Glen Helen with McGrath sweeping all four motos to make it a perfect six for six to start MX. Denver featured a unique track that went around the football field; McGrath made it 14 in 15 when he dominated the main event start to finish. 
"I was a totally different rider tonight," McGrath told Cycle News. "The pressure built up over the past few races with the streak and you don't notice how much pressure builds until you get whipped, then the air goes out of you. Tonight I was totally relaxed the whole time. I pushed the first 10 laps then cruised the last 10. Easy."
Suzuki's Ezra Lusk finished a ways back in second and Emig rounded out the podium.
Coombs: If you could have bet on a race, I would have bet everything that I have right now on Jeremy McGrath to win the last round of that series, because he was so close to that no-hitter. The next guy up after the first guy gets a hit in an almost no-hitter, that guy's got to be waiting for the pitcher to either throw that ball into the ear of his helmet or straight down the middle so hard that he's never going to see it. McGrath threw that Denver race straight down the middle and just dominated.
Norfolk: In Denver, he was probably better than he's ever been.
McGrath: Every race I lost, usually the next race I'd beat them by double. Denver, you've got to remember, my CR250 at that time was probably way better. At Denver we were at altitude. I remember that night starting in first gear and getting a huge holeshot, where everyone else was still trying to start in second gear. That was another race where I was jumping a section that nobody else could jump. In fact, [Brian] Swink tried it I think and ended up launching over the berm onto the starting gate. So that night was a good night for the bike because we had so much power.
Emig: One more thing about '96, I remember going to Denver and I didn't give a shit at all how I finished. It was like, "Okay, let's start thinking about motocross." If I remember correctly I was third, but it was like, "Okay, let's get focused on motocross." 
Stephenson: The thing I guess to end '96, that's back when they didn't really have a banquet. At the end of the night, they had a flatbed trailer in the pits, I got 22 points and I went up there with a Coors Light in my shorts, picked up my last check and said, "Thanks. You probably won't see me at these races anymore." 
Emig: As I grow older I realize how special it was, not just '96, but to have a rival at that time like Jeremy McGrath. He and I certainly became these rivals, like Larry Bird and Magic Johnson and Bjorn Borg and John McEnroe. I saw the specials on ESPN or HBO on those guys and it really changed how I reflect on those years of racing, and I realize how fortunate I was to even be in that position. Most of those supercross races that I rode were pretty damn disappointing, and to be fortunate enough to have a rival to focus on, to go through the ups and downs that comes with that, is really fulfilling. There are a lot of great memories there, good and bad. 
McGrath: It doesn't bug me at all that I didn't go undefeated. It bugs me more that Jeff beat me. To me I don't feel like Jeff should be the guy that broke the streak. He was not the second place guy that year. Even on the track when we were close or we battled or whatever, I never worried if I could ever beat him. That never, ever crossed my mind—that I couldn't beat him.
Emig: Looking back, if I was Jeremy you have two choices of how you would look at not winning them all. To be that guy that was this close to an undefeated season, which I'm sure not having that record might bum him out, but also for it to have been so important to other riders, to mean so much to different teams and riders to win just one race, what does that say about what Jeremy had accomplished and what his dominance was? To me that's as good a compliment as one could be given. His dominance was that of legend. 
McGrath: Do you know how cool for the sport and how much more cool and grown up it would have gotten if me and Jeff were like friends and celebrating and doing all that stuff together instead of me versus him? I guess rivalries build popularity also, but I was confused by it. 
LaRocco: When you're winning and when you're successful you kind of think it's all you, and then you make some decisions based on what feels right or what felt wrong and you live with them. You don't know that at the time. It was a little bit into my career before I realized how much the bike mattered.
A perfect—or near-perfect—season wouldn't be possible without a mechanic keeping everything in order behind the scenes. 
Stephenson: Skip was always cool. He was just like Jeremy. He wasn't like Lunniss who was just like, f**k everybody. I'm going to be pissed off just like my rider. Skip was just as cool as anybody else. You'd see him out at the parties after races and stuff, at the river every once in a while. I think he realized, "I'm a part of something. I'm breaking history. I'm going to enjoy this." He had such a light, carefree attitude just like Jeremy; I think that's why they got along so well. It worked. It clicked. 
Coombs: Skip would deserve a great deal of credit for how he managed it, too. Skip sort of became the superstar mechanic. He had an Oakley deal and a Mechanix Wear gloves deal. He was in ads and we always interviewed him on TV. Back when you could actually hear an interview on TV in the pit row. They all did a good job of keeping Jeremy the same person he was when he won Anaheim the first time back in 1993. 
McGrath: Skip and I, he was definitely like a mentor and like my big brother that I never had. I had 100 percent trust in him. You hear about the dynasties in NASCAR. I believe Skip and I were definitely a dynasty out there.
EPILOUGE: STORM CLOUDS
At the end of 1996 it was assumed by all that McGrath would re-sign with Honda after winning his fourth SX crown and narrowly missing out on a second MX crown (an injury while in the points lead gave Emig the opening he needed to win the outdoor title), but with an all-new aluminum-framed CR250 coming up and with Honda issuing some contentious contract restrictions, McGrath jumped ship just days before the 1997 opener. It was a shocking deal, with McGrath jumping to Suzuki with Phil Alderton's Suzuki of Troy dealership stepping up to help. Also at this time, Skip Norfolk, the only mechanic Jeremy had known since 1991, decided that he was getting off the road. Massive changes awaited McGrath after '96.
1997 saw McGrath win just two races on the Suzuki and lose the SX title to Emig and MX was even worse (although Norfolk would come back late in motocross to help out). He would rebound in '98 on a Chaparral Yamaha to win the supercross championship again, and add two more in '99 and 2000. Three-straight titles on the Yamaha were impressive, but it can be argued that indoors and out, Jeremy McGrath was never better than he was in 1996. 
McGrath: That '96 250MX title didn't happen because I was over-confident and maybe, I dare say, arrogant. But I was over-confident for sure. I really felt like superman. That's the reason I tried to jump that jump [at Millville] on press day and I was trying to show off. I didn't need to do any of that stuff. All I needed to do was go out and ride and win races. I just kept reaching for more and reaching for more and got snake bit by my own actions, really. 
Emig: I would probably feel a lot different about my '97 SX title if halfway through the season he was hurt or he finished fifth or whatever. But two races to go in '97 he was on me when we went to Dallas in the mud and that was it. I've got to do it now. No way do I want this thing to be close going to Vegas. To have the one win in '96 and then to be able to win the title in '97 certainly was very fulfilling as a racer.
Coombs: If you would have told me in 1996 that Jeff Emig was going to be the 1997 supercross champion I would have said no way. I would not have known that McGrath was going to switch from a Honda to a Suzuki at the last minute, and I just saw all these other kids coming up. Again, I think that given the way Jeff's career ended with some sort of lost seasons, the fact that he caught back up to McGrath—even though Jeremy slowed down a little when he went to the Suzuki—and won that championship, I would have thought that any one of those other guys would have gotten there before Jeff Emig did.
Norfolk: The assumption was we were going to stay at Honda for '97. I think we still motivated each other. And then things changed. When the opportunity with Honda went away, then this other opportunity came up, which I wouldn't have taken had we stayed with Honda. For me, I was with Jeremy until he decided to move away at Honda. But when he left, it was like, "Hey, you know what? I need to maybe take this opportunity as well." It was a very tough decision to do. I felt like I was letting Jeremy and his family down.
McGrath: I was shocked when I left Honda and Skip decided that he didn't want to go. For me that was really shocking. I didn't really understand it.
Norfolk: I had just started a family. My son was just born. I think my biggest fear was I was going to wake up one day and be 35 years old and go, "Okay, what do I do now?" At that point in '96—if you go back and look at '93, '94, '95, and '96 I think I averaged about 219 nights in a hotel a year. With all the stuff we were doing in North America plus all the European racing we were doing in the off-season—219 nights in a hotel room. That's a fair bit of travel. 
McGrath: I was kind of devastated when Skip left. Honestly, it took me some months to get it sorted out. It wasn't only the bike, it was the relationship and stuff like that. When Randy [Lawrence] and I got together [as a mechanic] at a later date that was another amazing match. Randy was badass and one of my favorites of course. We got it done also. 
Taylor: In my opinion Jeremy left because of the bike [the 1997 Honda]. I never talked to him about salary. I'm sure there's something to all the other stuff but I know he hated the bike. He absolutely hated it. 
McGrath: I was 100 percent content with the dynasty we had going at Honda. Of course I didn't like Honda telling me what I could and couldn't do when I was away from the track. If I was getting my job done at the races then obviously I'm doing what I need to do to get it done, right? But I got along with everyone at Honda for the most part.
Taylor: I'll never forget—we were out at Edwards Air Force base testing and Stefan Everts was there. It was right before he [Jeremy] left. We were actually riding outdoors, which is kind of weird now that I think about it. But Everts was amazing on a bike and very fluid. Jeremy was out there just ripping and looked great. Stefan just looked slow but his lap times were a couple seconds a lap faster. I'll never forget that because I just remember Jeremy being like, "Man, I'm riding my ass off on this thing and I just can't go." Stefan was a little bit taller and he just rode differently so he could handle that '97 bike maybe a little bit better. But my opinion is the bike had a lot to do with it. 
McGrath: The contract negotiations with Honda basically stopped. I was looking for an out because I didn't want to ride that bike. I remember the day. We were testing at Glen Helen and I was like, this bike, you just can't do it. Something is up with this bike. You just can't ride it. So I was on the phone with my dad during the day in-between rides going, "Hey, we need to look for another option here. This is just not working right." It was one of those things where riding that bike; it all of a sudden felt like I forgot how to ride. 
Coombs: McGrath was exploring the very limits of motorcycle racing stardom. He happened to be doing it with a company [Honda] that was very button-down, and in the end they both probably left a lot of wins and titles on the table, especially Honda. They never should have let Jeremy go.
McGrath: I would say the bike was 70 percent the reason I left. Honda could have paid me whatever I wanted and I still would have probably left because of the bike. Think about it—for me, if you look back now on the history of the sport, had I not left Honda I might not have the '98, '99, 2000, championships. I might have had to retire in say '99 if I had two more years for Honda in '97 and '98 with sub-par results [on that bike]. They might not have rehired me in '99. So if you work it backwards a little bit like that … and that was if I would have stayed healthy through all those years. As crazy as everyone thought I was to leave Honda, it was a huge blessing really. 
Taylor: The aluminum frame was really good until they screwed it up. Jeremy and Lamson loved the initial version, but I wanted to keep developing it a bit more. But then it started breaking so they kept adding more material to it. The next thing you know you had the lead pipe that the '97 CR250 became.
LaRocco: I followed that up year with a disappointing '97, plus having Jeremy there made my stay there [on Suzuki] a little bit worse. There just wasn't really anything uplifting about where I was going.
Stephenson: I was blown away Jeremy went to Suzuki. I had been with them prior to that and their 250 program was pretty shitty, to be honest, throughout the early '90s. So when Jeremy was leaving Honda, which was obviously the pinnacle at the time, to go to Suzuki, I was basically shaking my head going, the ego got in his way there. We'll see what happens. 
Bradshaw: It was definitely discouraging at the end of the '96 season when they [Yamaha] had told me they were going to renew my contract, and after Washougal, after one of my best rides all year, I get the call that they decided not to do it. There was really never any reason, still to this day. I really haven't got the opportunity to corner up one of them and find out really what the true story was, but even Keith [McCarty], he was like a dad to me then because I was so young when I started there. I had a ton of respect for him and still do, but he just said, "I honestly don't know."
LaRocco: Honestly, when I look at that 1996 year I look back to the reasons I made bad decisions. I look at the fact that I ended up there in the first place, that was a huge lesson in my career. So when I reflect on that year—you have to imagine for me, I went from thinking that I had every opportunity to win, to not knowing what the hell happened. So that was a year that I almost retired—it was that bad. So for me '96 is a bad example because I had the same issues with him in '94 and '95, but in those years I felt like I had the ability. Then '96 I felt like I had my own issues, never mind what Jeremy was doing. I suffered through my contract in '97 and got on a Factory Connection Honda in '98.
McGrath: I won 48 races for Honda and $8,000 was my bonus to win; and $100,000 to win the title. When I left Honda and went to Suzuki and it was $50,000 a win. $42,000 difference! I almost made more money winning two races in '97 than I did in '96 winning 14 races. Then I won 28 races for Yamaha at $50,000 a win. Basically the year that I went to Suzuki was when everyone else's bonus money went up. That was about the best thing that happened at Suzuki. Ricky Carmichael, Chad Reed and James Stewart and all the rest of them can thank me!
Coombs: 1996 was very conflicted for both Jeremy and Jeff. Jeff would fight all year to get that one win, and Jeremy would fight the whole way to deny him and anyone else that one win. They both had a shot at history and they both took it. I think the way it turned out was the way it was supposed to turn out.