Here's some hard truths coming right at you
Here's some hard truths coming right at you
Photos by James Lissimore
Ok DV, Ryan Dungey won and stopped all the "What's wrong with Dungey talk"…or did he? He grabbed the start and led every lap but Blake Baggett was catching him for a few laps and Eli Tomac caught him from a ways back. Anything wrong or ?
Ryan won his second race of the season but it seems like everyone is talking about how good Eli was riding. I've said it before in this column. RD has everything in his arsenal to win races but he will have to put everything together. I thought he had the pace last weekend in Minneapolis but his second part of the race wasn't good. We have to remember it is a 17-race championship and the champ has now a 1-race cushion on second place. At pretty much half way in the series, it's a great position to be in. Since Anaheim 2 when he got the red plate, he lost points on second place in the championship only once, in Minneapolis. He dealt with Atlanta well once again. I hate to say it but the start in Georgia was somewhat pretty important and he started in front. That's proof Dungey is strong and can rebound. He looked a lot better this past Saturday. He was more aggressive in practice and clocked some good times. In his position in the championship, he can't go balls out to win every race. That's not his strategy. His strategy is to win when he can and control the points lead without taking too many chances when he can't. I think he's doing a great job at it. He might not look very solid to some but in the first 8 races he showed great composure in controlling the points lead.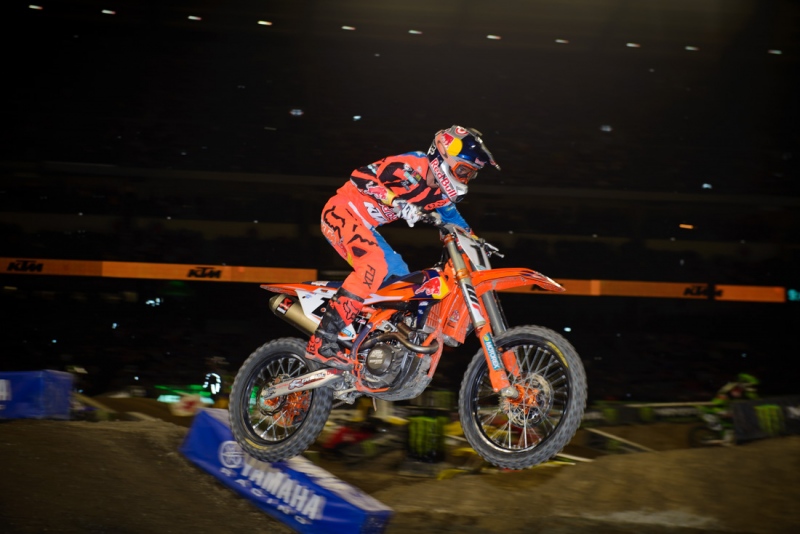 Dungey got the start in Atlanta and checked out for his second win of the year.
There are only a few things he didn't do well this season so far. Spending 7-8 laps behind Wilson in Dallas and in Oakland main where he rode a bit too cautious but it was understandable with the rutted track. And finally, the second part of the main in Minneapolis where he lost ground on Tomac, made a huge mistake in the rhythm section and got passed by Marvin later. Other than that, like I said, he's controlling the points lead very well. He'll just need to have a couple more races where he gains points on Marvin and Tomac and it should be enough to win another title. Isn't it the goal anyway to be Champion at the end of the season?
Blake Baggett got his first non-Daytona 450SX podium with a great ride. Does he have the skills to take his SX game to the next level?
Blake has been stepping it up on the KTM for sure. He had a rough time on the Suzuki but he's turning it around for a rider not known for his Supercross abilities over the years. We got to give it up to him. He's improved a lot this season. I think he put a lot of work into it in the off-season. It's cool to see a rider improve a lot in an off-season. It doesn't happen very often and it has to be pointed out. It means he did his homework the right way. We've seen him up there during the timed practices this season. If I remember right he was even on pole at one round. He'll have to keep grinding to improve even more and this first ever podium should help his confidence and boost his motivation to do even better.
Tomac's start was decent, his first rhythm lane not so much. What did you see with him and do you think he should try something different off the start?
Tomac was on a mission in the main after ending the first lap in 9th. That's a bit too far when one of the riders in the top 3 in the championship gets the holeshot. Tomac is the rider who won a race by being the farthest back on lap 1 this season. It was in Oakland where he was 8th on lap 1. That's a stat for you for the first half of the season. If you're not in the top 8 on lap 1, you won't win! Eli looked great in Atlanta once again. He was fast, very aggressive and took a lot of chances trying to catch Dungey. He was a bit scary thru lap traffic. I was like, wow, that was sketchy. But you guys have to remember, he has to ride 100% all the time if he wants to keep a chance to win the title. His strategy is to win every race if he wants to gain points on Dungey since he's over a race behind. This is also why we can notice a big difference between him and Ryan. I am not convinced Tomac is that much better than RD even if it looks like it at the moment. I think their state of mind is tremendously different. On one side, the champ needs to control a good points lead without throwing it away by doing something stupid. On the other side, you have Eli who has nothing to lose at this point and has to win. Those 2 situations and positions in the standings makes a big difference in the way riders ride and race. That's why we notice such a difference between those 2 guys during a race. Obviously, if Eli starts a bit better and he's closer to the top 5 on lap one, he's gonna be tough to beat. One, because he's a great and fast rider but two, because he has to give all he has to catch up points in the standing. It's gonna be an interesting second part of the season though.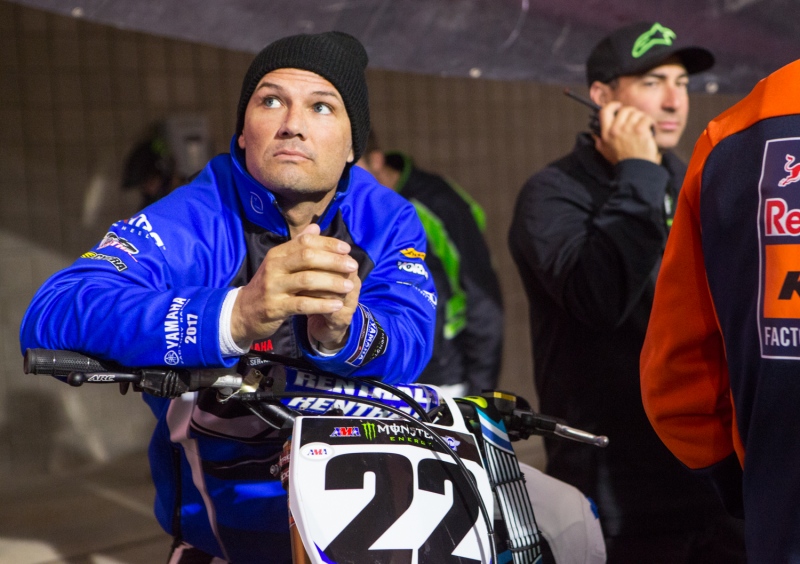 Chad Reed had his best race since Glendale in Atlanta.
Chad Reed looked much better this week, he told us he's not practicing starts anymore because it's too much in his head.
I thought Chad looked good all day. He was good in practice and we could see he wanted to be there to race. His body english in practice was way more aggressive than previous races where it looked like he just rode. I've said it after his second place finish in Phoenix, when Chad feels good and has confidence in his equipment, he can be a threat at any given race. We just have to wait and see what Chad shows up at the races though. His main event performance went a bit unnoticed but I thought he rode very well. He was in the top 5 early in the race. He crashed, went down to 13th and caught up to 7th at the end of the race. I thought it was a good performance after a DNF in Dallas and a 16th in Minneapolis. As far as starts, it's mainly in the head. When you feel good, have the speed and ride well in practice, believe in your fitness, your starts will automatically be better in the main. I've never worked on my starts that much. When I was great in practice and riding good, I started great. When I felt like shit in the afternoon and was off the pace, my starts were crappy. I believe having confidence in your riding and speed plus knowing you are ready physically to battle in the main, makes your a better starter…
Zach Osborne looks great, he won his first ever 250SX race and has the points lead. Is he the favorite for the title?
Zach has been looking great since the opening laps of practice in Minneapolis. He's here to go fast and win. You can see him going out in practice in front and getting going right away. His speed is there. He already had the speed in the previous seasons on the West Coast. He's lost a bunch of weight at the Baker's factory. He's been riding with 3 of the best 4 or 5 450 riders all off-season. His program changed drastically and improvements are showing. He also shows a lot of determination on the bike. We saw that in the main in Minneapolis. He didn't start well, put his head down, caught up, crashed and finished 3rd a few seconds behind Savatgy who won the race. That had to be a confidence booster for him. Even if he didn't get the 25 points in Minnesota nor the fat winning bonus check, in my eyes he won the race. He's doing great and he's definitely the man to beat in this East Coast championship.
Adam Cianciarulo crashed once, got forced off the track another time and hasn't collected a podium yet. Thoughts on AC?
Strictly in my opinion, I think Adam's at 90% of what he can do and should race at and that isn't good enough just yet. He has to ride on the edge way too much to compensate. Again in my opinion, to be a great rider and a champion, your 90% should be better than everyone else's 100%. That's the best case scenario. That's being a McGrath, an RC in MX or a Bubba on top of his game. To race without making mistakes and being on the edge, it's always great to keep a 10% safety margin. It's ok to dig into it on races you don't feel as good or as fast to compensate but when riders have to ride at 100% to perform, that's when they start losing consistency and start crashing. That's also how I feel in the Dungey/Tomac dual. Eli is at 100%, RD at 90%. That's the difference you notice right now. That's how I feel about Adam. He's fast, doing some interesting things on the track but he'll have to improve his package to be able to win/podium riding at 90%…
Your rider Christian Craig had a rough go of it but did show speed again. What's the game plan from here on out?
I thought Christian looked better this weekend. He was always up there in timed practice. Closer than he was in Minneapolis. He also looked very confortable and smooth. I don't even think he's hit 90% of his abilities yet. I was looking forward to see how he was going to rebound after Minneapolis. Bad start in the heat, he caught up fast, passed a few people in a couple laps. He then lost the front after the finish and lost a few positions. I was actually ok with everything that was happening. I am ok with getting a mid pack start in the heat race and practice to pass people for the main event. He did just that. He looked confortable and fast. I was also ok with him losing the front. It means he was pushing and getting out of his comfort zone. Then, the crash in the whoops happened. There was a yellow flag with a rider just in front of him. He changed his line in the whoops a bit, missed one, foot came off the peg and the rest is history. The doctors said he had a minor concussion and advised not to race. He's doing the impact test this week but should be fine for Toronto. The plan now is pretty simple. Go out, have fun, show what you got and that's pretty much it since there's nothing to salvage in the championship anymore.
Anything else from 250's impress you? What's surprised you after two races?
I think Ferrandis is doing actually pretty good. Results aren't showing right now but he rode hard in Minneapolis to get 6th. In Atlanta, he led a heat race for a while but crashed in the main while he was second on lap 1. He's learning pretty quick and looked more confortable at the second race. He's struggling blitzing big whoops right now and he will have to work on that but overall I think the potential is there. I didn't think he would've been that close to SX specialists' speed right away like he is. I'm also impressed with the fact Jordan Smith can transform himself when it comes down to the main event. 2 holeshots in 2 races! I would've been curious to see what he was gonna do without his teammate love tap in the main. I am also impressed to see Nichols on the podium a few months after breaking his femur. Doesn't this injury require at least 6 months? I wanna know the brand of orange juice he's drinking. I need some…