Getting sentimental over some good times.
Getting sentimental over some good times.

Photos: James Lissimore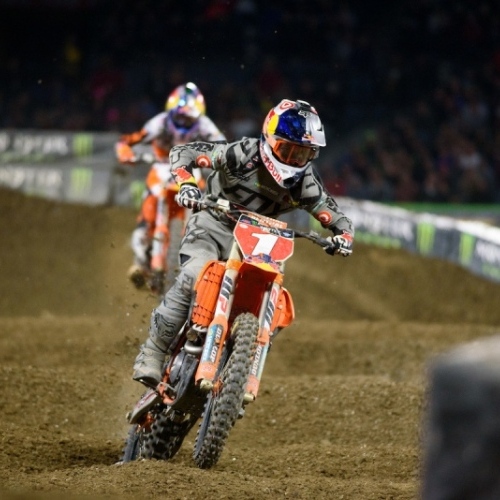 Dungey made his 450 debut in 2008 at Indy.
The Indianapolis SX has always held a special place in my heart over the years and this year won't be any different. I'm sure you have the same type of memories over the many years you have gone to your local supercross or national. I was having trouble sleeping the other night and I thought back in my head just how many editions of Indy SX that I have attended and I realized…I'm getting old. The years are flying by and I've witnessed some great memories on and off the track every year. Come with me on a trip through time as I try to rustle up some memories from my old mind.
2003 – RCA Dome
After taking about five years off from the sport to pursue other interests such as basketball, soccer, and baseball I made my return to the sport to witness the 2002 motocross season. Needless to say, I was hooked by the time the supercross season came around. I was 12 years old when I went to my first SX with just my dad at the famous RCA Dome (sorry for depressing you Matthes!). We drove up early and watched all of the practices and I was just amazed by it all. The first thing I remember is the scent of two-stroke premix tantalizing my nostrils (the scent of four-strokes is good too, but nothing will ever beat the smell of two-strokes in the morning.)
2004 – RCA Dome
By this time I was a full-blown James Stewart fan and I was pumped that he was racing the East Region! Unfortunately for me (and Stew) he crashed and hit his head in practice and he announced he was sitting out the night show after opening ceremonies. That opened the door for Josh Hansen to come through for his first ever win. Then of course Mike LaRocco grabbed the holeshot in the 250/450 class and led wire to wire. That stadium was so loud that night and had so much energy. I'll never forget that I got to see Iron Mike win his last main event.
2005 – RCA Dome
Did Not Attend
I was not in attendance for "The Perfect Storm" season because my dad runs his own business and he had to stay back and work. I was only 14 at the time and could not drive up by myself, so that was that.
2006 – RCA Dome
This was the last supercross race that I would see Ricky Carmichael race, which was rare for me. I saw him win countless outdoor races, but only witnessed him racing supercross twice. He won although, Reed and Stewart put on a good show too. We really didn't realize how lucky we were to witness these races live back then.
2007 – RCA Dome
The biggest memory that I have from this race is the fact that Andrew Short made his 450SX debut at Indy. He finished eighth, but I just remember watching him all day. The 250SX class was ridiculously stacked that season. Dungey won his second 250SX race and Ben Townley, Ryan Morais, Justin Brayton, and Matt Goerke all were fast that night. It's funny how certain rides stand out even though they didn't necessarily get on the podium.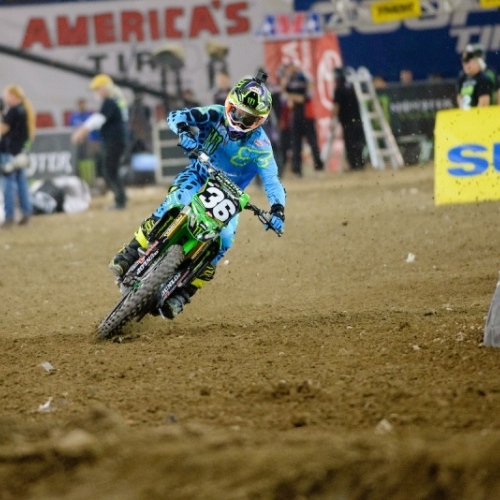 Cianciarulo is 1-0 inside the Lucas Oil Stadium.
2008 – RCA Dome
This was by far one of my most memorable supercross races that I've ever seen live. I think only 2004 has it beat and 2009 is a close third. This one sticks out for two reasons. One, Ryan Dungey made his 450 debut here and finished fourth on the night. The second reason was the track layout was awesome. Was this the year that Chad Reed designed the track? I think it was because Kevin Windham was doing this quad-triple-triple section after the finish that no one else did. I'll never forget the sound of K-Dubs CRF450 every lap as he launched that quad. You could distinctly hear him and it was absolutely sick! We waited for him to come around each lap to see if he carried enough speed to get over everything.
2009 – Lucas Oil Stadium
The first year in a brand new stadium is always exciting and 2009 was memorable for that reason alone. We got to see all of the new things the stadium had to offer. Also, Chad Reed and James Stewart put on one great main event for all of us. That stadium was on it's feet the entire main event as Stewart would crash several times, catch up to Reedy each time, and then crash again. Reed would win the race, with Stew second, and Mike Alessi third. Yep, witnessed Alessi's only 450SX podium.
2011 – Lucas Oil Stadium2010 – Lucas Oil Stadium
All I really remember from this year was that Jason Lawrence kept screwing with Dungey in practice. Villopoto won and my dad was very happy about this.
The Lucas Oil crowd was extremely happy because they claimed Ryan Sipes as their own and he won his first 250SX main event. It was cool because he showed genuine emotion after his win and that is surprisingly rare these days.
2012 – Lucas Oil Stadium
Villopoto won for the third year in a row, but Justin Brayton was a strong second on his Factory Honda. I'll never forget that Brayton kept RV close for a good amount of laps and almost made the pass at one point.
2013 – Lucas Oil Stadium
Four years in the 450SX class and four wins for RV in Indy, but the most memorable event happened in the 250 class. Kyle Peters finished second on the night, AJ Catanzaro finished fourth, and Marvin Musquin and Wil Hahn fought from way back to get on the podium late in the race. This was also the year that Blake Wharton led the entire main event only to crash in the whoops on the final lap. We've seen some shake-ups in Indy!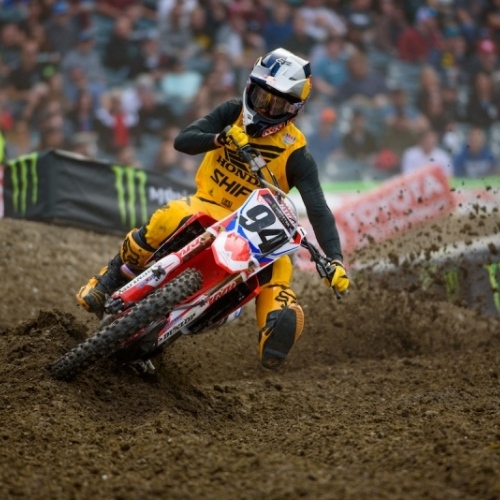 Roczen stalked Dungey the entire main event last year and was unable to make the pass.
2014 – Lucas Oil Stadium
The only thing that stood out to me in 2014 was that the rookie Adam Cianciarulo put on a show. He was really, really fast all day.
2015 – Lucas Oil Stadium
Nothing from the racing really stood out to me too much in 2015. I spent a lot of time in the pits that day because it was my first year with Pulp and I was also doing some work for Racer X. The Seven Deuce Deuce and Dustin Pipes made a bet about making the main event, which made Pipes make his first ever main. That was pretty cool.
2016 – Lucas Oil Stadium
I sat in the press box for the first time, which was pretty awesome if you ask me. My family ended up not going and I just worked the event for scoops! It's very quiet up top though and I missed the cheering of the crowd. I correctly called Aaron Plessinger for the win and he delivered and the 450SX main event was pretty stellar between Dungey and Ken Roczen. The track deteriorated and became very rough and rutted, so that played a huge factor.
What will I remember from this year? I'm excited to find out. I saw some really good emotion out of Dungey after the finish in Daytona and methinks that he's going to have some redemption in Indy. It's just a hunch, but I think we are in for a #banger of a main event in each class on Saturday and I'm pumped. The Indy SX crowd is always very loud and the atmosphere is enough to get you excited for what is about to unfold. That's one of the best parts about the weekend!
On top of that I'll be in the stands enjoying the event with my family, just like I've enjoyed doing for the majority of past ten years or so. Our crew has grown every year and we'll continue the tradition as the years fly by. Thanks dad for introducing me to supercross and taking me to all of the events over the years. As you can see you've created many memories for me.
Follow me on Twitter/Instagram @troybendgen and send me an email about anything at troybendgen@gmail.com.