For part 3 of our PulpMX gear history series, Matthes and I take a look back at one of motocross' most iconic gear brands – JT Racing.
For part 3 of our PulpMX gear history series, Matthes and I take a look back at one of motocross' most iconic gear brands – JT Racing.
In this installment, we are going to touch a little bit on JT Racing's roots in the sixties and seventies, but focus mostly on the eighties. This is the era where the brand was most successful and solidified its reputation as one of the sport's true powerhouses.
Started in 1967 by John and Rita Gregory, JT Racing began as little more than a side project to supplement John's racing expenses. Selling socks sourced from Mexico out of the back of their truck and from a display in their pharmacy (John's real job was a pharmacist), the couple was pleased to find there was actually a market for high-quality riding socks. Their socks were colorful and, being made from cotton, far more comfortable than the typical wool socks common at the time.
By 1970, the pharmacy was closed and the side business had become a full-time operation for the couple from San Diego. Selling mostly through mail order, JT Racing Imports (named by Rita in an inversion of the initials of the sock's place of origin, Tijuana or "TJ") quickly expanded through their relationships with world famous racers like Torleif Hansen, Lars Larsson and Joël Robert (JT's first sponsored rider, at a paltry $100 plus product).
By 1972, JT had expanded to include products like motocross jerseys and the industry's first nylon motocross pants (prior to this, motocross pants were made of actual leather, hence the nickname "leathers", a term that persisted long after the leather era had passed). Partnering with Torsten Hallman Racing (today's THOR) to distribute their products, JT Racing Imports quickly rose from a Mexican sock importer into one of the most influential brands the sport has ever seen. Here is the history of JT Racing from the sixties to the eighties, viewed through the ads that helped make them famous.
If you want to listen to John Gregory get into detail about the rise and fall of JT Racing, listen to Matthes' podcast with him HERE
It's well worth your time.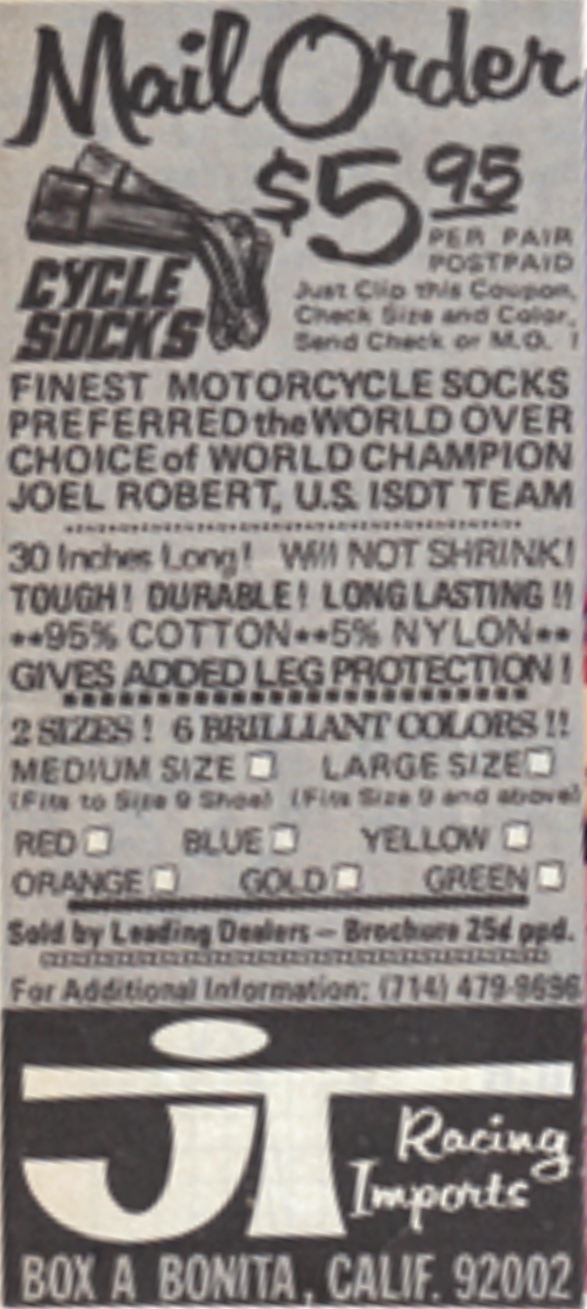 JT Racing Import's first product in 1967 was a sock sourced from a manufacturer in Mexico. The socks were 95% cotton (as opposed to the itchy wool socks that were common at the time) and available in several bold colors. At $5.95, they proved a huge hit and provided the basis for what would become a motocross apparel empire.
Matthes: I'm always telling Jason Thomas to invent something and here's why. A cotton sock was the start of a multi-million dollar company! It just takes one idea as simple as this. Stupid JT…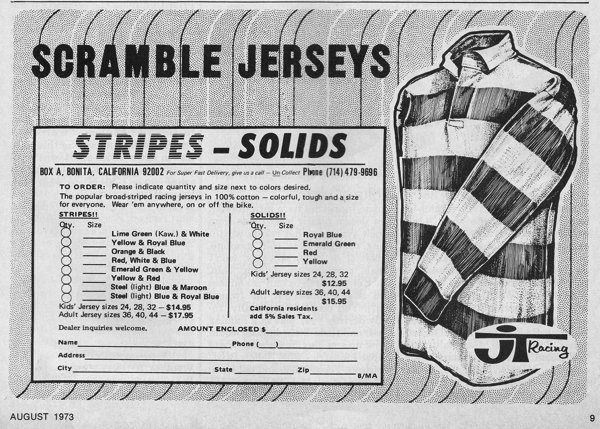 By 1973, JT Racing had become a full-time business for the Gregorys. They offered a full lineup that included socks, jerseys (is it just me, or does this jersey look more appropriate to a chain gang than a motocross course?), and the industry's first nylon pants they titled "Unleathers".
Matthes: Nylon! Great idea, right? Thanks for nothing Thomas…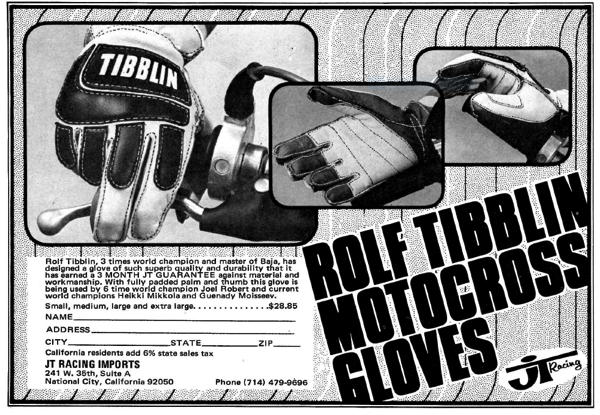 In 1974, JT Racing introduced the first of what would become a line of rider-replica gloves. This model, designed in cooperation with World Motocross Champion Rolf Tibblin, featured a lambskin construction, with extra padding for the palm and thumb area. In 1975, they would add a Hiekki Mikkola model, then in 1976 they would bring out "The American", a bicentennial red, white and blue version marketed with Honda's Marty Smith.
Matthes: This glove came out in 1974 and in 2017, companies are selling the same basic version of this. Yeah, probably WAY less padding on the palm, but you know what I mean?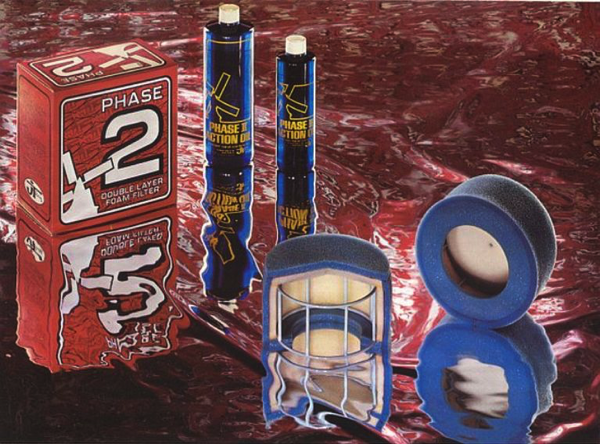 One of JT's biggest hits in the seventies actually had nothing to do with riding gear. The Phase 2 filter was introduced in 1975 and quickly became the filter of choice for factory Maico, Yamaha, Bultaco, Husqvarna and Suzuki. The design for the Phase II actually came out of John Gregory's association with Holland native Bob Twin, the founder of Twin-Air filters. Twin-Air's breakthrough in 1972 had been the use of special dual-stage foam that could trap small particles, while still allowing maximum flow to the motor (this was a quantum leap in technology over the easily clogged paper filters common to the era). JT had been one of Twin-Air's earliest US distributors (through their partner Hallman, an early investor in JT), but the two had a falling out in 1974 over the marketing of the product. A year later, JT had a dual-stage filter of his own to sell, the Phase II.
Matthes: I do not remember this at all. Did John talk about this in the podcast? Think about if they could have made it work, JT gear AND Twin-Air would have been a huge company.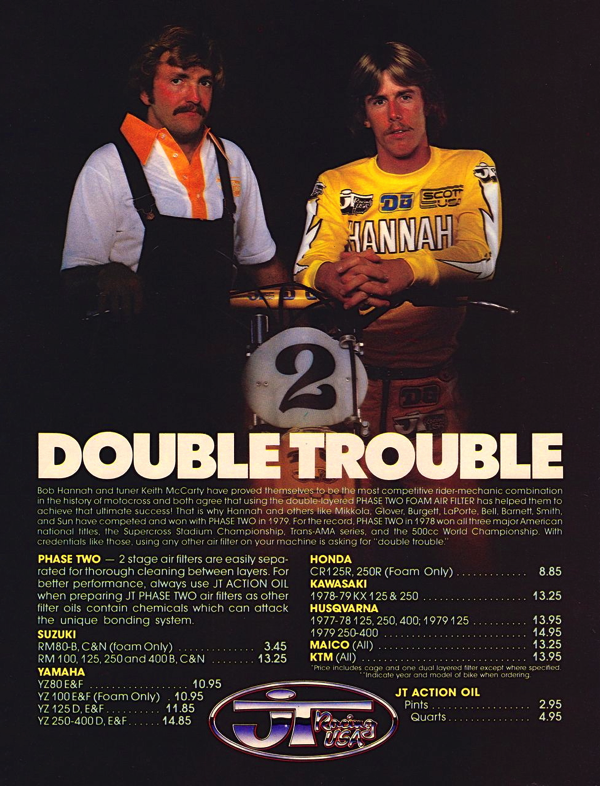 While Joël Robert was JT's first sponsored athlete, the rider that really put the brand on the map was Yamaha's Bob Hannah (pictured here with his mechanic, and current Yamaha big wig, Keith McCarty). Brash, brave and blazing fast, the rider they called the Hurricane was all but unstoppable in his JT gear during the late seventies.
Matthes: It sounded like Gregory was a good dude who made stuff that was so ahead of its time that the riders sought him out to ride for JT. By the way, that was and still is a sweet logo.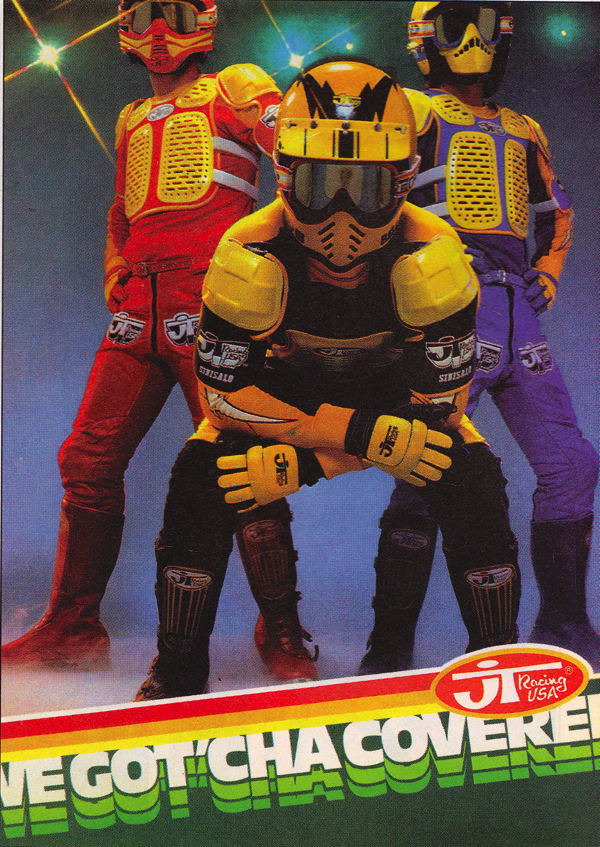 You can almost hear the Bee Gees thumping in the background.
Matthes: I was thinking more a Star Wars themed ad as those dudes sort of look like Stormtroopers. But sure, Staying Alive also works well here.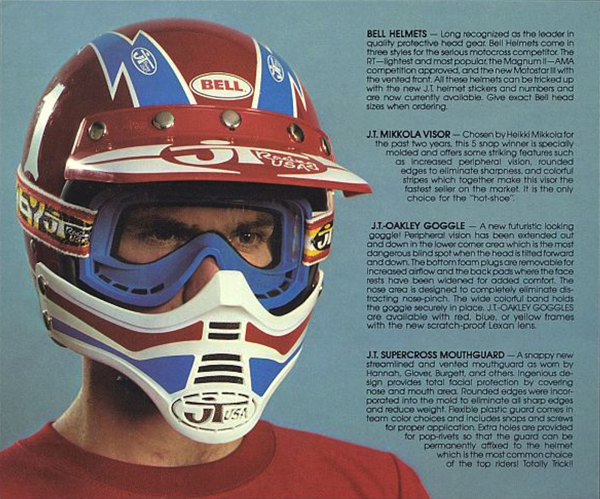 In the days before full face helmets were common, face shields and mouth guards were a popular item. This Supercross mouth guard was incredibly popular in the late seventies and still stands as one of JT's bestselling products. As a side note, check out these early JT/Oakley goggles that predate the original O-Frame by a little over a year.
Matthes: Johnny'O made these mouth guards look so good out on the track. I loved the way they looked when I was a kid over the standard cheese ball looking JOFA thing. And yeah, I had totally forgotten about these goggles.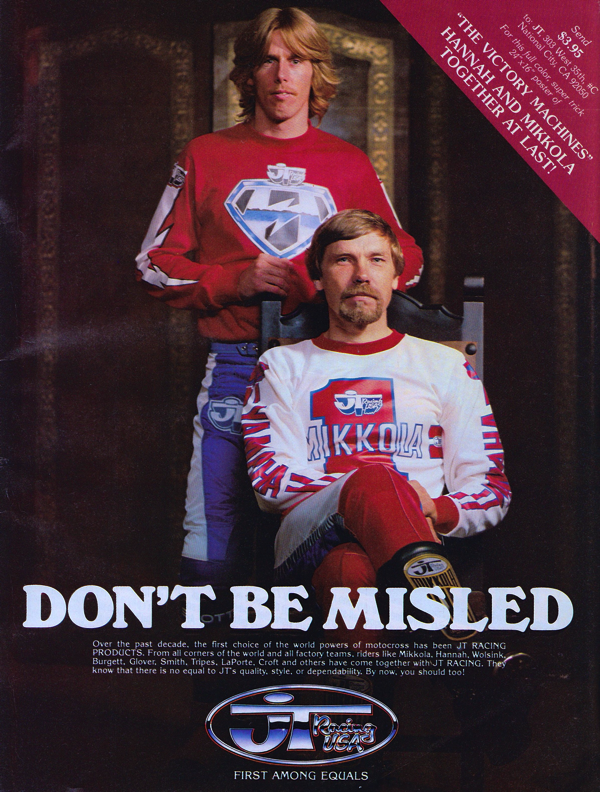 Buckwheat and the Finn: In 1979, JT added a cool replica line of gear for their two highest-profile riders, AMA champion Bob Hannah and World Motocross champion Hiekki Mikkola. While I don't really care for most of the MX gear from the seventies, the Superman/Hurricane logo they came up with for Bob's jersey was pretty rad.
Matthes: Mikkola was always a scary looking dude and this doesn't do anything to not perpetrate that stereotype. It's funny how it's not THAT long ago that USA companies were using Euro riders to sell products. O'Neal had Malherbe, JT had Mikkola and there are mid-80's MXA mags where the lead rider in the ad was in the GP's. Weird now, but totally normal back then.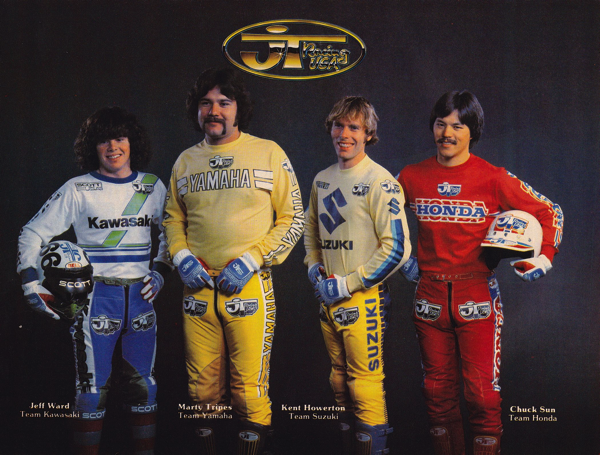 A couple of observations for 1980 – 1: None of this stuff is particularly attractive 2: Jeff Ward had one hell of a perm 3: Marty Tripes was one big dude 4: Chuck Sun has always been cool.
Matthes: It's weird that in the early 80's gear companies used different designs for each of the OEM's. Like I couldn't get a Kawasaki jersey with the same design as the Honda y'know? That's super weird in my opinion. And yes on Tripes.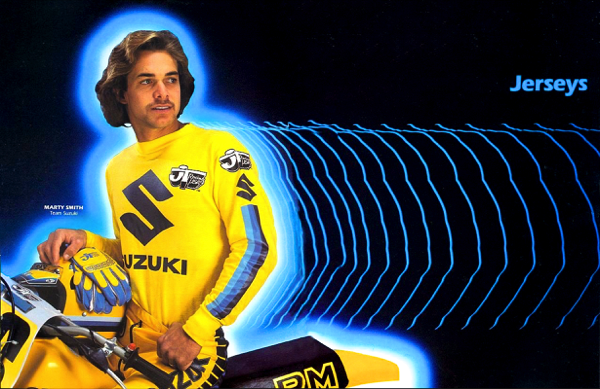 Its funny, when I think of Marty Smith, I totally forget about the last two years he spent on Suzuki. By then, injuries had taken their toll, and he was a mere shadow of the guy who captured three National Motocross titles in the seventies. His hair game was still strong though.
Matthes: What about Marty's very short lived Cagiva stint Blaze? Remember that? Being a San Diego company and sponsoring Marty Smith is about as good of a match as peanut butter and jelly. Marty was a good looking dude in the 70's and raced all over the world. He must've really laid some serious pipe down I bet.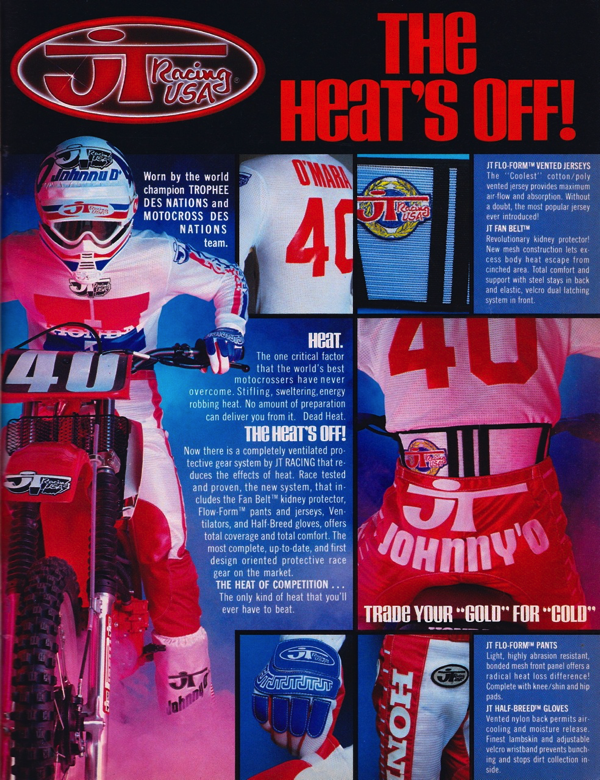 In 1981, JT Racing became the first manufacturer to offer a line of fully-vented motocross gear.
Matthes: I like how they're perfectly fine in this ad to have O'Show just have a piece of duct tape over the visor to the helmet. Like, there's NO other solution to stop water and dirt from falling in-between the visor and helmet. "Yeah man, duct tape…so what?" Also…boot gators!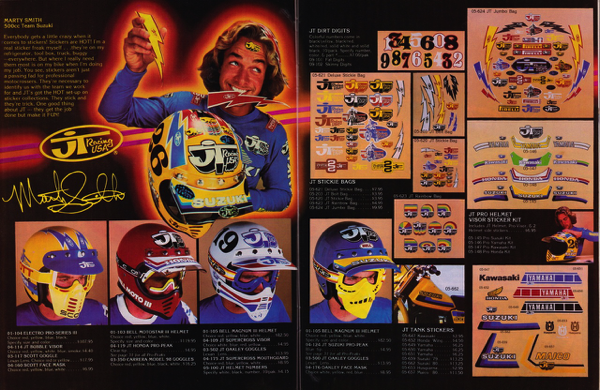 Stickers! I don't know about you, but my parents hated bikes and were not about to support my passion for them, so about the only mod I could afford in high school was stickers. I plastered them ALL OVER my poor Honda CR250R. My bike literally looked like Marty Smith's helmet in this ad and I was always on the lookout for a new decal to add to the collage. Ah, simpler times…
Matthes: I must've sent away for 5-10 of those sticker packs from that one company that was in MXA all the time. Black and white ad, you could choose from a bunch, including JT stickers? I distinctly remember peeling one off and having it not come off the backing and I had waited six weeks for one JT Racing sticker. Massive bummer when you were a kid.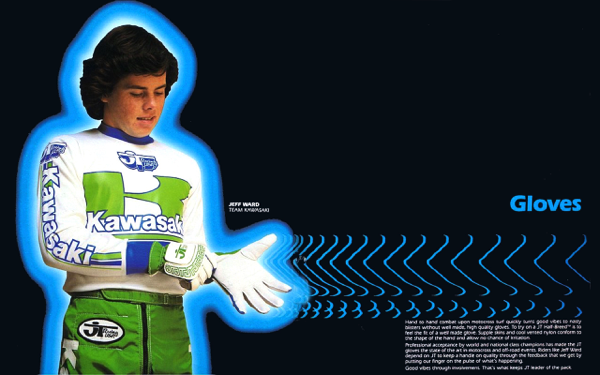 When I see cool gear like the Works Kawasaki Team Jersey Jeff Ward is wearing here, it really makes me miss the days of manufacturer-branded colorways. At some point in the late eighties, the motorcycle manufacturers actually started asking for royalty payments for the use of their logos and overnight, all gear companies dropped the K's, S's, Y's and H's from their gear.
Matthes: As usual, big business sucks. Bring back the OEM names!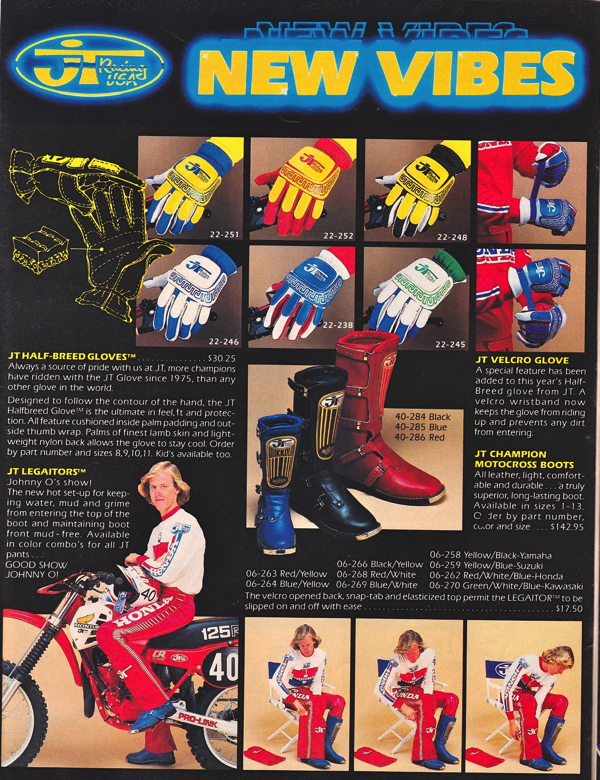 Bell Bottoms: Nothing says "early eighties" like boot gators and no one ran them like Johnny O'Mara. Personally, I never got the point of these things, but man did the O'Show make the JT Legaitors look cool.
Matthes: Yeah, I never got these things either but they did look kind of cool on O'Mara. The Half-Breed gloves were probably the best seller in JT's history; I bet they sold millions of those things. The "pro" move was cutting off the Velcro strap by the way.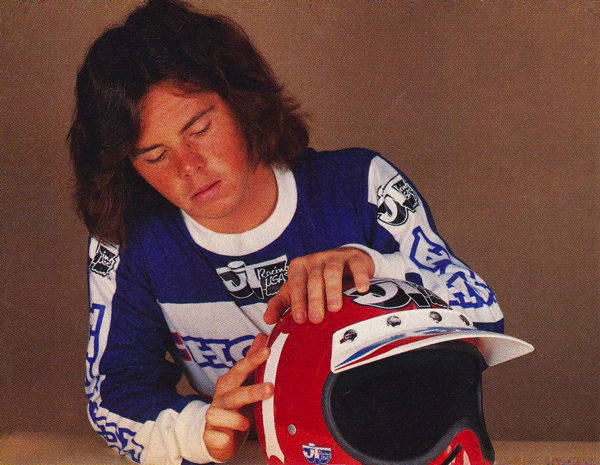 While most people think of Jeff Ward as strictly a Kawasaki rider, he actually kicked off his career as a Suzuki privateer, before getting a crack at a works Yamaha half way through his rookie season. The next year, Kawasaki picked him up, but in the early eighties he was close to making a move back to his amateur sponsor Honda. How close? Close enough that JT Racing commissioned a photo shoot with Jeff in Honda gear just in case he made the switch.
Matthes: Yep, what could have been! Wardy on a factory Honda when Hondas were so much better than every other bike out there.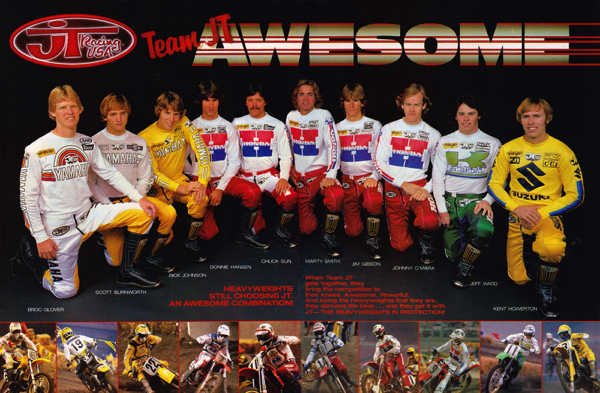 How is this for a roster? Broc Glover, Scott Burnworth, Rick Johnson, Donnie Hansen, Chuck Sun, Marty Smith, Jim Gibson, Johnny O'Mara, Jeff Ward and Kent Howerton were all under the JT banner in 1982. That is a total of a staggering 31 AMA National Motocross/Supercross titles under one roof. Due to the costs of actually employing this level of talent today, you will probably never see any one brand with a lineup like this ever again.
Matthes: When I see this ad I think about all the things above that Blaze mentioned, but I also think that in 2017, you could NEVER get all the top riders in the same room to pose with each other. It would be just a shit-show of agents, man friends and gear guys all getting into each other's way. Again with the San Diego connection, getting Glover, Burnworth, Smith and RJ was like taking candy from a baby.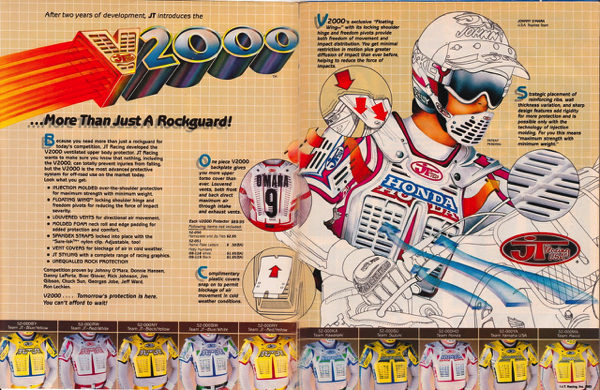 In 1983, JT introduced the first of the signature products that would become synonymous with their eighties success – the V-2000. This new chest protector looked so trick and high-tech compared to its competition, with sleek styling and tons of venting. For probably the first time ever, a chest protector actually enhanced the look of the rider while wearing it. Even though most pros continued to eschew the "full protection" look, the V-2000 and its many later variations became a major success for JT.
Matthes: Words can't express how effing cool this thing was when it was released. Yeah, the pros never wore it, but I wanted one SO bad. JT was never that strong in Canada (distributor problems or what, I have no idea) so you didn't see a lot of it up there. But a few guys had them and it was awesome. Then at some point, as Gregory explains in the podcast, companies started knocking this thing off and I remember local dealers selling the cheese ball ones, so then the faux V-2000's were everywhere. I think I even had one at some point! Not cool pops. How much did I like these things? About five years ago I bought a hot pink one on eBay for $80 for the studio.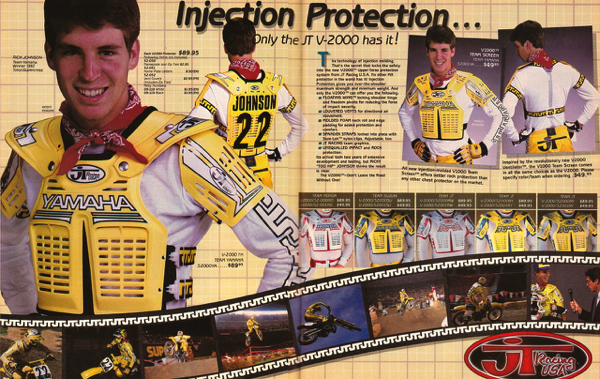 One of the few pros to actually wear a chest protector throughout his career was multi-time AMA Supercross and Motocross champion Ricky Johnson. While I endorse RJ's affinity for safety, I have to question the effectiveness of the early Leatt prototype he is wearing in this ad from 1983.
Matthes: RJ was cool even back then. Long Ranger look was strong. JT realized that taking the back and shoulders off would be sweet and then the pros would wear them hence the V-1000. Then there was a V-500 and so on and so on.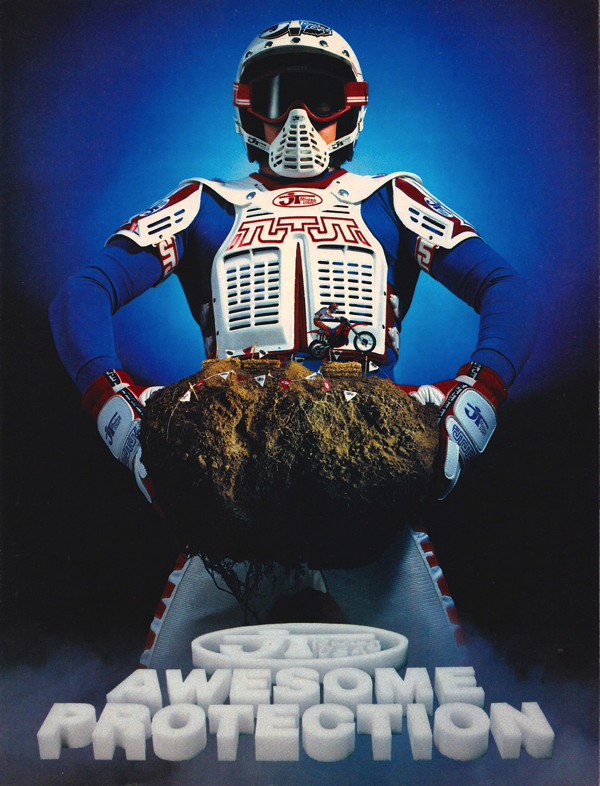 Put 'em on the bar pad: Maybe it is just me, but I always thought there was a bit of an allusion to having "major cojones" in the imagery here.
Matthes: I never thought about balls and this ad like Blaze so…yeah. But it's a great ad and one that I remember to this day. Look at the JT mouthguard there…another design hit for the Chula Vista guys.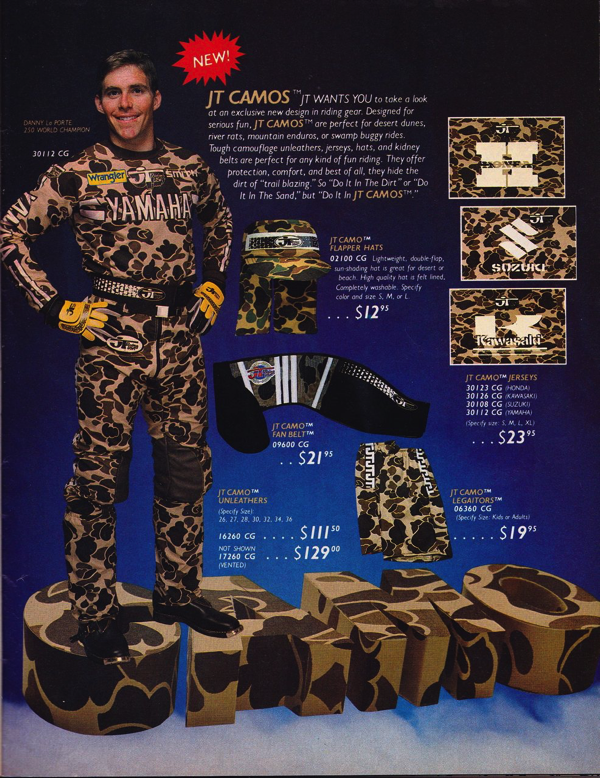 As great as JT was in this era, not everything was a home run. This camo stuff in particular left me a bit cold. While I am sure it was a hit with the swamp buggy set, I was always more interested in matching the color of my bike than the dirt it was riding on.
Matthes: We had one guy in Manitoba wear this stuff and it looked really dumb then and now. Bailey debuted this look at San Diego Supercross one year and it looked so weird.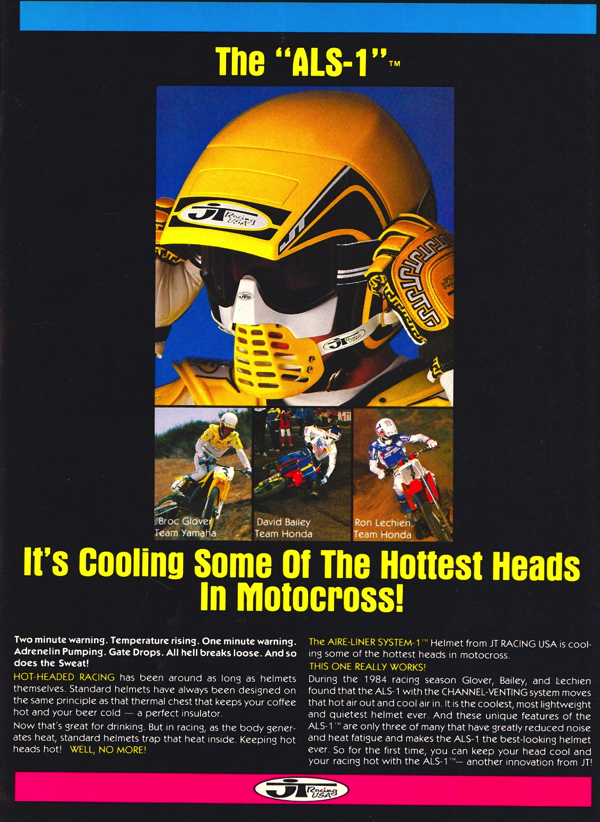 In 1984, JT introduced the second of their iconic eighties gear products, the revolutionary ALS-1. Literally unlike any other helmet ever offered for sale, the ALS-1 was a revolution in style, features and comfort. The unique styling, built-in venting, goggle strap groove and streamlined visor were all absolutely groundbreaking.
Matthes: YES! What a design, what an idea, and what a look. The ALS-1 was so far ahead of its time back then and another brilliant gem by Gregory. One thing though, it is a heavy JT branded helmet and looked super weird if you didn't wear JT with it. Keefer and JT would definitely not approve.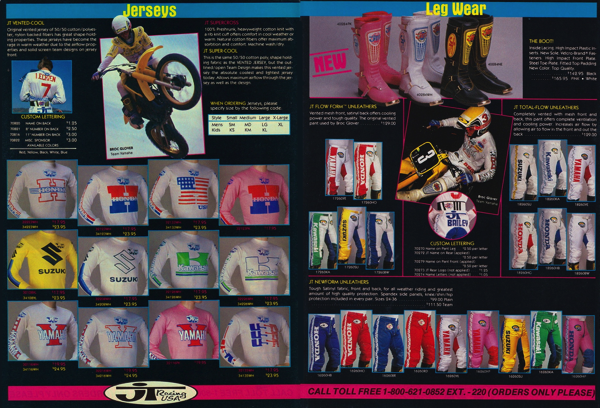 The JT Racing lineup for 1985 was not one of my favorites. None of the jersey or pants combos really excited me and the affection for that powder-puff pink was absolutely beyond my comprehension. Interestingly, I absolutely loved the bright pink that came a bit later, but this pastel pink never did it for me. While most of the gear lineup was a carryover from '84, one interesting addition for '85 was a new boot JT saw fit to call "The Boot" (how long did it take them to come up with that?). Available in black, white, and yes, powder pink, The Boot would be a staple of JT riders for many years to come.
Matthes: I had a blue pair of boots like this and they were sweet although the Velcro kind of didn't work after a while. Yeah, pastel pink was weird but how about Glover wearing it for the first time at the Miller Masters race and winning? Bold statement. There's something about the simplicity of the two-toned red and white Yamaha pants that I still like.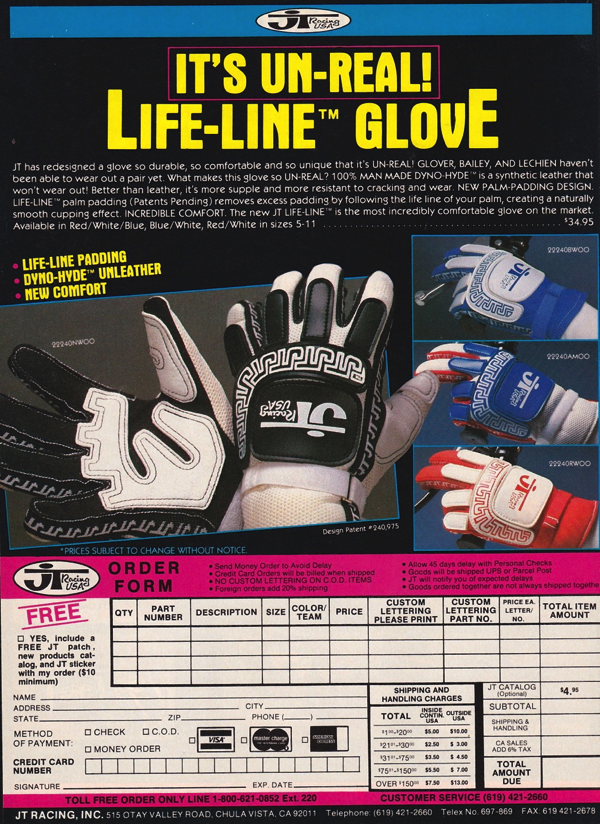 For 1985, JT finally redesigned its original Rolf Tibblin (a.k.a Half-Breed) glove with a new synthetic alternative renamed the Life-Line. Using a tough leather alternative JT coined "Dyno-Hyde" (they loved their names at JT in the eighties), the Life-Line did away with the goatskin, but kept the styling of the decade-old classic.
Matthes: What all this marketing mumbo jumbo should have said was "You can throw these in the washing machine and they won't dry up into a little ball" because that's what the new material did.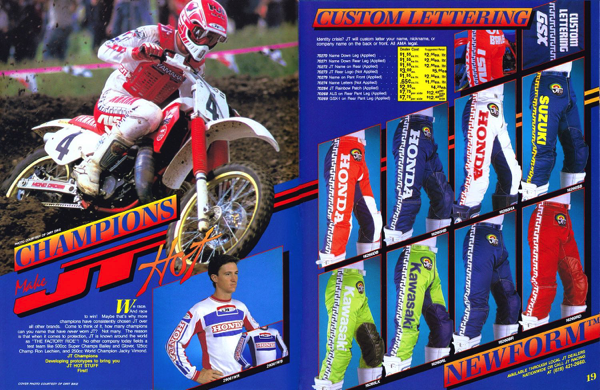 In 1986, JT was really hitting on all cylinders. Even though several of their big-name talents had moved on to the competition, they were still producing some of the best looking motocross gear on the market. With gear like the awesome flo-orange and blue David Bailey made famous in 1986, it was not hard to see why.
Matthes: Look at that photo of Glover right there. That's a strong look no matter what era you're in. So remember how I said JT wasn't that strong in Canada for whatever reason. Yeah, pops and I went to a local bicycle shop that someone had a connection with JT USA and ordered up the blue boots, the blue/white Honda jersey and the blue/white Honda pants for me in 1987 on my CR80. We couldn't get it from any local dealers…how weird is that? This was also the start of the new JT goggle that Glover jumped to from Scott and I had a few pairs also. They were good.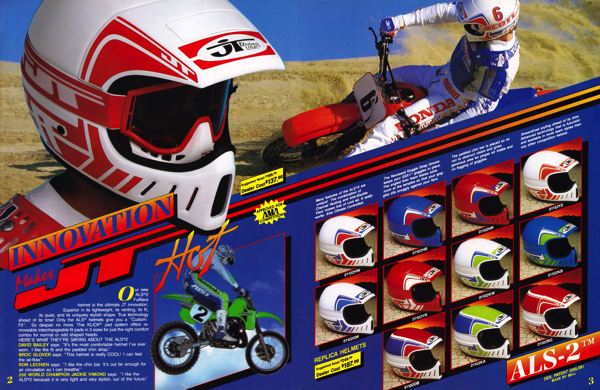 The 1986 season also marked the arrival of one of my all-time favorite helmets, the ALS-2. Combining all the features of the ALS-1, with (shocker!) actual face protection, the ALS-2 was an absolute home run in terms of style, but a foul ball in the marketplace. While they were certainly cool, both the ALS-1 and ALS-2 turned out to be financial failures for JT. During certification, John Gregory decided to skip the Snell standard and only go with a DOT rating. This meant that many US dealers and several international markets would not agree to sell the stylish lids. When you add in fires that took down two production facilities, you had a recipe for a financial disaster.
Matthes: I don't remember John saying that in the podcast about this helmet but maybe Blaze listened back? (Blaze: I did) Anyways, because there was no way in hell my mom was letting me get the open face ALS-1, I was set on getting one of these ALS-2's ASAP. Only problem is that in Canada, you had to have a Snell certification to race and they actually checked that crap back then. Some guys would peel off the Snell stickers and put them on their JT's to pass tech but soon the CMA caught onto that. So I had to wait until 1990 to get one when I bought Marty Smith's used one off him and then practiced in it (it got stolen!). That's how bad I wanted one of these. And I traded Tim Ferry's race used plastic for a used ALS-2 for my personal collection back in the day.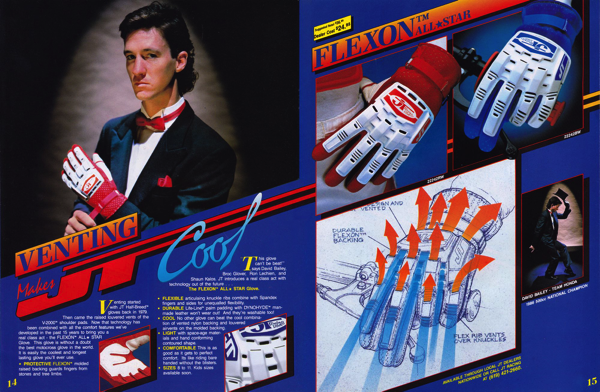 After offering updated versions of the Tibblin glove for over a decade, JT finally broke ground on a new design in 1986. The new Flexon glove featured a Dyno Hyde palm and very Stormtrooper-looking plastic protection on the top. They even offered an optional tiny windshield wiper blade (I'm serious) that could be attached to one finger to wipe your goggle lens in a pinch. While these gloves look like overkill in today's minimalist glove culture, they were actually part of a protection movement that saw most glove manufacturers offer a plastic, or thick foam-backed alternative to the standard nylon and leather glove. The AXO Sport Series 29 and Fox Racing Paw 2 were both similar alternatives to the Flexon that proved popular for a time. By the early nineties, it was back to basics, as the glove industry moved back toward less protective designs.
Matthes: I had a pair of these for a long time but not because I needed more protection, more like I just thought they looked cool. And yes, I lost the "wiper" insert within five minutes of opening the box. Bailey in a tuxedo with a pair of these on? That's super weird John.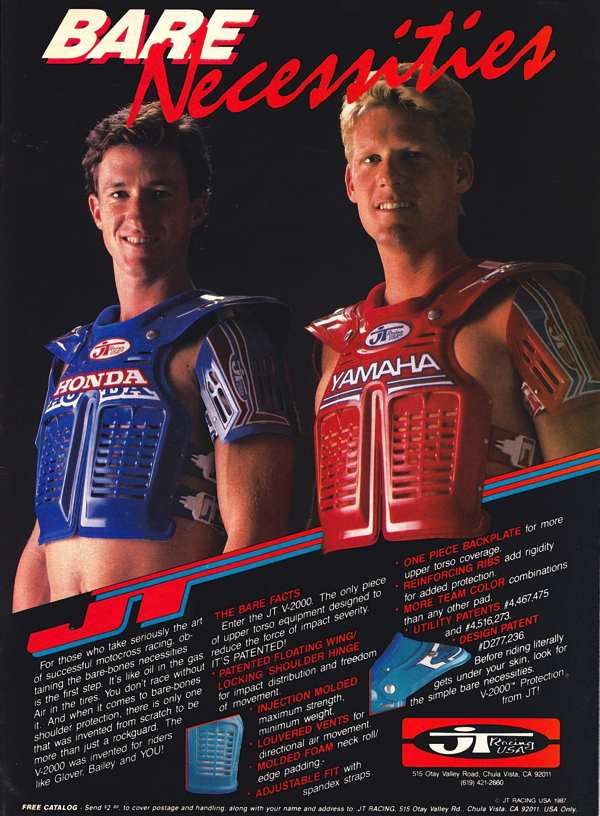 Joey, do you like gladiator movies?
Matthes: The less said about this the better methinks.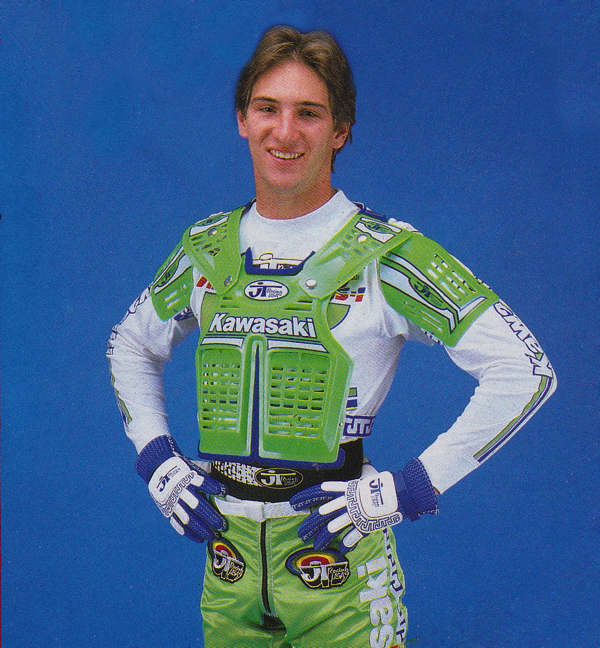 A tragic pre-season injury to David Bailey in January of 1987 left JT Racing without one of their star riders. Stepping up to fill that void would be Ron Lechien, who would become the brand's marquee rider for the next few seasons. For Ronnie, the JT connection went way back, as his father Dick Lechien (founder of Maxima Lubricants and a Honda dealer in JT's early days) had been a friend and supporter of John and Rita Gregory from the earliest days of the business.
Matthes: I wanted to ride Kawasaki's just so I could have this look right here. Lechien jumped to Kawasaki in '86 and although his results sucked, he always looked cool.

In 1987, JT Racing branched out from solid colors and introduced the first of their print designs. The new DEMBONES (later renamed Dem Bones) came in blue and red and featured a confetti pattern of bones and little Rip Rock looking dudes on the front. While this look is pretty tame by today's standards, this design was absolutely mind-blowing in 1987. Nice 'stash, Dogger.
Matthes: Blazier's right, this was CRAZY in 1988 and I had to have them. And I got them from that same bicycle dealer for my 1988 KX 80. I had the little sticker kit as well and here's a photo of me in the Bad Bones with the matching chest-pro sticker (jersey must've been dirty from first moto) and the Bieffe with little punk rock heads and bones on top of it. Safe to say I was ALL IN on the Bad Bones look.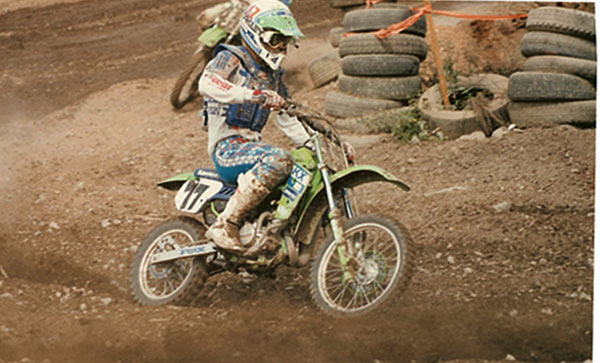 Just call me Dogger…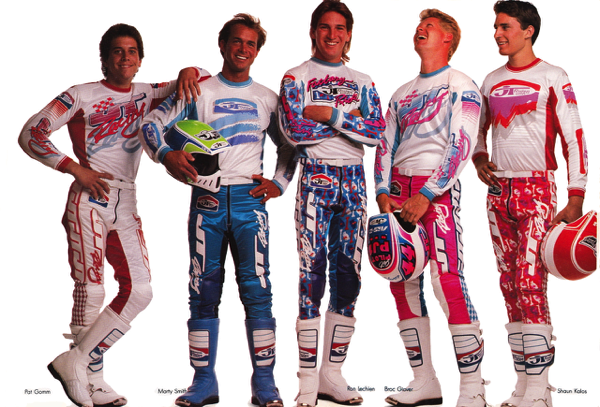 Here is a good look at both the Dem Bones colorways and my favorite of the pink JT offerings. I really loved the new Cyan/Pink Pro Tour jersey and Classic pants for 1988 that Broc Glover is wearing here. It looked sooooo good with that custom painted ALS-2 as well. As a side note, who the hell is Pat Gomm? Marty Smith? Sure. Lechien? No doubt. Pat Gomm?!? Maybe he was dating Gregory's daughter, or won a "hang out with Dogger for a day" contest or something. For 29 years I have pondered on this question. Maybe I will find out when they finally release the real truth about Area 51.
Matthes: Funny you ask about Gomm Blaze. I did the same thing in a Pulpmx column way back in the day and Maeda and a few others chimed in. Here's a comment that was left: "Submitted by dkritzer on Fri, 12/18/2009 – 11:51pm.
Pat Gomm and I drove from California to Unadilla back in 1996 in my S-10 Pickup. We had no money so we slept in parks…in the rain and Pat still finished 13th in the 250 Pro class. His national number that year was 61 and he only raced 4 nationals. Pat was super talented, but unfortunately his career was cut short by injuries. Pat and I go way back and we're still close today. You can still catch him occasionally out at Club Moto in Livermore, California…and he's still wearing the same tight pants."
And more Pat Gomm stories: "He ran Yamahas as an amateur, then rode Suzukis mainly in Local Pro and the 250 Nationals in the 90s.
He had two digit National number(s) mainly around mid '90s.
Thought he modeled Answers line of gear while still amateur.
Former mechanic he had for his local Pro races up in NorCal hadn't heard from Pat Gomm in a very longtime last time I asked."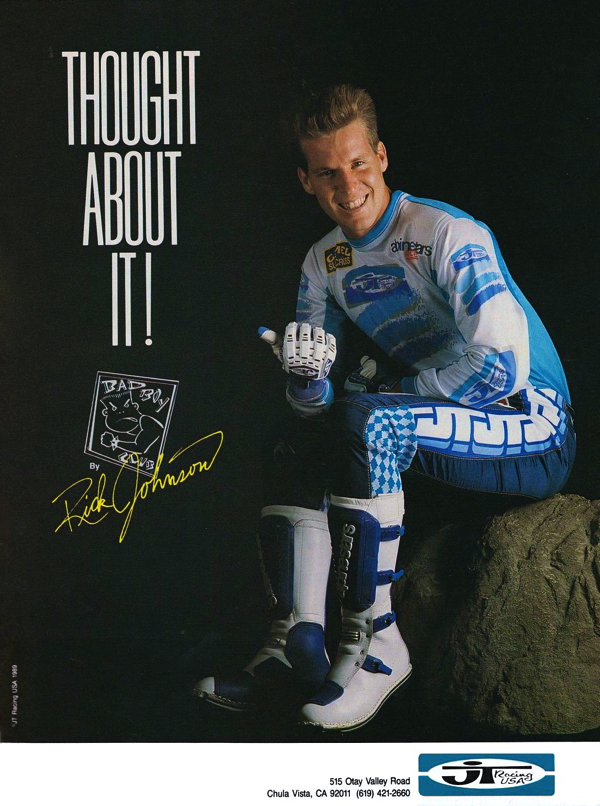 By far the biggest gear news of 1989 was the defection of the reigning Supercross champion Ricky Johnson from Fox to JT. After the '88 season, Honda tried to pressure their team riders into running their Hondaline TX-10 gear and that led to a dispute between Fox, Honda and Johnson. In the end, Johnson surprised everyone by ditching both, and switching back to his old sponsor JT. This ad touting Johnson's switch to JT is actually a play on his famous "Thinker" Fox Comp-2 boot ad from two years before.
Matthes: Yes, very clever JT and smart of you to get the best rider in the world at this point. Pete Fox's recollection of why they lost RJ to JT and RJ's recollection on why he left are quite different. Imagine that. Anyways, it was just JT's luck that they got RJ for only five dominating races in 1989 before he broke his wrist.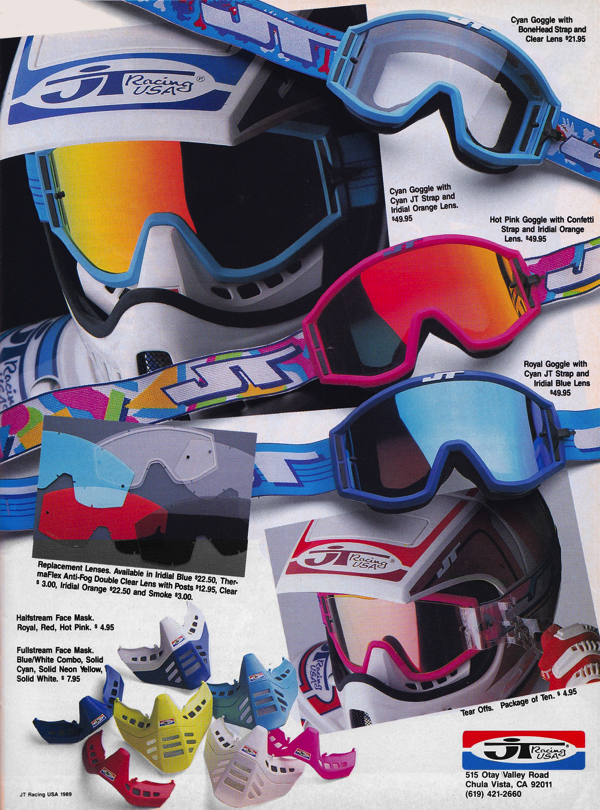 Iridium lenses made their first appearance in the late eighties and holy frijoles I had to have a set of goggles with them. I would still rock that Pink/Confetti GSX-1 goggle today without a second thought.
Matthes: There were solid goggles. I stand by that statement.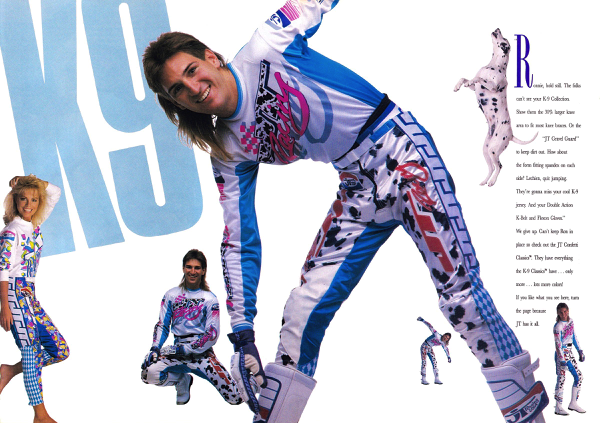 In 1989, JT expanded the print lineup to include a new K-9 and Confetti colorway. I liked both of these, but still preferred the less busy offerings in the JT stable. Mega-sweet mullet there Dogger.
Matthes: After my love for bad bones, you KNEW that I was going to get these and I did. Eeehhhh, not as strong of a look at the bones right? And there's zero chance Weege would've ever bought these.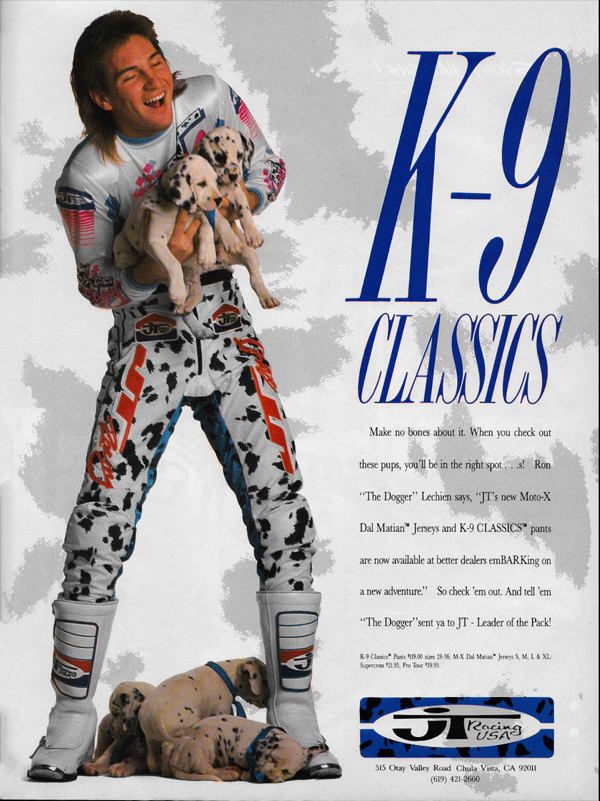 While the new K-9 Classic pants and Dal Matian gear were not my favorites, they turned out to be a huge success for the brand. Playing on Ronnie's nickname, "Dogger", this rider replica gear still stands as one of the best selling colorways in JT's long history.
Matthes: Did Gregory say that "best selling" line in the podcast ? I find that hard to believe. Look at Dogger's hair man! It's amazing.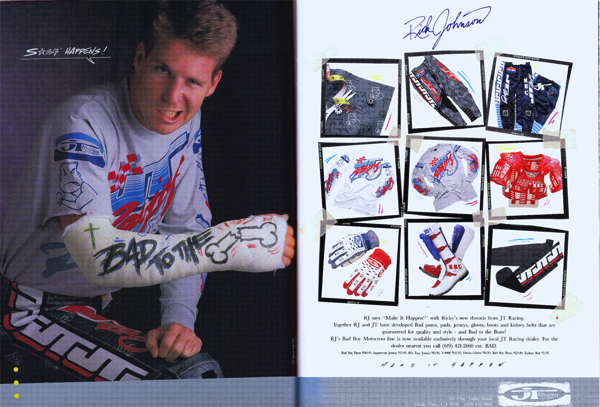 While the RJ/JT collaboration started off with a bang (five straight SX wins to kick off the '89 season), a badly broken wrist suffered at the first National of the year in Gainesville quickly sidetracked it. This ad for RJ's new signature "Bad Boy" line certainly showed that he had a good sense of humor about the injury at the time, but I don't think anyone in his camp could have foreseen what an effect the injury would have on his career. Although he would come back to win two more motocross Nationals and a USGP, the seven-time champ would never again reach the level that had made him the most-feared man in motocross.
Matthes: I had those boots, paid a small fortune for them and then was hella-bummed when they wouldn't close on my calves. Yes, I have big calves…so what? Loved this ad though, RJ playing it up with the smirk was classic.
Next up, Moto Gear History Part IV: JT Racing The Nineties To Rebirth
For your daily dose of old-school moto goodness, make sure to follow me on Twitter and Instagram -@TonyBlazier
For questions or comments, feel free to drop me a line anytime at TheMotocrossVault@Gmail.com