You want the truth? You can't handle the truth!
You want the truth? You can't handle the truth!
Photos by James Lissimore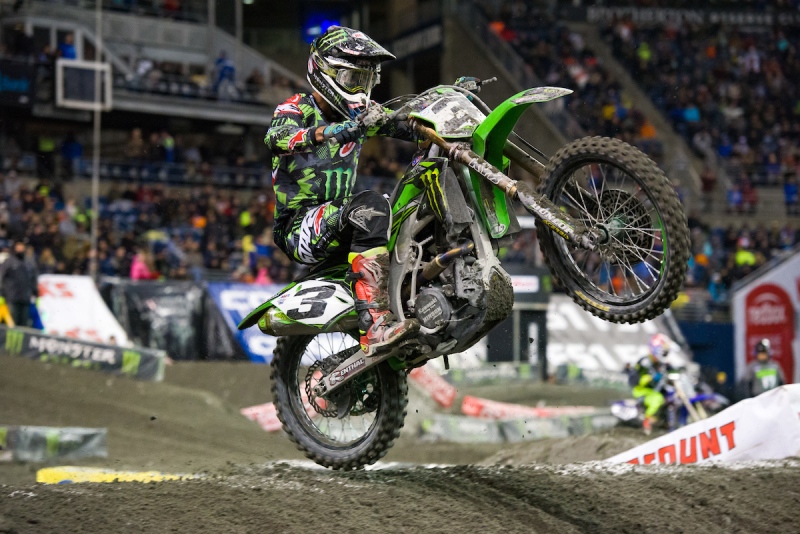 Tomac's ride in SLC was on another level…
Ok, we saw Tomac do what he did. And yes, it was easy to see him skip the first whoop and kill the rest of that section but tell us how else he was able to do what he did?
On this particular action in the entrance of the whoops, it is not because Eli is an alien that he was able to pre-jump the first steep whoop to carry speed and be able to go thru them fast and quite consistent. I believe the other riders as good as they are didn't pick up on the trick or were a bit scared to do it. It's actually pretty easy to do and I have no idea why no one was doing it. It's simple, they just had to use the little ramp before the whoops, pre-jump/bunny hop BMX style to hit the first whoop higher with the rear wheel and miss it with the front wheel. The higher you hit it the least amount of speed you lose and also you get kicked way less which doesn't upset your bike balance as much. I'll repeat myself but with a little leg work it is very easy to do. I'm surprised none of the big guys picked up on it. Marvin and Dungey started jumping in them which wasn't fast this weekend because the first real whoop was to high and too steep. For me, that was the key of the race after I saw the heat race Dungey won.
I tweeted about it and I thought he was hesitating way too much before the whoops. With a little technique and a coach explanation on that spot, RD would've been tougher to catch and beat. I thought those whoops messed up with RD's head because he felt he was struggling.
Were you a bit surprised by Dungey's passiveness before and after the passes by Tomac?
When Tomac got up to 3rd or 4th, I tweeted (again) that Dungey needed to wake up if he wanted to win this thing. He was riding too cautiously that early in the race. He didn't look like he was charging at all, just riding. The fact he was leading and Tomac was way back might have subconsciously hurt his drive to charge hard. When Tomac got to second, it was already too late for Ryan because he was off the pace by half a second and not really charging like his championship depended on it. It is very difficult to go faster at the half way point when you started a bit too slow.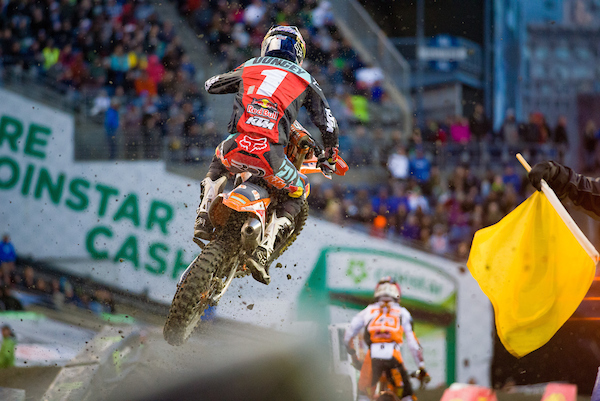 For the first time in a while, Dungey lost the red plate and is three points down.
Is this thing over unless Tomac has a big crash or a mechanical? How does Dungey come back mentally from that?
Tomac has won 9 races out of 12 since his first win of the season in Phoenix. 9 wins out of 15 races total. Elii's won 60% of the races this season. Since Roczen's injury, he's the best rider this season, no doubt about it. He has a psychological advantage that for sure. Eli beat his own record of winning a race with the worst position on lap 1. I think it was 8th or 9th before Salt Lake. In Utah, he was 10th on lap 1. Basically, he's showing us he's riding at his best of the season at round 15. I don't see him slowing down. Can he make a mistake riding at that speed and coming from a first turn in 18th position? I would think so but he hasn't yet. He was on another planet Saturday but once again, it's not because he's an alien. Don't get me wrong, he's riding fast, giving 100% and really wants to win but the field is helping him too in my opinion. They all ride on egg shells and scared of making mistakes for whatever reasons… Don't tell me RD looked like he really wanted to win when he was leading. It looks like he was trying pretty hard to let Tomac catch him.
Dude, you're leading the race and you're main competition was picking up strawberries in the first turn of the main event, just f#$%ing pin it while he's stuck in traffic. Don't ride smooth and safe… Why did it take Tomac to show RD how to go thru the whoops? Where was the Team KTM crew during the heat race? Having happy hour at Chili's? If you don't see Dungey was sucking in the whoops in the heat race even if he won it, you weren't watching or you are blind…
Musquin wasn't as good as Tomac but he wasn't far off in coming from the back to fourth. What did you see?
Marvin battled with Tomac early in the race and actually passed him. He didn't have his top speed nor Eli's ability to go thru the pack. Eli doesn't really have a plan to go thru the plan. He goes fast and when he's close to the guy in front of him he goes for it. It works very well. Marvin is more calculated when he goes thru the pack and loses more time. The French rider had Dungey and Anderson's pace but not Tomac's. He wasn't very fast in the whoops even if he was jumping them very well. If like Eli you're half of a second faster than everyone else, there is a potential 13+ second difference on 27 laps. If you're riding in the pace of the 2nd and 3rd guy of the race but you got a bad start, it's obviously very challenging to catch up to get a podium spot. Once again, it goes back to adapting between the heat race and the main event and have the technical abilities to improve. Dungey and Marvin didn't really do that Saturday. It's surprising coming from Marvin because he showed us this season he has the potential to do so. It didn't happen in Salt Lake because Marvin's usual main event trick that works most of the time just didn't this weekend.
Josh Grant qualified well, he won his heat race and he finished well in the main event. How is he able to just turn it on once, twice a year?
Josh is one of the best technical riders in the series. I hate to use the term talented. He's a more technical rider than most of the field. He's a former main event winner. He's a factory rider. He has at disposition the same material than the leader of the series. All of this combined on a track where he feels good on it and has the speed in practice, he's going to do good. When you're fast in practice, the confidence is up and indirectly/most of the time you will get good start during the night program. That's what happened this weekend. It comes down to what I've been saying for a while. The starts helped him this weekend but having the speed in practice helped him more in my opinion. If you're behind the eight ball in practice, most of the time it's difficult to step it up in the races even with a good start. We saw it with Friese Saturday. He holeshoted the heat race and the semi but he had to go to the LCQ to transfer to the main. He got the start but he wasn't fast enough to stay in front.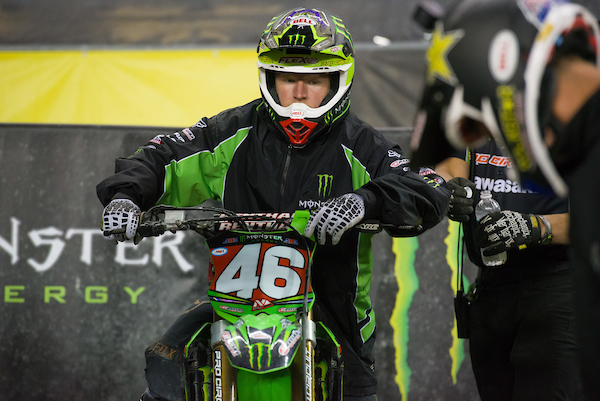 Hill won the 250SX west title and gets to stay in the class to defend it.
What did you see in the 250SX main event?
I didn't see much. I fell asleep until Plessinger grenaded himself in the whoops. His strong point on the track actually bit him pretty good. In both classes the whoops were very important. The rest of the track was very generic and everyone was doing the same thing. Aaron was killing the whoops which is it's where he got into the lead. Justin Hill didn't look as fast, comfortable and relaxed as usual. Maybe the pressure of the championship got the best of him but he regrouped at the end when Davalos was fighting for hi top 3 race bonus. The last lap between those 2 guys was fun. Both wanted the podium bonus. I don't think Justin knew getting 3rd would give him the title and the 4th place might not have. He figured it out after he hugged the 2 TLD guys at the end of the race. I was a bit surprised so many professional riders who ride everyday got bit by those whoops. I've talked about it many times in this column. They ride everyday but never in shitty cupped out/rutted whoops. Every time we get challenging rutted track conditions, riders are lost and crash like guys who never rode rutted whoops.
The 250SX class rules were changed again to let a rider defend a title no matter what and instead of three years of 135 points, now it's four years. Oh and instead of top 20 in the 450 class making your ineligible for 250SX, it's top 15. What are your thoughts and what would you do with the class?
I don't like 250 career guys. We can criticize them but we can't blame them. They make a ton of money racing half of the races with big bonuses. I never rode a 125cc regional championship as a full time US based rider. I just did it when I was a GP rider. When I decided to move full time in the US, I was a full time premier class rider because my goal and ambitions were to be one of the best riders in the highest level series. I had an offer to race for American Honda in the 125 class in 1999. Salary was higher than my GP deal and the 125cc SX race win bonus was higher than my 250cc GP win bonus. I turned it down to race a full 250cc GP season to get experience in the class and with the bike to get ready to race 250cc full time in the US. The problem of the 250 4 stroke class in the US right now is the money.
Some riders make half a million (or more) salary, 40/50k a win and $500k championship bonus for a 8 race series in a divided class (East/West). It is plain ridiculous and there's no way whoever pays those amounts of money get any kind of return on their investments. To fix the class, salaries and bonuses should be capped. If a 250 rider makes top 5 450 money, why would he move up to battle for top 10s with no bonuses and less salary? Like I said, it's ridiculous, but understandable why the class is the way it is and why we have 250 career veterans in the class. You want to make the riders move up and be competitive in the 450 class? Forget about the points in successive years or whatever ideas they'll come up with next. Have all the contracts public knowledge and cap the salaries and bonuses at least 5 times less than the highest paid guy gets today. $100k salary max, $10k max a win, $100k max a title… You'll see how fast they gonna pull their fingers out of their asses to be competitive in the 450 class to make money. With the money saved from all those salaries/bonuses from the factory supported teams, re-inject it in the 450 class in the B & C teams so top 20 450 guys can have dinner at Ruth Chris once in a while instead of getting a $5 foot long at Subway… The problem in the 250 class isn't the points system, the years of racing or the age limit. The problem is that top tier teams 250 riders are plain and simple way overpaid.
The GP's are in full swing, give us some thoughts on the MXGP class through the opening rounds? Surprises and disappointments?
I follow the series but don't get the chance to watch the races that much with the time change. I've watched the GP of Mexico and the second moto of the one in Italy because so many people were talking about Cairoli's performance. I'm happy that we've got a healthy and fast Tony back. He's a great guy and I'm glad he's back winning races. It's like MotoGP, when Rossi isn't doing great, the series isn't very interesting. When he is, I'm into it. I feel the same way with Cairoli and MXGP. Antonio has a shot at winning a 9th title this season. Gasjer had some up and downs but he's still leading the series. He was flying last season and brought his confidence into 2017. He's tough and will always give the maximum of his abilities. I also like to see Gautier do good. He had some good rides in '17 and just won the Gp in Vlakenwaard which he also won on a Honda…
He had a tough time at Honda with an inadequate bike for his size and riding style. It was just an error in casting between Honda and Paulin. With Gautier, I'm also glad he's back racing in front of the pack. He was at one point of his career the "fastest MX rider of the planet". As far as the disappointments, I know Herlings started the season hurt but he isn't doing great even if he went 3-3 for 2nd overall at his home GP. I'm not aware about the extent of his injury but he was pretty fast at the MXDN last fall. He might turn it around soon. I have no idea what's going on with Febvre but he's just the shadow of himself (French saying) right now. I'm no insider when it comes to GPs so I don't know what's going on with him or what is his problem. Same goes for Nagl. He's been pretty invisible since the beginning of the season. His best moto finish is a 6th in Argentina. Weird for a rider who ended last season on the podium of the championship in Glen Helen in September…