Old to new
Old to new
If you are a regular reader of PulpMX, you probably know that last year I did a project bike for the site. My chosen project was a well-worn 1990 Honda CR250R, and my goal was to refurbish it stem-to-stern. I had owned one of these red-roosters in my racing days and always had a soft spot for the 1990 Honda models. When new, just about the only weakness in the CR's arsenal was its suspension, which was positively abysmal.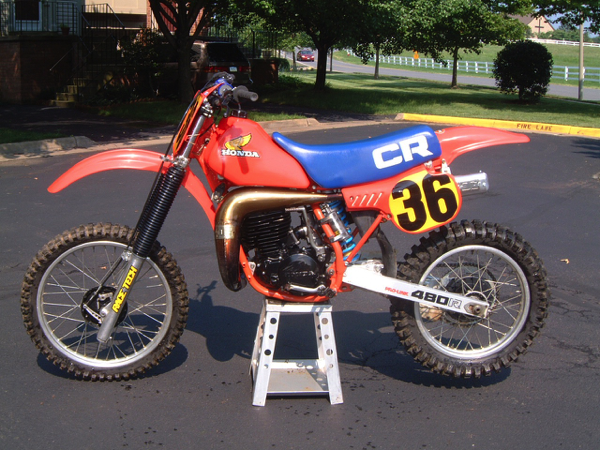 Over the years, I have used Race Tech several times for suspension upgrades. On my 1983 CR480R, they revalved both the front and rear suspension and added their Cartridge Emulators to completely transform its performance. It is truly amazing how well you can get the suspension to work on these old machines with some modern technology.
Enter Race Tech and their amazing suspension wizards. A few years back, I had them rework the suspension on my 1983 CR480R and was really impressed with the results. Stock, that old beast was a 55-horsepower pogo stick, but once they got done with it, it was capable of conquering any obstacle the track had to offer. Their cartridge emulators and shock mods really transformed the 480 and made it both safer and more fun to ride.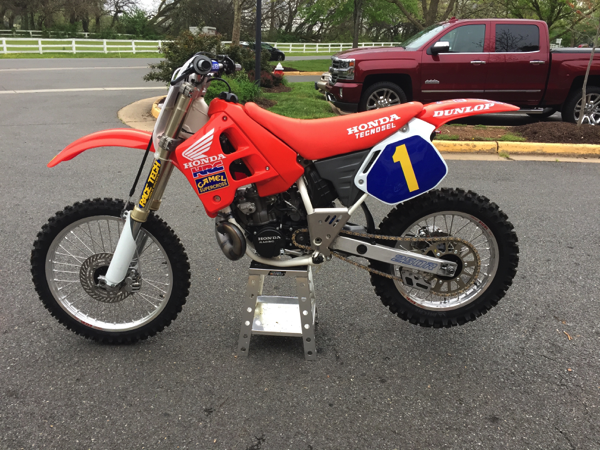 On Project 90, I once again turned to Race Tech to sort my Honda's suspension. These CR's were great bikes, saddled with awful suspension, and Race Tech really knows how to get them working well.
On Project 90, the results were just as impressive. In stock condition, both ends of the CR were harsh and unforgiving, but once I got them back, they were smooth as butter. Honestly, I was amazed at how great these previously awful units were made to perform. There was absolutely none of the notorious mid-stroke harshness and rough ride the stock forks were reviled for. The shock was likewise, smooth and well damped, with a plush ride that was utterly alien to CR's of this era. Overall, it was an amazing transformation.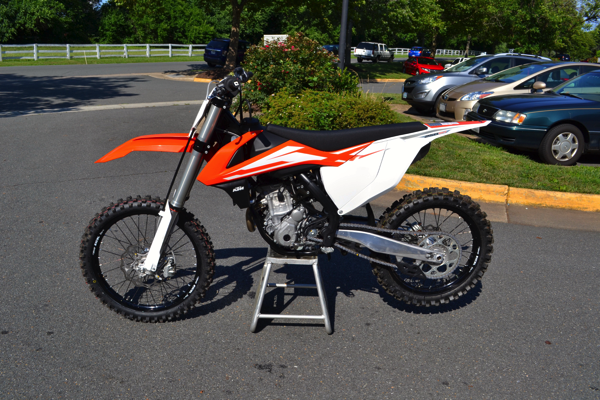 After finishing with Project 90, I started to get the bug to pick up a new machine again. My last few bikes were two-strokes, so I thought it might be time to try out another thumper. I ended up settling on a left-over 2016 KTM 250 SX-F, mainly for its slick styling and that glorious magic button.
After finishing Project '90, I began to get the itch to pick up a new ride again. As fun as my Stanton-replica was, it was just not the same as a new machine. The CR certainly looked and sounded cooler than a modern four-stroke, but its (relatively) narrow power, numb brakes and outdated feel were hard to overlook.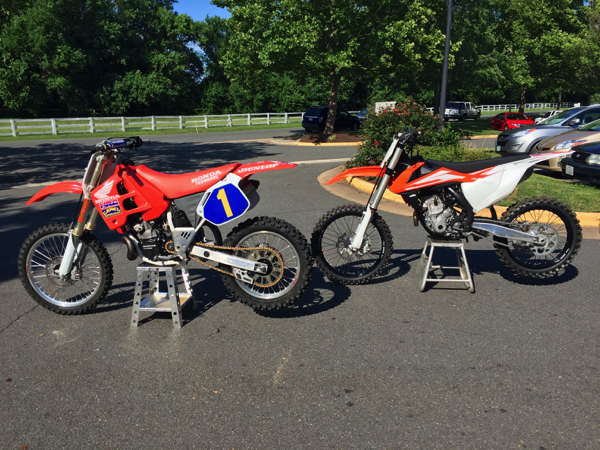 Riding my two 250s back-to-back was an eye-opening experience. The new bike has a much different layout (the 1990 CR is actually thinner through the seat and tank), a wider powerband, better brakes and amazingly, worse suspension. After the Race Tech mods, I actually liked the old bike's ultra-plush shock and fork better than those on the stock KTM.
Once I had it in my mind that I wanted a new bike, I basically narrowed it down to two choices, a KTM 250SX-F or YZ250F. I have owned dozens and dozens of bikes over the years in just about every size possible, but I always come back to 250s as my favorite. With the Yamaha, I was attracted to that awesome motor and fantastic suspension. On the KTM, I was enamored with the bike's clean looks, excellent handling, and that magic button. In the end, it went orange and pulled the trigger on a left-over 2016 KTM 250SX-F.

After adding a little KTM Hard Parts bling and some Red Bull graphics, my next order of business was to get the KTM's suspension dialed.
After my first ride on the KTM, I was struck by a few things. Firstly, holy moly does this thing scream. It is actually pretty mellow down low and far less punchy than a Yamaha or Kawasaki, but once it opens up on top, watch out. It pulls right past the point where it seems you should shut off and just keeps on revving. With all that power
way
up there, I decided it might be best to gear it down a bit to help my middle-aged butt keep it in the meat of the powerband.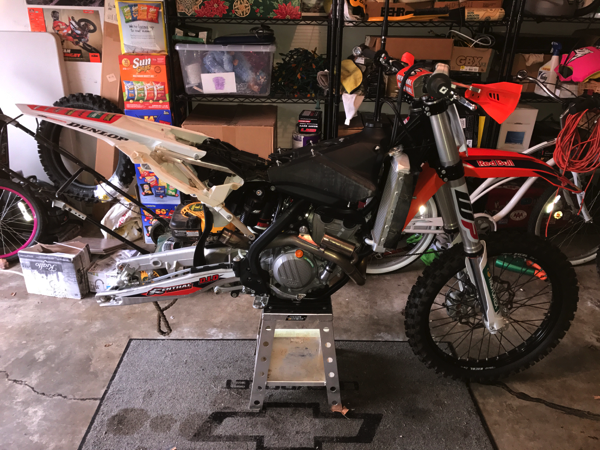 By far the biggest hassle with getting the suspension done on the KTM was actually getting the shock off this thing. Compared to the '90 CR, the new bike is a nightmare to work on. Just looking at the airbox, fuel injection, and the bazillion various wires connected to everything, I was mortified by the task of getting everything back together. Thank God for YouTube, who rescued me with a video on how to remove the shock without disassembling the entire back of the machine.
My second observation, was that the stock suspension was not all that great. Of course, I knew that going in. The 4CS forks that came stock on the 2016 KTMs have become pretty notorious for their sub-par performance. In fairness, they were not nearly as bad as the stock 1990 CR suspension, but compared to Yamaha's excellent Kayaba SSS forks, they leave a lot to be desired.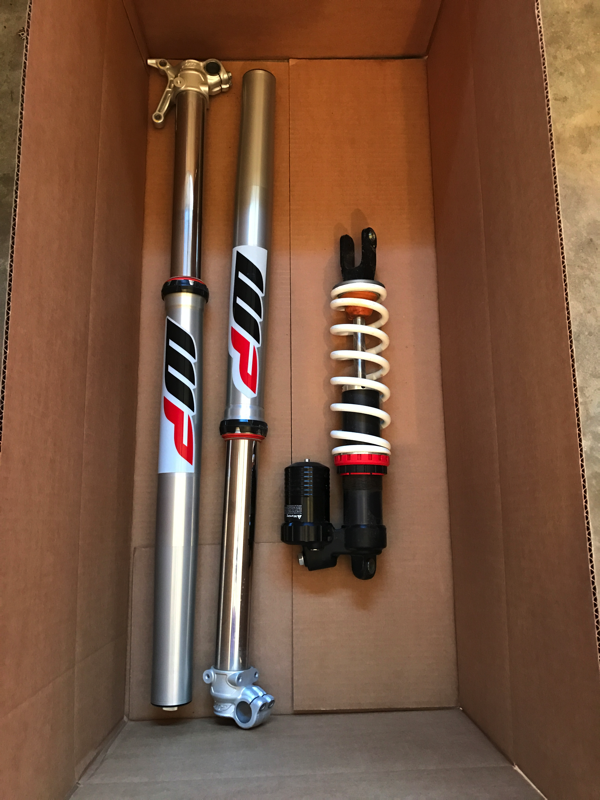 Boxed up and ready for the journey to California.
To me, the KTM's forks felt harsh initially, then too soft as they moved through the travel. They were also slightly unpredictable and seemed to react differently to the same obstacle at different times. Immediately, I found that I was holding on too tight, and as a result, the KTM tended to pump me up much sooner than the 27-year-old Honda. Compared to the modified CR, the new KTM's forks actually seemed far less smooth and plush. The antique Showas were probably not as great for blitzing whoops as a modern fork, but they were super comfy and easy on my old wrists.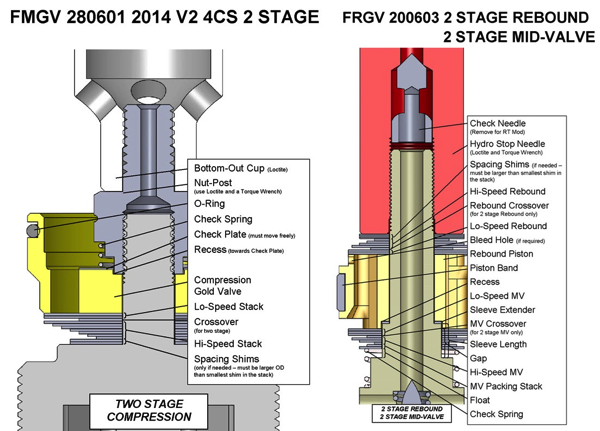 In order to improve the performance of the KTM's WP fork, Race Tech installs their Gold Valves in the compression and rebound systems of the 4CS. They also modify the cartridge system by converting the stock four-chamber setup to a single open-chamber design. Because these modifications can lead to soft initial damping, they also install a Low Speed Control Unit that firms up the early part of the travel to provide better feel and improved front wheel traction.
Out back, the story was much better and I actually thought the stock WP shock worked pretty well. Even with my prodigious 210-pound girth on it, the spring and damping did not feel out of the ball park. Again, the modified CR was plusher and smoother, but it had been sprung and valved for my weight and speed.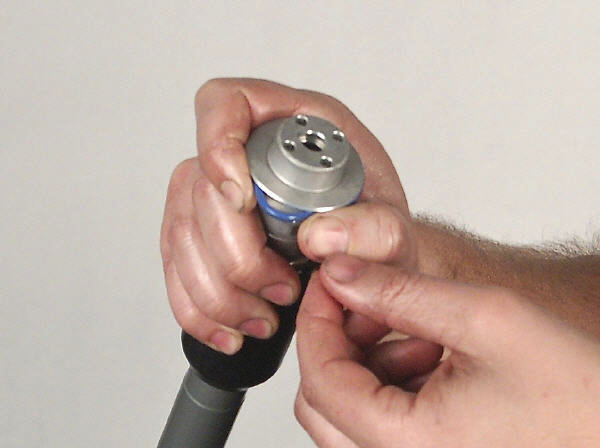 Removing this seal and one from the damping rod shaft converts the 4CS from its standard four-chambers, to a single open-chamber design. This allows more oil flow through the cartridge and alleviates the over-fill issue with the stock design.
After a few months of riding the stock KTM, I decided to contact Chris Riesenberg at Race Tech and see if they could work the same magic on the new bike as they had for the old one. Basically, I was looking to get the bike properly sprung and valved for my weight and speed (or lack thereof) and see if they could get a smoother and more consistent performance out of the 4CS forks.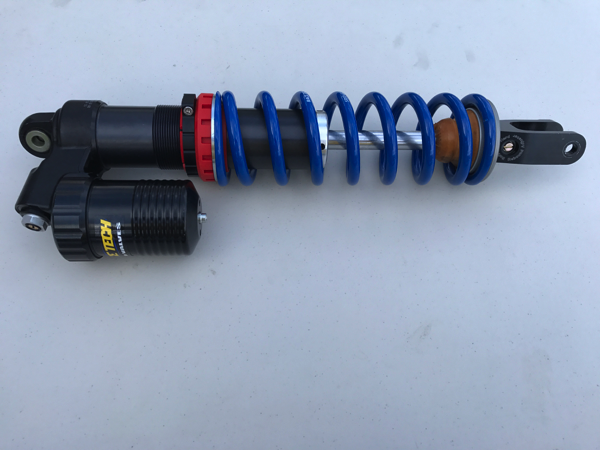 In the shock, the changes are less extensive and the Race Tech team focused on providing smoother action my adding their G3-LD Gold Valve, swapping the spring, and pouring in some of their Ultra Slick Suspension Fluid.
I am certainly no suspension expert, but from what I gather, the 4CS fork uses a lower-volume cartridge rod than a comparable Showa or Kayaba unit and this can cause the cartridge chamber to overfill and return inconsistent performance. While many people have come up with differing solutions to the 4CS problem, Race Tech's answer, was to convert the standard four-chamber cartridge unit to an open-chamber design and install new compression and rebound valving units. Using their patented Gold Valve design, they replaced the standard valve stacks and added a custom low-speed control unit to provide better feel on small track chatter and give the fork a more conventional Showa/Kayaba feel. In addition to adding the new valving, Race Tech re-sprung the forks for my weight and added their Ultra Slick Suspension Fluid to slicker things up.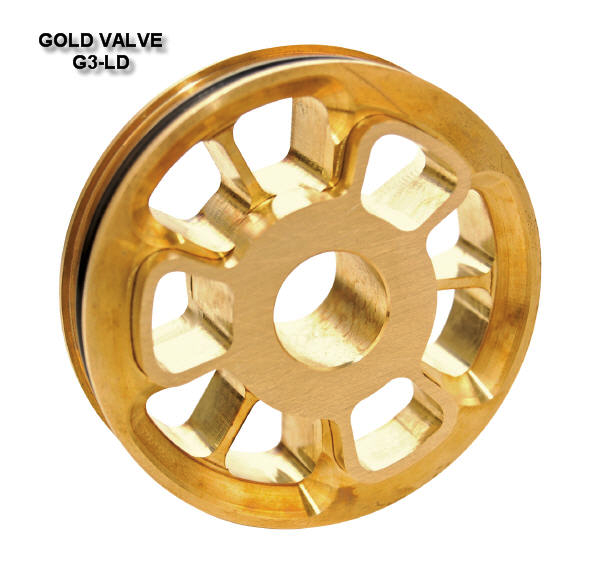 The G3-LD Gold Valve is a new design from Race Tech for KYB and WP shocks. It is designed to offer smoother performance by providing "more shim leverage and decreases the angular shim deflection." Honestly, I have no idea what that means, but it is supposed to offer smoother action and better tracking in the rough.
Out back, the mods were less extensive. Since the standard WP shock is actually pretty decent, all they had to do was add their G3-LD Gold Valve and re-spring it for my weight. The "LD" in G3-LD stands for "low deflection" and it is designed to offer a smoother feel and better traction by improving oil flow through the valve stack on the sharp impacts that can often cause a shock to kick, instead of absorbing the impact. Topping it off was another dose of super-slick and some sano Race Tech decals front and rear.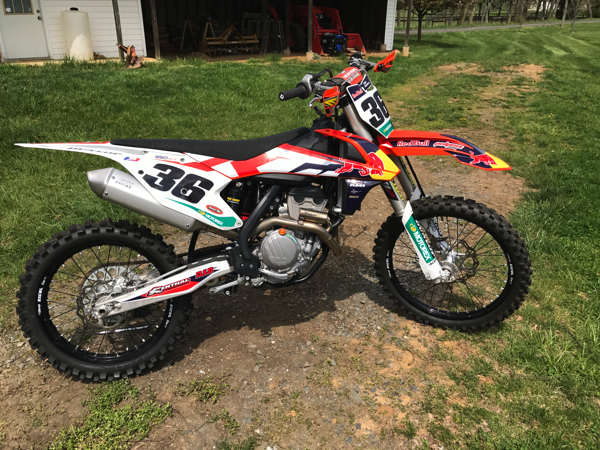 Once I got the bike back together and had a chance to try it out, I was really impressed with the changes Race Tech made. With the new springs and Gold Valves installed, the bike was more balanced and offered a far smoother action throughout the stroke. The forks no longer exhibited the harshness and erratic damping that was so annoying with the stock setup. I you are unhappy with the performance of your stock KTM or Husky suspension, I would highly recommend letting Race Tech dial you in.
Once I got the suspension back on and the sag dialed, I headed to the track to try out my new suspension. At first, the rebound felt a bit quick to me front and rear, but generally, I like my rebound to be slower than most. After a pit stop to turn a few clickers, I headed back out to see how things felt. I immediately noticed that the harsh feel in the forks was greatly lessened. There seemed to be much better compliance at the initial part of the travel and front wheel feel was definitely improved. Instead of deflecting on sharp bumps, the forks and shock both absorbed them willingly and the bike's ride was much smoother overall. It is still firmer than the ultra-plush setup I had had on the '90 CR, but much better at taking big hits. With the proper springs and the Gold Valves installed, it no longer blew through the travel on hard hits and it offered excellent bottoming control. At my age and speed, I am much more interested in overall comfort and feel than pushing the limits, but it is nice to know that if I miss-time something and flub the landing, I am not going to be catapulted into a snow fence.
After riding on the new suspension for a few months now, I am really happy with the mods Race Tech performed. Normally, I just live with the stock suspension on most of my bikes, but on the KTM, I really felt that the action of the forks was holding back the performance of an otherwise excellent machine. The Open Chamber fork-mod and Gold Valves made a huge difference and addressed all my gripes with the stock bike's erratic suspension performance. If you have a 2014-2016 KTM or Husqvarna with the 4CS fork, I would highly recommend looking into these mods to improve the action of your suspension.
If you would like to have Race Tech dial in your new or vintage bike suspension, you can give them a call at 951-279-6655 or hit them up on the World Wide Web at www.racetech.com . Make sure to use our code pulpmx17 for a sweet discount.
For your daily dose of old-school moto goodness, make sure to follow me on Twitter and Instagram -@TonyBlazier
For questions or comments, feel free to drop me a line anytime at TheMotocrossVault@Gmail.com