For part five of my motocross gear history series, I am going to take a look back at one of the real powerhouses of the motocross gear industry, Fox Racing.
For part five of my motocross gear history series, I am going to take a look back at one of the real powerhouses of the motocross gear industry, Fox Racing.
For this instalment, we are going to mix things up a bit by enlisting the help of two of the people intimately familiar with the Fox story – founder Geoff, and his oldest son Greg.
Started in 1974 by a Santa Clara University physics professor, The Moto-X Fox (as it was originally known) has grown from a motorcycle dealership mail order operation, into one of the most influential brands in all of action sports. Today, the iconic Fox head logo can be found everywhere from motocross tracks to shopping malls. Even though hardcore fans often lament this mainstream acceptance, it is hard to argue with the success it has brought. For many people outside of the sport, Fox is motocross.
The origins of Fox Racing can be traced all the way back to the mid-sixties, when a young Geoff Fox was attending graduate school at the University of Wisconsin. There, Fox was introduced to the joys of motorcycling by commuting to classes on a Honda CL 175. After a while, he began to notice one of the machines parked next to his on campus was consistently covered in mud and inquired as to how this happened. This inquiry would lead to Geoff's introduction to off-road riding and racing. Over the next few years, he would dabble in enduros, trials and even the odd motocross race. Most of all, he was hooked on the excitement and camaraderie of dirt bike riding and took that passion with him back to California after graduation.
By 1969, Geoff had his Ph.D., a new family (with two young boys, Greg and Pete) and a teaching job in the physics department at Santa Clara University. Although a full-time teacher and family man, he continued to make time for the sport he loved. Treating himself to a new Yamaha, Geoff took advantage of the many riding opportunities Northern California in the early seventies had to offer.
It was at this point that Geoff made the acquaintance of Ian MacLachlan. A parts manager at the Yamaha dealer he frequented, MacLachlan and Fox immediately connected over their shared passion for motorcycling. Within a few months, the two had become regular riding buddies.
After about six months of riding and racing together, MacLachlan approached Geoff about striking out on their own and starting a new dealership. At the time, this was just not financially feasible for Fox on his teacher's income, but he did agree to help MacLachlan by providing some flooring assistance with his new venture. "Flooring" is a term used in the retail world for the up-front financing used to buy inventory. Essentially, if a new bike cost $500 from the manufacturer, Geoff would provide this money upfront to purchase the bike, and then he would recoup his investment, plus interest, once the bike was sold to the final consumer.
While not a huge amount of money, this cash infusion was enough to help MacLachlan and another partner, Chuck Bullwinkle, get Grand Prix Cycles started. At the time, motocross was really starting to take off in America, but just as today, the real money was in parts and service, not new unit sales. On the sales side, margins were small and with dozens of brands available in the early seventies, competition was cutthroat.
After a year or so in business, Bullwinkle decided that he wanted out of Grand Prix Cycles. At this point, Geoff had been flooring bikes a while and felt the time was right to up his investment. After working out the details, Fox purchased Bullwinkle's stake and became a 49% owner in Grand Prix Cycles. Now an official partner, Geoff quit his teaching job and took on the role of manager of the Santa Clara store (MacLachlan managed the Freemont location).
One of first steps Geoff took toward making the business more profitable was to expand the dealership's offerings. In addition to the Puchs and American Eagles Grand Prix already dealt with, Maico and CZ were brought in to help fill out their portfolio. At the time, European brands were still considered the premium motocross machines available and the German and Czechoslovakian brands were two of the best.
While excellent on the track, these early Euro machines were far from perfect. Bikes in general at this time were fragile and the European ones could be the finickiest of all. Parts availability could also be an issue, with some things being nearly impossible to obtain. This problem was particularly acute for CZ owners, who had to deal with not just the inefficiencies of communist manufacturing, but also the trade barriers of Cold War-era Europe. Just getting basic goods out of the Soviet Bloc could be a real challenge and communication was often all but nonexistent. This lack of communication trickled all the way down to the owner's manuals, which were regularly unavailable for the Czech machines. When you bought a CZ, you got the bike, and nothing else.
This oversight would lead Fox to his first major commercial success. After seeing first-hand the difficulty his customer's had in deciphering and working on the Czech machines, Geoff realized there might be a market for an English-language service manual. Seizing the opportunity, Fox began by disassembling a new CZ and photographing every part. Once done with the photography, he compiled a parts list and wrote out step-by-step instructions on how to service it.
Retailing for a paltry $7.50, his CZ service manual flew off the shelves a fast as they could print them. Eventually, Fox would sell 5000 of his 150-page manuals to grateful CZ owners. After seeing this success, Geoff decided that there might be some real opportunity in mail order parts and accessories. This change in focus would eventually lead to tension between he and MacLachlan. At the time, MacLachlan was more interested in obtaining additional dealerships than selling handlebars through the mail. Coming to an impasse, Fox decided he wanted out, and in 1973, agreed to be bought out of his share of Grand Prix Cycles.
After the split, Fox decided it was time to give the motorcycle mail order thing his full effort. Motocross, and the whole motorcycle industry was booming, and if there was ever going to be a time to take the plunge, this was it. Betting on himself, he acquired a 1500-square foot warehouse on McGilncy Avenue in Campbell, California enlisted his dad as a bookkeeper, and set about building a motocross empire.
If, after reading this, you would like to learn even more about Fox Racing's origins, make sure you check out the great podcast Matthes did with Pete Fox a few years back where he covers a lot of what we talk about here. If interested, you can grab it HERE.
If you enjoy this and would like to read more about Answer Racing, you can check out our look back at them HERE and HERE
If JT Racing is more your speed, you can read all about their rise and fall HERE and HERE.
Thanks to Geoff and Greg for helping out telling the story of Fox Racing.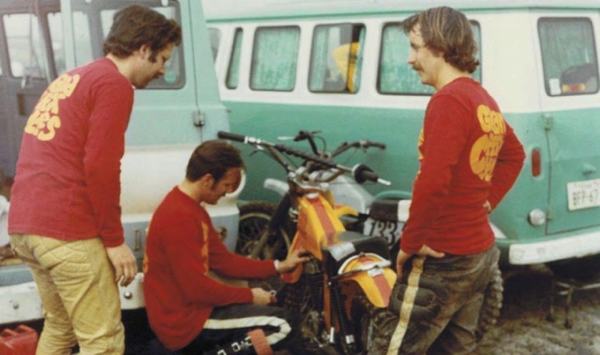 Blaze – Before starting Moto-X Fox, Geoff Fox (pictured above on the left, with his brother Bob and Grand Prix Cycle partner Ian MacLachlan) ran his mail order business out of a small motorcycle dealership in Northern California. Photo Credit: Geoff Fox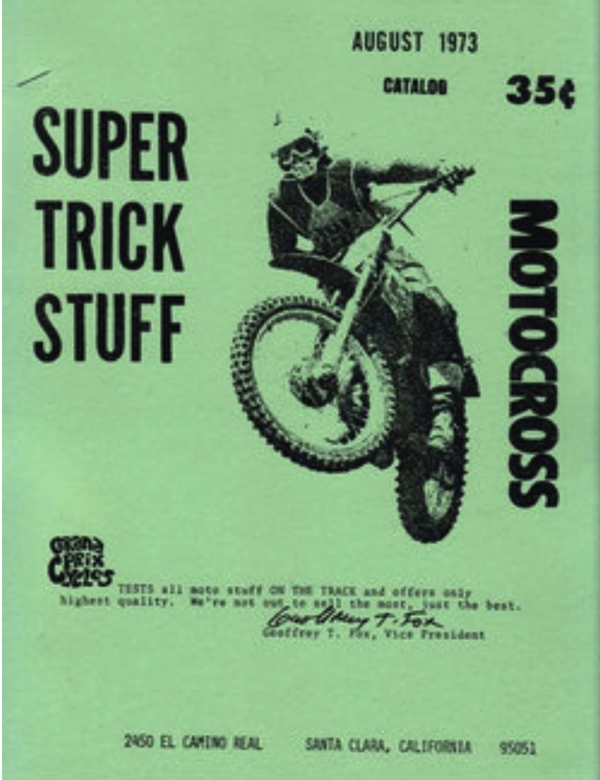 Blaze – In 1973, Geoff Fox produced a catalog of the accessories Grand Prix Cycle offered for sale. Originally, this catalog was going to go under the moniker of "Super Trick Shit", but when Cycle News balked at running his ads, Fox changed the name to "Super Trick Stuff."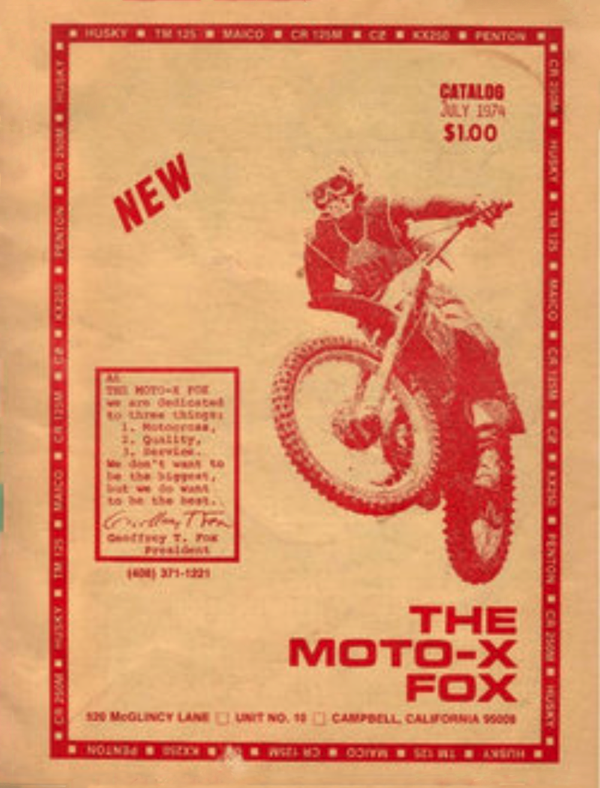 Blaze – After leaving Grand Prix Cycles, Geoff Fox and his wife acquired a warehouse in Campbell, California, and in February of 1974 opened the doors on The Moto-X Fox.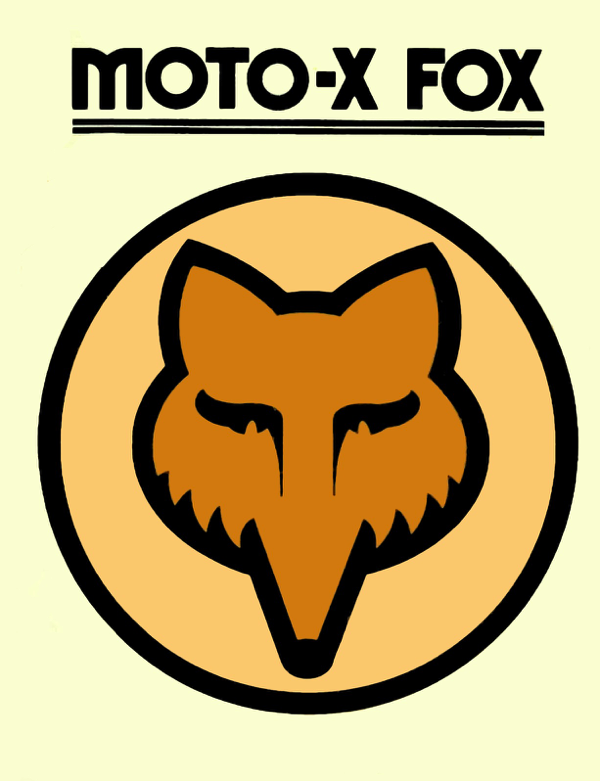 Blaze – A year later in 1975, the iconic Fox head logo made its appearance for the first time. Originally, Geoff did not think a logo was necessary for the brand, but when an ad agency encouraged him to provide one, he commissioned Bob Baptiste to draw something up. The logo cost Fox a cool $300 and has to stand as one of the best returns on investment in motocross history.
Geoff- Interesting – I don't remember this ad. The one I mostly remember was "We have some rough customers."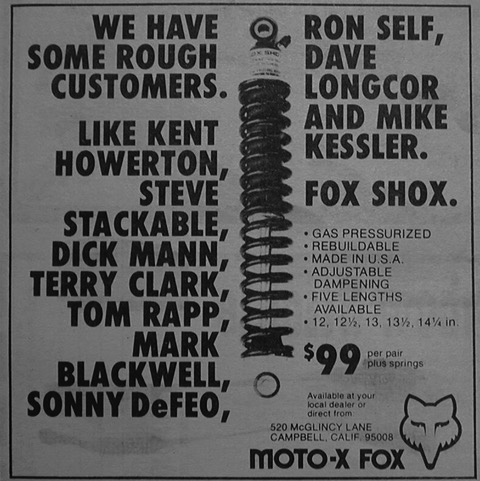 Blaze – Here is the 1975 ad Geoff is talking about above. I had actually never seen this one, but Geoff was kind enough to send me a copy so everyone could see what he was referring to.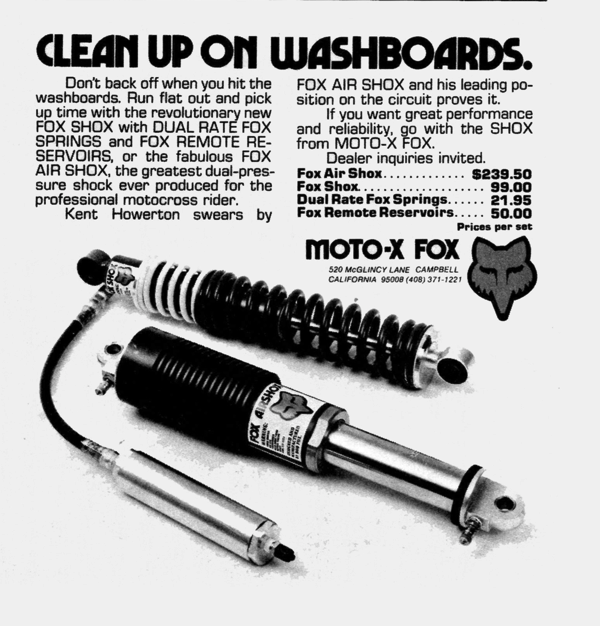 Blaze – One of Moto-X Fox's earliest successes was a rebuild kit for Koni shocks. At the time, even most high-end shocks were not rebuildable and Fox came up with a kit that allowed them to be serviced. In 1975, that led to the involvement of Geoff's older brother Bob. A physicist and engineer in his own right, Bob had designed an air-shock while tinkering in a buddy's garage and worked out a deal with his brother to develop shocks for the new company. Long travel suspension was just starting to take hold, and Moto-X Fox was in the perfect place, at the perfect time, to take advantage of a huge increase in interest for aftermarket suspension.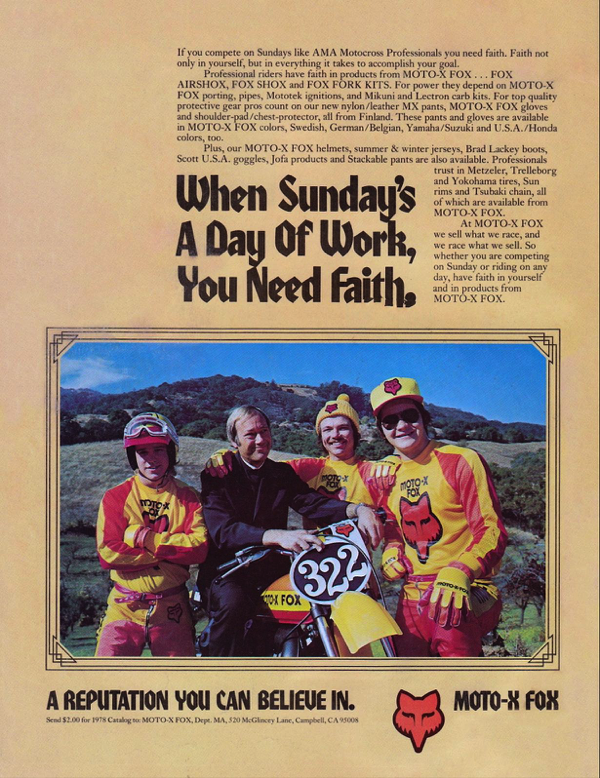 Blaze – In 1977, Moto-X Fox looked to expand their business by fielding a racing team on the AMA circuit. Their original lineup riders included (from left to right) Mark Barnett, Pat Richter (an early development rider on the Airshox project) and Steve Wise. When the team started, Moto-X Fox was still primarily a hard parts distributor and gear was about the last thing on Geoff's list of priorities. The team was basically a tool to promote their motor work and suspension upgrades, not sell gear.
Geoff – When I tell this story my remarks go like this: When our rider showed up in their Fox gear on Sunday the phone rang on Monday. Callers wanted to know if they could buy the same thing. IT DIDN'T TAKE A PHYSICS PH.D. TO SEE THE OPPORTUNITY that represented.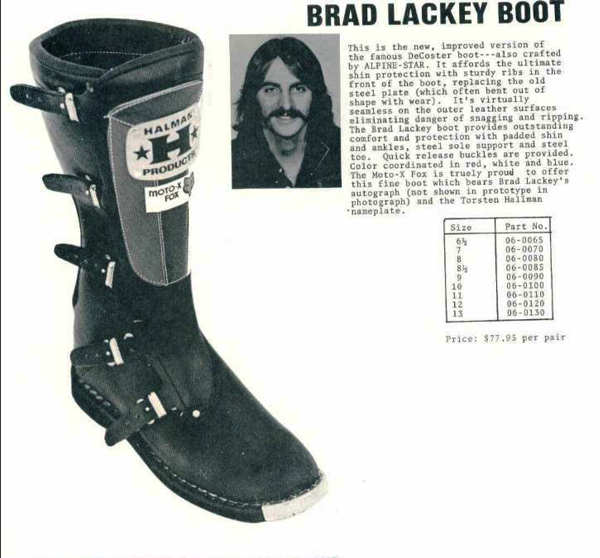 Blaze – When you look back at the early catalogs of many of today's gear titans, you see that there was a lot of cross-pollination going on between brands. Torsten Hallman Racing (today's THOR) was an early partner of both JT Racing and Moto-X Fox and appeared prominently in the catalog of both companies. This Brad Lackey signature boot from 1978, for instance, is a Hallman product branded with the Fox logo.
Geoff- You are right about cross-pollination. At one point we sold JT gloves.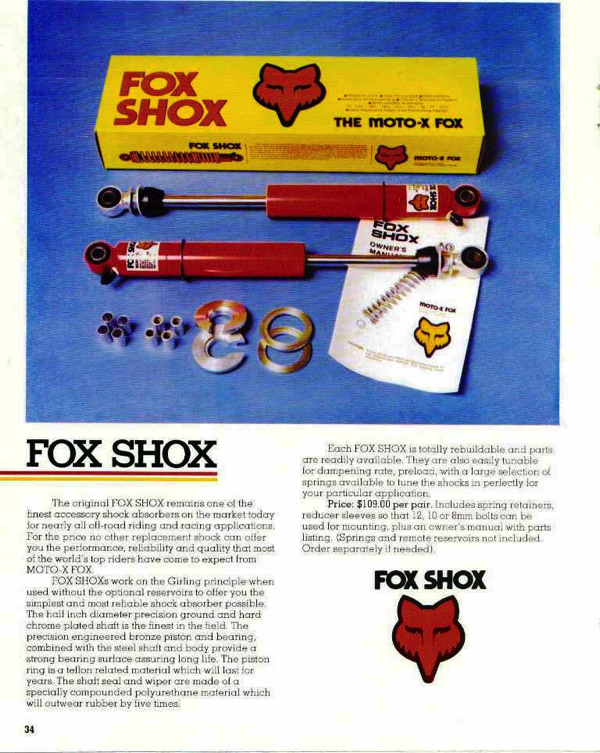 Blaze – In 1977, Bob and Geoff decided to separate the shock business from the rest of the brand and created Fox Factory, Inc. The two companies remained distribution partners, but were now separate entities. At first, this seemed like a great idea, but when the bottom dropped out of the aftermarket shock business in 1979, things began to look grim. In 1977, they had sold 10,000 pairs of shocks, but by 1980, that number had dwindled to a paltry 1,000. In response to this precipitous downturn, Bob Fox diversified. Instead of folding up shop, he expanded his suspension business to include automotive, bicycle and ATV applications. Today, Fox Factory Holding Corp (FOXF) has grown into a large publicly traded company with a market cap of more than $1 Billion which continues to provide manufacturers and consumers some of the best suspension components available.
Geoff- The FOX SHOX with springs was designed and developed by Steve Simons and me. Fox Airshox were my brother's design. Fox Shox dominated USA motocross for about 6 months, and then Fox Airshox took over the leading position.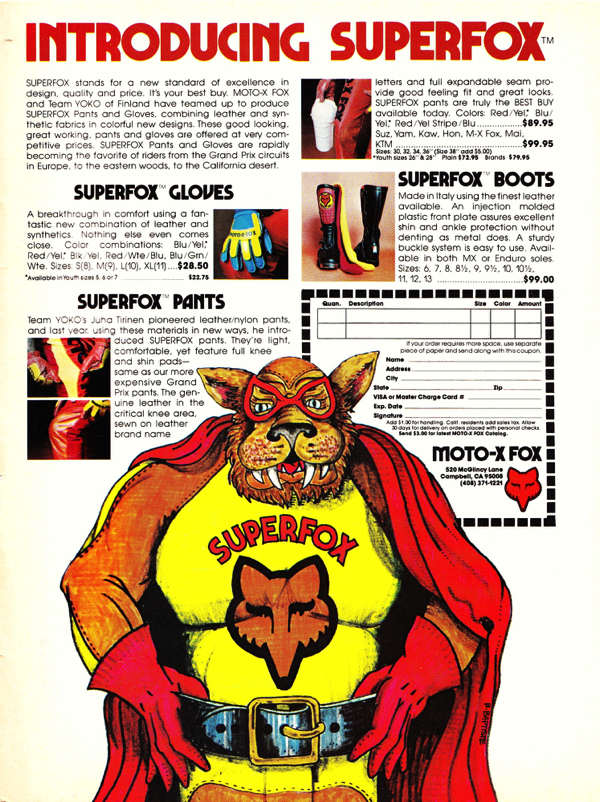 Blaze – After the success of their race team in 1977, Geoff Fox began to notice an interesting trend. There seemed to be huge demand for the unique red, yellow and orange apparel. Once again seeing an opportunity, he decided to listen to what the market was telling him and pivot the brand toward apparel. Partnering with Yoko of Finland, Moto-X Fox expanded to offer a full line of motocross gear in several colorways and introduced the Superfox brand for the first time.
Goeff – I recognized the opportunity immediately, but the demise of the aftermarket shock market certainly helped narrow our focus.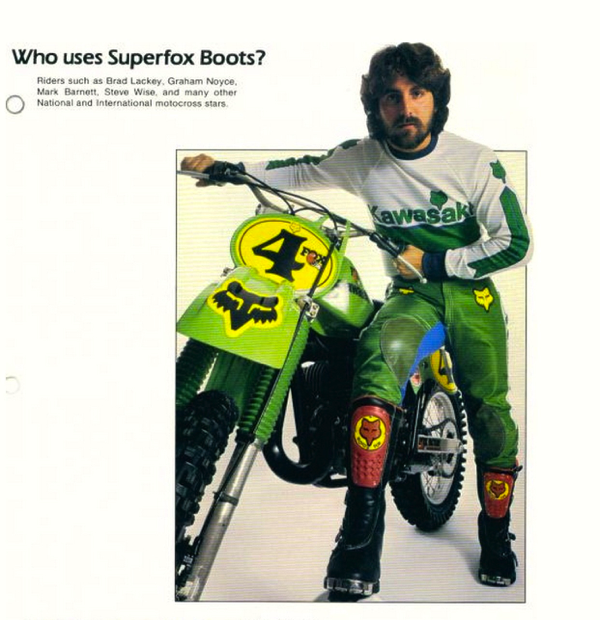 Blaze – The first rider actually paid to ride in Moto-X Fox gear was long-time GP contender Brad Lackey. An early test rider of Fox's air suspension, Lackey's relationship with the brand went back to the very beginning. In hindsight, putting the emphasis on GP contenders was probably a mistake for the brand. Even in 1979, American fans were already starting to lose interest in the stars of Europe.
Geoff – Totally agree.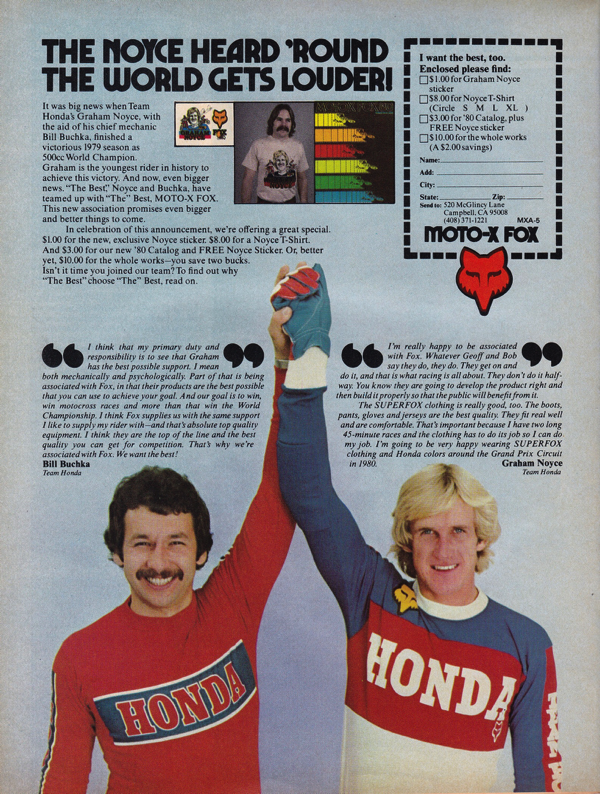 Blaze – For 1980, Moto-X Fox continued their GP fixation by hiring newly-crowned 500 World Champ Graham Noyce.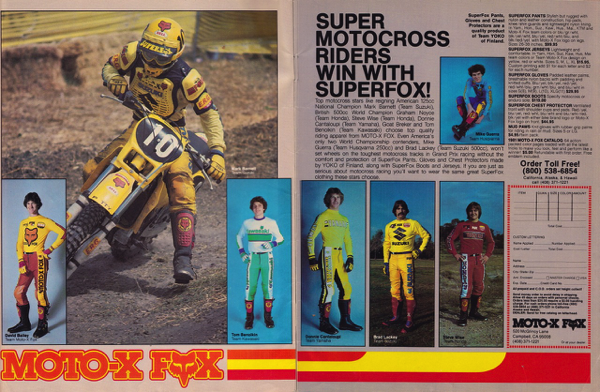 Blaze – While Fox may have missed the mark with their sponsorship of Brad Lackey, they certainly hit a bullseye with their early hiring of Mark Barnett. A member of the original Moto-X Fox squad, Barnett was loyal to the brand when Factory Suzuki came calling. Check out a very young David Bailey in the classic Moto-X Fox gear at the lower left.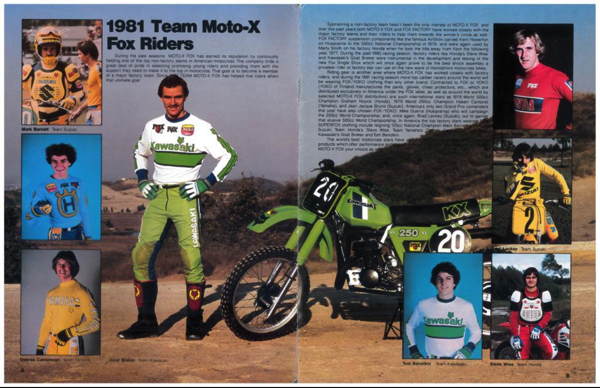 Blaze – In 1981, Moto-X Fox was still not really in the conversation for many motocross gear buyers. At this point, JT was King, and everyone else was left to fight over the scraps. While none of this gear for '81 was really great in my opinion, the Doc Brown afro Mike Guerra is running certainly made the electric blue Husky colorway stand out. 1.21 gigawatts!!!!
Geoff – JT was certainly king. They especially had a lock on Southern California. I saw the opening in other geographical areas – hence Barnett (Illinois), David Bailey (Virginia), Mike Guerra, Donnie Cantaloupi, Mickey Boone and many, many, others.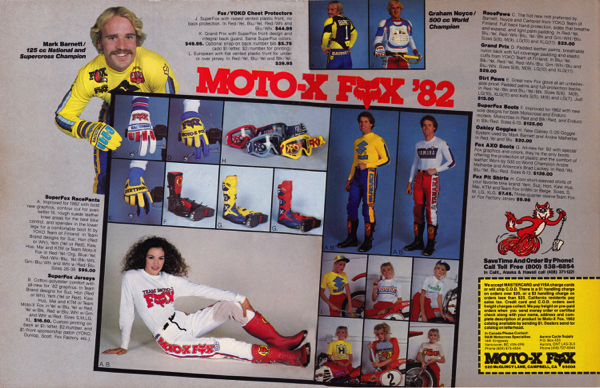 Blaze – This ad for 1982 is significant for three reasons. 1 – This is the first appearance of a new logo with the Fox head as the "o" in Fox. This logo would become a mainstay of the brand for the next 30+ years. 2 – This is one of the earliest appearances of an AXO product in the US. In this case, the yellow and red boots in the middle are actually made by AXO boots, branded as a Fox product. O'Neal also offered a version of these boot through their distribution channels. 3 – This has to be the worst hair ever to appear in a motocross gear ad. I mean, I thought Mike Guerra had this on lockdown, but this chick has blown him into the snow fence with this Bride of Frankenstein motif. Fire BAD….
Geoff – This makes me smile. Jim "The Greek" Gianatsis gets credit for this. He always had a "different' way of photographing females – IMHO. Jim made some important contributions to Fox.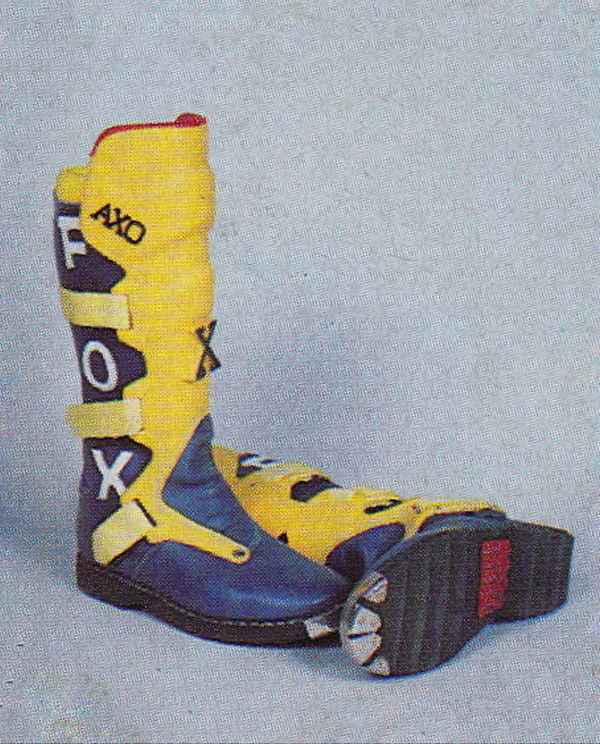 Blaze – Paging Professor X: Here is a better look at the Fox/AXO boot for 1982. When you see these hideous things, it is hard to imagine how great-looking their stuff would become only a few years later.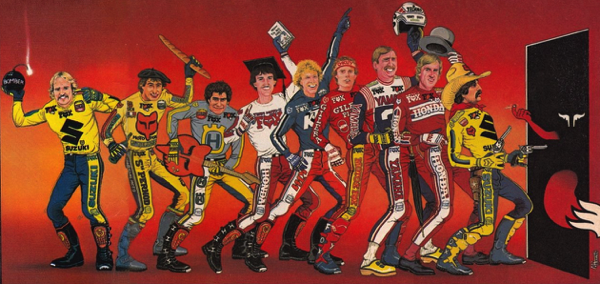 Blaze – Moto-X Fox's lineup for 1982 from left to right: Mark Barnett, Giles Burgat (World Trials Champ), Mike Guerra, David Bailey, Donnie Cantaloupi, Michele Rinaldi, Håkan Carlqvist, Graham Noyce and Brad Lackey.
Geoff- This poster was created by our French distributor under Yves Cosson.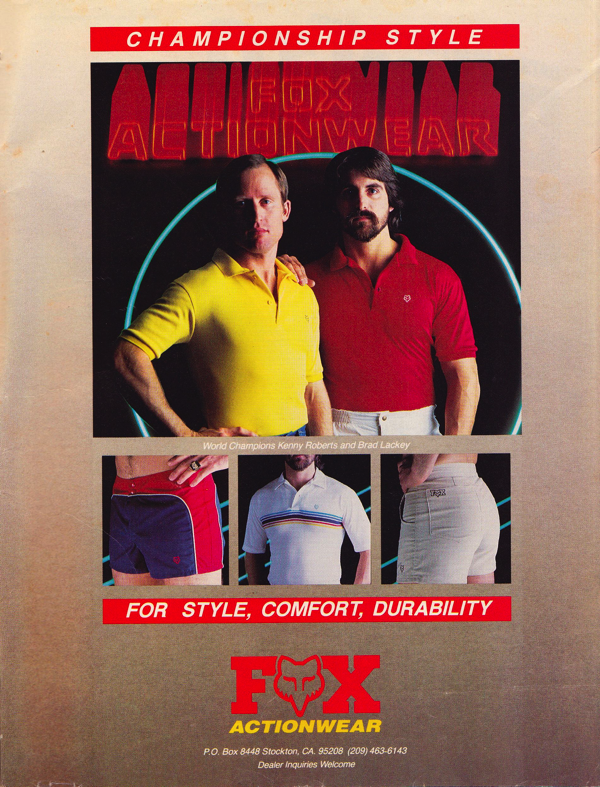 Blaze – Kenny Roberts and Brad Lackey were bad dudes, but the less said about these shorts the better.
Geoff – This is really interesting. Kenny & Brad (plus a sportswear guy) formed this company and licensed the use of the Fox logo for sales of polo shirts etc. to motorcycle dealers. They were the first with the idea. Today, of course this is a big business, but even with the top US road racer and motocrosser behind the business, it failed. Why?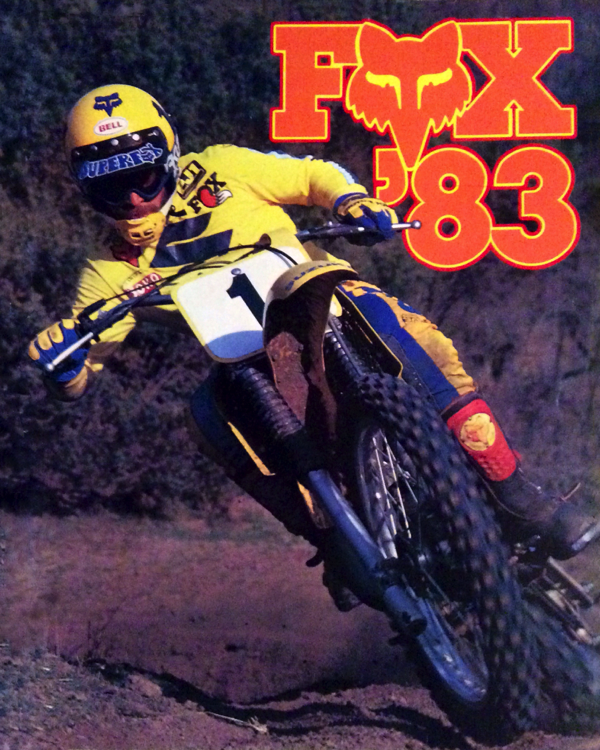 Blaze – Kids today don't realize what a bad dude Mark Barnett was in his prime. This guy was an absolute animal.
Geoff -Before he signed with Suzuki (I helped him negotiate that deal – $15K annually) Mark would sleep in our garage when he was in NorCal. Mark always ate his salad with NO DRESSING.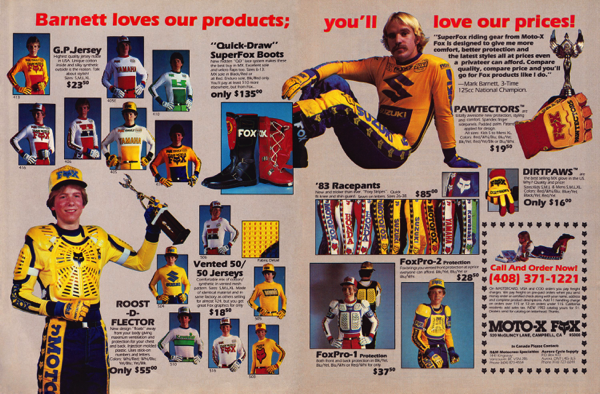 Blaze – For 1983, Moto-X Fox introduced two new products that are worth noting. The "Pawtector", a great looking glove that I would own countless pairs of, and the "Roost-D-Flector", a kind of funky HRP knock-off that never did anything for me. One other thing of note is the appearance of Geoff's oldest sons Greg and Pete. With Barnett based in Illinois and Fox in California, it was often difficult to get him in for photo shoots, so Geoff enlisted his sons to stand in for ads.
Geoff – I was the one doing the ads at this point. Jack Launer, who did the original "Rough Customers" etc. ads and hired Bob Baptiste to do the logo, went into the hospital for a routine surgery and died there. After that, we did all our ads in-house.
Greg – This is the one of the first ads done in house by Geoff after the departure of Fox's in-house art director. Physicists aren't known for their artistic flare… Prior ads and catalogs were done by employee Jim Gianatsis who was a professional photographer with schooling in graphic arts. Jim loved to shoot photos of female models, so the chick-on-the-phone photo is a leftover Jim slide. Notice the Marketing focus on "Price" …. Geoff positioned Fox to be the low-price brand in the early 80s.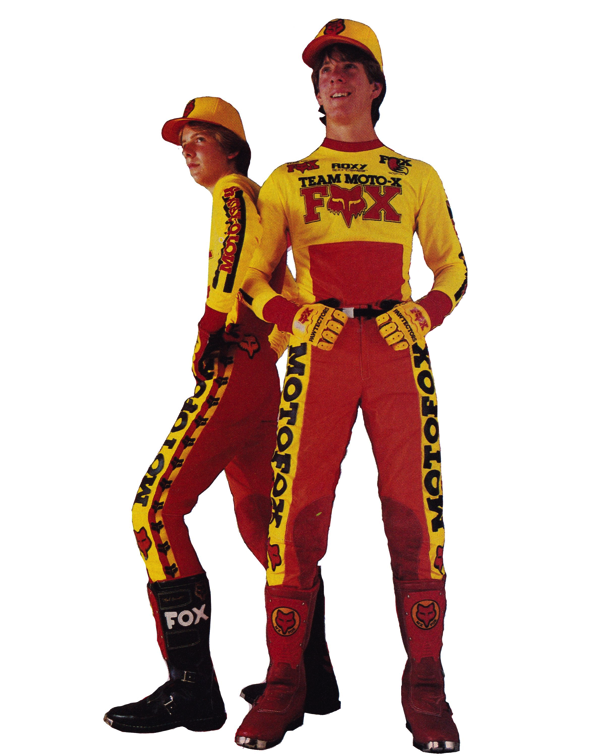 Blaze – Pete and Greg, teenage fashion plates.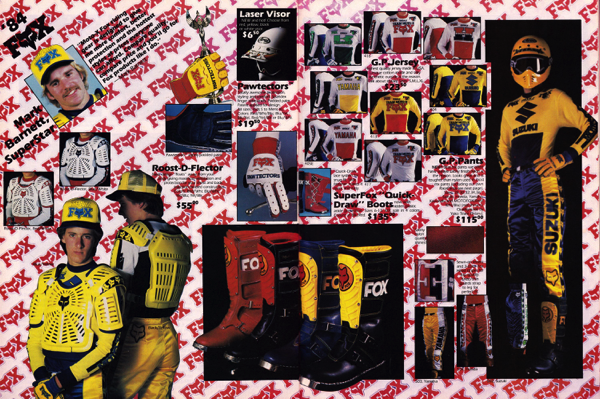 Blaze – I'm not sure who thought it would be a good idea to plaster the Fox logo all over the ads for '84, but they should have reevaluated that decision before going to print. Honestly, this looks like some kind of Christmas wrapping paper gone bad and gives me a headache just looking at it.
Geoff – I agree with you. Did I do that? Or can I blame Gianatsis?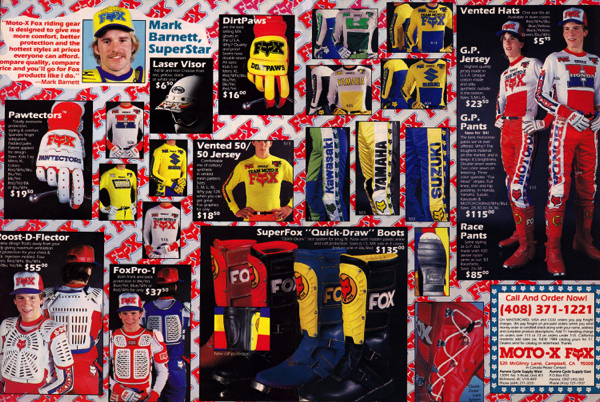 Tony – With the exception of the Pawtectors, none of this stuff really did anything for me in 1984. It was not terrible, but neither was it as cool as most of JT Racing's offerings. This was the last year of Mark Barnett's long association with Fox (he moved to Answer in 1985) and it is interesting to see how minimally he factors in the ads for '84. I looked at five different Moto-X Fox ads for this year, and this little stock photo of his face is the only one that they used.
Geoff – At this time in our marketing was directed to the retail end user. We didn't yet have a dealer sales team. My son Greg worked to change that.
Greg – By 1984 Barnett's dominant years were behind him. We focused on offering customers a solid combination of quality and price. Check out the focus on low price: "at prices everyone can afford".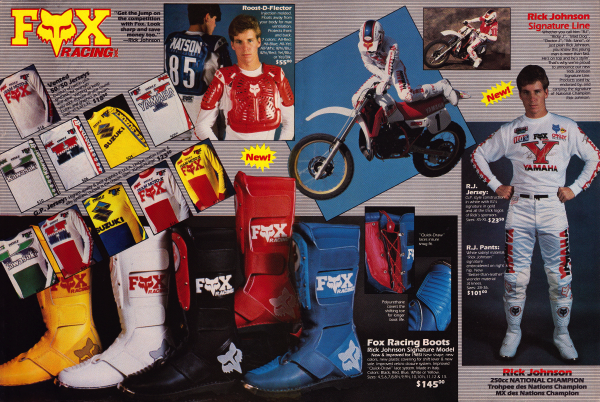 Blaze – The 1985 season marked some big changes at Fox Racing. The first was a transition away from their original name of Moto-X Fox, to the company's new moniker, Fox Racing USA. The second, was the arrival of Ricky Johnson to the Fox Racing stable. This acquisition was largely due to the influence of a 15-year-old Pete Fox, who lobbied hard for RJ and traveled on his own to meet with him and convince him to sign.
Greg – Check out RJ almost doing a NacNac!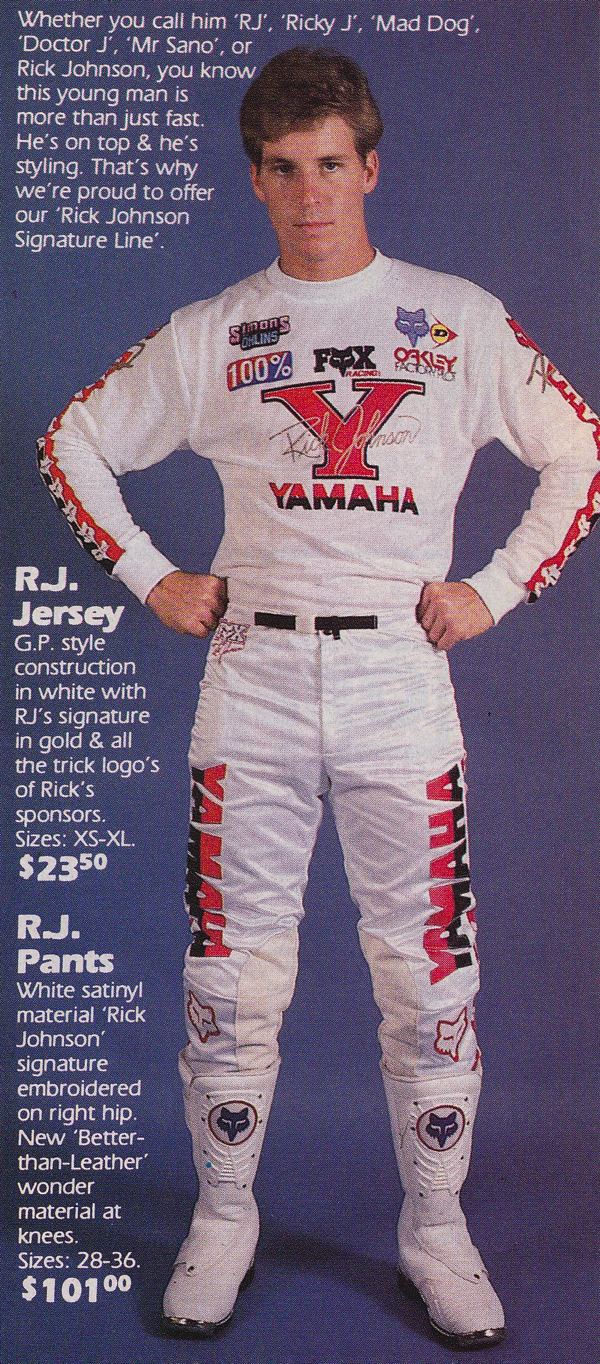 Blaze – Ricky Johnson was always a bad dude, but good lord, how many nicknames does one guy need? RJ, Ricky J, Mad Dog, Doctor J (never heard him called that one), Mr. Sano (yeah, not that one either), Too Hip, Magic Man, Bad Boy… I mean, come on, a Russian spy has fewer aliases. Also, what exactly is he doing here? His new R.J. signature (personally, I think they should have gone with Mr. Sano signature) gear is decent enough, but that odd pose he is striking makes him look like he is trying not to poop his pants or something. Oh well, much better days were ahead.
Geoff – All the nicknames sounds like the Greek to me – but I don't know for sure whom to blame!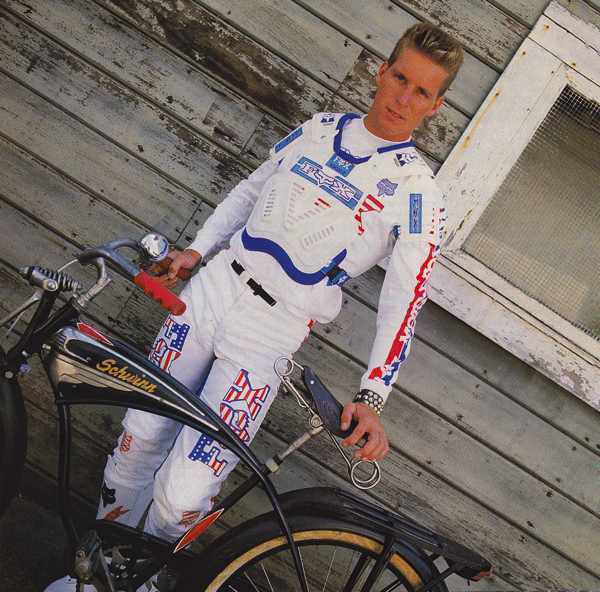 Blaze – In my personal opinion, no gear company has ever made a bigger year-over-year turn-around than Fox Racing did in 1986. The influence of Pete Fox (who had just graduated high school and moved into a more prominent role at the company) brought with it avant-garde designs and daring stylistic choices. Just look at the contrast between this photo and the previous one. Everything, from Rick's hair, to his posture, to the look on his face, is a complete 180. The '85 RJ looks like a guy who might have his lunch stolen in high school. This guy? – he's doing the stealing.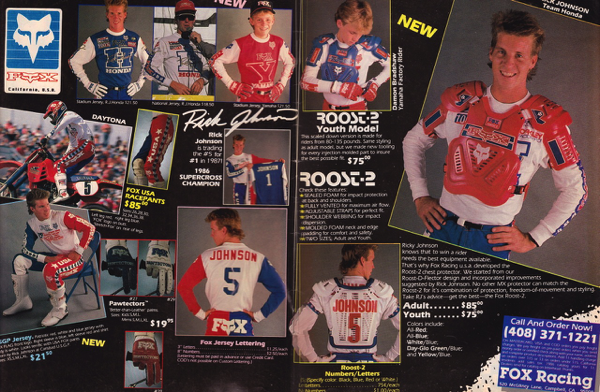 Blaze- I absolutely loved RJ's new replica gear for 1986. I had the blue Stadium jersey at the upper left and felt like the Supercross champ wearing it. The new Flag and USGP colorways were also totally badass, particularly if you had the money to buy two pairs of Comp-2 boots, so you could run one red and one blue one, just like the Bad Boy. Check out a 13 year-old Damon Bradshaw at the top center.
Geoff – Back then we even did the typesetting in-house. I ran the machine, since it was basically a computer connected to a laser. Now, you just type and choose a font from a drop-down menu.
Greg- I dropped out of UCSB and joined Fox full time in the summer of 1985. Pete and I rented an apartment half a mile from the office and began to travel to the races and contribute to the success of the family business.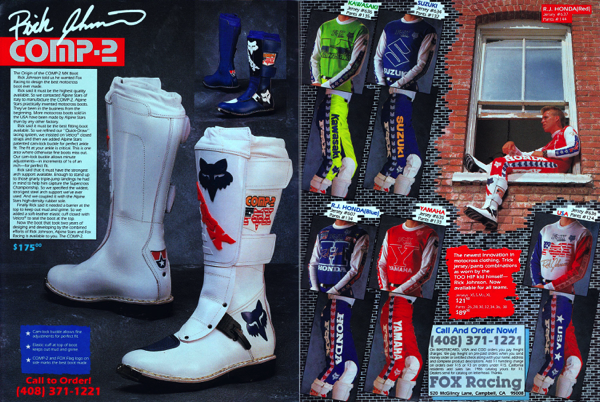 Blaze – So many amazing Fox products made their debut in 1986. The new Comp-2 boot was designed by Fox, manufactured by Alpinestars and better-looking than any Fox boot since the original Brad Lackey model. After a decade of domination, JT Racing finally had a true challenger in the moto gear business.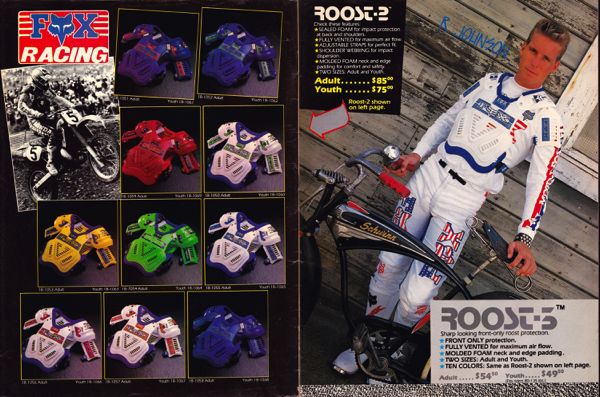 Blaze – Another awesome product for '86 was the revolutionary new Roost-2 chest protector. Unlike the fugly Roost-D-Flector, the new Roost-2 (and front-only Roost-3) actually improved the look of your gear. With cool colorways and style for miles, the Roost-2 was a perfect complement to Fox's new gear designs.
Geoff – Pete gets credit for both the original Roost-D-Flector and the Roost-2. He was a quick study.
Greg – Amazingly, the Roost-2 flew off the shelves even though Fox shipped the product unassembled in a plain plastic bag without the stickers applied.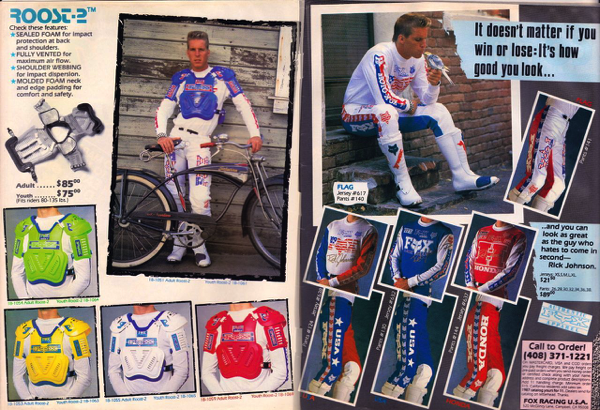 Blaze – Who puts birds in their ads? Fox does, that's who. Pete Fox's youthful creativity and Rick Johnson's willingness to push the envelope were a lethal combination.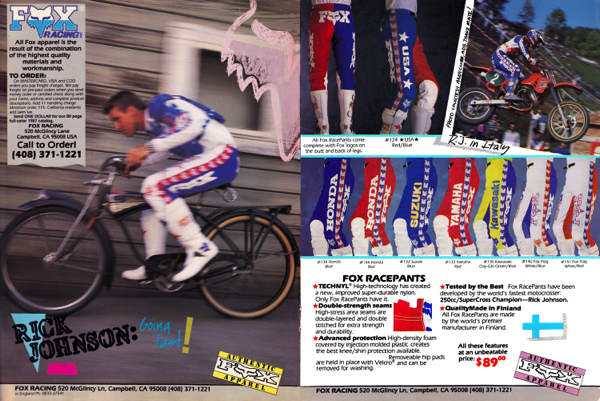 Blaze – After revamping their entire lineup in 1986, Fox stood mostly pat for 1987. Even though most of the colorways and designs remained unchanged, they still offered some of the best-looking gear on the track.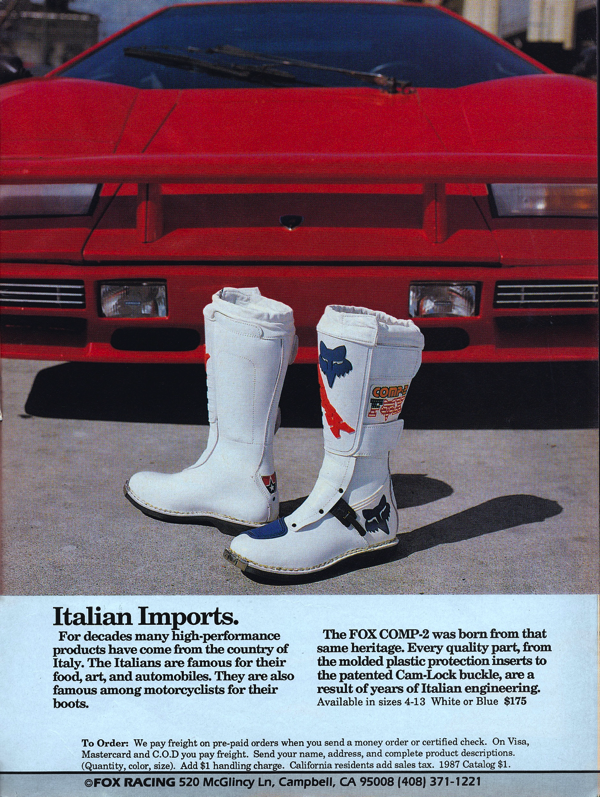 Blaze – I always thought this was a cool ad Pete did for the Comp-2 boot in 1987. It's hard to go wrong with a couple of hot Italians.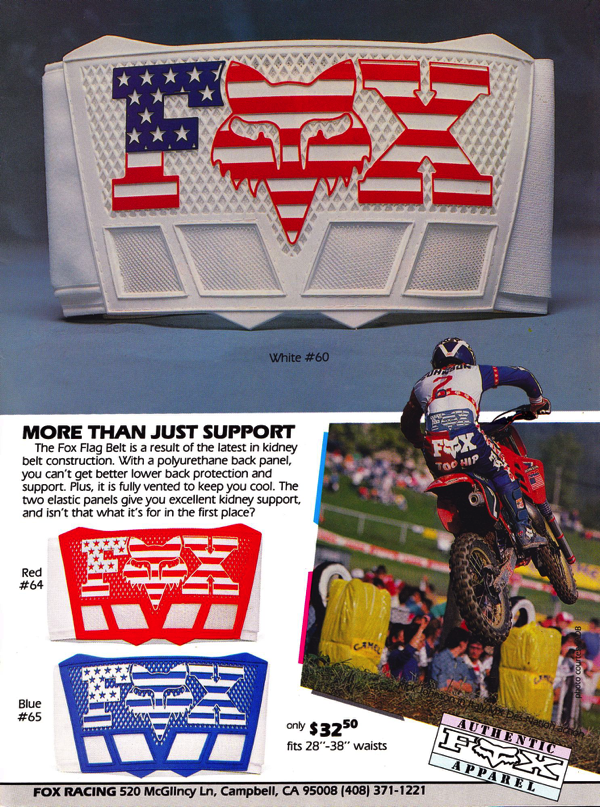 Blaze – Today, kidney belts are virtually non-existent, but in the seventies and eighties, these bad boys (if you will pardon the pun) were big business. The Flag belt was a HUGE hit for Fox in the mid-eighties and still stands as one of their best-selling products.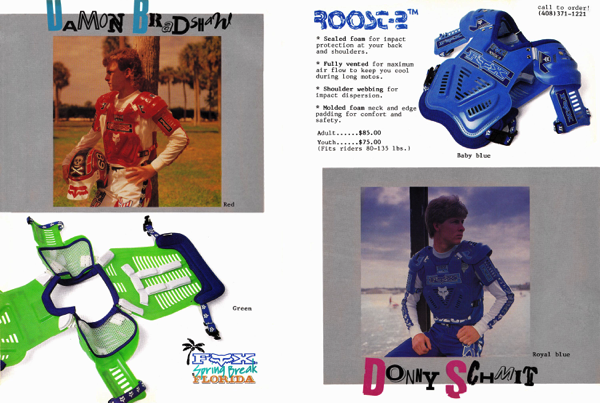 Blaze – In 1987, Fox had quite a stable of young talent ready to step into the limelight. Damon Bradshaw, Donny Schmit, Keith Turpin, Ronnie Tichenor, Kyle Lewis and Jeff Matiasevich all looked capable of keeping Fox in the winner's circle for several years to come.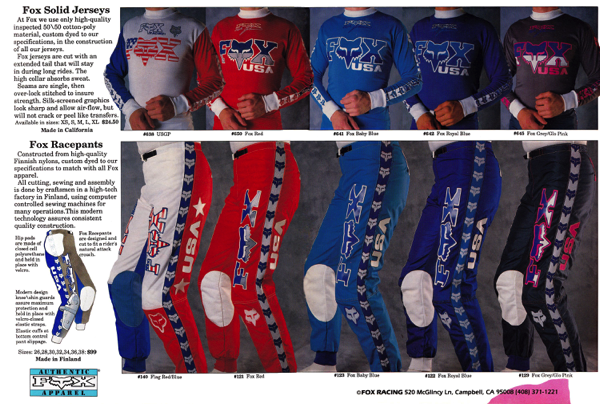 Blaze – For 1988, a new gunmetal colorway was the sole big news on the Fox jersey/pants agenda. It was available in the Grey/Flo-Pink shown above and a slightly subtler Grey/Blue combo.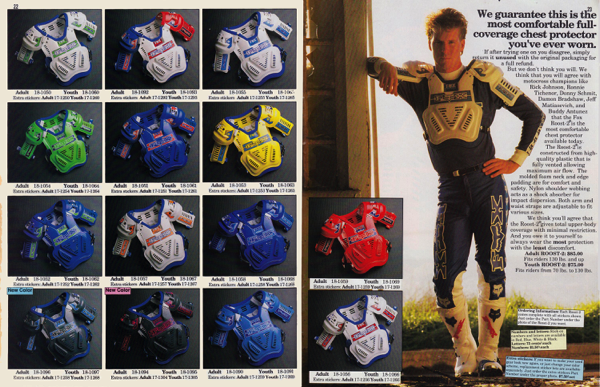 Blaze – If you ponied up the cash for the new gray colorway, there was a matching Roost-2 available (lower left) to complete the look. Man… RJ was a badass.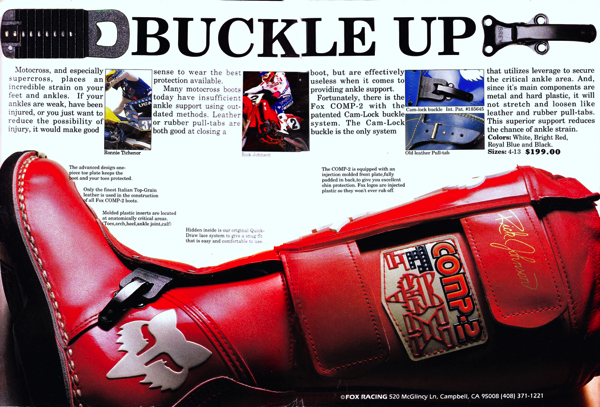 Blaze – The Comp-2 was back for 1988, with one cool addition. Now all models received a sweet signature by Mr. Sano himself on the top Velcro strap.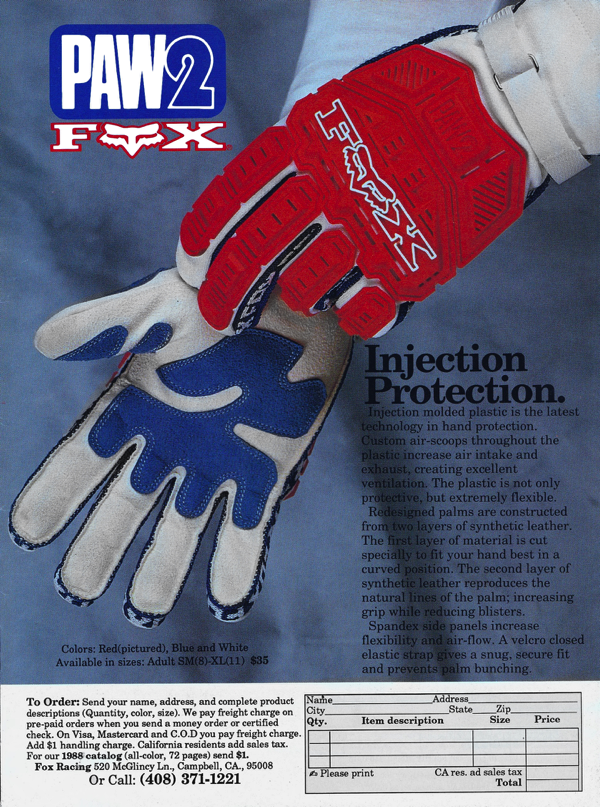 Blaze – One new Fox product for 1988 was the Paw-2. Similar to AXO's Series 29, the Paw-2 kept the overall design of the Pawtector, but added an extra bit of protection by covering the top of the glove with an injection-molded plastic covering.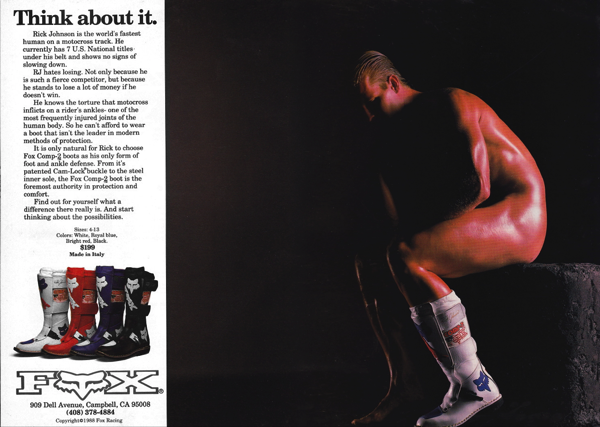 Blaze – In 1988, Pete Fox had the absolutely crazy idea to market their Comp-2 boots by having Ricky Johnson re-enact Auguste Rodin's "The Thinker." Apparently, Pete had been struck by Rick's incredibly fit physique and somehow put that together with the 19th century French sculptor's work. Audacious in concept and flawless in execution, this ad perfectly captured the confidence, style and fearlessness of the Fox/Johnson pairing in the mid-eighties.
Geoff – We received 4 (we kept count) letters from parents who were SHOCKED by this ad and vowed to never buy another Fox product. We tried to explain that it was "art" (which it certainly was).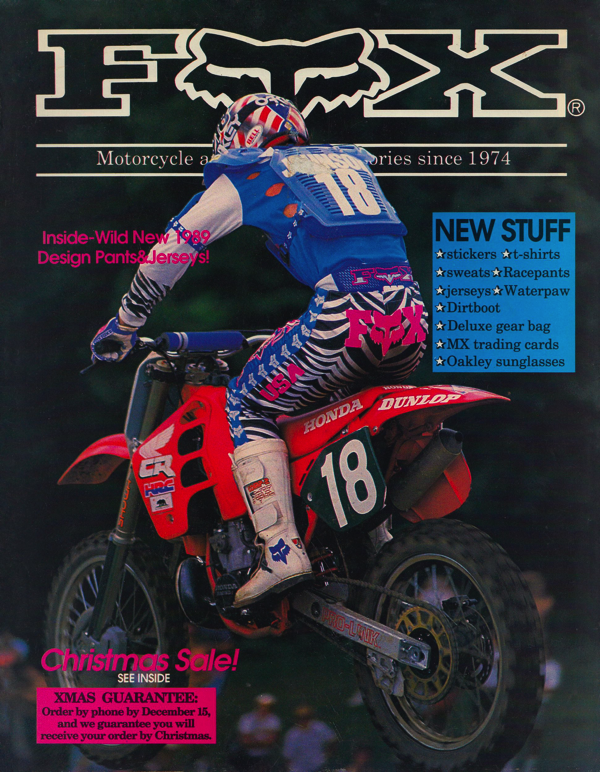 While the "Thinker" ad was bold, it was far from the last shot Fox had in its quiver for 1988. Shot two, would come at Unadilla in July, with the introduction of Fox's new Image Racepants. At the time, JT Racing's Bad Bones gear was about the craziest stuff on the market, but the Dogger had nothing on these tiger-striped puppies. The "Zebra" colorway came in pink, blue or red and absolutely blew the collective minds of the entire industry. Even though the final design was greatly toned down from Pete Fox's original idea, it remained a major gamble. Most of the nineties notwithstanding, pink zebras can be a tough sell in the marketplace. Johnson and Fox could have easily looked like pink and baby blue idiots out there, but instead, they looked like geniuses. The Zebra gear took off like wildfire and kicked off an era of bolder and bolder graphic designs.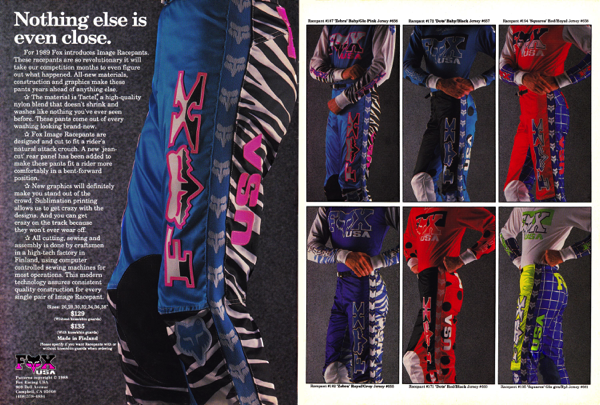 Blaze – In addition to the three zebra-print designs, Fox offered a new "Dots" and "Squares" look for those averse to the safari look. While all of this stuff was pretty cool, nothing could compare to the runaway success of the original Zebra. According to Pete Fox, that colorway accounted for a staggering 50% of sales in 1989 and is still the brand's all-time best-selling gear by a wide margin.
Geoff – True, that 50% caused lots of problems with supply. We certainly never predicted that number, so we didn't order enough and lead times (the factory was in Finland just like JT and everyone else) were l-o- n-g.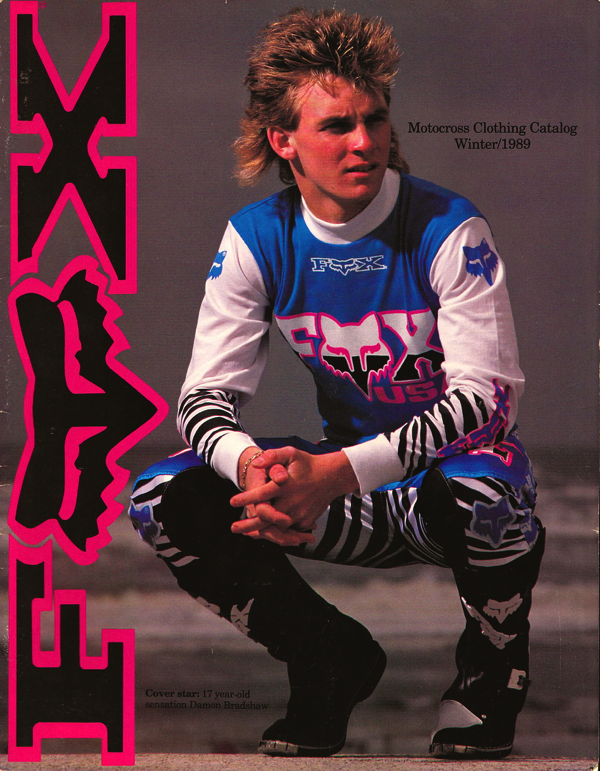 Blaze – While Ricky Johnson was the first rider to race in the new Image Zebra gear, he is not the rider most associated with it. That honor falls to Damon Bradshaw, who took over as Fox's point man after RJ's sudden departure to JT in 1989. Even though Johnson's exodus was a major blow, Damon's youthful enthusiasm and brash personality turned out to be the perfect match to Fox's new look.
Geoff – RJ's departure was due to Honda wanting to control his gear.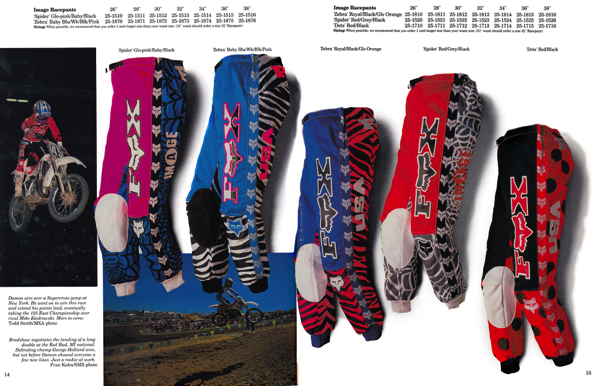 Blaze – While not as popular as the Zebra, the Spider colorway was one of my personal favorites. The pink/blue was particularly good-looking and often seen on Fox's other fashion plate, Jeff Matiasevich.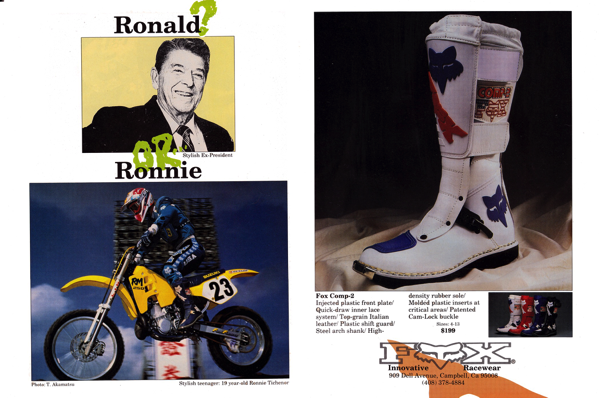 Blaze – There were three of these "this or that" Fox ads in 1989 that featured Fox's new young talent. This particular one features Ronnie Tichenor and is interesting for the Comp-2 boot on the right. If you look closely, you can see that they painted out the Rick Johnson signature from the top strap. Obviously, this was due to his defection to JT. It is still visible on the smaller inset photo, but they had someone remove it on the hero photo.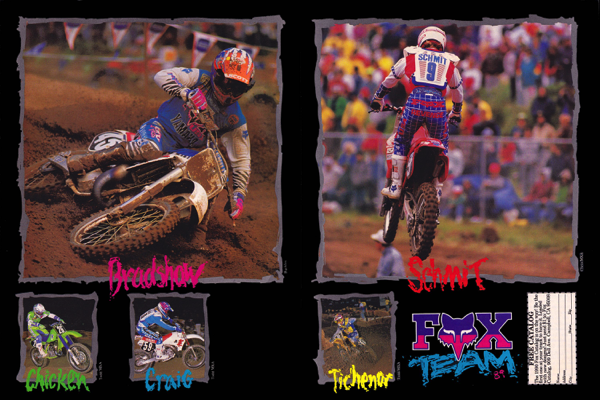 Blaze – As the eighties wrapped up, Fox had quite a quite a solid lineup of riders in their stable. Johnson was gone, but they had the always-stylish Damon Bradshaw and Jeff Matiasevich gracing the cover of nearly every magazine in the sport. At the start of the decade, they had been a bit player, but by the end, they had become the undisputed leader in cutting-edge style.
Next up: Moto Gear History Part VI – Fox Racing in the 1990s
For your daily dose of old-school moto goodness, make sure to follow me on Twitter and Instagram – @TonyBlazier
For questions or comments, feel free to drop me a line anytime at TheMotocrossVault@Gmail.com