The 2001 AMA Chevy Trucks 125 National Motocross Championship chase was one of the best in the history of professional motocross.
The 2001 AMA Chevy Trucks 125 National Motocross Championship chase was one of the best in the history of professional motocross.
By Steve Matthes and Jason Weigandt
The three principals involved came from totally different spectrums. You had the defending champion, Suzuki's Travis Pastrana, who was projected as the next superstar of the sport and American as apple pie. You had the once-washed-up veteran Mike Brown—who had quit the sport at one point and was forced to Europe—now back riding for Pro Circuit Kawasaki. And then there was the brash South African and 2000 125 World Champion (beating Brown in the process) Grant Langston. 
The three riders all had their grudges from past battles and the summer's title chase would have more than its fair share of hard feelings, harsh words, and let's be blunt—dirty riding. The teams got into it, the riders got into it, and the championship was decided in a final moto that no one would ever forget.
This is the Oral History of the 2001 AMA Chevy Trucks 125 National Motocross Championship.
The People Involved:
Travis Pastrana
Then: Factory Suzuki rider
Now: Co-owner, Nitro Circus
Grant Langston
Then: Factory KTM rider
Now: Owner, Langston Motorsports/Color analyst on the Lucas Oil Pro Motocross Championship TV package
Mike Brown
Then: Pro Circuit Kawasaki rider
Now: Brand ambassador for Husqvarna
Mitch Payton
Then: Owner, Pro Circuit Racing
Now: Owner, Pro Circuit Racing
Larry Ward
Then: Team Moto XXX racer
Now: Retired. Owns a ranch in Texas
Harry Nolte
Then: Motor development, Factory KTM
Now: Retired
Lee McCollum
Then: Mechanic for Travis Pastrana at Suzuki
Now: Mechanic for Suzuki
Andrew Langston
Then: Mechanic for Grant Langston, Factory KTM
Now: Motor development, Red Bull KTM
Mike Willamson
Then: Mechanic for Broc Sellards, Factory KTM
Now: Crew chief at Monster Energy Kawasaki
Chris Onstott
Then: Athlete manager, Thor Racing
Now: Director of marketing, Fox Racing
Before the 2001 season started, there were already harsh feelings between the riders. Grant Langston and Mike Brown had dueled in the press and on the track in the 2000 125 FIM Motocross World Championship and Travis Pastrana and Langston—well, let's just say it went further back than that.
Grant Langston: We had this race at the end of our South African Nationals in 1995 I believe. [Travis] Pastrana came over and I think Paul Currie and someone else as well.
I think Travis was 12 and I was 13. I've yet to actually really ask him, what the hell made you get on a plane and go to South Africa? It wasn't like they offered him a bunch of money or anything. But I think [he] just said it sounded like a good idea. Even at that age he was on his own mission. So, he came down and of course we're all like, "Dude, it's f**king Travis Pastrana!" He had already been on Terra Firma. We were, like, super fans. My dad said, "No. You don't need to be nice to him. You beat him. Get his autograph first maybe and then try to beat him." So anyway, I just went over and we started chatting and we kind of hit it off.
Travis Pastrana: I wasn't supposed to ride because I broke my thumb literally the day before I flew over there. So, I was just going to go over to watch. This f**king punk comes up, "Oh yeah, pretending to have a broken thumb. I would have kicked your ass." So I had to race!
Langston: The first day it poured badly and Travis's bike cut out on the line and I won in the mud. It wasn't really a true test because I ended up winning in the mud, which I wasn't known for, but no one else in South Africa could ride in the mud.
Pastrana: It was a mud race, which was great for me. We had a battle royale, back and forth, back and forth!
Langston: I think I got the holeshot then he ended up jumping this one jump that none of the 80s were doing. I was like, "Dang it. I have to do it," because he'd jump over my head. So the next lap came around and I was like, "If he can do it, I can do it." I just followed exactly what he did. It was a step-down with a single afterwards.
Pastrana: Then I pulled off. I was leading when I pulled off, though, because I was a sissy. He was like, "Couldn't hang?" So, he talked crap.
Langston: We were having a great race. We checked out, like murdered the rest of the field and kind of went back and forth. Once I got that jump dialed it kept the battle good. Then he ended up casing it. When he got there [South Africa] he was already suffering a thumb injury. I guess he re-aggravated it. Then he pulled off, but for like 15 minutes we were going as fast as I had ever gone in my life.
Pastrana: And then I see him later on, he goes out and wins the World Championship in 2000. Still the same punk. Greg Albertyn had his back 100 percent, like everyone over there. I was like, all right then. Greg was a guy we looked up to so much.
Mike Brown: In 2000, I was on a Caterpillar Honda, Dave Thorpe's team. It wasn't the best bike. KTM was a great bike. Over there in the sand it was like hard for me to even qualify because my bike was not up to those guys. And those guys ride good in sand. For me, I think overall for the whole year—I'm not going to blame it on the bike, but in the sand racing I struggled. I wasn't the best sand rider and I didn't have the best bike, so it was hard for me to do good at those races. My goal was to win the World Championship. Langston came out on fire and beat us all.
Andrew Langston: I left South Africa with Grant and went over and worked in Europe with him and then ended up being his mechanic. Basically, I told him that once he was done in Europe that I was going to head back to South Africa.
Lee McCollum: I met Travis originally when he was on an 80 in '93 when I did the amateur support truck. Then I think it was at Steel City, Pat Alexander came up to me and asked me if I wanted to work with Travis as his mechanic when he came to the [pro] team the following year. So, I said, yeah, sure. That's how it started.
Harry Nolte: The first time I met him [Grant Langston] was in Europe when he started riding for us at Kees Van Der Ven's KTM team. What I saw immediately were he and his father pushing like hell, always looking for lap times and to be faster. He was training really hard on the bike. I think Grant was really a racer and physically I don't think he was the best guy as far as training, but on the bike he was unbelievable.
Brown: Sometimes I fly off the handle. One time I came through and put the bike through the tent. At the time I didn't really think it was the bike until I did good at the hard pack races. I could do well with the bike on those tracks.
Langston: Mike Brown and I had our run-ins. It started in '99 in Brazil, I think. I got the holeshot and in the back part of the track, he was going fast. He passed me, looked over and just swerved and just hit me off the track. Then he flipped me off! At this point, I had never even met the guy. I just remember I was really irritated and I just pinned it down the hill into the next turn and hit him off the track. That was the start of Mike Brown and I. I hadn't even met him. I remember afterwards I was like, "That guy's a dick. I f**king hate that guy. I'm going to f**king clean him out." My dad's like, "Yeah, you clean him out!"
Brown: The first time I had ever heard of Grant Langston, it was in Europe in a sand race. I didn't know who even won the race. I came in and I said, who won the moto? And it was Grant Langston. I said, who's that? He came out of nowhere and started just winning. Then the next race in Germany, I remember that again. Dang, this dude's on it. Next moto, same thing. So from then on everybody knew who he was. That was the first time I was battling with him. I think Luxembourg GP, me and him was banging bars and battling at that race there.
Langston: So, from '99 it started with Brown, but we didn't battle a lot in '99. I felt like either he was there and I was here, or I got a good start and won the race. But we didn't really battle. In 2000, it kind of went next level because he believed he could win the championship. I believed I could win the championship. And Jamie Dobb believed he could win the championship. As you can imagine, when you've got us three, it started getting frisky from that point on, especially when I was the guy to beat. When Brownie had his days where he was good he would love to try to ride into you, and then slow down and do it again.
Brown: We didn't really battle over there. Nothing like we had here. Over there you never really banged bars too much or nothing like what we did here. Over there, no. Never had no troubles. Just good racing and that was it.
As Langston grabbed the 2000 125 FIM Motocross World Championship and packed his bags for the U.S., the hype began to build around a new rivalry with Pastrana, the 2000 AMA 125 National Motocross Champion. Many years after that first South African MX battle, the two would meet again in France for the 2000 Motocross des Nations.
Pastrana: I never forgot my first meeting with GL and I saw what he did in Europe. At des Nations that year, I'm like, "Okay, come on…"
Langston: I actually watched that footage the other day for the first time in a long time. I was a dick. I think there was all this hype and I think it was maybe one of those … you're a teenager so you're being told you've got to intimidate him. So, you're like, yeah, I want to be the alpha male. I think when he passed me [in Saturday's qualifier] there's a little switch in my head sometimes that just makes me angry when I get passed. I think because it was Travis, I maybe wanted to send him a message and just let him know, "Hey, I'm not a pushover. If you pass me, I'm going to fight you." After he passed me, I rode straight into him in the one corner and made no attempt to make a pass. I just rode into him.
Pastrana: I'm a little strange on that stuff. A guy like Steve Lamson, I never bumped Steve Lamson. As much as I would have liked to, he never started it. He was always so nice and so courteous. So, I kind of race people how they race me. I loved racing Tallon Vohland. He was my all-time favorite. Mike Brown probably my second favorite. What Grant did to me was weird, but I liked it!
Langston: I had people telling me, especially from the American side, good luck. He's the wonder boy, he's the wonder kid. When enough people tell you that, it gets in your head a little bit. So, I think maybe a little bit from my side was playing some head games. I don't really know the exact details, except that I did ride like a bit of a dick.
Pastrana: I never saw Grant in the motos. That son of a b***h got better starts than I did and just ran. I crashed in the first turn, first moto, and I crashed in the third turn the second moto. Which wasn't bad because for the most part the 125s started last anyway, but Grant worked some magic in that first turn and both motos was able to come out great. The amount of hills that were on that … I was actually floored he was able to get out. Once you're out, you can run with the guys, but that first lap, I crashed both motos within the first three corners and was still able to come back to third in class over [Stephane] Roncada, which was awesome. But that's because it was so hard to get out against the 500s and the 250s on that hilly of a course, and Grant did it. I never touched him.
Nolte: I think that MXdN was unbelievable. I never saw Pastrana ride before. That was the first time I saw him riding, and I remember he passed Grant, I think, on the last lap on a big downhill jump in Saturday's qualifier. We all thought Grant was winning, but then Pastrana jumped completely downhill. That was amazing. I think that was an amazing battle, the second heat. But I believe Grant won the overall. I remember that year he won everything—the World Championship, the des Nations, and the Dutch Championship.
Andrew Langston: It was an epic weekend. It was a good race with Travis. Obviously, I think that Grant had the speed, and Travis was not lacking in the balls department. He was launching that bike down the one jump that no one else was doing, not even on the 250s. But they were going forwards and backwards and rubbing paint and really scrapping it up. It was a good weekend. I think it was South Africa's first finish as a team in des Nations, but also leading up to that the penultimate round of the Dutch Championship, Grant had crashed and injured his shoulder.
So, he was riding a little bit injured, but I think it didn't hinder him too much. It was a really good weekend. I think he had a little bit more speed, but Travis was fearless. If anyone's seen the video from that weekend they'll see what I'm talking about. He was launching down the one hill like no other.
Nolte: I remember very well the conversation about me going with Grant to the U.S. It was in Foxhill, England. I was discussing with Kurt [Nicoll] and he said, "Okay, we want to do better in America, and Grant wants to go. How do you think we should do it?" Then I was thinking, "Maybe that's a good thing for me to do it." I like challenges. So, from there on it started. Kurt came the next day. He said, "Actually that's a pretty good idea to do it that way. You do know the 125 KTM really good." I discussed it with my family of course, and in the end we said, "Okay, we're going to do it, because if we don't do it, we always wonder how it would have been." I came with Kurt to Troy, Ohio, in 2000 to check it out. Then we made the deal and they made everything ready, and then we came to the USA.
Andrew Langston: He won the World Championship a lot sooner than we had anticipated. Red Bull wanted him to race and win in the U.S. The opportunity was all of us to go together. I was like, may as well. He kept telling me how great America was. I thought, "Let's go and check it out."
Pastrana: Knowing that he was going to come over the next year as world champ and I was coming in as national champ, I was like, "This is going to be the best worst year ever" as far as how many times we were going to hit each other.
So Langston was coming to America, but so was Brown. First there was a little thing to clear up as far as what teams Langston and Brown were going to ride for.
Mitch Payton: I tried to get Grant. I had kind of been following what was going on over in Europe. Somebody told me that he was looking to come over here. I was like, "I need to call that guy." So, I got his phone number. Can't even remember who gave it to me. I got a hold of Grant and talked to him about the possibility of coming over and riding for us. I remember that he told me that they were in the van driving somewhere. He was all stoked on it. He was like, "That'd be cool. Let me talk to my dad. I don't know."
Langston: I had said I'm going to the States regardless. But I was being torn between Pro Circuit Kawasaki and then Red Bull KTM. Red Bull was coming on board. Ultimately, I stayed with KTM because I thought it was the right decision. I had obviously won a World Championship. They were sending some of the personnel over. They made a lot of promises. Red Bull was getting involved. It was two good options, but you can only pick one. I tried to do the right thing and out of loyalty stayed with KTM.
Payton: Then he called me back and he's like, "I really appreciate it, but I talked to KTM and I'm going to come but they're going to do me a deal." The biggest thing was he was racing in Europe and he said over there the Kawasakis were really slow so he thought, "I'm not going to go there and ride a Kawi that's going to be slow. I'm not doing that." Then later he's like, "If I knew this bike was kind of like your bike, I probably would have done it." But it was cool. I really wanted to get him and he was really thankful and all that kind of stuff that's nice. But he went with KTM I'm like, "Oh, s**t, this guy's coming over here and I'm going to have to have somebody that can run outdoors speed with him".
Brown: I wasn't even thinking about coming back racing [in the U.S.]. I was probably going to finish my racing over there. But I got a call from Mitch [Payton] to come back and race. But KTM was back in America and I signed a letter of intent with KTM and Kurt to come to America in 2001 with KTM. Then I got a call from Mitch and it was like, I had rode for Mitch before and KTM was new coming back and I just thought maybe I should go with Mitch. The bike, the team is good. At the last minute I changed it up.
Payton: I thought of Brownie and he was over there in Europe riding Hondas. The Honda at that point, if you remember, it wasn't really killer at that time. I said, "Well, if he can win on that Honda, we should be able to get him over here and I think he could win on our bike." So, I talked to Brownie and then we were able to put something together for Mike to come back and ride for us.
Brown: I ended up committing to doing the KTM thing, and then I decided, no. I came home for a couple weeks from Europe and then got talked into doing the Kawasaki thing, which I'm happy I did. Maybe Mitch heard that he [Langston] ended up staying and he called me later. It would have been Langston and me on the KTM together too, or with Kawi. So we'd have been teammates on either one if we had stayed.
Langston: He [Brown] got a letter of intent with KTM. He was going to be my teammate.
Brown: The last GP of the year, Gaildorf, Germany, and Kurt is trying to get me sign my contract and I hid from him all weekend. He would wait at my door for hours and hours and bang on the door, come back and just kept beating on it. I never answered my door. I didn't get up. Go to the race, do the race. I won both motos that day. Got on a plane the next day and went home. Kurt was mad. He was super mad.
That's why I can't believe I ended up with KTM after these years after doing that then. I wouldn't be where I'm at today if it wasn't for Kurt. I came home from Europe when I was on that Honda team in 2008 or 2009, whatever year. When I was on the plane ride home, Kurt left me a message and asked if I wanted to go to KTM to do off-road, so that's a big circle. But he's been awesome. Kurt's been good to me.
Langston: So I think Brown heard what I was getting paid and was all pissed off, and then Mitch offered him a good deal and he just jumped ship. I remember KTM was not happy.
Payton: He [Brown] had matured a ton since he had rode for our Peak team in '92. I believe we went to Orlando for the first supercross that year and Mike drove up there and then all of a sudden the next race he's driving to that one. I'm like, "Why do you drive to the races?" He said, "I don't like flying." I'm like, "Oh, no." There were a lot of things that I didn't realize that he hadn't done. He wasn't very worldly yet. I know it's just a lot of different elements and things to do, and it was just that '92 year wasn't perfect. It wasn't very good. So, we let him go.
He rode for Honda of Troy a little bit. I think he got better for sure. I really do. Then I think going to Europe, like any of these guys, I think it's something maybe they don't want to do, but then they go over there and they kind of figure it out. It's such an undertaking that I'm sure then you start appreciating how easy things are over here and all that stuff. He hung it out over there to do it, so I think he must have grown up.
Pro Circuit's pursuit of Langston didn't make some at KTM happy and somewhere along the line, the U.S. KTM team, which had used Pro Circuit pipes and silencers in 2000, suddenly diverted to a competing exhaust company.
Payton: I had a good relationship with KTM Europe. I was friends with Sepp who was the engine guy. I kind of became friendly with him when Bloc Glover rode for KTM in Europe. They were kind of struggling on the 250. We did a Honda 250 to compare against for him, and then we started doing some pipe specs that they were testing on his bike. Ever since then we were kind of good and then they were going to race over here. We did some stuff for him. Then I think they got bummed at me because I went after GL. But I didn't say [to Langston] those guys suck, their bike is no good. I just said, "We would really like to have you." He turned it down and we were okay with that.
Nolte: I was pretty surprised about that as well, because I came to the USA and I think more or less all deals were done when suddenly Kurt called me from Europe and he said, "I have to tell you something. We're going to use FMF." I said, "Holy shit." That was of course not so easy because I think we were already testing with Doma or whatever. I don't remember. I think it was Doma. Then FMF went flat out and in the end that was pretty good.
What Nolte and the Langstons didn't know was that KTM back then wasn't the KTM we know now. The OEM had just started its factory race effort the year before and compared to the racing powers of Pro Circuit and Suzuki, it wasn't on the same level. It was Nolte's job to get the team up to snuff and a bike ready.
Langston: There was definitely some smoke and mirrors going on. I think they tried, but if you go and look at the factory team now and back then, it's like it was being ran by cavemen. I think some of the people involved at KTM USA at the time weren't really that in tune with what a real factory team is. You know that old saying, you got growing pains? It was Austria making some decisions and the U.S. making some, and then some were falling through the cracks. It just seemed like that first year they didn't have their system ironed out. Now it's automatic.
Nolte: There was actually nothing there when I came over. We had to build it up from more or less scratch. That was how it was. So, I told Kurt I will need a dyno, and they helped really a lot with that. That was a pretty difficult start. I knew of course the bike, but the fuel and the weather and all that kind of things was so different from us. But I think before the first race we had pretty good already.
Mike Williamson: We were low budget, for sure. Listening to that dyno, it was right next to our bays. We had to listen to the dyno run all day long. I would just call it low-budget racing for sure. I remember that whole first year, but I think for what we had and what we did, we did a pretty good job. Obviously, when [Ron] Heben came the following year as we started to build the race shop up and build the walls and do everything right, proper parts system—we kind of got that KTM race team up and running.
Andrew Langston: I think KTM was just starting out, really. We had the building in El Cajon. We didn't have a dyno room. We didn't have counter tops. We didn't have much. We didn't have a suspension guy. So, there was no way you can come over to the U.S. and kind of have what you have around you and expect to win the championship with teams that have been doing it for 15 to 20-odd years.
As the Nationals approached, Pastrana was in the midst of clinching his second title, the 2001 125 East Region Supercross Championship. But everyone knew Brown and Langston would provide stiff competition outdoors.
Andrew Langston: We knew the first year was going to be a learning curve. He [Langston] had to get to the outdoors and do what he was best at. The KTM was evolving and we got a suspension guy and proper settings. It was a building process, really. We felt that the supercross was going to be a learning curve for a while, so we built the infrastructure around us. But for sure on the outdoors we knew he could be a contender for the championship.
Larry Ward: That was the first year I had ever not raced supercross. Two-thousand was a career-ender for me at Kawasaki. Kawasaki knew the four-strokes were coming. I know Ricky [Carmichael] won, but Ricky probably could have won on a Tonka truck. John Dowd and me didn't have very good luck and a lot of bike problems. Anyway, I sat out supercross in '01. For the first time in 13 years, I hadn't raced supercross. So, I started riding at home and I felt pretty good. I didn't know if I could win, but I thought I could be competitive anyway.
McCollum: Mike Brown was a tough competitor and riding the Pro Circuit bike, I know Mitch's bikes were always fast and good and that sort of thing. So, that was always on my mind. Plus, being with Travis, we were sort of like a one-man show versus the teams that had two, three, or four riders. So, everything we lined up we were against four Pro Circuit bikes and four FMF Honda bikes, four Yamaha of Troy bikes. I always thought that was a little bit tough, just that side of things.
Langston: Deep down I was nervous. I was worried about being embarrassed, that type of thing. It wasn't like, "I hope you have a good race today. Good luck." It's like, "You're the world champ and KTM's guy," and they were like, "We've hired you to win." You're in your mind going, yeah, I've got this, [but in reality you're] like, have I got this?
ROUND ONE: THE KICK OFF
The 2001 AMA Chevy Trucks 125 National Motocross Championship kicked off at Glen Helen with Pastrana the defending champion running the number-one plate, Brown running #100, and Langston #111. And it was the #111 that struck first with a double moto sweep and Brown following right behind with 2-2 scores. Pastrana was a distant 3-4 for third overall.
"I knew I had the speed and I just needed two starts to be competitive," Langston told Cycle News. "I've only ridden here five times and it changed quite a bit."
"I raced with him [Langston] for two years and know how he rides and we were like this every weekend," Brown told CN. "I feel better now than I ever did."
Pastrana joked: "The Europeans came over!"
Langston: I felt pretty confident going into Glen Helen. Sunday when I woke up I'm like, I don't have a great starting spot because I'm out in BFE [due to a poor qualifying race the day before]. But the start straight, that KTM horsepower—we always knew the KTMs had the horsepower. I'm like, I can drag these guys and be okay. I remember just coming around top 10, didn't take no time to get in the lead and I didn't even look back because I figured at some point somebody's coming. Let's put the hammer down. I just saw the gap stretching out and stretching out. Then when I saw the results I was shocked. I beat Brown by like 25 seconds who beat Pastrana by 25 seconds. I was like, yeah! That's the way to start the season off. So, that was a huge weight off my shoulders going, yup, I am the real deal.

Brown: I think, coming in, for me—I felt for sure Langston and me would be the fastest. I think coming from over there the way we were riding and coming up the Nationals … supercross was different, but coming to the Nationals testing and riding and the way we were going, I think I had a little bit of an idea who was going to be fast. But it all started at Glen Helen, the first race of the year, the first National. We came out a little bit above everybody else and caught everybody off-guard I think. Me and him battled pretty good those two motos, and then carried on through the year. I think our corner speed got us through. That was where we were faster than a lot of people back then.
Pastrana: Mike Brown, first race, Glen Helen, starting the championship, there was just people everywhere. I was like third and he's like fourth. He hops the inside berm, hits me so hard in the first moto I flip, like launch over the berm, over the fence, land on some fat dude. The bike didn't make it over the fence, but I made it over the fence. It was like, what the hell? Dead last. I came back to fourth that race. I went up to Mike at the end of the race. I was kind of pissed. I was like, "Dude! I know you did that on purpose." He was like, "Yup. I did." I was like, "Why?" He's like, "I feel like you're probably one of my biggest competitors for the championship this year and I'm not sure I can beat you straight up, so just expect that." I got along with Mike really well from that day on. I was like, all right. I know Fonseca always hated Brown, but Mike's just like, "What do I have to do to win?" If he wasn't in the race, he'd get out of the way. But if he had a chance to win, you knew he was going to do whatever it took. I loved that. I thought that was awesome. And he had the balls to straight up say that.
Ward: I showed up at Glen Helen and rode the XXX bike [Yamaha YZ250F] for the first day on practice day and ended up getting fourth in the first moto. Then second moto I just got in a hurry and made a dumb mistake and stalled it and couldn't get that four-stroke restarted. It was the first year really of the 250 four-strokes and they had some advantages in some areas, but they also had a lot of problems. For example, you could land off a jump and the carburetor would fall right out of the back of the air box.
Pastrana: My mom always loved Mike Brown. We grew up in Tennessee going to those races and Mike was like the man at all those tracks. Always looked up to him so much. I think she went up to him after the first round and was like, "I'm so disappointed in you. I always thought you were a straight-up gentleman." Which is funny. You're racing at 17 and you don't think about it, but moms are still pretty sentimental, still protective I guess. My mom was yelling at me too, though, that year.
Langston: I remember being in the truck afterwards and [David] Pingree was pissed off. I think he, Broc Sellards, and Kelly Smith didn't have the best results. They were complaining about the bike and I happened to walk back with my trophy from the podium in the truck and Ping was still like, "Then you got this f**king guy who just ruins it for all of us. Trust me, the bike is not that good. He must be that good." I heard Ping say that and I was like, cool.
Nolte: I was not surprised that those two [Langston and Brown] went one and two. I was more surprised how far they pulled away all the time from the other guys.
Williamson: I remember the beginning of the outdoor season. Obviously, Grant came out and he impressed all of us. We weren't winning championships and races and this and that, and then this guy comes out and goes 1-1 at the first race. You're just like, "Whoa. We're legit."
McCollum: I was a little bit surprised [at the results]. I was sort of bummed because I always wanted to win at Glen Helen, and I never did. I thought those were my best chances with Travis. I was like, "Yeah, we can win at Glen Helen and show Suzuki we can do something!" It just never happened.
ROUND TWO: THE COLLISION
Heat might have been building between the title contenders, but Langston ended up entering a different fight with a different rider—Brown's Pro Circuit teammate Bobby Bonds, who was putting in the best race of his career while leading Hangtown.
"He was leading and I caught up to him," Langston told Cycle News about his second moto at Hangtown. "He had a real good pace going but he was tired, I could see that. I went to make the pass but he was kind of jerking around, stopping in the turns, looking, brake checking. I mean on the first lap he hit me twice on the side and then screwed me on top of the hill, which really pissed me off because to me that's not racing.
"I never mean to put anybody down," Langston later said. "It was an unfortunate crash and I hope he's alright."
Langston was talking about Bonds and the battle the two had in the second moto. The first moto saw Langston and Bonds, a hometown rider, go one-two so the second moto determined the overall. Langston would go on to get his second double moto sweep in two weeks. Mike Brown went DNF-DNF while Pastrana went 9-2 for second overall. Langston had proven Glen Helen was no fluke, while Brown was suddenly in a deep hole.
Langston: First moto he [Bonds] was putting the pressure on. I think he may have led and then I passed him, but he was still right there first moto. He basically was pushing. He rode great, but I was not going to let this guy by. It was hot as hell. I remember thinking, if this guy just could slow it down a little bit … we've both got one and two dialed. He was on a mission that day. I know he was a local and riding for Mitch. He was on fire that day.
Andrew Langston: They had an epic battle going. You know the old saying: "You play with the bull, you get the horns." When you go and throw something out like that, you've got to expect it's coming back at you. Honestly, no one likes to see that kind of racing. At the end of the day, if someone takes a cheap shot at you, you're going to fire back. I think it all happened within 100 yards, so it is what it is. I think I agree with what was said. You had it coming to you if you were going to be playing that kind of game.
Langston: So, I won the first moto. He got second. Then second moto I got a bad start. Now I'm having to charge through the pack and then Bonds is actually quite a ways out in front. So in my head I'm like, I got to get him for the overall. I remember I was going and I knew I was in good shape. I was like, this heat is getting to me. I had just got into second and he was like 15 seconds up the road. I'm thinking to myself, I know this guy doesn't train as hard as I do. I'm going to just keep charging because he's probably going to get slower, and then when that happens it will help me dig deep.
Payton: Bobby was up there. He was leading. He was tired. He was just exhausted, hanging over the front. I'm like, "Oh my god, he's tired." GL was coming and I think Bonds panicked and he thought the only way to handle it was to maybe try to knock him down. He tried to at the top of that hill and I'm like, "Dude, ain't going to go okay." As soon as he hit him I'm like, "That wasn't so good."
Langston: Then I started seeing the gap. You could tell he had hit the wall. I don't remember all the details. I just remember he just really pissed me off the way he started riding. He was stopping in the corners. Then in one instance he went to the inside rut. I went to the outside and he climbed out of the rut and just rode straight into me, like T-boned me and hit me off the track. Then I went, "Nope. That's it."
Payton: I blamed it on Bobby. I believe you just ride your race. You don't get involved. I try to tell my guys that right now, and obviously you look back at some of the cheap shots that I think [Zach] Osborne has done at Joey [Savatgy] or Adam [Cianciarulo] or a couple of guys. I don't think that's cool. Not even talking about that last race thing. I try to say, don't get involved in it. Nothing good comes from it. Your best way is ride your race, look ahead, try to be away from them.
Langston: I have this little light switch in my head that flicks every now and then. I came down the hill and there were braking bumps. When your are tired you kind of coast over them. I wheelied the braking bumps and then scrubbed into the face of the jump and stayed low. In fact, I jumped across the front of him and then right when we landed I just braked as hard as I ever could with both brakes. I was slightly sideways right in front of him.
Payton: Then they come down the hill and GL jumped past him and cut over and took his front end out. I was more like, "God dang it. Why did you do that?" Then he hits the ground and he's like exhausted, out of breath, hit his head a little bit. He was okay, but then he comes back and I'm like, "Man, you shouldn't have done that." At that point, the way he was riding, he should have let GL go but he tried to hop in behind him and finish that moto and pull off a second. For your confidence, man, that would have been good. But he didn't and that was the consequence.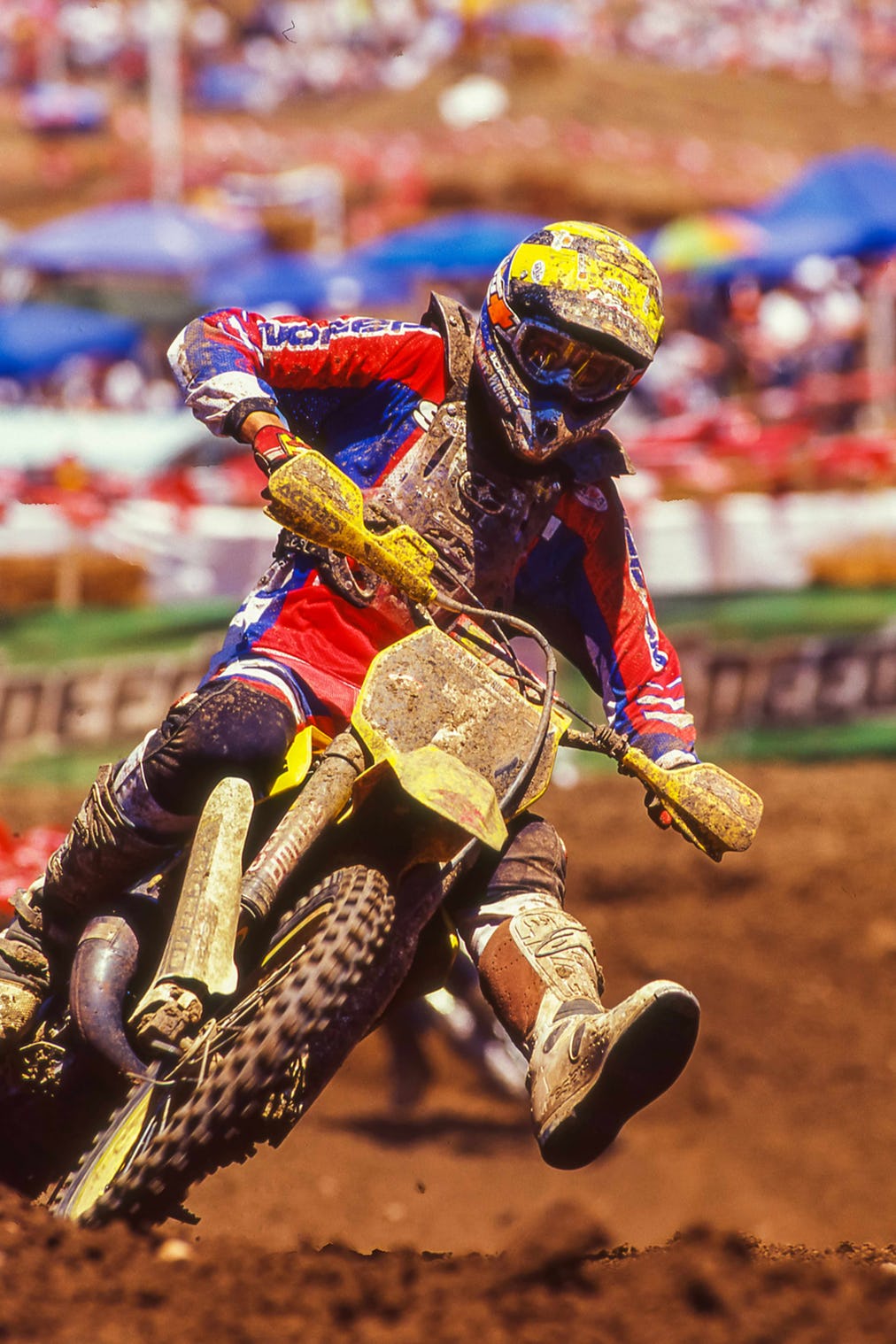 Langston: Of course, someone from Racer X had to be right there to get this dramatic picture of me looking over my shoulder and Bonds flying. So, that's one way to lose a lot of fans instantly when you introduce yourself to the American motocross community is go and take out the local kid and then don't even apologize. I said, yeah, he got what he deserved. I wasn't really good at playing the media game at that point in time. I just said what was on my mind.
Williamson: He [Langston] was letting him know that he was pissed about Bonds trying to take him out.  But that was Grant. He wasn't going to put up with anything.
Langston: I did take him out. I never try and hurt anyone or anything like that, but it's a grownup sport. Like I say, if you're going to ride that way, if it's not me, someone's going to put you in your place. I remember Mitch Payton was more kind of mad at him and said that was stupid. Second-second would have been a great day, but that was just foolish. So, at least Mitch wasn't really mad about it. Of course, it became a big story but I've never spoken to Bobby Bonds since. If I saw him one of these days I'd like to sit down and have a chat about it. Break the ice.
Pastrana: I didn't see anything. I was two miles behind those guys. The only good thing I had going in Sacramento was it was always so hot. I was literally like 15th. If you look back at the halfway mark, I had never been better than, like, 10th at Glen Helen or Sacramento. You just ride until everyone else gets tired and then start moving forward about halfway. About 20 minutes into the race you're like, all right, now I can start going faster.
Brown: Sacramento I DNF'd both motos. That's when I kind of figured out how the championship is going. From then on you've just got to win races. That's the only way you're going to win a championship or do good is getting them extra points and winning races. So it was head down from then on.
Payton: He [Brown] broke a wrist pin needle bearing. I don't know why. I couldn't tell you why it broke, but it did.  It was brand new of course. But that was one moto. I don't know why he DNF'd the other moto.
Pastrana: I was riding my ass off, I'm just not very good out there [California]. Plus, the first race coming back from dead last to fourth in the first moto, I was pretty happy in general on that one. I just figured this is going to be a long season. Get me to Mount Morris. Get me to Southwick, and we'll make up these points, as long as I don't do anything too stupid.
ROUND THREE: PASTRANA GETS BACK ON THE BOARD
Much like 2000, round three of the series was at High Point and it was muddy. Pastrana was the dominant force in the slop going 1-1 but it took a last lap pass on Japan's Akira Narita, who was also riding a factory Suzuki, to get the first moto. Narita and Pastrana swapped the lead a few times before Travis got it for good on the last turn around.
"Man, it's good to be back on the East Coast," Pastrana told Cycle News. "It's kind of a second start to the series, I'm just more comfortable out here with the weather, the tracks and the fans."
Brown had a nice rebound with 7-2 finishes for second overall. Meanwhile, Langston's win streak ended when he had a small electrical issue on the line for the first moto and ended up 10th. He finished third in the second moto.
Pastrana: All my friends, family went to High Point every year. My starts sucked but for whatever reason when it's raining, I can get them. I was always better in bottom-of-the-ninth situations. I just could never get there healthy [to be in pressure situations for a championship]. For me, when it's raining, they're my best starts. I'm like, no matter what happens I have to get through the first turn. It's going to change the rest of the whole day.
Langston: The bike wasn't even barely running. It was basically just stumbling, so I never let off the throttle. If I did it was going to die. So the corners, if I did have to slow down I just pulled the clutch in, but I kept the throttle wide open nonstop. That and I was angry, so I wanted to blow it up too, I think. I was angry riding the bike. I think I was yelling under my breath half the moto. Travis won. I just didn't even have a fair shot at it. Going up the hills guys would pass me, and then down the hill I'd pass them back. It was really frustrating.
Pastrana: Akira Narita was a Suzuki teammate. He was at the test tracks and stuff and we'd do testing together. He was super nice. All the Japanese guys are super respectful and cool. We went back and forth and it was an awesome race. Right in that corner where I passed him, that's where the Fox guys always sat and that's where I always watched all the races when I would come up there when I was younger. So, to come down right there and all the guys that I was sitting with the last couple years before I turned pro were all right there and my family was all right there, kind of next to the mechanics' area. You can see it. I'm like, "F**k it, here we go!" I bombed the outside. I knew I needed every point. In your head you're like, okay, I have to win certain races if I want to win the championship.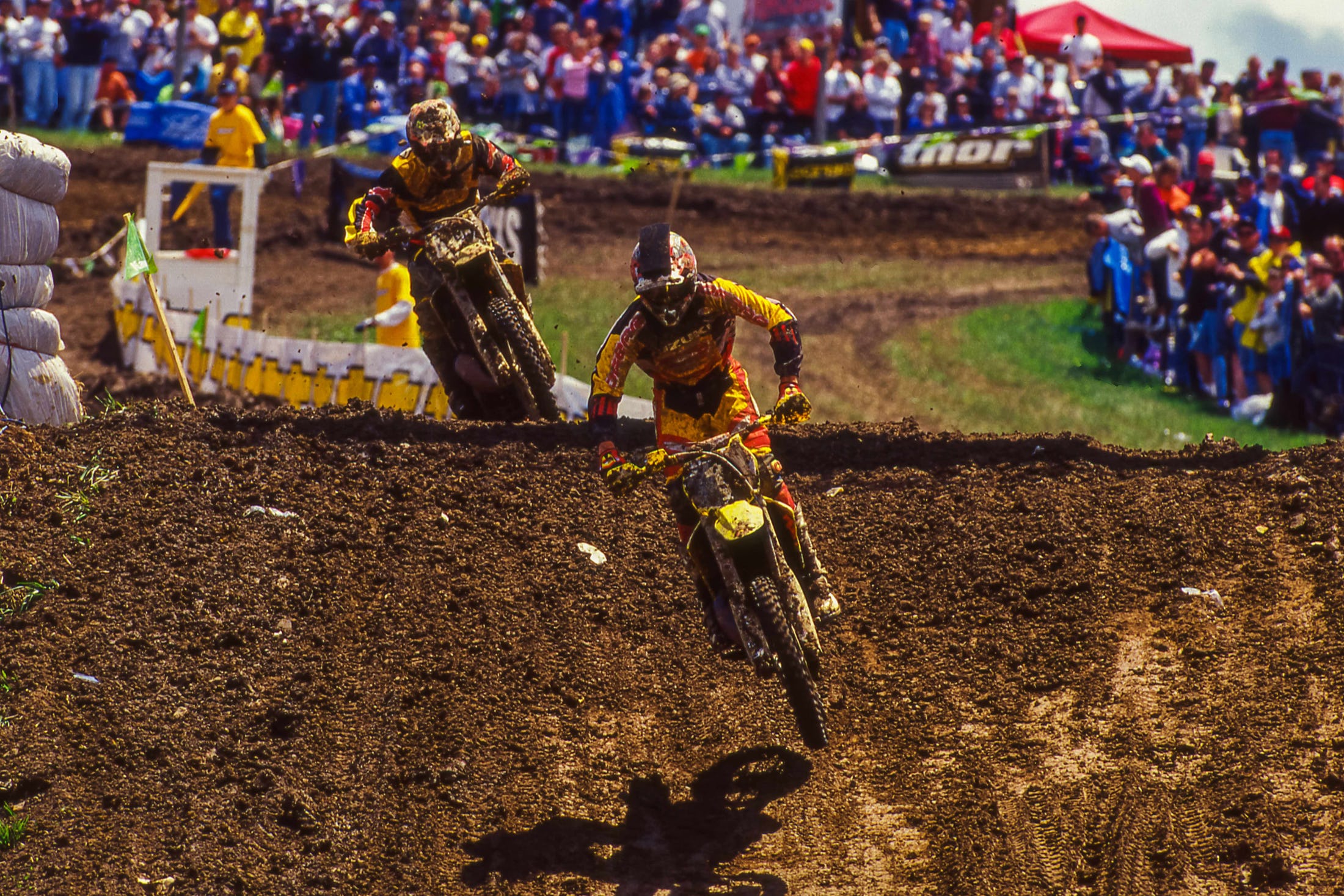 Langston: Second moto, I didn't have a great pick but I also didn't get a great start. I came from probably like mid-pack to third. We're now six motos into the year and I remember seeing Travis out front, Brown was in lonely second, and then by the time I got into third it was like the two lap board or whatever. None of us had actually even been within a few feet of each other in the first six motos. So, Mount Morris wasn't the day I was hoping for.
Pastrana: The second moto at High Point, Brown lines up next to me, and this is when the gamesmanship started. We were leaning on each other down the start.
ROUND FOUR: KING OF THE SANDBOX
Round four of the series headed to Southwick, easily the most-hyped race on the calendar. Pastrana had won the race the previous year, but without GP racers Langston and Brown in the field. The build-up was intense and in the end Pastrana won it, but the day took several strange turns, starting with an injury in practice for Langston, and Brown crashing—or getting taken out—depending on who you talk to.
In the first moto, Pastrana started outside the top 10 and worked his way up to second, but by then Brown was long gone with the lead. The second moto again saw a bad start by Pastrana but with a half a lap to go he passed KTM's Broc Sellards for the win and the overall over Brown, who, as you'll read, had his own issues. With Langston having his problems, it was now Pastrana, winner of two Nationals in a row, with an eight-point lead.
Langston: I got asked a simple question: "Is there a certain track that you've seen on the schedule you think will suit you?" I'm like, "I've lived in Holland. You've got one sand track. So, if there was a race that I would win, I would think it would be Southwick."
Pastrana: Langston said, "I am the best rider in the world at sand. There is no rider that will beat me at Southwick. I'm going to beat them like a bunch of girls." So, I got all pink gear made up. I had a bunny on my helmet, a pink freaking bunny! I was like, this is going to be awesome. Then I knocked myself out in practice. I don't remember anything about practice. Was throwing up before the race. I was f**ked.
Langston: He said, "If he says he's going to beat me at Southwick…" So then everyone didn't even read the article and they're like, [Langston's] arrogant.
McCollum: We won in 2000 and we won in 2001. Travis was phenomenal at Southwick. I don't know where he would rate on a sand rider or anything like that, but he was really good at that track in those two years for sure. Unbelievable. He had an epic battle with [Tallon] Vohland there at Southwick in 2000.
Langston: I was so much faster than everyone [in practice]. I don't know why I went out to do one more fast lap because it just seemed easy. I just remember after the crash, I was like, what the f**k just happened? I don't know if I caught a tree root—you know how you often know why you crashed? That was one it just literally threw me straight on the ground. I remember putting my hand up here and I went, "F**k, I just broke my collarbone." I could feel my collarbone sticking out. It turned out to be a bad separation. I did this on Saturday at the end of the second practice.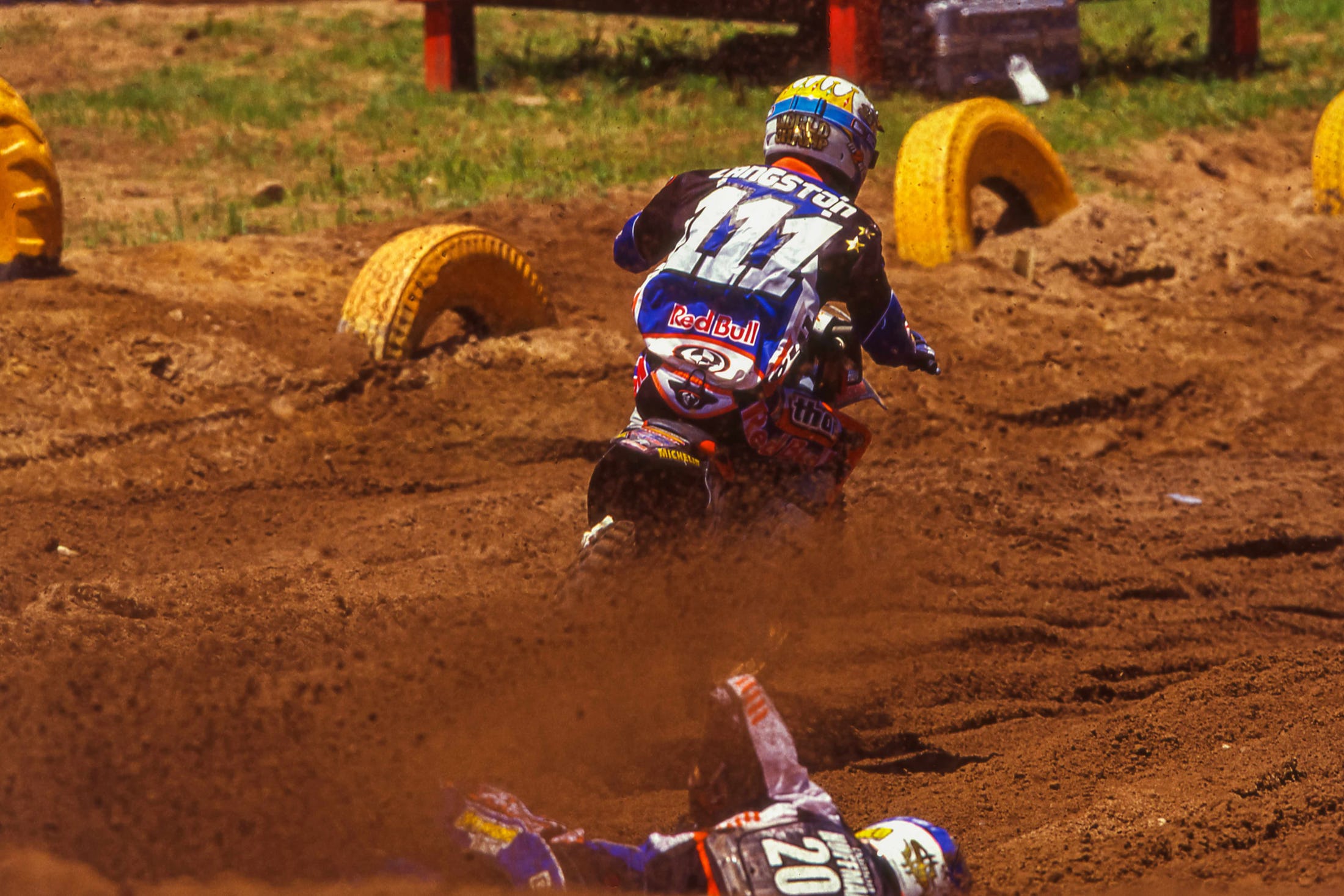 Pastrana: Langston separated his shoulder. They're injecting him… all stuff that would never be allowed now. When you're snoring on the track, they're probably going to pull you from the race nowadays. So, I'm throwing up in the pits and I feel like I've got the worst flu ever. I'm like, I can't wear pink and not win. It's kind of not right because Langston is hurt. I know he's getting injections and stuff just to be able to go out there. So, I pulled the pink gear back. It didn't have the same effect.
Brown: Coming into that race I never said a word because, legit, Langston was probably the best sand rider in the world. Pastrana liked the place. He did good there. I never said a word. I had no right to. I was going to go there and do my best. I just needed a good start. I never said nothing. I felt good on the track and everything was working good. It was probably one of the best moto wins ever for me—ever in my career—was to win that there. They were some of the fastest guys in the sand at the time on the 125s.
Pastrana: I was miserable. I'm throwing up. I can't see straight. And I need these points. This is a must-win race for me, and Langston's hurt. Second moto, I lined up first. Mike lines up right next to me, and I was like, that's stupid. He's going to try to obviously get me. So, I go across and I elbow his front brake so hard. His back tire hadn't crossed the gate yet and he ate shit three feet out of the gate. I was like, all right. Do what you got to do to win. I was like, this is what I kind of need right now. So, the race went okay for me I guess. I won the moto and the overall. Everyone thinks Mike had a first-turn crash. No, it was a getting over the gate crash because I cut him off!
Brown: I crashed in the first turn and ripped my whole left grip off and bent the clutch lever way down. I was bummed, for sure, but to what I came back from and the way the bike was beat up and stuff I wasn't too bad. For me, if I got second it's about good enough. I was happy with it. For sure to get a win that day, my first one, it wasn't too bad for me. I put a hard ride in and gave it 100 percent. When I'm at the track it didn't matter if I got 30th or first, as long as I raced 100 percent and gave everything I had.
Langston: Morning of the race I'm watching practice and I remember it was so frustrating because I'm like, if my bike didn't break I would walk both motos today. I'm sitting there with my arm in a sling. I'm like, f**k this. I went over to the Asterisk rig and I'm like, you guys got to have something for the pain. I'm racing! They taped my shoulder back together and got a Toradol shot. I still didn't think I was going to be able to do it. I couldn't even move my arm. It was so stiff and sore.
First moto I remember just every bump was just like someone was stabbing me in the shoulder with a knife. I'm like, you're the points leader. You're going to get points. At one point I'm hovering around 10th place and I feel like I'm riding at, like, 20 percent. Then I ended up I think ninth in that first moto. You ice it and keep it still and then I've got to try and get my gear on. I'm like, oh God, I don't know if I can do the second moto. Then it was weird. The second moto it hurt less. I came hovering around 10th and I started moving forward, even riding around all the bumps, just really, really riding in conservation mode. So I think I went 9-4 and you know how Southwick goes. Everyone's results are mixed. I was like fourth overall. I didn't think I was going to race. Sunday morning it was like, there was no way. Then I watched practice and I think I was crying, physically crying. Back then that was all I cared about was racing and winning and proving people wrong.
Pastrana: I would have loved to have had Langston and I both healthy that year, because we would both talk so much shit. We were just going for fastest lap in practice for no apparent reason.
Langston: He is so lucky I separated my shoulder. Go look at the lap times on Saturday before I separated my shoulder. I was fastest by four seconds. I was half a second quicker than Ricky [Carmichael, on a 250]. I was the fastest guy by a long ways.
Payton: After Grant blew his shoulder out, I said, he probably won't be able to ride. He rode the next day and did well. I'm like, that's one tough son of a b***h. That's pretty gnarly. I figured he'd be walking around shoulder down, limping. Not at all. He was good.
Nolte: First time Grant raced a sand race, he got lapped, but from then on I think [he got better] with Kees' help and determination from him and his father, and his uncle, Andrew. They were training so hard in the sand, and one year later he won the GP in Holland. I think Grant was the best sand rider at that time, especially with the bike also. The bikes were really amazing at that time. I think Grant was for sure the fastest guy in the sand.
ROUND FIVE: BROWN'S REVENGE
The next week the series shifted to Pastrana's home track Budds Creek, Maryland, and it was expected to be a #199 show. But, Pastrana pulled a "Pastrana" and made it hard on himself. "Brown Town" was the Cycle News headline as the Pro Circuit Kawasaki rider swept both motos while Langston was forced to sit out the race with a shoulder injury. Moto XXX's Larry Ward went 2-2 while Pastrana went 4-5 to hold onto the series points lead by 36 over Brown.
"I don't think anyone had anything for Mike Brown today, he was on," Pastrana told Cycle News.
Pastrana: I'm pretty excited for Budds Creek. I know Langston's hurt. Then I go and I break my ankle. Never really said anything, but did that and knocked myself out on the Friday amateur day before Budds. And by the way, this was my second concussion in two weeks.
Brown: When you're winning motos like that and he's [Langston] hurt, it gives you a little bit more confidence to try a little bit harder. When you get down to DNF'ing two motos it's like, dang, this is going to be a long year, especially at the beginning of the year. It started picking up and I was winning races here and there. Somebody gets injured. It just motivates you more. You train a little harder. Everything just comes easier.
Pastrana: I was racing amateur day. I just raced everything I could. I don't know if anyone knew that. Langston was trying to get me disqualified. It went to the AMA because you're not allowed to race the track, evidently, within a certain amount of days before a race, which was a rule that I didn't know because I just was riding. So, I went out and got my foot stuck in a rut over the triple where the start is now, right before that off-camber. Landed, knocked myself out, and broke just the talus. It's a little, small bone. It's not a huge deal. So, that sucked.
Langston: What stands out in my mind about Budds Creek was I remember it was Father's Day Sunday and my birthday, June 17. I'd just lost the points lead to Travis by a couple after Southwick. I'm sitting on the bank and they're doing the parade lap. I remember I was just miserable, like depressed. Brown went 1-1 that day. It was like the first time he really showed his true colors. If there was one guy I didn't want to see win it was him. You feel like an asshole for saying this, but you're sitting there going, "I hope Brown and Pastrana go down in the first turn both motos." That's how you're thinking. I'm like, I want to see anybody but those two up front. You're just thinking about all the points slipping away.
Pastrana: I was really concerned that Mike Brown, if he found out that I had a broken ankle was probably going to ram the shit out of that. So, I had reasons for not saying anything. So that race sucked. Again, you're tired. I don't know if anyone's ever had concussions, but you get really, really tired. As your heart rate comes up your vision goes. It sucks. But I didn't really want to tell anyone that or to show any weakness—Brownie, if I said I had a hurt ankle, he'd be like, "Which side and how hard can I hit him on that side?" Which is fine. I would have done the same thing.
Ward: Pastrana was an unbelievable talent. Closest thing to him, nothing with personality or anything, just riding, would be Robbie Reynard. Robbie Reynard was unbelievable fast and just always overshadowed by Ricky. There are a lot of guys like myself and Doug Henry and Steve Lamson, [Mike] LaRocco… There's a million of us that are all pretty damn good, but we were all shadowed by Jeremy McGrath. It's a tough sport. I still haven't figured out what separates the one or two that are the supernaturals.
Langston: Brown went 1-1 and he's on the podium. The announcer says something about Langston and Brown interrupts him and goes, "Langston ain't shit. He beat me last year because he was on a better bike. I've now got better equipment and I'll show him what's up." I was like, "Oh no, he didn't!" I swear my chest puffed up and I got up and I'm like, we need to fix this f***ing shoulder ASAP!
ROUND SIX: BATTLE AT THE BUD
At Budds Creek, Cycle News had reported that Langston would be out for the series but GL, taped up and with pain shots, showed up at RedBud motivated to win. And he managed to do just that in the second moto! Pastrana had his own reason to crow with a first moto victory. Brown got a flat in the first moto and a third in the second.
None of the three would claim the overall win, though. That would be Moto XXX Yamaha's Larry Ward with a 2-2. It was Big Bird's first national win in nine years and the first ever victory for the Yamaha YZ250F—and he was a privateer.
"I guess you could call me the champion of the day," Ward told Cycle News "As long as I've been doing this, it's about time!"
For the three title contenders, RedBud was where things started to heat up.
Langston: Larry Ward. He was riding great on the 250F. On a track like RedBud, those four-strokes were really… I think all of us are fortunate that me, Brown, and Pastrana weren't on a four-stroke, because I think that would have ruined the championship.
Ward: The first moto at RedBud I actually caught and dang near passed Travis Pastrana who was the next big thing, or really good. I sat home and watched him win every supercross. Then I actually reeled him in and all but passed him. I clipped his rear wheel and actually I crashed. I broke my thumb in the first moto at RedBud. I got back up and got second. I soaked my hand in ice the whole time. I had it all taped up, and when I went for the parade lap [for second moto] I could not even hang on. I remember looking at Doug Stone, who was my mechanic, and I said, "I can't ride, dude. I'm screwed." After the parade lap I took all the tape off my hand and I said, "Screw it. I'm just going to go for it." I ripped the biggest holeshot you ever saw. I still can't believe I didn't win that moto. Grant Langston, if you watch the second moto, passed about six or seven guys and he passed them all in the exact same spot. He had an unbelievable line and I never saw it coming.
Langston: I managed to sneak up on Larry when they had that one wall turn. He even said, "I didn't even know you were there!" I said, "I know. I'm like a ninja sometimes." I planned it. I snuck up and I just dove in there.
Pastrana: RedBud was interesting because everyone's like, "You're a jumper, and Fonseca just jumped LaRocco's Leap before you did!" I'm like, "He's 140 pounds on a 250F." So, I cut the track on the second practice and go wide to get the speed. I was three-quarters of the way to the takeoff and I'm like, I'm not going to make this. But I hit it anyway. I landed short on it and broke the front wheel completely. Wouldn't even roll. I had like three spokes left. So as I kind of came to a stop and went over the bars there, the frame was cracked. Lee McCollum had to basically, after the last practice before the first motos, he had to change the entire bike out. Suzuki was so bummed at me. [Roger] DeCoster was like, "What the f**k are you doing?"
Ward: On LaRocco's leap, we couldn't jump it then in the Lites Class and every lap when I'd land my bike had a huge bog. Then you'd drop down that next hill and he had this inside line. I was so bummed I didn't win that moto, but I won the overall, so that was cool. Then I think we had a weekend off and I was a solid third in the points and still within reach.
I'll tell you something else cool at RedBud that year. When I got the white flag and I was leading the second moto and going to win the overall, Carmichael watched from the starting line—you know at RedBud where you come off the finish line and you do the screw jump across the starting line? When he's supposed to be on the starting line getting ready but he's standing out there giving me the thumbs up. I remember that. That was pretty cool.
Brown: With those Yamaha 250Fs back then, it's distracting when you're trying to hear your bike and you can't hear it over the four-strokes. It was hard to get used to. When everybody's riding them it's not so bad. The bikes are good. That's why when I left Kawasaki [at the end of 2003] because I wanted to go four-stroke. I could have stayed with Mitch but I decided no, Yamaha of Troy had good bikes and this and that, so I switched over. That's where it all, I don't want to say went bad, but maybe I should have stayed where I was. I look back on it and Mitch had great bikes, which I should have known that his bikes were good every year. I went a different route and maybe should have stayed.
Pastrana: At this point Roger knows about the ankle and everyone there knows that I literally knocked myself out two of the last three weekends. So, I didn't get any of the second practice. I was five seconds off the pace in the first practice. Roger's like, "Is the bike okay? What do we need?" "Don't worry about it, Roger. We got it." He's like, "You're so stupid! We needed that second practice."
Langston: I was fastest in qualifying and lined up. Travis lined up next to me. Then he got the jump and he just went hard left and almost took my front wheel out 10 feet, 15 feet down the start straight. So, in my mind you can imagine what I was saying to him. I thought, if I catch up to this guy I'm going to put him on the ground. Give me half a chance, I'm going to let him know that I'm not happy right now. Never got to him. Travis got out front. He won the moto. I had to come from 40th to fifth.
Pastrana: Us three [Langston, Brown and himself] were lined up next to each other every time on the start, because it was based on the points. This front brake tag, it's now an official game. If you look at the results the whole season, out of the three of us only one of us made it to the first turn up front every time. At some point I went to AMA and I was like, this is not fair. I don't want to line up first, because I had the points lead, then Brown lines up on one side, Langston lines up on the other side. If either one of them gets the jump on me, I am mired in the pack in the first turn. They're like, "The rules say you can line up wherever. We'll start watching for it." Literally, I was in the middle of both of those guys. If you look at all the starts I'd line up and then Langston would line up.
Langston: So, like I said before, you line up based on your first moto. Travis has first gate pick. Brown went there, somebody went there and I lined up next to Travis. I'm like, I'm going to get the jump and I'm going to turn hard right into this guy.
McCollum: I remember at RedBud Langston lined up next to Travis. He looked over at Travis and he goes, "Man, don't come over on me after the gate drops." Travis was like, "Dude, you're the one that does that!" Langston sort of laughed about it and when the gate dropped, Langston came right over on Travis and just about took him down. We got a shit start.
Langston: So, the gate drops. I got the jump. I turned hard right into Travis. It was basically a carbon copy, but just a role reversal. So, Travis came from 40th to fifth. I actually kind of jacked my own start up because I hit him so hard I didn't even get a great start.
Pastrana: Then one time they lined up on either side and I moved, and Grant moved. Then we almost got disqualified because they said you can't move after you pick your spot. So, first moto, Langston's fifth, Brown's 23rd, but especially that track, you can't make up time. It's my favorite track. It's a lot of fun to ride, but everybody's quick there. You've got good berms, good ruts. Especially on a 125 it's just hard to huck it the whole way and make up time.
McCollum: Those two guys [Langston and Brown] were sort of involved in their own battle, and Travis was sort of like a sideshow or something. Travis was there with the points lead and winning races, but really there was a battle between the other two guys.
Langston: I remember after that second moto, because I hadn't been riding, it was starting to affect my riding fitness. I came over the finish line and Bob Moore was my agent at the time. He was like, "Yeah, yeah!" I was trying to get off the bike. I don't know if it was adrenaline and everything, but the pain started setting in. I remember just shaking like uncontrollably. He's, like, we need a medic! Something's wrong! He's going to have convulsions! I'm like, I don't know, but it was hurting because I was trying to keep myself still but I was shaking I think from all the pain and just everything.
Nolte: For me, I was thinking the most unbelievable race was RedBud where he passed Ward in the last corner. That was just after his injury. I know we had to lift him off the bike. He was completely done.
Although the memories are a bit foggy as to what exactly happened, it was here that tensions escalated.
Pastrana: We [Travis and his dad] tried not to tell mom what was going on because my dad's like, "You guys are grown-ass men. Figure it out." I'm like, "I'd like to battle. It would be awesome to just get off the line." He's like, "Well, get a better start then and stop f**king with the front brakes." I'm like, "Well, they do it to me." He's like, "Well, then keep doing it. Just don't tell mom." But mom, every time was like, "What are you guys doing to each other?" My mom was actually really mad with me. She was like, "Why are you guys doing this?" I'm like, "They started it!"
Langston: After the second moto, Travis's mom was yelling at me at the podium telling me I was a dirty rider. I was like, did you watch both motos? She's like, yeah. I said, did you see the first moto? She goes, yeah. She goes, he didn't do anything. That's when I was like, okay, you're one of those moto moms. My boy is perfect. But anyway, she was a little fired up and it was kind of funny because I don't want to be disrespectful to someone's mom and tell them where to shove it, but I was just trying to say, hey, it's racing. What goes around comes around.
McCollum: Travis's parents were always cool to me. They were good to me. I think with Roger, especially Debbie, I think Roger had had his fill of it. It's nothing out of the ordinary. Nothing new or anything like that.
Langston: I remember Travis went, "Mom, mom, stop. Just be quiet." And he turned and looked at me and he stuck his hand out. He goes, we even? I said, yeah, we're even. He's like, cool. Then there was like fist pump, with his bent thumbs up he always has up. So, Travis and I could bang bars on the track and then shake hands afterwards.
Pastrana: Honestly, at this point I wasn't well. Excuses, excuses, but by the end of the moto, knowing what I know now about concussions, that wasn't good to be out there. At the time we didn't know about it. I'm like, "Man, I'm tired." Roger's like, "Train harder." So, you go out and train harder which is really the opposite of what you need to do. So, usually everyone made fun of freestyle and all this shit that I did, but with a dad that was like a drill sergeant in the Marine Corps, the one thing that I was, was in shape. That was usually where I made up my time, and I didn't make up any time that moto at the end of it. Something was definitely wrong.
ROUND SEVEN: A TURNING POINT
Unadilla, New York, will live in infamy in Travis Pastrana's racing career. There, on the last lap, he turned what would have been a 1-1 day and a 50-point series lead (thanks to Brown's Hangtown DNF-DNF and Langston missing Budds Creek) into another major concussion. After a dominating moto one win over Langston to increase his lead to 47 points, Pastrana was just a half lap away from a double moto sweep when disaster struck in the back section. Over the bars, knocked out again and a DNF. Things started turning south for the reigning champion after this. Langston went 2-1 on the day for the overall to get back into the points fight.
"Sure I like to win every time I go out there," Langston told Cycle News. "But not necessarily like that. I hope that he [Pastrana] is alright."
Brown ended up 4-2 on the day and also moved closer to the points lead with Pastrana's misfortune.
Pastrana: Before Unadilla, the AMA took Mike, Grant, and I aside and had a talk with us, probably mostly because of my mom. But at that point, for whatever reason I finally felt good. My head was good. I was ready there at Unadilla. I had a big points lead because of all the trouble that Mike had and even with the problems that I had. My ankle, that was the first time I rode that week coming up to it, which I hadn't ridden since Budds Creek, which I think was three weeks before that. I was back on the bike. I was feeling good. My head didn't hurt. I wasn't tired. I like Unadilla. I had a great first moto even though I washed the front end and ate shit. I was laughing. I got up and was able to still win it.
Langston: I think I was pretty close to 100 percent at this point. Sometimes when you've had an injury during the season you don't ever really feel like it, because you had that setback and now you're just getting back to where you should be. Unadilla, I don't like that kind of track, the shale. First moto I think I got an okay start. Came through and I got second. Travis had a comfortable lead and even when I got clear track I couldn't really catch him. So I just settled for second.
Pastrana: Second moto I felt good. Good battle. Rode my dick off the whole race and Grant was second again. Last lap, I caught an ankle on a takeoff. I couldn't put my toe in. As stupid as it sounds, the ankle was still basically wrapped, taped inside the boot. It felt fine riding. It wasn't a big deal. But I wasn't able to put the toe in. So, it stuck out a little bit. Instead of riding on the ball of my foot I was riding on my arch, just because it hurt less. I caught my toe on the takeoff of one of the jumps in the back, the ruts. I don't remember any of it. I watched that race back on TV.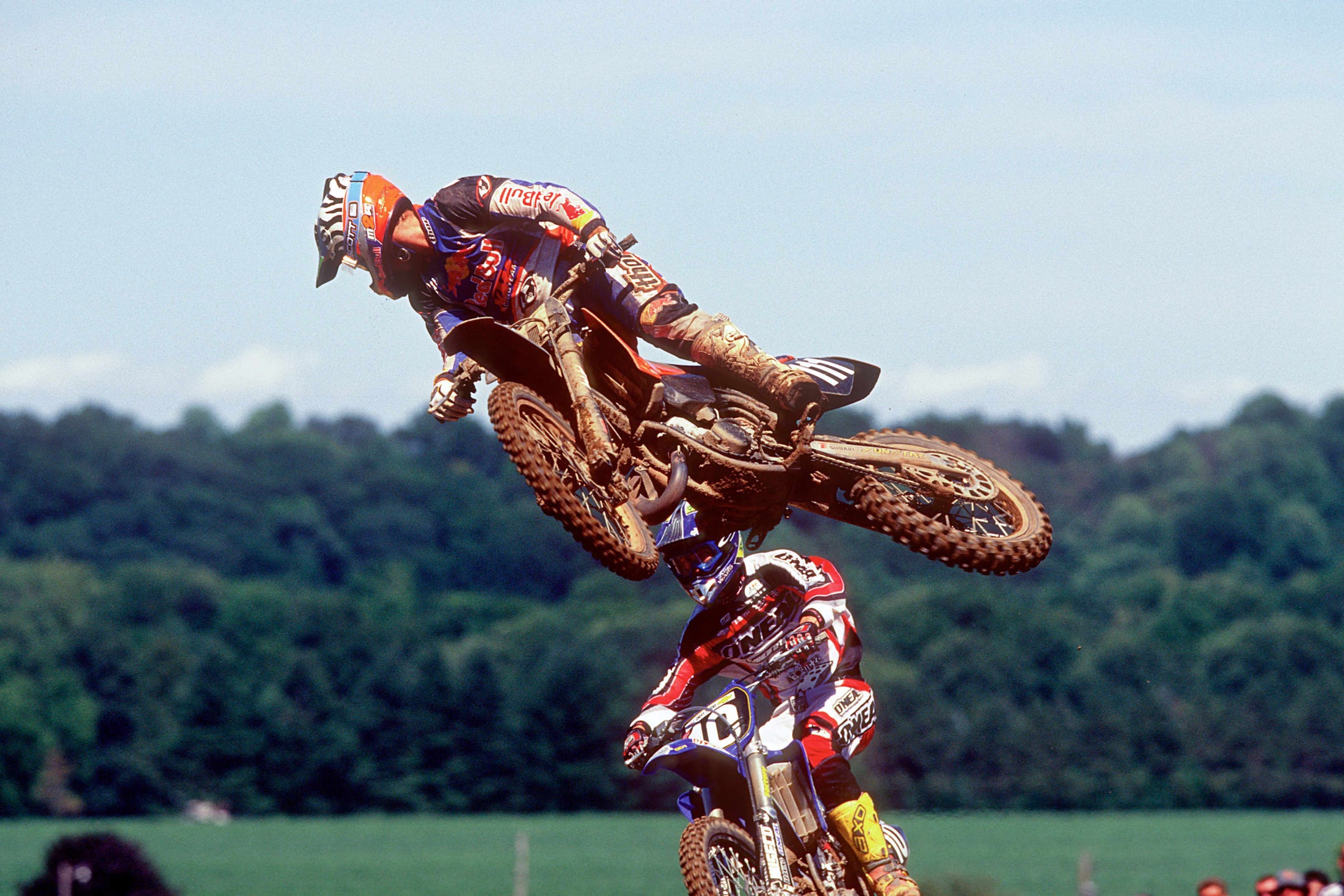 Langston: We went to the back part of the track and it was one of those things. I thought, one little bobble and I'm going to be there. Last lap for the win, you know I'm going to throw it in there, even if it takes us both out. That's a given. But I still remember it in my head. He was going to the inside and I remember I had switched my line because my foot pegs had drug. One thing with the KTM and the PDS suspension, when it got a little hot it would get a little soft, so I felt like I was always the first guy to start dragging feet or foot pegs. I switched my line because I didn't feel comfortable. I'm like, those things are going to catch your feet and it could be catastrophic. Travis went right and I went to the left. I remember. I saw it. It was a pretty ugly crash.
McCollum: After he won the first moto, I was thinking we had somewhere around a 40 point lead. We had a substantial points lead at that moment. Then when he crashed out of that second moto, it was at the very end. He hit that roller section out there towards the back and just cross-rutted and went down hard and that was the end of it.
Langston: When his bike flipped up, I landed. I had to turn because his bike was still cartwheeling. So, I saw it pretty much first hand, the whole thing. I was like, no way! More like, a little bit in shock. Like, whoa, did that just happen? And then the other part in the back of my mind was like, that didn't look pretty. At this point, even though Travis and I were rivals, I liked Travis. I would have probably said to him at that time, when we're done racing we're going to hang out and we're going to be friends. He's a good guy.
Brown: I know exactly where he crashed and all that. That's when I came back into the points. Unadilla is when it all restarted, like starting over again for the series.
Langston: We were so far ahead of everyone, I literally just cruised. I went over the tabletop and I remember I looked across and he was still motionless. So, I crossed the finish line. I wasn't super excited because you felt like maybe you were given one and you saw someone, a fellow competitor, on the ground. So it was like, wow, I won Unadilla. Didn't really expect that. I just gained a bunch of points, so that makes things interesting. Lo and behold, Travis actually came riding up. He finished the race. I remember, I said, Travis, are you okay? He just looked like he was looking through me. He goes, "Yeah, I'm good." I was like, you're not good, dude. Your visor is in your face. Your handlebars are on the gas tank. You don't look good, either.
Pastrana: So, evidently, I got up after the race was done and I was doing heel clickers and can-cans and all kinds of tricks. Then I rode around the pits for 15 minutes before my dad finally caught me and brought me back in. The first thing I remember was being in the hospital. It wasn't bad; I just don't remember anything!
Ward: We had a weekend off and then Unadilla I got third in the first moto and second moto Langston and Brown beat me and I got third. But still, I was close to them. I had a chance to catch those guys. Second moto—I'll be honest, on the day of the race it was Michael Brandes and he was a XXX guy that year too. I was fourth or fifth and that last left-hander that you come up to before the finish line, on the first lap I just got in a huge hurry and wanted to blow him out. He cut over. On the day of the race I was mad and it was all his fault. I'm third in the championship and he's a 20th place guy. But in reality, now looking back, I just got in a hurry and I jumped up there and I should have known he was going to cut over. When I clipped him I crashed and sure enough, landed right on my broken thumb because it only had two weeks to heal. I was riding with a broken thumb anyway and I was in pain.
Pastrana: But that was a cool race because that was the first time that— because of the AMA warning—that was the first time Grant and I didn't f**k with each other on the start and that was the first time we both came out and were actually able to race. Obviously, that's a good track for me. If the same thing would have happened at, say, Sacramento, Grant would have dominated.
ROUND EIGHT: IT'S GETTING HOT IN HERE
Mike Brown had a ritual going where he was going to the gate without his bike a good 30 minutes or so before he had to in order to focus on the race. Well, at the very hot and humid Troy, Ohio, National that focus worked well as the #100 Pro Circuit Kawasaki rider swept both motos to cut Pastrana's lead to 21 points. Langston went 4-8 and the wounded Pastrana went 5-10.
Brown was down as much as 56 in the title chase earlier in the season, and figured that as the series wound down, he was just going to get better and better. Like the temperatures at Troy, Mike Brown was coming on.
Brown: I don't know why I went down there [start gate] early. I think just getting in the zone. Just for the right starting place. Just watching the race. Trying to check out the track as much as I could. I always wanted to be the first one down there. I would be down there an hour before I'd have to be there, but I always wanted to be down there first. I just felt like when I got down there, get the nerves away before the start of the race. Get down there and just be ready when the time comes.
Pastrana: So, [before] Kenworthy's, I couldn't even really walk to my mailbox without being winded. This is three days after winning the first moto at Unadilla without really being that tired, feeling good, in shape. Walking to the mailbox was like world spinning. It was just bad. I started throwing up in my helmet about three laps into the first moto at Kenworthy's. That's a hot race. It wasn't a good race for me anyway, even if I was healthy. So, that was a horrible, horrible weekend.
McCollum: I knew he [Travis] wasn't right. He was hurting. At that point, it was trying to salvage whatever we could, is how I remember it. I don't know about Travis, what he thought. For me and Roger, I think we were thinking if we could get through the next couple of rounds and maybe get a week off or something, that we could recover and close out the series.
Pastrana: Concussions are something that only the guy that has them understands how they're doing. I think doctors try to hold people off for a certain amount of time now and this and that, but sometimes you feel okay and sometimes you don't.
Brown: There were good tracks for me on the series. Even in years before I always rode well at certain spots. I won my first race ever at Washougal, so I was pumped about going there. I'd done good at Troy, Ohio. I like that place. It was good tracks for me there to get the momentum, keep it going.
Langston: Even before I moved to the States, I remember watching Brownie pass RC in '97 at Budds Creek and Troy. So, when Brown had that confidence and on his days, they were days it was just like, "Who is this guy?" He was really good. Even in GPs I saw him beat everybody on his day, but it was here and there. But Troy, I don't even know where I finished. I just remember I wasn't that good and I remember my dad laying into me.
Ward: The first moto at Troy, what happened was they couldn't get my bike to even run, and they tried to borrow a Yamaha of Troy bike. They tried to put my plates on Dean Baker's [motor tech for the team] bike. It was a damn rattletrap. I went one lap and pulled off and said, no way. It was so weird. Then second moto, first lap off that big, long tabletop from the far west side of the track when I landed the carburetor fell off.
Something that Brown, Pastrana and the rest of the 125 Class had to see each weekend was on top of his talent, Grant Langston also had one very fast 125.
Payton: Because I worked a little bit with KTM already, I already knew they were fast. I knew the amount of power they could potentially have. At one point there was a number thrown around of 40 horsepower. I'm like, bullshit. They haven't got 40 horsepower because we haven't got 40 horsepower. Then all of a sudden I was doing some pipe tests and I'm like, "Holy shit, they've got 40 horsepower."
Brown: The KTMs are fast. But at the end of the day, I think one of the bikes I was on was the best bike. KTM was kind of new to the whole program here. When I went to the starting line I knew I had one of the best bikes out there. It was all up to me. I wasn't up there like, "I had a slow bike, I didn't win." But it was all up to me to ride it and that was good. I liked that part. I don't want to blame it on nobody else but myself. That's how I've always been. I'm not going to sit there and get all on the track and say my bike's shit or whatever. I need to ride it faster.
Ward: I remember Grant Langston's bike being the fastest 125 I've ever seen.
McCollum: I don't remember talking about the KTMs that year. Our bike wasn't the greatest bike, but it was pretty good. I think my bike was the lightest one out of all of them by the AMA scale.
Payton: I really truthfully had the opinion that it was 125cc. As long as it's not a big bore, it's my job to nut up and do the job. We did, but it was very, very difficult for us to find the additional—we had to search it all out. We could do it, but our problem was we couldn't do it consistently. I bought a KTM. We worked on that to double-check everything they did. I knew they ran a big carb. We couldn't run a big carb. It sucked on our bike. Then I bought a Honda road race bike to pull apart, dyno, just to see if there's anything that I thought I could learn from it. That was in that search for I knew we needed to be better. We could do it. On given days we were 40.3, 40.8. Then you might dyno them the next week and they'd only be 39 just depending on the day that you were doing it. Then you're doing so many cylinders on these 125s that every cylinder wasn't good. We'd do six or seven cylinders and then run them all, and then grade them A and B and C. C's went to practice bikes. A's were primary and B was the backup. It was a process. It was a good, hard deal. Like I said, we didn't complain about it. Everybody's like, "You need to protest them!" I'm like, "We need to do our job. We just need to not get caught up into that. Let's get caught up into us. Let's just keep it tight, work on it, and we'll be able to manage it."
Ward: What I remember the most about that year was it was right towards the end of the 125 two-stroke era, so the 125 two-strokes were the best of the best, the fastest that they had ever been. To me, the hero that year was Mitch Payton and Harry Nolte. Harry Nolte was Stefan Everts' mechanic but he built the motors for Langston's 125. I literally can remember in practice at Glen Helen going up the steep uphill. My bike was basically a stock YZ250F with a Yosh pipe, Hinson clutch basket and Factory Connection suspension, and I loved it. But, that KTM 125 went by me and I thought damn old Ron Lechien on a KX500 went past me. Mike Brown's bike, Pastrana's bike, and especially Grant Langston's bike, the 125 two-strokes were unbelievable fast.
Langston: In the GPs the Kawasakis, we made fun of them because they had a supported team and their bikes were slow. We had full factory KTMs. Then we came here and it's like, I didn't really know about this production rule thing. That really changed things dramatically from the get-go. It was actually a shitty feeling to go and get on a bike and go, "This is not nearly as good as the GP bike." Then during the 2001 season I was thinking, hmm… the Pro Circuit team is pretty f**king good over here, aren't they?
Nolte: I think the bikes were really fast at that time, especially now when I look back on it. Somebody made a replica from [Tyla] Rattray's bike. The guy made it all from parts and we dyno'd it and it had still like 40 horsepower. You think sometimes the dyno is changing, but if you look at the new KTM now it's so close to a good new KTM now, and this was back in 2000, 2001.
ROUND NINE: BROWN TAKES CHARGE!
Coming off his double moto sweep at Troy, Pro Circuit Kawasaki's Mike Brown did it again in Washougal, Washington, to move into the series' points lead. It was another tour de force ride for the veteran and another disaster for Pastrana, who crashed in moto one and hurt his shoulder but salvaged an eighth, only to knock himself out again in moto two. Langston rode hard and went 2-3 on the day to leapfrog Pastrana in the points, just five behind Brown.
"I got by them as quick as I could because I didn't want Langston and Pastrana to be up there with me," Brown said to Cycle News about his second moto win. "I hope he's [Pastrana] alright. I'd like to beat him when he's on two wheels."
Just three rounds remained after Washougal.
Langston: Brown was always really good where he would come in the turn and then start power sliding in the beginning and keep it all the way. He could steer with the rear really well, which was not my game. He was really good at that controlled power slide with those long legs of his hanging off. It worked perfectly at Washougal.
Pastrana: Washougal, I still had a little bit of a points lead, not a lot. It wasn't much better. Still throwing up, still not well. But at this point the start straight shenanigans pretty much stopped. I came off right behind Grant, which never happened the first half of the season because of the front brake tag game, which is a great, awesome, horrible game. Anyway, we had a new game at Washougal. We [Langston and he] came out, we were like second and third or something. We come over, it's a left and then a right and then you have that scrub jump up the hill. I was way over to the left, and he comes up with enough room to be in front of me. Right when I thought he was going to get on the gas on the landing, he checks up, so I crash straight to my back. Grant still says he didn't do it intentional, which is very, very possible, but I wasn't sure back then.
Langston: Maybe I did brake check him. It makes sense. I just don't remember it. Maybe I just did it so often it didn't stick out in my head. I don't know. Honestly, it doesn't ring a bell which means at least I know I wasn't like, "Oh yeah, I did that on purpose," but I may have. If he thinks I did then I either missed a shift or I did.
Pastrana: So I get just run over by the entire field on the uphill. I was pissed. I was like, "I am going to catch him and I'm going to knock him down." I climbed a lot further than I would have if I wasn't that upset. He might have had a bog or for whatever reason didn't power out of that landing as hard as I thought. You generally don't run into the back of someone unless they intentionally slow down. Especially that year the KTMs were pretty strong motor-wise. I was pretty fat, almost 190 pounds so a little bit heavy for a 125.
Langston: Brown was a little too good for me that day. So, maybe I had to resort to brake checking people to try and get results. I just remember it was one of those tracks I'm like, it looks beautiful when I got here and I was kind of excited. Then I rode it and I'm like, I'm not a fan.
Pastrana: So, before second moto, [Kevin] Windham tells me, "When you go after the S turn's you're going to come over the hill and it's like ice there. Dude, it's the slickest thing you've ever hit. I almost crashed three laps there. Take it easy." You would have thought I would have listened but no, straight front-end washout down the hill, and concussion number God knows what that year.
Langston: I'm thinking, the last two out of three weekends I've had to avoid him and his bike. Same thing, he body slammed himself right in front of me again. I was right there to witness two of his three concussions that year. You could almost tell that after that, you almost got that feeling that that was the beginning. I think Unadilla was the beginning of the end.
McCollum: He crashed over in that middle section there. There was a kink or something before the whoops section or whatever. He hit hard. Went down so hard against that bank.
Somewhere along the line Brown had headed down to Florida to ride and train with Ricky Carmichael who was dominating in the 250cc Class. It would prove to be very beneficial to Brown, and RC himself would play a role in the 125 Class in a few weeks.
Brown: I was down there when Aldon Baker showed up and he lived in probably an 8×15 little shed that Ricky fixed up for him. Knowing how big he [Aldon] is now, he's one of the best guys out there for training. I'm glad to see where it all came from. Aldon's still a great friend. Ricky's a great friend. They changed racing. Those two right there changed the racing for everybody. The training—if it weren't for those two, it might be by now, but they changed it quicker than what it should have been. It made a big change for our sport.
Payton: Brownie was riding down at Ricky's. As this thing started narrowing down to the end, Ricky was trying to help him, mentally coach him up. Like, you need to just hang in there. Do this, do that. Go for the ones you can do. You've got to take it to him. I think that was a big part of the success of him that year was being at the Carmichael's and having Jeannie [Carmichael] and Ricky in his ear all the time. I think it helped his confidence a lot.
Brown: He [Baker] knew how to train us. He went to school for this. He was an Olympic bicycler guy. He knew about the gyms and stuff and training people. Racing's different than anything what he would probably train people for. But he just watched and learned. He never rode a motorcycle much, and he got a motorcycle and he rode some himself to kind of see what was going on. Ricky needed somebody like that to watch what he ate and get his weight down. Aldon was good at that. That's what helped Ricky a lot. Ricky wasn't scared of work. He'd do whatever he'd say, and if he needed more he'd keep doing it. He wasn't scared of work. He just needed somebody to get him on the right path.
Langston: Brown was now also riding with Ricky every day and between Mitch and Ricky, Ricky was putting a lot of pressure on Mike and pushing him. Mitch asked him to do that. I remember I took it a little personally because I was like, "Ricky's trying to help him beat me." Ricky was, I think, the only person that said before the season started that, "I think Langston will win the championship." He was the only one that said that. I remember reading an article in Racer X. It was 50 people in the industry. I think 48 said Pastrana, one said Brown, and one said me. I was like, Ricky thinks I'm going to win! I was flattered. And then here he is trying to help Mike Brown. He's chatting to him on the line. I wanted to bitch slap him!
Payton: He [Brown] was a lot of work. It's kind of funny. When you see him from the outside in that era they're like, what a tough f**ker he is. But when you get to know him, he's got a tough exterior but he's pretty soft inside, really. You had to keep him in a certain spot and keep him believing in himself. That's a lot where Ricky helped. Then he had to come out and test. It was a lot of work from Ricky and Jeannie and Jimmy [Perry], Bones [Bacon] and me and everything. But he deserved it. That was our one guy that was in this points chase that we had to kind of put everything we had into it to try to accomplish the goal. It goes down to the last race, so it was obviously worth it.
Meanwhile, back at the hotel after Washougal, Langston was cooking up his own revenge for the next race.
Langston: The best part was—you might want to ask Mitch this story, because Mitch was like, that's the first time I f**king hated you. But I guess after Washougal we happened to be at the same hotel or something. So, the Kawi guys were down there. Mitch wasn't there, but the Kawi guys were there I don't know if they were kind of jokingly shit stirring or something, but I went over and I told Timmy the PC truck driver—I said, hey, can you give Mitch a message? He's like, "Yeah, sure, what is it?" I forget the exact wording, but I said, "Hey, I'm just helping you guys out. Just save the gas money. Don't even bother driving all the way back to Millville, Minnesota, because I'm going to go there and win both motos by a long shot. I'm going to embarrass you guys."
Payton: I don't think I ever really hated him. That's kind of hypocritical. I believed in him enough that I wanted to give him a ride, and he turned me down. It never, ever was to the point where I'm like, "He f**king sucks. He's no good." If he was really that shitty I would have never called him.
Langston: I saw Millville on TV and I decided that's a track for me. So, Mitch got this message at the shop that Langston said, don't waste your time coming to the races because you're not going to win. He's going to wax you guys. I rode for Mitch afterwards and he's like, I told them, "You make sure that motherfucker does not win. Whoever was on the team, if you get a good start, take him out. We need to teach this guy a lesson." I was not drunk. I was just definitely fueling the fire, just pissing people off. So, going to Millville, Pro Circuit Kawasaki was not happy with the Zulu.
Williamson: He did that a few times. He called out a couple tracks that he was going to win because he watched it on TV. He would do that a lot. Southwick was one. He'd never been there and he was like, "I'm just going to win there." I do remember him being very confident at Millville and going 1-1.
Andrew Langston: When we were Europe and we raced GPs, there was a guy named Leighton Rice and he did motors for the factory team. Grant was always having bets with him when he was inside the semi playing video games with Leighton the night before the race and would start taking wages on who was going to do what. "I'm going to holeshot both motos and I'm going to win both motos." Leighton would bet against him. I think if you asked Leighton today, he would tell you he dished out a lot more money out of his pocket than GL did the other way around.
ROUND TEN: LANGSTON BACKS IT UP
At Millville, Minnesota, Langston backed up his boasting with 1-1 scores leading every lap but one. It was an amazing display of riding and the title chase took another turn as the #111 KTM rider jumped into the points lead over Brown, who went 3-2, by three.
"I was actually watching a tape of Budds Creek the other day where Brown knocks me and that kind of upset me and made me want to come out here and beat him bad," Langston told Cycle News. "I think the second moto proved that when I destroyed him."
"Yeah, he can think what he wants, you know? We'll see him next weekend," was Brown's reply to CN.
Meanwhile, Pastrana finally waved the white flag on his title hopes when he rode off the track in the first moto while battling for second.
Pastrana: I went to X Games that week before. I actually didn't really practice for X Games. I won Freestyle using basically the tricks that I had from the year before, which was for me the biggest disgrace to myself that I've ever done. Even though it was a win, I didn't do anything new. I just went through my paces and it was good enough. So, I did that and then I flew to Spring Creek.
McCollum: Roger got upset about that [going to X Games]. I've got to say two things. He did get upset, and for me in the beginning it [riding FMX] didn't bother me, but then after a while it bothered me a little bit also because Debbie and Robert [Pastrana], and Travis, they weren't so forthcoming, let's say. So, in other words, there's a weekend off for whatever it was, and we're thinking about the championship or winning races or whatever it might be, and those guys are thinking about going to some freestyle event. Roger did tell him a couple times, "No, I don't want you going there," and things like that. But they went anyway. So, if I ever had to say any bad thing at all I guess that would be it as far as they weren't so forthcoming with that. They knew that Roger didn't want them to do it.
Pastrana: [In the moto] Everything just started spinning. Literally just spinning and spinning and spinning. I'm out there and I'm riding second to Grant, ahead of Brown. We all got out to a decent start that time. I love the sand there. Hate the other half of the track. But it was enough sand for me to be competitive. I went 1-1 there the year before, so it's a good track for me. I just started throwing up again. It was just past the halfway mark and I was like, I can't do this. I'm not going to be able to stay on my motorcycle. I pulled off and that was the most I ever felt I'd let anyone down.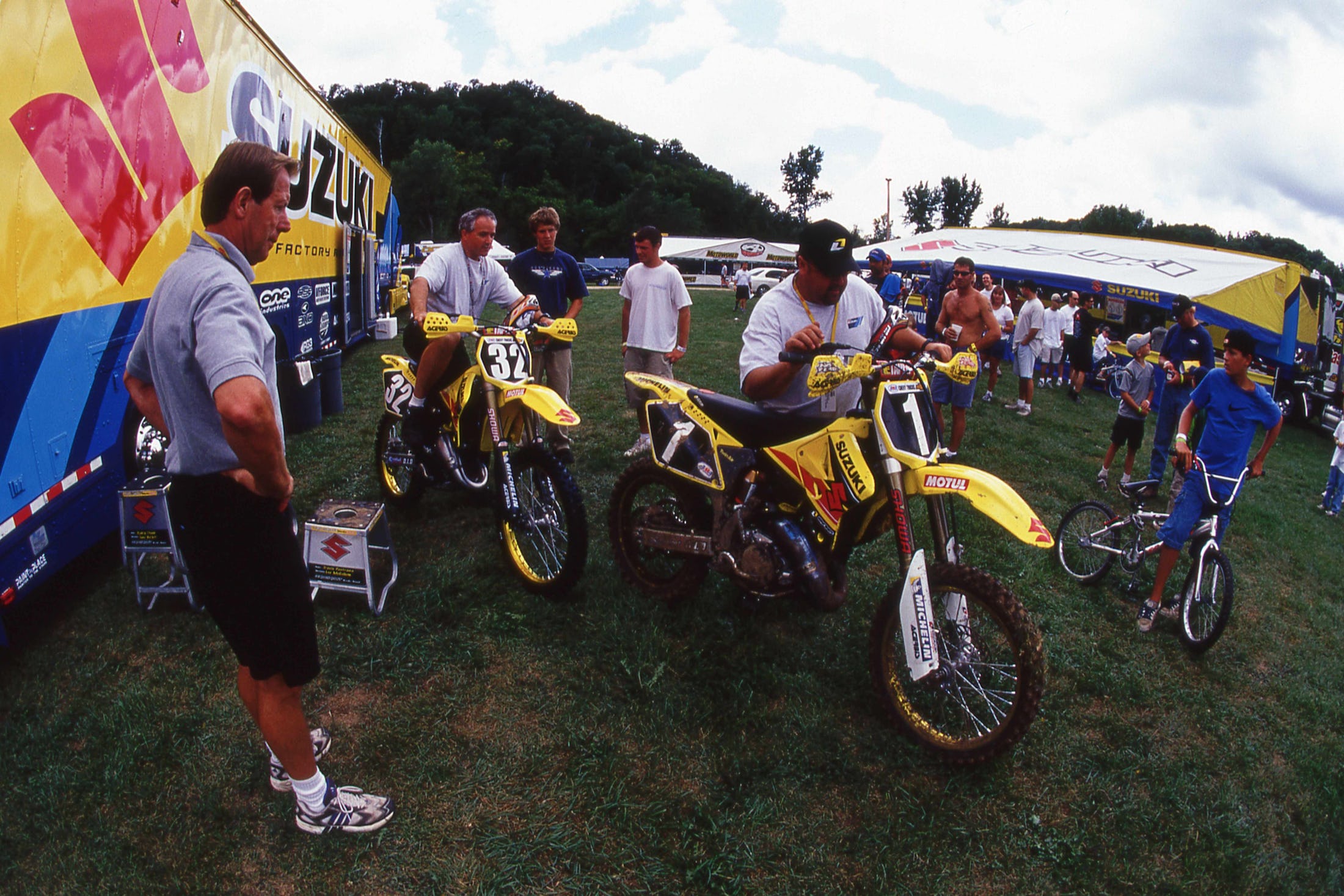 McCollum: Millville, he's out there riding and doing pretty good. So, he's riding and then just all of a sudden he comes around over the finish and comes to the mechanics area and instead of passing me, he just pulls in and stops. Right away Roger's on the radio: "What is he doing?" I'm like, "I don't know!" Then I went out and Travis says, "I've got to go to the truck. I'm done." He just sort of had that look like a deer in the headlights through the goggles. I just said, "Okay, let's go." Jumped on the bike and we went back to the truck. Roger was yelling on the radio the whole time and then everybody came back to the truck. But basically Travis said that he just couldn't ride anymore. He just couldn't do it.
Pastrana: Pulling off might have been acceptable had I not done X Games, and then after that race, I flew back to do Best Trick in X Games, which was probably where I lost three-quarters, or all at the time, of my motocross followers. They were like, "You're healthy enough to do X Games but not healthy enough to compete. You pulled off when you had a chance at the championship." It was a weird thing for me because obviously racing was way more of a priority, but I was like, I can still do a jump and do freestyle, I just can't get my heart rate up [in a race]. It was weird.
McCollum: I didn't want him to be out there if he wasn't 100 percent. The couple races before that he wasn't 100 percent and it showed. It was tough to watch him. It hurt to watch him do that. He never disappointed me with all his antics and just the way he is. Travis is just a little bit different than all the rest of the kids, I would say.
Langston: I went out and won both motos by a long shot. Rode by slowly the mechanics area, "Woo, number one, baby!" I think I did donuts outside their pits even. Just really being a dick. So, Mitch was really angry and then I won and he told me, "That really pissed me off. I was so mad that I saw you win that day." But I went and won both motos. I said something on the podium, and he [Brown] was standing right next to me. I'm like, "Oh yeah, Brown, whatever. When I'm healthy he can't hang." So, at this point you could tell the noose was tightening. Even the mechanics were yelling at each other. The tensions were getting—it wasn't just me and Mike Brown, it started becoming Team Orange and Team Green.
Brown: Millville was when we were talking crap, both of us, after the race. In the interview when you pull off, we just carried on. It's just good racing. Gets somebody looking forward to the next week and see what's going on. These two are talking crap and see what's going to happen here.
Williamson: I do remember him being very confident at Millville and going 1-1. He rode by the mechanics area or something and pulled a number one or something.  He was telling us because we were like, dude, come on, you can't call your shot like that!
Langston: The thing with Brown was he would be a dick on the track and then not talk to you off the track. So, you didn't really know how to read him. You just thought he was a plain, regular, old prick, period.
Pastrana: I always respected Mike Brown, and then after that for some reason, Brown and I got along all the way through the year even though there was some shit. But it was like, okay, that's where we're going to go.
Langston: Travis, we talked off the track and I always was like, helmets on, we're not going to get along. Helmets off, we'll get along.
Pastrana: Grant was kind of the opposite. When you messed with Grant he got pissed, but he would mess with you in return. So, I kind of didn't like that aspect. But at the end of the day, I did respect what he was willing to do to win. He would basically mess up his shoulder so bad that he couldn't even move it and just inject it and go out there and really ride pretty well at a track that is rough as crap at Southwick. That takes so much more than anyone will ever know. Everyone's like, "If I got that much money for doing it…" No, you wouldn't. So, huge respect to Grant for that season. Now we both have kids. I have a lot of respect for Grant as a human being now, all the way around. We were both punks and pretty cocky. I was humbly cocky. I pretended not to be cocky, but I was a complete asshole.
Brown: We [GL and him] didn't get into it on the track at this point, it was just interviews. That track wasn't bad. We'd get close, but it wasn't dangerous or nothing like that. We had the same goal. We had the same mindset. We both wanted to win. That's what we were there for. He knew how to win championships. He'd won a world championship there, so he was in for it and I was too. Neither one backed down. Whatever it took we were doing.
Pastrana: Knowing what I know now, you should never do anything because if you hit your head again while you're in that state, you end up f**ked. I did it obviously a bunch of times that year and I'm just as dumb as I've ever been, but I feel okay.
McCollum: I remember Travis one time he got a second place somewhere, so he wrote on his plaque: "To Lee: Just another second place," or something like that, and he gave it to me. I remember saying to Travis, "Don't take a second place so lightly, because you never know when this stuff will be over. You never know when the last time you stand on the podium is." It wasn't long after that that came true.
ROUND ELEVEN: THE POWDERKEG EXPLODES
With Pastrana out and the series down to just two races, the penultimate round took place at Binghamton, New York. In the first moto it was all out war with Brown forcing Langston off the track in the first moto before Langston went straight into Brown on the last lap to take the win. This riding earned both riders another talking to in the AMA trailer before moto two. In the second moto Brown was out front, crashed and Langston took the win.
"Mike made a real aggressive move on me at the beginning of the race—that's just the way Mike rides," Langston told Cycle News. "I just returned the favor, that's the way racing goes. He would have done the same thing."
"I should have won two motos and been ahead in the points but I didn't and it's over now," Brown told CN. "All I can do is go to Steel City, try to win and hope some people get in-between us."
Going into the final round, Langston was nine up on Brown.
Langston: We go to Binghamton and I'm like, f**k, this is not what I wanted. This is another Mike Brown track—just slick, a bit like Unadilla. Now, when we went there, I remember this: we went there and I had a three-point lead. First moto Brown's leading and I'm giving it everything I can to hang with him. I feel like I'm riding as good as I can and barely hanging with him. Even when he'd start stretching out he'd make a little bobble and I'd be there. Eventually you're like, okay, we come to the 30-minute mark. Time is running out. I'm not really great any particular area, but the guys right in front of me.
Brown: I think Millville it carried over, then after each race we were talking crap. I think it's good. It's entertaining, like for the fans, its "I can't wait to watch these guys race!" And we're not going to hurt each other. We're out there for hard racing. You don't see that a lot no more. Even like NASCAR, people love to watch banging, but it's not racing like it used to be. I'm not saying the racing's not good now, but it's different than it used to be.
Langston: Binghamton had of a supercross section, where all the semi trucks were parked. But then there was a 180 left, but the rut was getting so gnarly that you couldn't triple this step-down single type jump. We weren't able to get it because the rut was holding us back. So, Brown was going around the ruts and jumping it. Well, just before the two-lap card I went to the inside, and he came flying back by. I couldn't jump it, so what I gained in the corner I lost in the jump. But I thought, you know what: this might be the place where you just throw it in there on the last lap.
So, I made sure when the white flag came out those first few turns I nailed everything and I was right there. He went to take his line. I went to this inside rut, and it was pretty deep. I remember same thing, just something inside of me said no. So, I came in and I thought, if I take this turn and we drag race, he's going to jump it and I'm not going to make the pass. So, right when I got about almost halfway in the corner and I saw him coming, I jumped out of the rut and landed straight into his radiator shroud and just blew him off the bike. I straight up T-boned him.
Brown: I got a good start and then Langston, in one of the jumps, he crossed over and I still look at it as maybe he thought I was trying to take him out or whatever, and I didn't. If I would have, I'd have told you yes. That kind of got it all going at Binghamton.
Langston: If you look up T-bone, there's a picture of me and Mike Brown's radiator. It was one of the very few T-bones—I mean, I've taken people out, but this was almost a head-on. He was coming out of the corner. I just launched straight into him. I could hear him screaming when he was laying behind. I keep going. He picks up pretty quickly. He's only a few seconds behind, and he is irate. I keep doing my thing. I remember I'm coming out of the corner, he's coming down the corner and I can hear him screaming in his helmet. I'm like, this guy is pissed.
Andrew Langston: Obviously there was tension there, but it was one of those ones where I kind of knew that what went on in Binghamton—all it was going to do was fuel Grant up even more to win. Sometimes riders need something written on the pit board to get them going, but when I saw that taking place I just knew there and then that basically that was all the fuel that he needed to get fired up.
Langston: So I went up the hill and we'd even gave him [Brown] the number-one. Then I come back down past the mechanics area and I got my hand in the air, like "Woo! We did it!" And I look over and I just start seeing fists and pit boards.
Payton: Binghamton was gnarly. But, Brownie did try to push him off the track at the top part. Didn't hit him, but tried to. I think he pissed off GL. They went down by the road and there was a jump and then a big, wide turn. As they did this turn, GL was on the inside and just popped over the rut and cleaned out Brownie. I was pissed about that one, but I kind of saw the first part of it, too. They had another moto to go. It was a gnarly year. That was the one where I remember the KTM guys coming by as we were starting to turn the mule around. "Yeah, what do you think of that?"
Langston: I don't know the details but apparently Brown's mechanic hit my uncle, who was my mechanic, across the head with a pit board. Mike Williamson was the one that shoved him, and then everyone in a green shirt wanted to hit the guy in an orange shirt and vice versa. So, when I came by I could just see this.
Chris Onstott: That was actually I think my first year at Thor, so I was very intimidated by everyone—the KTM guys, Mitch Payton. Every weekend during that season they'd be like, "You were at KTM first." They wouldn't let me in the truck at Pro Circuit. Then I'd go to KTM and they'd be like, "You went to Brownie first. You can't come in here." So, it was crazy.
Andrew Langston: There was a lot of tension, I don't know why. Like I said, it was mostly coming to America and for me everything was new. In Europe it's a completely different way of life. I just kind of thought this was the norm and this is how things were. I think they wanted to win at all costs and maybe they didn't anticipate KTM being a championship contender, to be honest.
Williamson: I think it was one of those same deals where they were so close in speed and they came together in the back section there. Then his mechanic ran out on the track. All of those guys ran out on the track and they were flipping Grant off, standing in the track whacking their pit boards at him and stuff. I was like, no way. This ain't happening. You can't walk out onto the racetrack swinging your pit board at a rider. You've got to draw the line somewhere. But that's how it was. It was like cowboys and Indians back then. Anything goes.
Onstott: It was a crazy summer. For me, being the Thor guy, I looked up to Mitch Payton. I loved Mitch Payton and I loved Grant at the time, so I was in this weird like, I've got to do my job.
Payton: We're all trying to win. Obviously, the way I looked at it was to do what I said. I think if you really want to beat him—the running their mouth thing, I don't even agree with that right now. Nothing good comes from it. I know sometimes he would talk, but you hear the other side or whatever. The KTM guys had Williamson and he used to chip his teeth walking back from the mechanics area. "Yeah, what do you think of that?" I'm like, "What a dummy." Everybody was young, crazy. Everybody's emotional. It was a great battle. It's good to have that rivalry and to be that close is fantastic.
Nolte: I got along with him [Brown] pretty well in Europe. I think we even talked a few times to him to get him to the team. He was a little bit special. He was fine the whole year except when the battle really started with Grant. I think he was sometimes not really fair.
Langston: The best way to put it is you could feel the tension from both camps. I think Mitch wanted more than nothing to beat me and KTM, and they wanted nothing more than to… KTM hadn't had any success. The whole of KTM was rallying around me because I'm their guy. At this point, KTM's never had anything like this, and now they've got this guy and now we can do it. They were all behind me, so if someone looked at me funny one of the other mechanics on my team wanted to go knock the guy out. That's how it started getting.
Williamson: It was pretty intense. There were a lot of intense moments, I think. They both wanted to win so bad and both of our teams wanted to win so bad.
Langston: I just thought, I'm creating a shit storm. This is great. So, I cruise over the finish line. Brown hits the finish line wide open, still on the throttle, he lands clutch in. He's screaming "mother**ker!" I can hear him just screaming. I still thought, it's about time we're going to throw down. I just T-boned him. I'm pretty sure the boxing gloves are coming out. He just revved the shit out of his bike and screamed and rode off. Then Duke Finch pulled us in the rig. This is now the second time. Now I think he's seeing fist fights in the pit area, T-boning on the track.
Ward: I've known Brownie for a long time, I've never seen him get in a fight, but he talks. He's a super nice guy. I don't think Langston is a real fighter, either. I think Langston will talk a lot of crap, but I don't think either one of them would ever do anything.
Langston: I remember he [Finch] just yelled at us. Basically threatened that he would take the title away from both of us and he would decide who would get it in the end. I wanted to say, "Whatever, bro. I'll see you in court." But he was so angry I was just going to be the good little kid and sit there and go, yes sir.
Brown's mechanic, Steve Henderson, was an Englishman who had worked for Mike in the GPs and was a tad, how do we say, chippy? Steve let the orange team know quite a few times when he was unhappy with Langston's riding and what Brown was going to do to Grant out on the track. After the first moto melee in the mechanics area, it was Steve who started talking again about Langston's move in the first moto and the KTM mechanics responded back.
Payton: Steve had that British accent. He looked like Grandpa from The Munsters. He ran his mouth. All it did was infuriate the KTM guys, so then the guys would talk smack. I'm like, you guys should just shut up and race.
Nolte: Steve Henderson, I still see him. He's a GP mechanic now. I get along with him really good now, but I remember that he was like that all the time. I think he wanted to win like we all want to. We all go to the races to win. I think that was just his attitude at that time, his style or whatever to manipulate us. I don't know. I didn't care.
Andrew Langston: I got on with Steve. The battle between the teams and that kind of stuff, there was a lot more going on to focus on than worry about what people were saying or doing to each other.
Brown: If I was stirring it, he [Henderson] was jumping in and stirring it more. I think he was good friends with Langston's mechanic anyway because they were all in Europe together. So maybe they were still good. I don't know if everything's still like that. It's still team against team. It ain't rider against rider.
ROUND TWELVE: AN UNEXPECTED WIN, A WILDCARD AND A WHEEL
A new wrinkle in the title fight was introduced at the final round at Steel City, Pennsylvania, when it was announced that Ricky Carmichael, having clinched the 250MX title the previous week, would drop down to the 125 Class in order to break the all-time 125cc national win record held by Mark Barnett. The speculation ran rampant about RC having an ulterior motive to help out his buddy Brown, and if things weren't already tense, this made it even more interesting.
Payton: Kawasaki wasn't behind it at all, actually. I don't think they even kind of liked the idea. We talked about it for a couple of reasons. It was the last race of the year. Ricky was his [Brown's] buddy. He had already done what he wanted to do in the 250 Class, and then he was thinking I could come down there and if he finished between them that would be a points buffer. That might help if he could win. That would be a good thing. There's nothing wrong with that. Then the other thing we thought of was, I'm like, "Ricky, if you won, you could break Barnett's record." He's like, "Dude, that's right!"
Brown: Ricky was trying to decide if he wanted to ride the 125 the week before. He was helping me a little bit but he wanted to race that class and get the win or whatever how many, 28 wins or whatever he got [for the 125 all-time record]. That week coming up he didn't get a bike until Tuesday that week and he got on it. But he said there was no way he could ride this thing. He said it was the hardest thing he'd done in years. He forgot how hard it was to ride. But you know Ricky, he can figure out anything when he's got to.
Langston: The news comes out: Ricky Carmichael racing 125. And everyone's like, oh yeah, he said he's going to clean you out if he gets a chance, and all this. So, I was a little heated because then I thought Kawi were trying to play dirty. So, everyone at KTM, I think Pingree and all the other guys on the team were told, just go and hit a Kawasaki out there. Brock actually chopped off Ricky on the start line.
Nolte: No, I was not pissed [about RC riding 125's]. I think Ricky's fair enough not to interfere with the whole thing. As I remember Ricky at that time, he was, I think, pretty fair. I don't think he wanted to interfere. I was not afraid about that.
Payton: Ricky was really gnarly on a 125. Shae Bentley had a race bike and he was hurt and RC was like, "Hey, let's do it." So we just sent his bike over there and they threw on suspension from Kawi. He had his own suspension, and off he went. I said, "How is it?" He goes, "I don't know. It feels slow, but I just got off my 250." It was hilarious. He's riding it. He only rode it maybe a day or so, and then straight to the race.
Brown: If he did get in-between us that was good, but I think Ricky would have gotten a bad name too if he got in there and just held up. People wouldn't have liked that. Luckily he didn't have to do that.
Payton: There was a couple of fun things about it, and then I remember when we got there, as funny as it is when you watch the shenanigans that have happened in the supercross series this year with people letting people by and team orders and all that kind of stuff, Duke [Finch from the AMA] come over there before the race and said straight up, "I'm going to be watching both of you. There better not be any team tactics. If there is I will take immediate action during the moto." I'm like, whoa! Duke's all, "Have you spoke to these guys about anything?" I said, "I honestly have not." That's the honest-to-God, on-the-Bible truth. You've got to do it on your own. All I said was, I had Ricky and Brownie and they were both just under the awning or whatever, and I said, "Hey, I don't need to talk about anything. You guys know what you're doing, right?" And they said, "Dude, we're fine. We know what we're doing." And I said, "Okay." I didn't even talk about it.
Brown: Going into that morning, I didn't feel any pressure. My father came up to watch the race and brought a gallon of moonshine. He set it on the counter. So I get there and walk in the truck and it smelled a little different. Mitch and Jimmy were in there making coffee and Jimmy handed Mitch a cup of coffee and he took a sip and said, "Jimmy, what'd you put in this stuff?" He said, "Nothing, I just put water in the coffee machine." Anyway, he ended up pouring that gallon of moonshine in the coffee machine! He thought it was water. Started off the day good. Everybody was cheered up and laughing. It was a good day. It ended good. It started off good that morning.
Up nine with two motos left in the season, Langston grabbed the early lead with Brown right behind him. Carmichael gated poorly and then crashed with Honda's Michael Byrne which left him way back. Langston bobbled, Brown got by and held on for the win narrowing the gap to six for the final moto. Carmichael rode a great race to rip through the pack and grab a third.
Payton: The way it went down with the first moto, I think Ricky went down. He crashed. Then it wound up that GL and Brownie get together right at the end of the race in the supercross section. There was flipping off going on. So that happened.
Langston: The first moto it's Mike Brown and me out front. We hit each other a few times and then at the finish line, if it wasn't for Duke Finch yelling at me the week before I would have hit Brown on the last lap in the one corner there at Steel City. You know the straightaway with all the jumps and you turn and you come back and all the jumps? That 180 at the end there. I had a clear shot and I chickened out. Could have T-boned him two weeks in a row and I didn't. Then he won and I got second. We go across the finish line and he turns around and flips me off. So, I was like, "Oh, no, he didn't!" So, I ride up and I ride my bike up into him and I think I head butted him and then we were face to face. I was yelling at him and he was yelling at me. I don't think he heard what I said, and I didn't hear what he said. And then of course everyone comes in and gets involved and they're pulling everyone apart. Mechanics are "mother**king" each other in the background.
Brown: It was the last corner, we had a big tabletop section coming back towards the finish line and I went outside. It was my fault. I went outside and he kind of cut into me, which anybody would have done. It made me mad. I shouldn't have done that [flipped him off]. But it was just racing. Everybody's freaking out off the track, but that's just me. Stupidness. I needed to leave it out there instead of pulling off the track like that.
Like I said, I'd be the first one to congratulate him if he won. It's just racing. I still talk to him. I'm friends with him. I have nothing against him. He's one of the best riders I've ever raced against, so it's great.
The last moto of the season took off and this time the #4 Kawasaki of Carmichael grabbed the lead and took off. Langston was third for a while before passing Yamaha of Troy's Nathan Ramsey for third. Back in the pack, Brown crashed on the uphill triple and picked his bike up outside the top 20. Barring a miracle, Langston was going to be the 2001 125MX National title winner.
Payton: The second moto, Ricky holeshots, and he was 30 seconds ahead. He was gone. Everybody's thinking, "What happens if you need to pull him over?" I said, "You can't pull him over. He's 30 seconds in front. You might as well just pull the choke on and ride around like you had a problem." That's the only way you're going to pull off that kind of camouflage, and we never did.
Brown: Second moto I tipped over. I was halfway around the first lap. I can sit here and say this now, but even when I crashed, I'm like, "This is fine. I can just get up and ride as hard as I can and do the best I can." I started riding good. I was picking riders off and doing this and that, but even when I crashed I thought, "Man, it's not over yet. Just get up and keep going."
Langston: I got an okay start and I remember Brown just seemed like he was, not melting down, but he hit the panic button. He came into a turn and hit a bunch of guys and they went down in front of me. I was like, that made things easy. Ricky got a good start. Then I got into second and I was like, "I'm good. I am fine." He is doing his thing out front and Brown is banging bars a ways behind me. I'm like, "Cool. This is all said and done."
Brown: I still had the confidence. I don't know if it was the first moto, me and Ricky and Langston were all together. I think I won the first moto, and I'm not saying that I knew his wheel was going to break, or it did break and that's how I won, but when I crashed I knew that if I get up and just rode, that's all I could do. Go as fast as I can and get to the front as quick as I can and get the most points I can.
Onstott: At that final round, I remember having both #1 jerseys in my backpack. Midway through the race you're like, Grant's going to win it. I was really close to Grant because he had come over that year and I had just started there, so we kind of connected early on. I was like, GL is going to win it! Not that I didn't want to Brownie to win it, but I was closer to GL. So, I'm like, GL, he's going to win that!
Andrew Langston: The setup that we had was, Grant was complaining that the bike was not handling like it should and that we needed to soften it up in order for it to get through the deep ruts. But by softening it up, it was bottoming out real bad. We had to roll the dice and go with it. Unfortunately, it was one of those ones. We were running aluminum nipples.
Nolte: We didn't have spoke problems. Grant said to me he missed a triple by I think on four or five laps before the end. I hear one time when he came by the pits, I hear that ticking noise. Kurt came to me and he said, "Did you hear that also?" I said, "Yeah, I heard it."
Langston: All of a sudden I'm like, the alignment's gone out in the rear wheel. It just feels like it's all over the place. I'm like, don't tell me I'm getting a flat. I still thought, don't panic. I started scanning and I realized Brown is a ways back. It was late enough in the moto I still thought with a flat tire, even if he catches me he was in like seventh or eighth. It wasn't like we were going to lose a lot of positions. Everyone was spread out.
Williamson: Somebody was spotting and said to have a good look at it. I was in the mechanics area and coming by I remember it looked fine the first time, and then as soon as he went off a jump we saw wobbling. We were like, there's no way. Sure enough, the inevitable happened and the rear wheel broke. It broke all the spokes off at the nipples.
Langston: I realized that there was a bigger problem. I'm like, that's no flat tire. Then at one point I was able to look and I could just see it. I was like, "Oh shit. It's coming apart."
Payton: Somebody said something's up with his bike. He has a flat. So, the one time they came by, I saw the wheel moving around and I'm like, "Yeah, he's got a flat. But he can still finish on a flat." Then all of a sudden, it was more than a flat. It was flopping around. I'm like, "Oh, dude!" I said, "He ain't going to finish. There's no way that thing's hanging together." It would lean from one side and then it would just flop to the other side. I'm like, "Ain't making it. It ain't going to happen." Then sure enough, it didn't.
Williamson: I remember the nipples were aluminum, and I remember that there were some different length spokes. We were using spokes to where when they came through you had to grind them off on the inside. I know Andrew had built some newer wheels headed into that race. From what I remember, at the end, it was the shorter spokes, not the long ones. It wasn't enough engagement. Maybe it would have lasted without a foot peg in there. If a foot peg did go in there, it's probably going to wreck anything.
Brown was on a mission to the front while Langston worked his way into second and then tried to nurse his ailing machine home. Near the end of the moto Brown had caught Langston but even with his pass by the mechanics area, he still wasn't going to win the title.
Brown: I could tell something [was wrong]. I was thinking he was waiting for me to take me out. But then I could notice, I didn't really think, "Oh, his spokes are broken," at the time. Then I thought he had a flat. Maybe it was a flat and it kind of broke the spokes. But I knew it was something the matter with the back of the bike. You could tell the way he was riding it.
Andrew Langston: When we were in Europe racing for KTM, Kees [Van Der Ven] always had a policy that if you ever came to a track that was supercross-style with big jumps and hard landings or anything like that, we made the mechanics put the oversized spokes and the oversized nipples on. I guess when we came here and we raced with the rules that we had with the aluminum nipples, they felt like they had held up in supercross, that they would be good to go on the outdoor tracks. As I look back on that now, I think I'd much rather have gone with the direction that we had gone as far as just being on the safe side.
Langston: The only reason I knew kind of what it was, was we had issues with the team before. Ping had broken wheels, Broc… everyone except me had broken wheels. What ended up happening was they had a bad batch of nipples and they were just getting metal fatigue and they were just basically splitting and the spokes were coming out. It was just like a slow-motion nightmare. Then it's battling to move and now I'm scrubbing jumps to try and not get air-born. Even on the small jumps I'm landing front wheel first and just resting the rear wheel down. Everything I could. I was just trying to think, what do you do to get to the finish? That's all I really needed to do. It just wasn't meant to be, man. It literally just… once you break enough spokes it just collapses on itself. The wheel is sideways, the chain's off.
Just after the two lap board the rear wheel on Langston's KTM gave way and that was it, he dropped his bike and was done. Pro Circuit Kawasaki's Mike Brown had pulled off the impossible. He had won the 125 National title after, at one point, being two full motos down.
Langston: At the time, it just seemed like the world came to an end. I remember sitting on the side of the track with my head between my legs just crying. You always hear people say, "I thought I was going to wake up from this nightmare." I was thinking the same thing. A couple times I think I sat up and I looked around, and I was like, no, it's f**king really happening. I put my head back down. It was the end of the world. There were a couple times I sat up hoping that I was waking up from a bad dream. I've always heard people use that expression, but I experienced it that day. It was gut wrenching. Your whole life had led up to this, and the whole season and the ups and the downs and the emotions and the injuries and the mechanicals. To be that close and just feel like someone pulled that rug out from under you right at the 11th hour. It was definitely probably the hardest thing for me who just turned 19, still a teenager. It was a lot to take in, a lot of pressure, a lot of everything. I tell you what, man, the hardest thing I think I ever had to do was my dad said to me, we're walking back to the pits and he goes, "The right thing to do is go and congratulate Brown."
Andrew Langston: No one wants to lose the championship like that. You're literally two laps to go. Who wants to lose a championship like that? Especially after you've come back from having to miss a round through an injury. I felt like he was the fastest guy out there and he basically put himself back into the championship hunt. He deserved to win. It was just one of those things. He's a tough guy and whenever he was hit with adversity he was always able to bounce back. You never want to lose the championship like that. It's just one of those things.
Nolte: Andrew was just flat out for Grant. I think that's how it should be. As a mechanic you have to be flat out for you rider. It doesn't matter what happens. You have to go for your rider. I remember Andrew was working really hard all the time.
Langston: I did not want to go and congratulate him. I remember walking over and I had barely stopped balling my eyes out. I walked up and they're all celebrating and this and that. I remember tapping a couple guys and said, "Hey." People kind of moved. It was just like this Mike Brown I'd never seen. He just grabbed me and he started crying on my shoulder and he said, "I'm sorry, man. I'm sorry for everything. I love you." I was like… he might not even remember that, but I remember that because I never expected Mike Brown to tell me, "I love you." He was crying. Not just hugging, it was like I was his wife! He was holding onto me tight. You know when someone's crying and you can feel them shaking? You could just tell.
Onstott: I just remember he was sitting on the side of the track and his girlfriend at the time was hugging him. He was crying. I walked over and I leaned down and gave him a hug. I had to walk to the podium and give the number one jersey to Brownie. It was just really emotional. I really liked Brownie too. For a brand, it was like a win-win situation.
Langston: If it was a 30-minute moto, I would have been national champion.
Williamson: Obviously what a bummer for GL. Maybe that just showed that our team wasn't really ready to win at the time anyway, though. We were low budget and maybe at that winning level a little bit inexperienced. But I think we figured it out later and the team obviously got a lot better.
Brown: On the last two laps when he pulled off and I seen him sitting there, I was like, dang, now what do I do? I was trying to do good for myself for the race overall, and then keep it up for the championship. I got up to second place and then I passed [Branden] Jesseman I think the next to last lap in second. I knew that if I got second I won the overall. I was thinking that I had to go back behind him [Jesseman, to allow Carmichael the win the overall and get the record]. Jesseman went around and I ended up getting third the second moto.
Payton: We did two things: We won the title, and then Ricky won the race and he broke Barnett's record. For us, it was just a double killer deal. Ricky's on the podium with Brownie and they're both pumped. It was a pretty neat day. I remember we stayed there at that hotel up on the hill, and I think that night everybody's like, "What are we going to do?" We were so just kind of spent. I think it was me, Bones, and Jimmy just sat down. I think we had a hamburger and a beer and said, "I'm too tired. I'm just wore out." It was pretty gnarly.
Nolte: That was heartbreaking because I really think Grant deserved the title, and I think the whole KTM deserved the title. To do it the first year with a new team like that was amazing. I think all four guys were, because I remember we had sometimes races we had four guys in the top six, top seven. I told Mitch, "I think that was one of your luckiest championships you got." But it's true. He knows. He knows Grant was the best that year.
Brown: It's hard to believe that what happened to him, me crashing on the start, his wheel breaking, the whole year of racing… it all worked out for me. I'm not sitting there thinking I won the championship, more like it worked out on my side. He had bad luck at the wrong time. Still to this day it's hard to believe. I look back like, "Man, I won a Motocross National Championship." It's great. It's the best thing I've ever done in my life, for sure. For me, I forget about it a lot and then once in a while I'll think back. I did that. I love it.
Ward: I would way rather have my friend Mike Brown get a National Championship than Grant Langston. Nothing against Grant, but I'm rooting for my friend. Pastrana should have won, but I was glad Mike Brown won. Mike Brown was fast as crap that year.
Langston: I remember I said to Beeker [Onstott], "You obviously had one of those #1 jersey's for me, didn't you?" He goes, "Yeah." I go, "Can I see it?" He goes, "I don't think you want to see it." I'm like, "I want to see it." He pulls it out and it's this gold number one. I just started crying again. He's like, "I told you!" I'm like, "I didn't know it was going to hit me that hard!"
Brown: I look back on it like, man, I won a Motocross National Championship. Even coming from Europe, to do good over there and then come here and just start doing good it was like, I'm one of the guys. I was always there sometimes a moto or a few laps doing good, but then I was finally putting it all together and winning races. I was like, I'm a guy, man! I'm one of the top dudes. Then you've got the confidence. For me, I don't ever put myself up there with those guys. I never think I'm one of those guys, but I did win a championship. I won a few races, but for me a champion is Ricky Carmichael. He's the best. Langston, that guy, he's won a lot of championships. World Championships, 450MX… I feel like I'm okay. I did all right, but still it's not like those guys. There are a lot of levels here and I'm the fourth or fifth level and those guys at the one or two level. It's winning, and a lot of people have never won a motocross championship or races or motos. I'm just hard on myself. I kind of grew up by myself. Being with Ricky and coming up and training with those guys to see what it's really like, that's what got me to where I'm at today so I wasn't staying at home working construction or something.
Post Script: 9-11
After such a dramatic, emotional ending, one would think Brown would be up all night at the track celebrating. He did not, though, instead focusing on one more race—his return to Europe, and first appearance on Team USA at the Motocross des Nations, alongside Carmichael and Kevin Windham.
It would not be.
Mike Brown won the AMA 125 National Championship on September 2, 2001. He and Carmichael resumed their training together in California to prepare for the Motocross des Nations at the famous Citadel at Namur in Belgium. Days later, though, the world was rocked when two hijacked planes crashed into, and destroyed, both towers of the World Trade Center in New York City. Two other airliners were hijacked, one crashing into the Pentagon in Washington, D.C. , and the other taken down by the passengers in a field in Western Pennsylvania, sparing whatever target the terrorists had planned to hit.
In the aftermath of the shocking terrorist attacks, Team USA decided better of partaking in international travel. The Americans would not race the 2001 Motocross des Nations.