First and foremost, yes, Asterisk is indeed in business!

First and foremost, yes, Asterisk is indeed in business!
They have re-opened under new ownership in Corona, California and they're moving full steam ahead. Most of you know that I love the Asterisk's ZeroG knee brace pant, but what about their knee braces? Well, I have been putting the Asterisk Cell's through many motos and they have been basically an extension of my legs throughout several months of riding. The newest Cell version features four adjustable Velcro straps that are less bulky and way more comfortable than the older Cell's. The knee cup system is almost seamless and leaves no gaps at all so you don't have to worry about stabbing your knee with your handlebars (when you go deep into a corner). As you bend your knee, the upper and lower shields are revealed from beneath the patella cup, and as your leg is straightened, they move back into place behind the patella cup. Now I have yet to try a pair of CTi2 custom knee braces (which are on the testing schedule), but the Asterisk Cell braces have fully adjustable calf and thigh cuffs for a customized fit.
The floating knee hinge automatically aligns itself with your knee joint thus allowing it to fit on a wide range of leg and knee shapes. The Cell brace is one of the most low profile braces I have tried and it doesn't get snagged or caught on your riding pant liner (if you have a liner in your pants). The knee joint hinges are rounded enough that they don't tear my pants up after months of use. Before you ask, yes I do wear pants long enough to see if it wears holes in them so pump the brakes. I like that I can adjust the extension and flexion of the brace so that I can determine how much I want my leg to bend.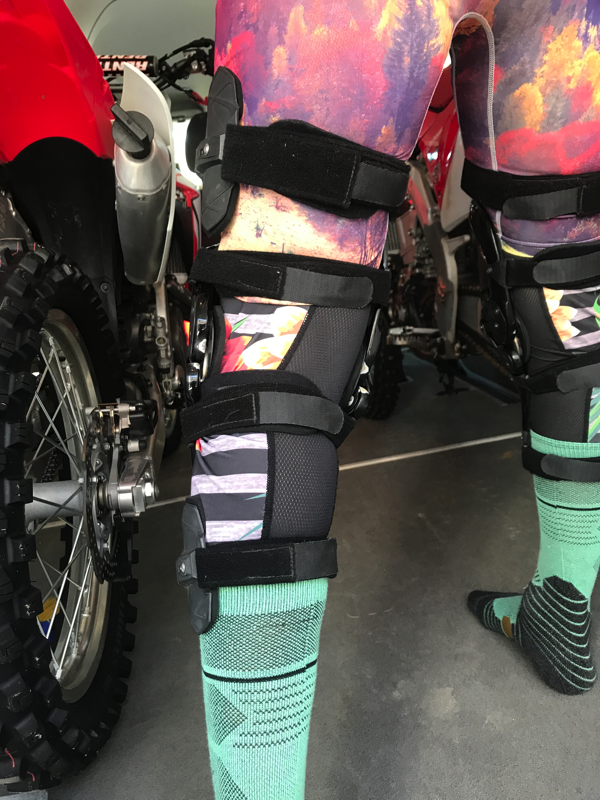 The Cell comes with a patented boot tether system that securely attaches at the bottom of the Cell brace to your riding boot, effectively making the boot and brace as one piece of equipment. To do this you must drill a small hole and install the other half of the strap-attached clip to your boot, plus cut a small hole in your pant leg. Yes, it's kind of a pain, but worth it when considering how much more protection you get. When you do tether the brace up, the force will now be transferred from your boot, into the brace. Did I do this with every pair of pants I own? No, I didn't, but I did notice a more secure feel when I got caught dragging my feet in sizable ruts. The comfort of the Cell's are second to none and although I am not a huge fan of the Velcro strapping system on any brace, I am glad that Asterisk has the ZeroG pant to prevent the brace from moving around on my leg.
Call me crazy, but I thought the older lace up design held to my leg better than the Velcro strap system does. Sizing is important so make sure to measure your leg correctly by using a soft measuring tape and measure directly in the middle of your knee cap. I did encounter (with my large size brace) that I needed smaller (length) Velcro straps. If you do order direct (which you can) you might want to ask for a smaller sized Velcro strap set (just in case).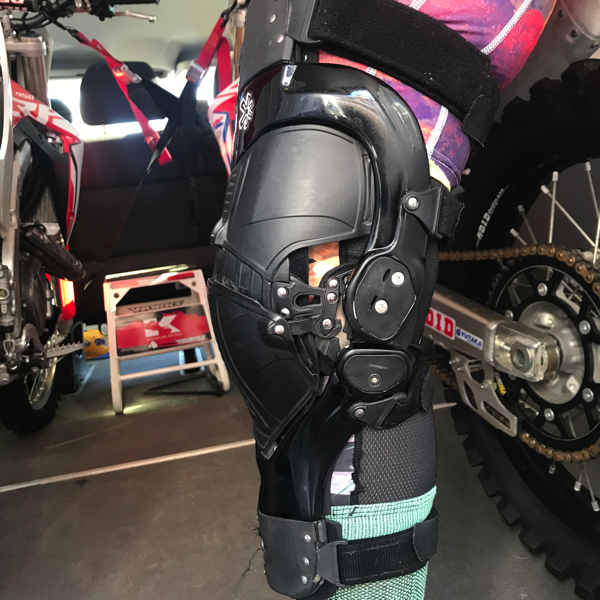 The Cell knee braces have been on my legs for many days of riding and have performed well, but more importantly left me feeling safe. Does that mean it has prevented a knee injury from happening to me? Possibly, its tough to say. I don't wear or trust knee guards to find out the difference. Some riders swear by knee guards and usually it's a matter of feel (bulkiness) on the bike for them. I however do not notice a very bulky feel, when squeezing the bike, with my legs, with the Asterisk Cell braces. At $699.00 the Asterisk Cell braces are a good preventative piece of protection that I will not go without. You can go to asterisk.com to purchase a set or you can call them directly at (951) 268-6790.