Troy Boy is back!
Troy Boy is back!
Photos by Roogs
Yes, you read that correctly…I'm back writing for the BEST media outlet in the sport, with of course the best fans in the world. #pulpnation. I'm excited to contribute when I can and when I have an opinion I want to share. I know that you really can't wait to hear what I have to say…
I went to Ironman over the weekend and I've taken a few days to get my thoughts together. The only problem is that I still can't fathom what I even witnessed. If you're living under a rock I'm talking about what Jeffrey Herlings did to the 450 class. When was the last time that we've seen someone come from dead last to win in the 450 class? I certainly can't remember and I also can't recall if Ricky Carmichael or James Stewart ever did it. If those guys didn't do it then it probably never happened before. I know Stew did in the 125 class at least a few times…but 450? That's a whole new level.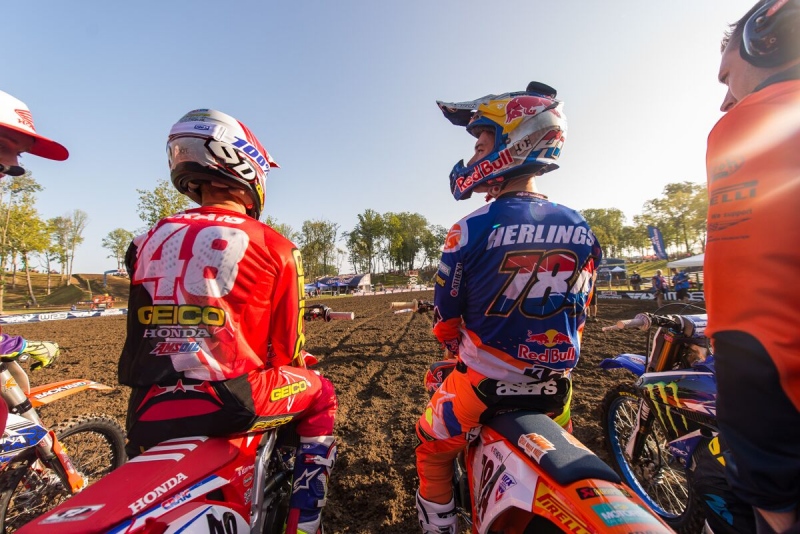 The calm before the storm
In the first moto I just kind of assumed that Herlings wasn't going to get beat, so that wasn't a surprise after he posted those rediculously fast practice times. However, when I saw him down after the first turn in the second moto I originally thought he wouldn't win. I was standing next to the sand whoops when they came around and on the second lap he was already up to fifteenth place. He just kept chipping away and he made the race really exciting to watch, just to see if he could actually do it. I'm on the Weigandt train with this one to where I've never seen anything like this and I got to see it in person! He was carrying so much momentum everywhere, but I thouroughly enjoyed watching him through the snd rollers. He barely even touched them. I'm bummed out on how many people weren't cheering for Herlings during his second moto charge. I was expecting more of an applause. He just came from last to first you know… If that were Reed or Tomac that place would have been electric.
Usually I enjoy watching the 250 class more than I do the 450 class, but this year was different. I do believe it was because of Herlings. The 450 class also seemed to have more depth than in some years past. We have so much talent in the 450 class that you just don't know who will be inside of the top five on any given weekend. As a fan I enjoy that. I like to see guys like Cooper Webb, Justin Barcia, Benny Bloss, Justin Bogle, and Weston Peick, ect. duke it out for position. They are only a few tenths off of the leaders and I found myself watching those guys more than the leader in the first moto.
It's a new era in 450 motocross and I do believe the days of domination are behind us. We're still going to have the top three or so riders, but they will be able to battle it out for wins on any given weekend. Tomac was very good this season, however towards the end he tensed up and didn't ride like himself. There was no way that he was going to beat Herlings on Saturday even if he raced the best he has this season. I don't think Eli would have had anything for the Flying Dutchman, or even Marvin Musquin for that matter.
In the 250 class I was really impressed by Sean Cantrell and Chase Sexton. Those two were able to get some starts and show why these teams have put so much money into them fresh out of the amateur ranks. I thought that at least one of them would land on the podium by the end of the day, but oops, rookie mistakes.
Just like everybody else this season I was very impressed by the newfound speed/solidness of our new 250 champ Zach-O. He ran away quickly after getting around Cianciarulo in the first moto and after a great start in the second moto. I really thought that AC would have been able to get close again, but it makes sense now to know that he was fighting a sinus infection…and the fact that Osborne was rediculous.
Colt Nichols and RJ Hampshire were also impressive to me in how good they were riding. During the second moto we were trying to do the math to see who would get third overall and we forgot what Nichols did in the first moto. Yeah, he was that good that I overlooked him the entire moto. Even with Ferrandis out those Star Racing Yamaha guys are just interchangeable.
"Hometown" kid Aaron Plessinger was sending it. You could tell that he was trying very hard to get out front and put on a show, but it ended up backfiring. He did charge back nicely after crashing in the first moto, which was cool to see. However, him pulling off in the second moto on the second lap wasn't what I wanted to see. The place would have gone crazy if he would have won another moto.
The 250 class is so stacked right now that it's difficult to figure out who is who anymore. We have all of these new guys lately that are showing up without much hype and before you know it they are out of the sport. Then new guys come in and fill their spots. That's why it's difficult to make it into the 450 class. It's rare to see a guy dominate the 250 class and move up at a young age, ala Cooper Webb to do business in the 450 ranks. I see another column idea in there somewhere.
Thanks for having me back Matthes, I missed writing about dirt bikes and I'm glad to still have a home here.